"Why does my Spotify keep pausing suddenly when I listen to music as usual?" "Why does my Spotify app keep pausing on PC? How can I fix this issue?" Many questions about this topic are asked by Spotify Community and Reddit users. If you have a similar situation, we suggest you read this article carefully.
No one can find a specific reason to explain why Spotify keeps randomly pausing because several situations might cause this issue. Here we conclude 15 ways for you. If you do not have a certain judgment as well, try to resolve the problem by operating our recommended methods.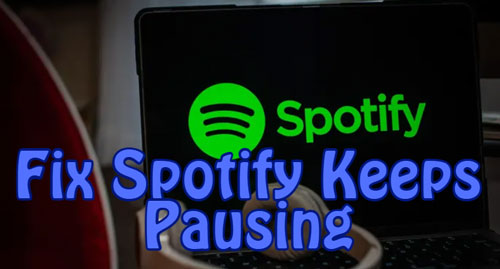 Part 1. Why Does My Spotify Keep Pausing
It is hard to deal with the problem if you don't know why Spotify keeps pausing. And you use Spotify in different ways like desktop, mobile, Bluetooth or Discord may have different reasons. Therefore, we are going to classify reasons that result in Spotify keeps randomly pausing into 3 parts and give their corresponding methods for you. Go to Part 2 and then you will get useful information.
Additionally, we introduce a practical tool to help you play Spotify songs, playlists and more offline without the Internet. So you will not encounter the trouble that Spotify suddenly keeps pausing when you enjoy your favorite music. The tool is DRmare Spotify Music Converter. You can download it to have a try. Its detailed operations are also listed in Part 3.
Part 2. How to Fix Spotify Keeps Pausing
In this part, we conclude comprehensive judgments on why your Spotify keeps pausing on PC, Mac, iPhone or Android, and why it occurs on Bluetooth and Discord. Besides, solutions are shown below as well.
2.1 Fix Spotify App Keeps Pausing on PC/Mac/iPhone/Android
1. Update Your Spotify App
Spotify will upgrade its version when it decides to improve user experience or launch some new features. Therefore, when Spotify publishes its latest version, you have to update your App.
Update Spotify on Desktop
Step 1. Open your Spotify on your desktop. If you see a blue dot next to your profile name or picture in the top right corner, it means you can update the app. Click it and tap the "Update available. Restart now" option.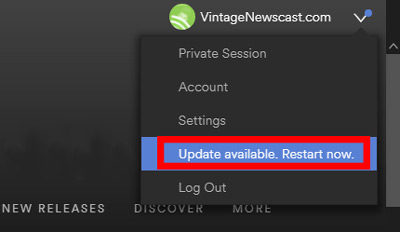 Step 2. When the update process is finished, Spotify will close and reopen by itself. Sometimes, Spotify can update to its latest version without manual operation. But if it cannot update automatically, you have to finish these steps.
Update Spotify on Mobile
Step 1. If you use Spotify on mobile devices, go to your app store and search for "Spotify" on the search bar.
Step 2. Then, you will see Spotify and please click the "Update" button. When the step is done, open Spotify to use the updated version. It is the most efficient way to update Spotify in your store.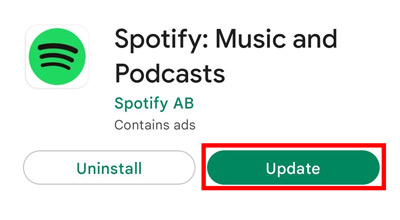 Or you can find Spotify in "Manage apps and device" > "Updates available". There is a way to help you finish the step.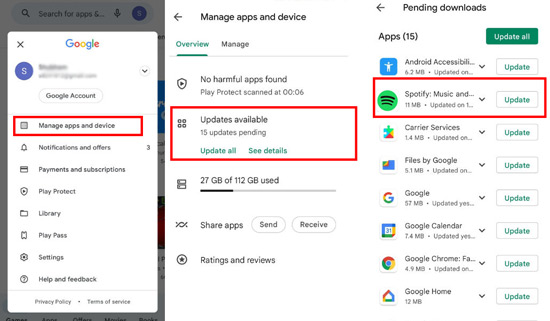 2. Update Your Device Software
You may find your Spotify is the latest one, but you still cannot fix Spotify keeps pausing. Or you find the update option on your computer or phone, but you are unable to run the update process. We recommend you update the system on your device.
Step 1. Go to "Settings" on your phone and scroll down to find "General" > "Software Update".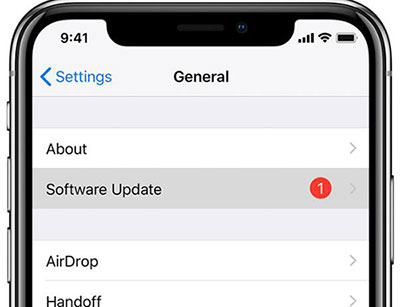 Step 2. You have to update your software to use your apps with the latest version. Tap the "Download and Install" to start the process.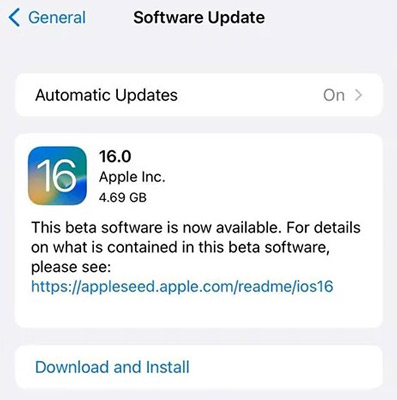 3. Lower Spotify Music Quality
Think about where you are when your Spotify app keeps pausing. Are you in a weak Internet connection like you are in a subway or car? In this situation, you are better to listen to Spotify offline. Or try to lower the music quality of Spotify because a higher sound quality needs a more stable network.
Change Audio Quality on Mobile
Open your Spotify and tap the "Settings" menu on the top right side. You will see "WiFi streaming" and "Cellular streaming" on the "Audio Quality" list. Please choose lower-quality settings when you go to a place where the network is not well.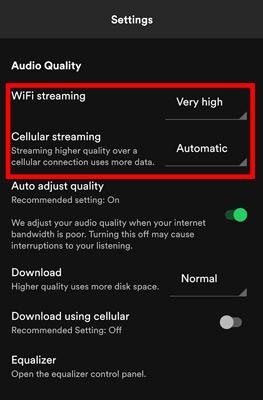 Change Audio Quality on Desktop
Click the "downward arrow" icon on the top right corner and find "Audio Quality" on "Settings" to choose a quality option.

4. Sign Out Your Account Everywhere
A Spotify Family plan allows your family members to use it simultaneously. But if you did not get this plan before, your account only can be used on one device. Therefore, you need to know whether someone log in to your Spotify or not. The best way to make sure your account cannot be used by other people is that make your Spotify account sign out everywhere.
Step 1. Go to your Spotify and find the "Profile" > "Account" > "Account overview".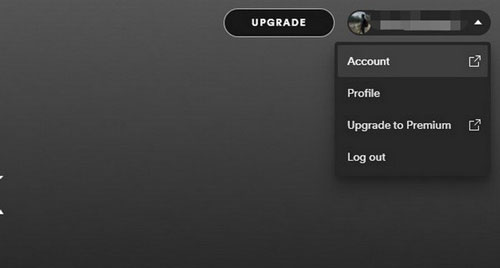 Step 2. Then, you will see "Sign out everywhere". Click it to sign out of your account and then log in again. You will use Spotify normally.

5. Change Spotify Password
Changing your password is also a good idea to avoid other people using your Spotify account.
Step 1. What you need to do is to find the "Change password" button on "Profile". Then tap it and go to the next step.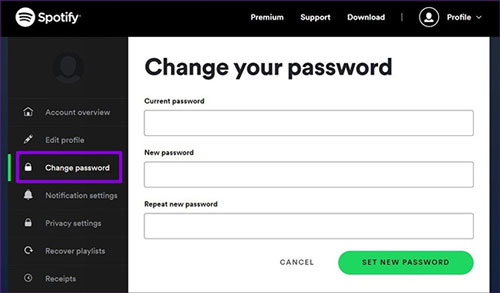 Step 2. First, fill in your current password. Then, design a new password and repeat the new one. Click the green option and you will reset the Spotify password.
6. Enabled the Autoplay Feature
Do you know Spotify has an Autoplay function? Find it to see whether it was disabled. Turning off Spotify Autoplay also can cause your Spotify to keep randomly pausing. So, please enable it by following the leading steps.
Tap the downward arrow icon on the top right side to go to the "Settings" list. Scroll down to find the "Autoplay" function and switch it on.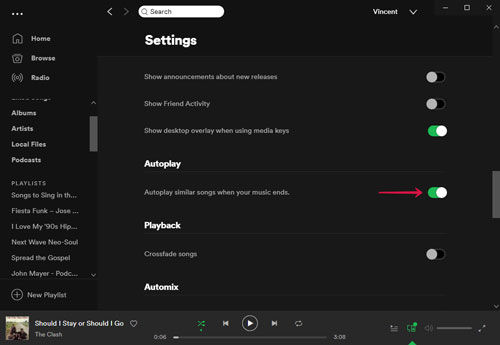 7. Re-Download Your Offline Files
When you are listening to downloaded playlists or something, Spotify keeps pausing. You should download them again to fix the question. Or delete and re-download that song which makes Spotify suddenly keeps pausing if you still remember it. You can find the downloaded resources on the "Your Library" bar.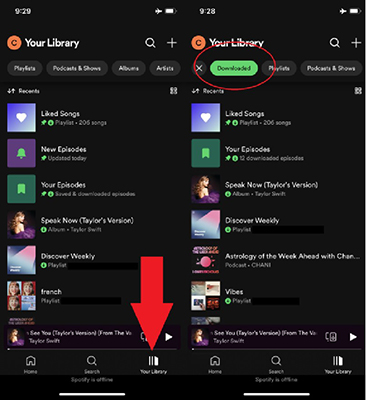 8. Clear Spotify Cache Files
Excessive cache will make Spotify run slower and cause some trouble. Therefore, clear Spotify cache files and remember to do it in regular time to avoid some issues.
Click "Settings" on the downward arrow icon in the top right corner. On the Settings bar, you can see "Storage" > "Cache". Tap the "Clear cache" button to begin the operation.

9. Reinstall Your Spotify
What should you do if you find that everything you can do on Spotify is still not useful? Because we still have lots of unknown knowledge about Spotify, we recommend you delete the app and reinstall it. Maybe a new one will run without any troubles.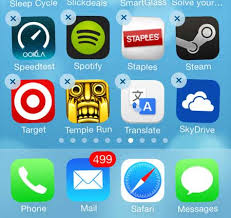 10. Switch Off Low Power Mode
When your device works on Low Power Mode, Spotify will keep pausing. The reason why it will lead to this situation is that the Low Power Mode is designed to save your device power. If you open this function, many apps like Spotify will be closed by the system automatically. So, how to fix Spotify when it keeps pausing?
Step 1. Tap "Settings" on your phone. Then, find and click "Battery" > "Low Power Mode".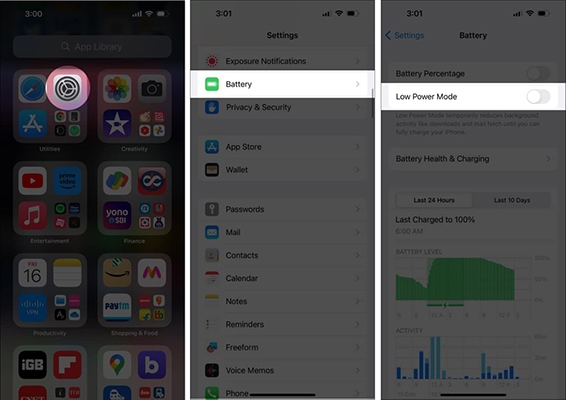 Step 2. Switch the button off and then open Spotify again. Try to play songs from Spotify.
11. Turn Off Background Data Restriction Setting
Another reason that may lead Spotify to keep pausing is the background data usage was enabled before. Go to "Settings" > "General" and choose "Application data usage" to switch off the function.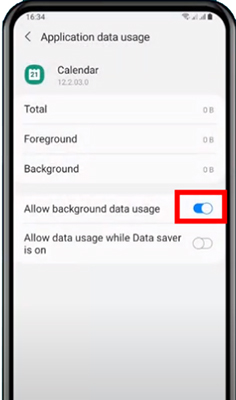 12. Check for a Corrupt SD Card, HDD or SSD
If you use an SD card, HDD or SSD to play Spotify music, try to check and clean it. Although it is a convenient way to enjoy Spotify songs, you have to keep it well.
View also: Move Spotify to SD card
2.2 Stop Spotify from Pausing on Bluetooth
How to fix that Spotify suddenly keeps pausing when you enjoy it via Bluetooth? As we all know, Bluetooth is a good way while you use Spotify outside or in a car. The following steps will be shown to you to learn how to resolve Spotify keeps pausing.
Step 1. Connect Spotify to Bluetooth and play songs to check whether Spotify has an issue or not. If you cannot listen to music on Spotify but can listen on other apps, it means you have to do something to deal with the trouble that Spotify keeps randomly pausing.
Step 2. Try to repair your device with Bluetooth again. If you are unable to disconnect and connect it, please go to "Settings" > "Bluetooth" to do this step.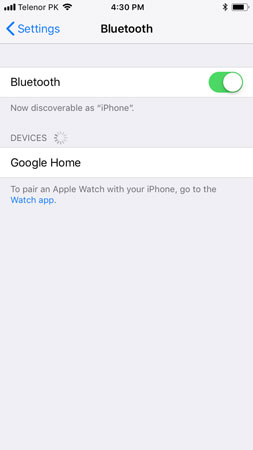 Step 3. If you use Spotify in your car, connect it to your car. Then, go to Spotify to play a song and click the "Cast" function. If the problem is resolved, you will listen to songs by car's sound equipment.
2.3 Resolve Spotify Keeps Pausing on Discord
Due to DRM restrictions, Spotify keeps pausing every 30 seconds when you use it on unauthorized apps. Using Spotify on Discord is unstable so you often notice that you cannot enjoy the entire song when you use Discord at the same time. Therefore, we suggest you activate the "Voice Activity" or "Push to Talk" function. They can help you play Spotify without pausing.
Via Voice Activity
Open your Discord and find the "User Settings" list on the left side. Click "Voice & Video" > "Voice Activity" to enable the "Automatically determine input sensitivity" function.
It offers amazing technology to adjust the input voice. When you listen to Spotify on Discord and talk to others at the same time, it will slow down the music sound. And the sound will be louder again when you keep quiet.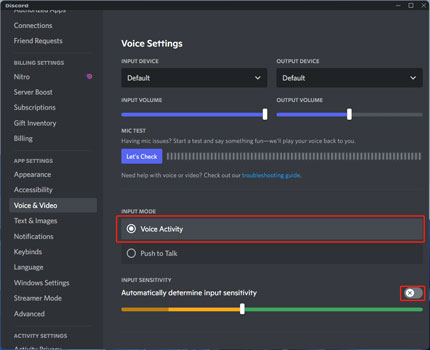 Via Push to Talk
You can see the "Push to Talk" button below the "Voice Activity" option. It is an optional way to make Spotify play on Discord.
Step 1. Enable "Push to Talk" and choose an option on the "SHORTCUT" list.

Step 2. Hit on the "Keybinds" list on the left side. Tap "Add a Keybind" and then choose "Push to Talk (Normal)" or "Push to Talk (Prority)" on the "ACTION" list. Then, you are able to adjust other sound sources by pressing the specific shortcut key.

Part 3. Best Way to Avoid Spotify Pausing
All methods we conclude and show for you above need you to operate step by step. If you cannot find the certain reason that makes Spotify keep pausing, you will waste your time resolving the issue. So, in order to keep Spotify can be played without any restrictions, we advise you to use a better way to download and save its audio to your computer.
DRmare Spotify Music Converter is a remarkable downloader that can convert and save Spotify music for offline playback. You can use it to load your enjoyable Spotify resources and convert them to MP3, FLAC, WAV, AAC, M4A and M4B. An important reason why we recommend this tool is that you can save Spotify music to your computer as local resources. Then, you can transfer them to other apps or devices without DRM limitations. Therefore, you are able to enjoy Spotify music which will never keep pausing because of Spotify's reasons.
DRmare Spotify Music Converter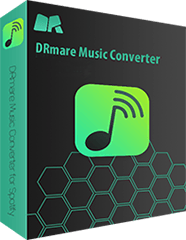 Step 1. Download the DRmare Spotify Music Converter and install it on the computer. Open it when the installation step is done. Then, hit on the "Register" option to register your account.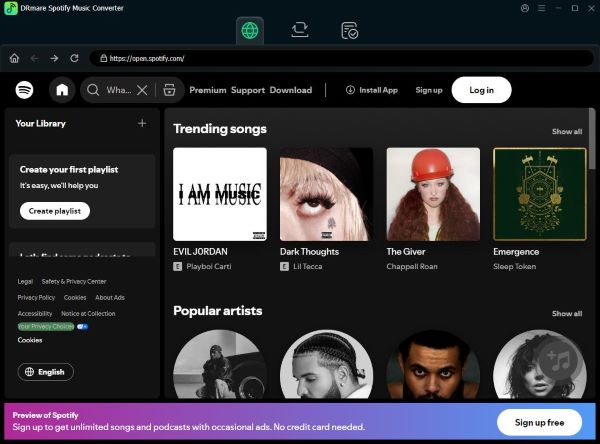 Step 2. At the top right corner, you will see a menu logo. Tap it and choose "Preferences" to go to "Convert". In the pop-up window, you are allowed to choose a different range of output formats. The format, channel, sample rate and bit rate are shown for you.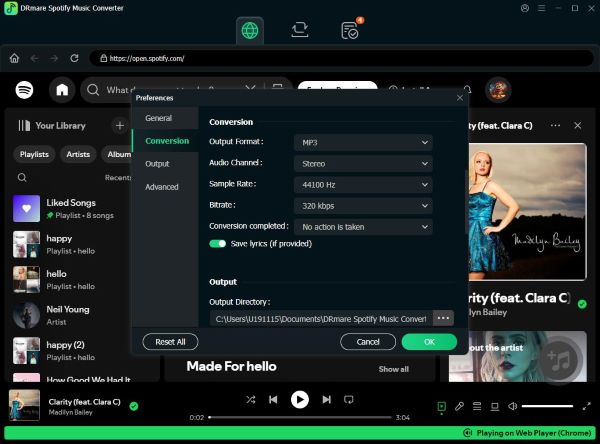 Step 3. When step 2 is finished, you can load your favorite Spotify music now. Please drag and drop the music from Spotify and click "Convert" to run the conversion step. Finally, you will get converted Spotify audio on your computer.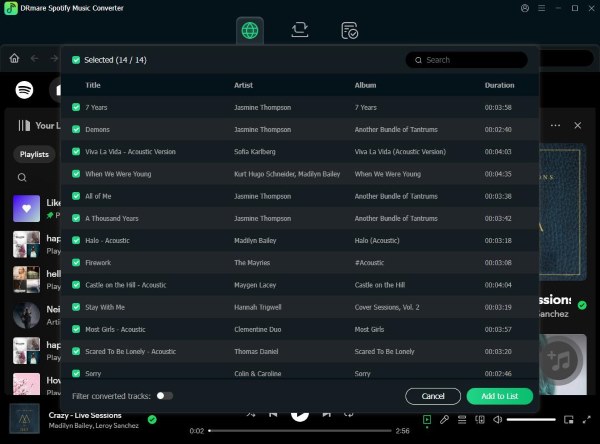 Part 4. Summary
Even if several useful methods can help you resolve Spotify keeps pausing, they are not fast enough. However, using DRmare Spotify Music Converter to convert and save Spotify audio as local files can assist you in playing Spotify music without WiFi. It can reduce many situations in using Spotify online, such as Spotify not working, Spotify keeps skipping songs and so on. Therefore, we wish you to use this practical converter to avoid Spotify suddenly keeps pausing.