"Can you download songs from Spotify to Wear OS smartwatches?" For Spotify Wear OS smartwatches, you can learn more in this post. Also, we know that Spotify supports Samsung Galaxy Gear and Apple Watch wearable devices. Besides, with the new Wear OS Spotify app, users can play Spotify on other Android Wear watches.
Yet, if you are a new user of Spotify on Wear OS smartwatches, you may don't know how to set up it. And you may face some technical issues. But no worry. Below you will get an ultimate tutorial to fix Wear OS Spotify offline issue.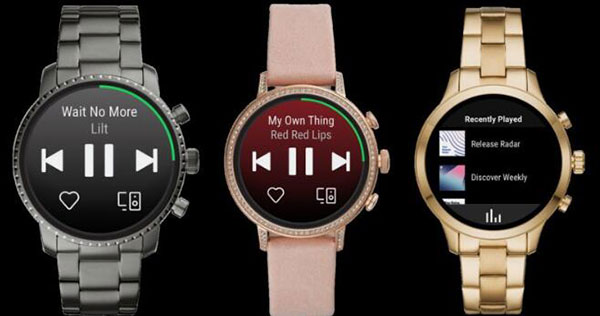 Part 1. How to Use Wear OS Spotify Offline via DRmare Music Converter
Though you can use Spotify with Wear OS watches, you can't enjoy Wear OS offline music from Spotify with some of them. But please don't worry. Wear OS smartwatches supports to play local songs. So here, we will the best way for you to use Wear OS Spotify offline music.
To do that, you need to save Spotify songs as MP3 offline first. And then you can get Spotify offline Wear OS playback with ease. To keep high-quality tracks and batch download Spotify songs, you can try this professional tool. It is DRmare Spotify Playlist Downloader. This software stands out for its high performance like 5X converting speed and lossless quality. With it, you can also use Spotify offline Android Wear OS smartwatches. You can then play Spotify on Wear OS without phone while doing sports.
DRmare Music Converter for Spotify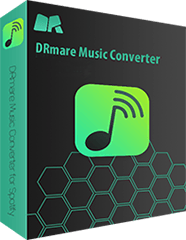 Friendly interface, easy enough for everyone to handle
Download Spotify songs, playlists, and more as local files in lossless quality
Support many output formats MP3, M4A, AAC, WAV, FLAC, and M4B
Keep lossless quality, ID3 tags and archive the songs by artist/album
Enable you to enjoy Wear OS Spotify without phone offline
How to Download Spotify Songs for Offline Playback on Wear OS Smartwatches
Now follow the steps below to learn how to download Spotify as MP3 on Mac/Windows computers. After that, you can transfer the MP3 songs to all Wear OS smartwatches. Then you can play Spotify on Wear OS offline without any limit.
Step 1

Add Spotify tracks or playlists to DRmare

Download and install DRmare Music Converter onto your own computer. When you open the DRmare Spotify Music Converter, the Spotify app will be opened also. Please drag & drop the songs or playlists you want from Spotify's main screen to the DRmare main interface.
Step 2

Choose a new music format for Wear OS Spotify

Spotify songs are in 320 Kbps bitrate, you can choose the MP3 format. It is good enough to keep the 320 Kbps bit rate. In addition, MP3 is widely supported by all Wear OS watches. Besides, you can customize Spotify audio parameters like bit rate and so on as you want.
Step 3

Download Spotify music to stream on Wear OS watches offline

Just select an output folder and click the "Convert" button. DRmare software will help you download the Spotify songs to the specific folder you set. You can check them via the 'history' icon on the DRmare program.
Part 2. Get Wear OS Spotify Offline on Fossil Smartwatch and Other Wear OS Watches
"Can you play Spotify on Fossil smartwatch offline?" Sure. To get Fossil smartwatch Spotify offline work, you need to move local Spotify music to it. As you had got local Spotify songs via DRmare Music Converter, now you can check the steps below. Then you will learn how to use Fossil Sport Spotify offline below.
Step 1. Visit the YouTube Music website from your computer. Then log in with your account info.
Step 2. Hit your profile icon and choose the 'Upload music' option. Then you can find and upload the local Spotify music files to YouTube Music.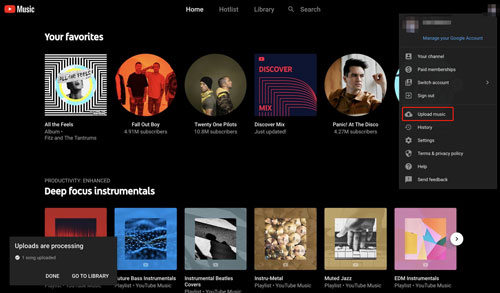 Step 3. Install the YouTube Music app from Google Play Store on your Fossil watch.
Step 4. Once installed, then you can sync Spotify music to Fossil watch and download them.
After that, you can enjoy Fossil Spotify offline on the go.
Part 3. How to Download Spotify Playlist to Wear OS with Premium
Spotify is pre-installed on many Wear OS smartwatches. With Spotify premium, you can download Spotify playlist on Wear OS. But you may need to download it if you can't find it from the main app menu of your smartwatch. Also, your watch needs to run with Wear OS 2.2 or higher. Let's check how to download it and download playlist from Spotify on the watch.
Note: Before starting, please make sure the Wear OS watch is connected to an internet connection.
Download Wear OS Spotify App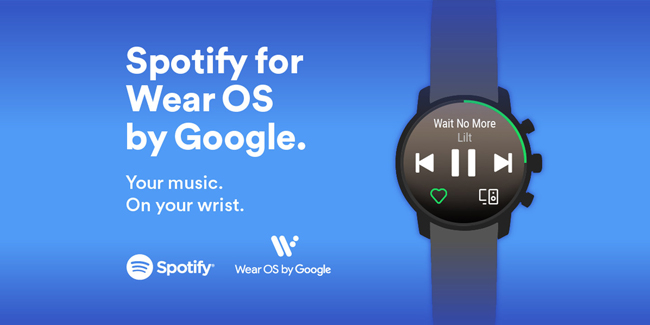 Step 1. Go to Google Play Store on your Wear watch. Then you can search for available apps to install.
Step 2. Please search for "Spotify" in the search box. Once found, please click "Install" to install it to your smartwatch.
Step 3. The Spotify Wear OS app will be downloaded onto your watch for a while.
Now, it's the necessary step to use a Wear OS watch to stream Spotify. You need to set up the Spotify app well by doing the following steps.
Set up Spotify Wear OS App to Stream Music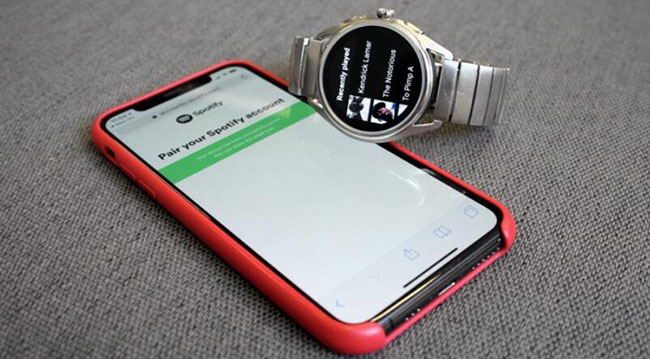 Step 1. Open the Spotify app from your Wear OS smartwatch.
Step 2. It will show the pairing page for you to pair your smartwatch with your phone. Then input the code showing on the screen and log in or you can fill in the account and password to log in.
Step 3. After that, you can start to stream Spotify songs.
How to Download Spotify Songs on Wear OS for Offline Playing
Step 1. Once you paired your watch to your phone, launch the Spotify app on your watch.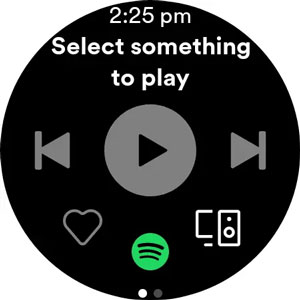 Step 2. Swipe left on the screen of your watch.
Step 3. Click on the playlist or podcast that you like to download.
Step 4. Choose 'Download to Watch' to download Spotify songs to Wear OS watch.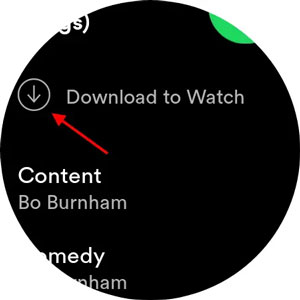 How to Find Downloaded Tracks on Spotify
Step 1. Open the Spotify app on your watch. Then swipe from left to right on the playing screen.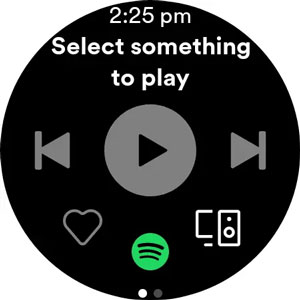 Step 2. You will get the Home Screen on your Wear OS watch. Here click on the 'Downloads' option.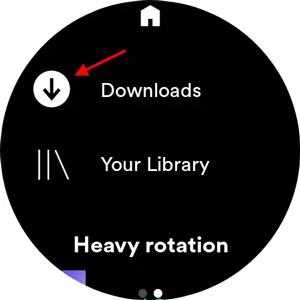 At last, you will find your Spotify downloads on the Wear OS watch. Then you can play Spotify on Wear OS via wireless headphones with ease.
Tips: If you want to remove the Spotify playlist on your watch, you can choose and touch it in the 'Downloads' section. Then hit on the 'Remove from Watch' option to delete it.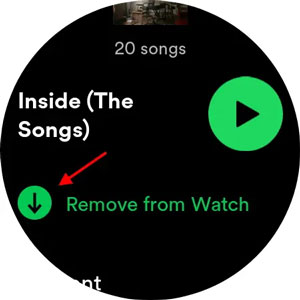 Part 4. Spotify on Wear OS: What You Can Do or Not
Spotify Wear OS app is a stand-alone wearable app. It seems to be a lighter version of Spotify's mobile app. With the integration of the Spotify Connect feature, you do a lot of things via the Wear OS Spotify app.
Spotify Wear OS: What You Can Do
1. Control Music Playback
For instance, you can check what is playing, pause, and skip current playing songs. And you can save your favorites.
2. Play Spotify on Other Connected Devices
With the Spotify Connect feature, you can stream music to any other music playback device. It only requires to be under the same WiFi network. You can stream Spotify music to Bose SoundTouch and other Bluetooth speakers.
3. Add Songs to Spotify Music Library
You can manage your Spotify music library via the Wear OS Spotify app. You can add songs, delete songs as well as sort the songs.
Wear OS Spotify: What You Can't Do
Yet, the Wearify for Spotify app is still not perfect. There are two major unsupported features of the Spotify Wear OS app.
1. 4G/LTE Streaming
Now, the Spotify app doesn't offer 4G/LTE streaming from Wear OS smartwatches to Bluetooth headsets.
2. Offline Playback
Wear OS Spotify offline feature is only available for 2-3 devices. This only works on Samsung Gear, Garmin and Mighty. It could be the key reason why you can't use Spotify Wear OS offline.
This makes it almost useless if you'd like to listen to Spotify music outside when doing sports. Anyway, Spotify may fix Spotify offline Wear OS issue in the future. But to be honest, it will take a long time.
Part 5. FAQs about Spotify Wear OS
Q1: Can I Use Spotify Offline on Wear OS?
A: To play Spotify offline on Wear OS, you need to be a Spotify premium user. Also, the Spotify app needs to be downloaded to your watch. Besides, your watch needs to run with Wear OS 3.
Q2: Which Watch Supports Wear OS 3?
A: Samsung Galaxy Watch 4/Classic, Fossil Gen 6 smartwatches (2022), Mobvoi TicWatch E3, and more run with Wear OS 3.
Q3: Is Wear OS the Same as Android?
A: Nope. Wear OS is based on Android. And it is used for the wrist.
Q4: Can I Listen to Spotify on Any Wear OS Offline?
A: As not all Wear OS supports Spotify offline, you can try to use DRmare Spotify Music Converter to convert and download Spotify songs to local files. Then you can sync Spotify music to your watch for offline playing.
Part 6. The Verdict
In this post, you learned how to get Spotify Wear OS offline playback. You can follow the steps above and enjoy your Spotify music offline. Besides, if you want to play Spotify songs on more Wear OS smartwatches, you can use DRmare Music Converter. With it, you can convert and save Spotify tracks to local files. Then you can listen to Spotify audio files offline anywhere you like.