"Why can't I search on Spotify?" Search on Spotify allows you to search for specific songs, artists, albums, playlists, and more. By entering keywords into the search bar, you can quickly find the content you're looking for. Spotify search can be accessed from the home screen of the app or from within a specific playlist or album. The search results will display a list of relevant content that you can then browse and play. However, sometimes you may face Spotify not searching issue. Then you will be hard to find the song or playlist you want. It is an annoying issue and make users disappointed. But don't worry, we have found the reasons and solutions to help you solve the issue. Read on and check them out.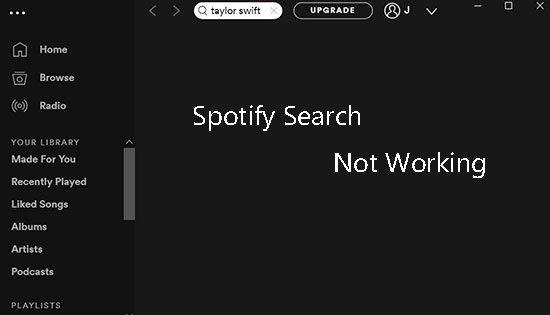 Part 1. Why Is Spotify Search Not Working
"Why can't I search songs on Spotify?" There could be several reasons why you can't search on Spotify. This may be due to poor internet connection, issues with the app itself, etc. Here is a list of all the possible reasons why search on Spotify not working.
1. Poor internet connection. Spotify needs to be connected to an internet connection to search for music. If you have a poor internet connection, Spotify may not be able to connect to its servers to perform searches. This may cause problems with search functionality.
2. App related issues. Sometimes, the Spotify app may face issues that affect the search functionality. This may be due to a bug or an outdated version of the application.
3. Device related issues. If your device software is outdated, or other are some settings restrict Spotify to work, Spotify search may not work.
Part 2. How to Solve Spotify Search Not Working by Common Ways
If you encounter any issues with Spotify, the first thing you can do is check the Spotify servers. Problems with Spotify servers will cause the app to not work properly. You just have to wait for Spotify servers to come back up. You can visit the Spotify Status Twitter page or check out the Down detector website. If there is a widespread power outage, this may be the cause of the problem. In this case, you need to wait until the issue is resolved before you can use Spotify search again.
Fix 2. Check Internet Connection
If you are experiencing issues with Spotify search broken, one possible solution is to check your internet connection. A poor internet connection may prevent Spotify from performing searches.
1. You can open and use other apps to check if your network connection is strong and stable.
2. Or try switching to a different Wi-Fi network or using a cellular data connection to see if that resolves the issue.
3. You can also try restarting your router or modem to refresh your internet connection.
Fix 3. Disable Spotify Offline Mode
One possible solution to fix Spotify not searching is to disable Spotify offline mode. Offline mode allows you to listen to music without an internet connection, but it also blocks Spotify from accessing searches. It's common to see a "Spotify is offline" error after entering a search term on Spotify. Therefore, make sure you have turned off Spotify offline mode to search Spotify playlists.
On iOS/Android: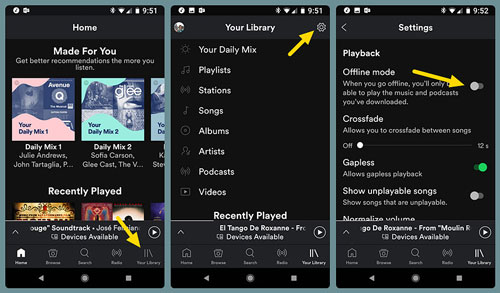 Open Spotify on your mobile phone.
Go to "Settings" > "Playback" to find the "Offline mode" option.
Switch the button to set "Offline" to "Off".
On Windows: Login to the Spotify desktop app and click on the 'three-dots' icon at the top left corner. Then choose 'File' > 'Offline Mode' to go to turn it off if it is on.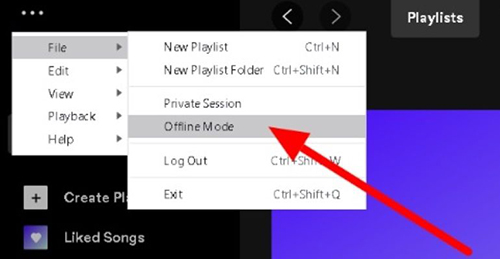 On Mac: Go to Apple menu > Spotify > Offline to check the status of offline mode. If it is enabled, then disable it.
Fix 4. Log out and Log in Spotify Account
To resolve the Spotify search bar not working issue, you can try to sign out of your Spotify account and then login to your account again. Now, check the steps below for how to do that on your Android/iOS/Windows/Mac OS devices.
On Windows/Mac: On the Spotify app, hit on your 'profile' and choose 'Log out'.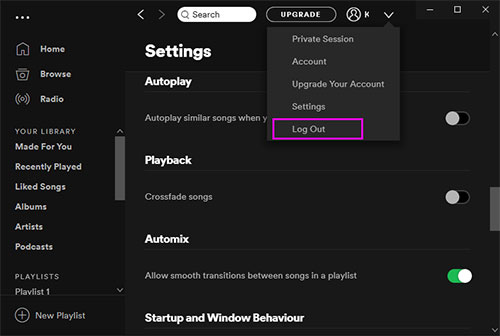 On Android/iOS: Head to the Spotify app and hit on the 'Home' option. Then pick up 'settings' and select 'Log out'.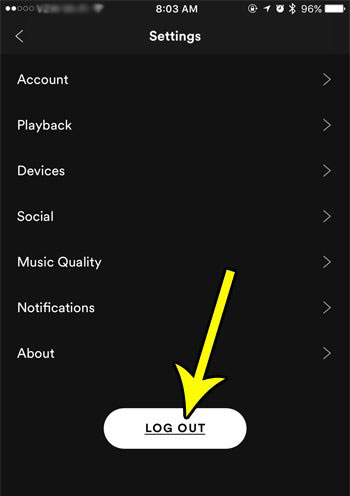 When logged out of the Spotify account, quit the Spotify app and restart it. And sign in to it again to see whether the Spotify mobile and Spotify desktop search not working is fixed or not.
Fix 5. Clear Spotify Cache
Clearing the cache can help resolve app-related issues and improve performance. So, you can also try to clear Spotify cache to solve Spotify search not working. Check the detailed steps below to do that.
For Windows:
Step 1. Enter the Spotify app and head to its settings section.
Step 2. Locate the 'Offline storage location' section. And then go to that location on your computer.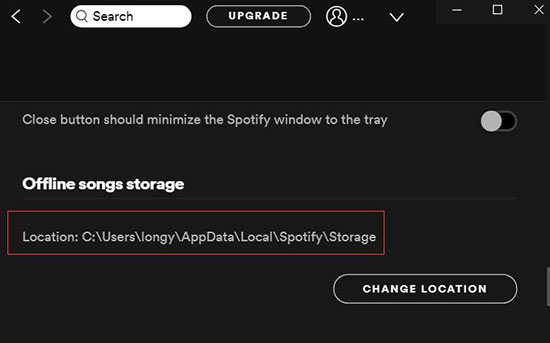 Step 3. Open File Explorer and head to the target folder of Spotify offline files.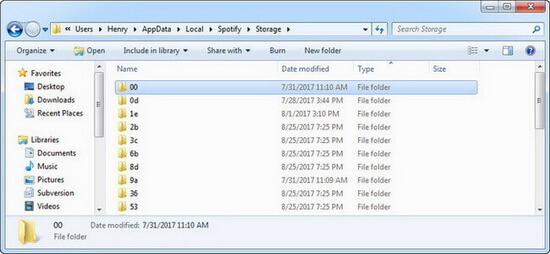 Step 4. Once located, delete all the Spotify files in the window.
For Android:
Step 1. Open the Settings app on your phone.
Step 2. Find the 'Apps' section and look for the Spotify app in it. Then click on the Spotify app's option.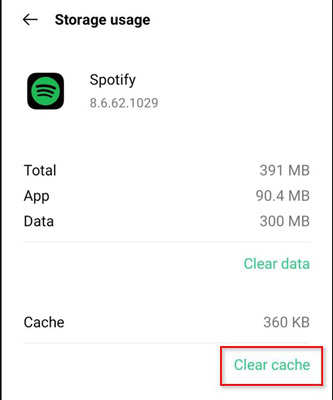 Step 3. Hit on 'Storage' > 'Clear cache'.
Fix 6. Update Spotify App
If you are using an older version of the Spotify app, you may encounter compatibility issues that affect Spotify functionality. Maybe that's why Spotify search broken. Therefore, you need to check if you are using the latest Spotify app. Now, follow the guide below.
For Android: Head to Google Play Store > find the Spotify app. If you see the 'Update' option, then hit on it to upgrade.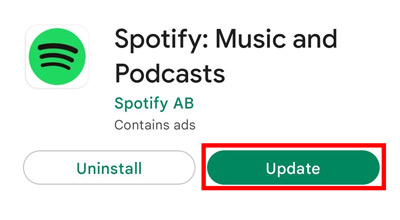 For iOS: Enter App Store and look for the Spotify app to check whether there is an 'Update' option. If yes, click on it to update.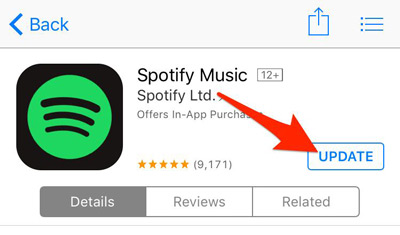 For Mac/Windows: Go to the 'profile' option on the Spotify app and choose 'Update Spotify now'. Or click on 'More' > 'Help' > 'About Spotify' to get its latest version.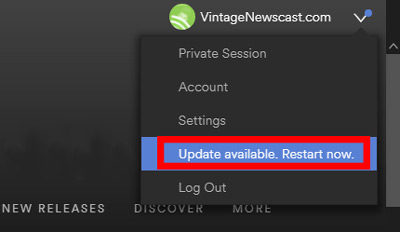 Fix 7. Uninstall and Reinstall Spotify
If updating the app doesn't work, try uninstalling and reinstalliing the Spotify app. This can help resolve any issues related to the app itself, such as a bug or corrupted files. Here is how to reinstall the Spotify app to solve Spotify search in playlist not working.
On Windows: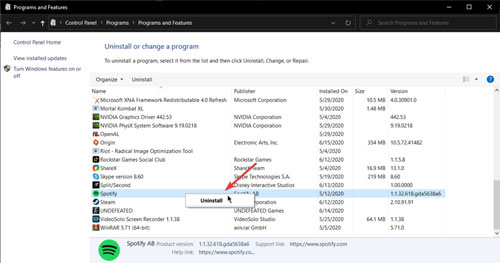 Go to the control panel on your Windows computer and choose the Spotify app to uninstall.
From the start menu, type "%AppData%" and choose to open the AppData folder.
Go to the "Roaming" folder, then find and delete the "Spotify" folder.
Now restart your computer to download and reinstall the Spotify app.
On Mac: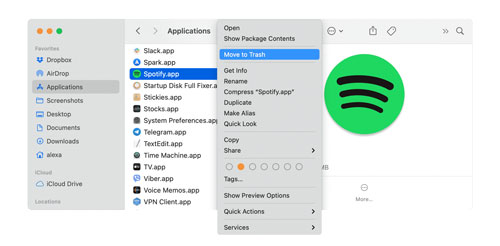 First, you need to fully quit the Spotify app on your Mac computer. Please make it by 'Go' > 'Utilities' > 'Activity Monitor' > 'Spotify processes' > 'Quit Process'.
Start Finder and go to Applications. Then choose 'Spotify' > 'Move To Trash'.
Then hit on 'Go' and hold the Option / Alt Key. And choose 'Library' > 'Caches'.
After that, you can delete Spotify folders from your Mac computer.
On Android: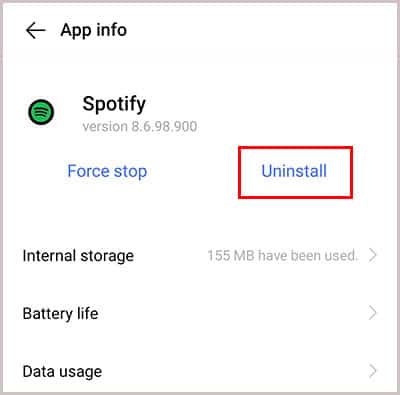 Go to the Google Play Store on your Android device.
Find the Spotify app in the Store. Once found, click on Spotify and hit on 'Uninstall'.
Once uninstalled, go on to install the Spotify app again.
On iPhone: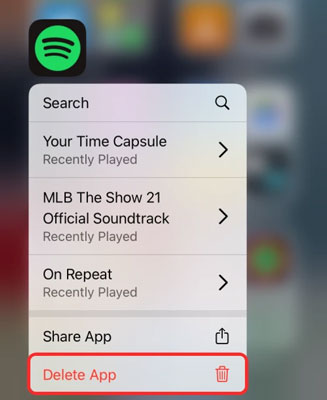 Find and hold the Spotify app on your iPhone.
Choose 'Remove App' and then hit on 'Delete' to uninstall the Spotify app.
After that, head to reinstall the app on your device.
Fix 8. Use Spotify Web Player
Still can't search on Spotify app with the above tips? Then you can try that via the Spotify Web Player. Head to the Spotify Web Player webpage on your computer. Then log in to your Spotify account and try to search for the music you want.
Besides, you can search Spotify songs on Google to fix the Spotify won't search songs issues.
Fix 9. Disable Background Usage Restrictions
Another possible solution is to disable background usage restrictions for the Spotify app. If you have turned on the settings that restrict Spotify from running in the background, it can affect search functionality. So, try disabing background usage restrictions to solve Spotify search not working.
On iOS: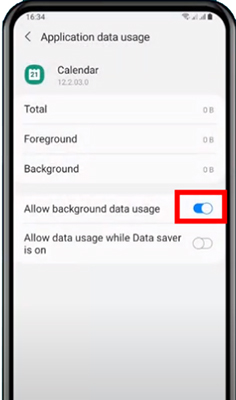 Go to the Settings app and then choose 'General'.
Select 'Application data usage' and then turn on 'Allow background data usage'.
On Android: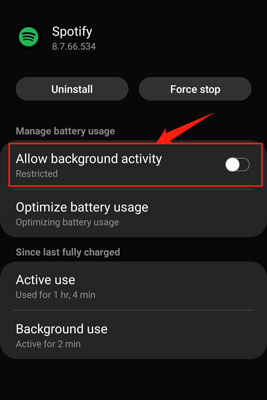 Launch the Settings app and choose 'Apps' or 'Manage Apps'.
Find Spotify and turn on 'Allow background activity'.
On Desktop: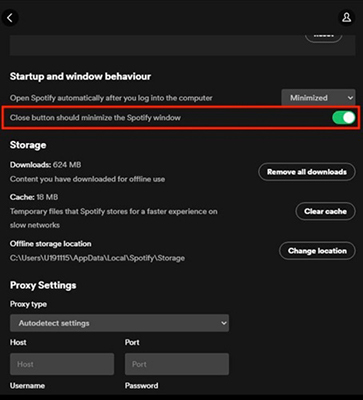 Open the Spotify desktop app and click on your 'profile'.
Choose 'Settings' > 'Show Advanced Settings'.
Turn off 'close button should minimize the Spotify window'.
Fix 10. Turn on Camera Permission for Spotify
You can also try turning on the camera permissions of the Spotify app. This may seem unrelated, but some users have reported that granting camera permission can help resolve search issues. This will help you scan a Spotify code using the search bar.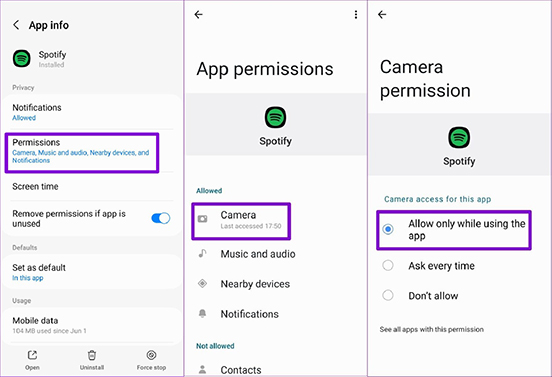 To turn on camera permissions, go to your device's settings, find 'Apps & Notifications', select 'Spotify', and then select 'Permissions'. Make sure camera permissions are turned on. After granting camera permission, try searching again to see if the issue is resolved.
Part 3. How to Solve Spotify Search Not Working by Ultimate Way
If the above solutions don't help you resolve Spotify search broken issue, try using other music apps to listen to Spotify music and search for your desired songs. For this, you will need DRmare Spotify Music Converter to download Spotify songs to unprotected music files. By default, it automatically converts Spotify music to MP3, and you can change to other common formats like AAC, FLAC, M4A, etc. After conversion, you can listen to Spotify music using any other music app on your device or move Spotify music to other devices for offline listening.
DRmare Spotify Music Converter not only helps you play Spotify songs with other music players, but also download music from Spotify without Premium. Therefore, it also helps you save money to listen to Spotify music without a Premium subscription.
DRmare Spotify Music Converter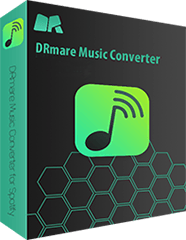 Convert Spotify to MP3, FLAC, AAC, M4B, M4A, WAV
Download music from Spotify offline without Premium
Play Spotify songs with other music players or on other devices
Keep lossless sound quality and ID3 tags
Now you can follow the steps to download and manage Spotify music on your local computer or other devices. After that, you can listen to Spotify music without the Spotify app. And you won't meet Spotify search bar not working issue.
Step 1

Import Spotify music

Install the DRmare Spotify Music Converter on your desktop and open it then. You can drag & drop Spotify audio to the DRmare software from the Spotify app. Or you can copy and paste to input the Spotify music link and click "+".
Step 2

Select a new format for Spotify tracks

You can keep the default MP3 format for Spotify files. If you want to change it, you can click "Menu" from the top right corner and choose "Preferences" > "Convert". From there, you can change the format, channel, sample rate and bit rate of Spotify.
Step 3

Start downloading Spotify music

When everything is ready, tap the "Convert" button to save Spotify songs offline on your local computer. With the automatic converting feature, you don't need to do anything else. Just wait a few minutes to get your songs. At last, you can download and keep the songs you find on Spotify for offline listening without any limits.
Part 4. FAQs about Spotify Search
Q1: How to Search Users on Spotify?
A: Open the Spotify app and go to the "Search" bar. Then type "spotify:user:name" into the search bar using the user's name. Then you will find the user, you can select the "Follow" button to see the user's Spotify activity.
Q2: How to Search a Playlist on Spotify?
A: You can look up songs/playlists on Spotify by typing words or by voice command. You can type the name of the song, artist or else on the search box on Spotify. And then press the "Enter" keyboard. Then it will show you all the related content. If you want to narrow down the results, you can also use the Spotify advanced search.
If you want to save time and make it easier to get your song, you can also try the Spotify voice search if you have Car Thing. It doesn't work on Android phones as of the time of writing though. But you can use it on iPhone.
Step 1. Open the Spotify app from your iPhone and go to the "Search" tab.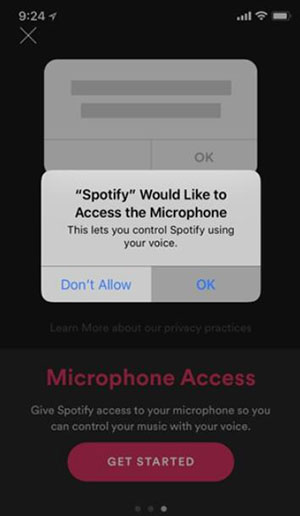 Step 2. Hit the "voice" icon from the bottom right, and it will ask for access to the Microphone. Please click "OK" to confirm.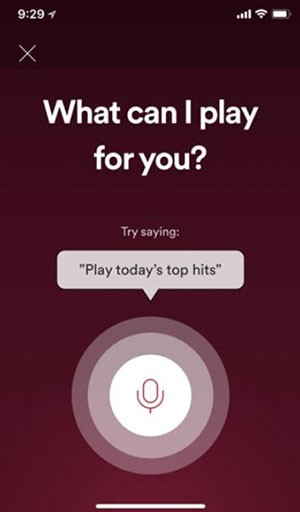 Step 3. After that, you can say the command you want to search and play the song you want. Such as "Play today's top hits".
Q3: Why Spotify Won't Let Me Search Songs?
A: This could be due to issues with your account, internet connection, app issues, device settings issues, etc. For more information, skip to Part 1.
Q4: How to Fix Spotify Search Not Working?
A: Today, we provide you 11 solutions to fix Spotify search outage issue. You can try the common methods in Part 2 one by one first. If they don't work, use DRmare Spotify Music Converter to play Spotify with other music apps and then search for your songs. It is also a good help to download Spotify music without Premium.
Part 5. In Conclusion
If you encounter any problems using Spotify, don't worry. You can comment on your question and we will help you as soon as possible. Furthermore, if you want to download Spotify music offline without membership or save Spotify songs permanently or listen to Spotify on other devices, use DRmare Spotify Downloader.