"Why can't I search on Spotify?" Sometimes you may face the issue that Spotify can't search. Spotify is well-known as the most widely-used streaming service with millions of tracks. It contains a lot of curated playlists ordered by genre, artist and so on. But sometimes it is difficult to locate the song or playlist you want. So, the "Spotify search" feature is essential for users.
Here in this post, we will show you how to use Spotify search feature to find the songs you want. Also, we will share tips with you to solve the issue of Spotify search not working Android/iPhone/Windows/Mac. Let's begin.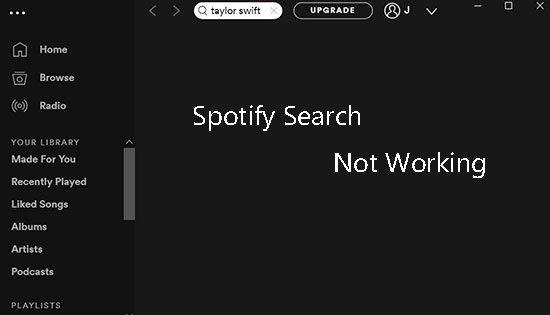 Part 1. How to Use Spotify Search
Spotify search feature is available on all Spotify apps on desktops, mobile phones and some partnered devices. This feature is easy enough for everyone to use. You can look up songs on Spotify by typing words or by voice command. Here let's check the two ways below.
How to Search Songs on Spotify by Keyword
You can type the name of the song, artist or else on the search box on Spotify. And then press the "Enter" keyboard. Then it will show you all the related content. If you want to narrow down the results, you can also use the Spotify advanced search.
Track: When you search for a song from Spotify, you can add double quotes to filter out some results. For example, you can search the song Me by inputting "Me" instead of Me.
Artist: Use the option to get the gong from a specific artist you like. For example, you can type artist: "Taylor Swift" to search the songs or playlists from Taylor Swift only.
Record Label: Spotify songs are composed by a lot of independent labels beside the 4 big labels. If you want to find music from a specific label such as Domino Records, you can add the keyword label: "Domino Records".
Year: You can not only search songs from a specific year but also from a range of years. For instance, you can type the year: "1995~2015" to get the songs during this time span.
Album: To get the latest lover album by Taylor Swift, you can type Album: "Lover".
How to Find Spotify Songs with Voice Search
It is not so easy to type in mobile phones. No worries, if you want to save time and make it easier to get your song, you can also try the Spotify voice search if you have Car Thing. It doesn't work on Android phones as of the time of writing though. But you can use it on iPhone.
Step 1. Open the Spotify app from your iPhone and go to the "Search" tab.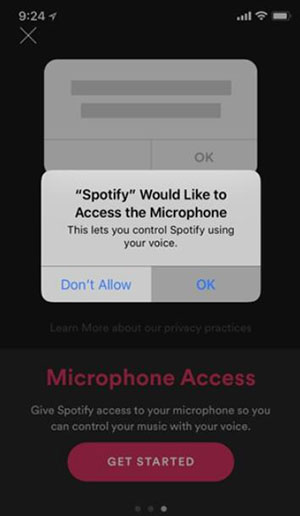 Step 2. Hit the "voice" icon from the bottom right, and it will ask for access to the Microphone. Please click "OK" to confirm.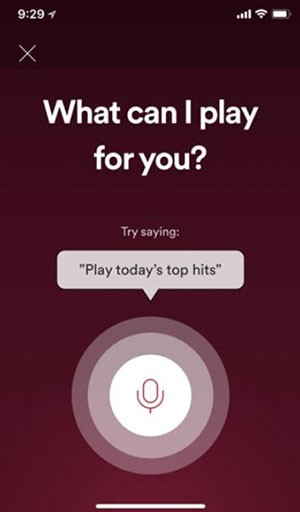 Step 3. After that, you can say the command you want to search and play the song you want. Such as "Play today's top hits".
Part 2. How to Solve Spotify Search Not Working
"Why can't I look up songs on Spotify?" "Why Spotify won't search?" Search on Spotify is a great feature to locate music from the large music library. Yet, sometimes Spotify search isn't working well. We also see the error "Spotify is offline" after typing the search items on Spotify. Why is search not working on Spotify? There may be caused by a bug in the Spotify app or else.
So, how to solve Spotify search broken on your device? No worries. Here you will explore some tips to make it.
Fix 1. Check the Internet Connection
When you can't search on Spotify, you need to first check the internet connection on your device. To confirm the network connection, please open any software on your device to see whether it can work well. Also, you can switch between WiFi and cellular data to test the internet connection.
Fix 2. Log out and Log in Your Spotify Account
To resolve the Spotify search bar not working issue, you can try to sign out of your Spotify account. And then login to your account again. Now, check the steps below for how to do that on your Android/iOS/Windows/Mac OS devices.
On Windows/Mac: On the Spotify app, hit on your profile and choose 'Log out'.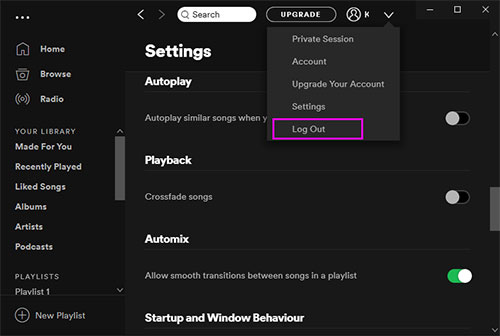 On Android/iOS: Head to the Spotify app and hit on the 'Home' option. Then pick up 'settings' and select 'Log out'.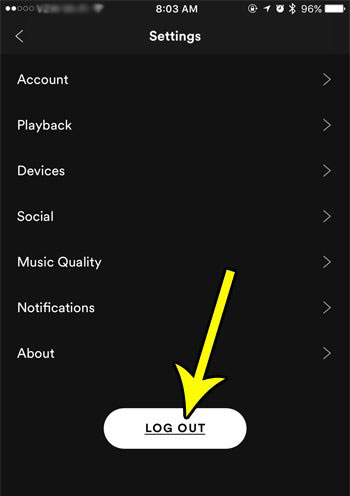 When logged out of the Spotify account, quit the Spotify app and restart it. And sign in to it again to see whether the Spotify mobile and Spotify desktop search not working is fixed or not.
Fix 3. Disable Spotify Offline Mode
If you turn on the Spotify Offline Mode feature, you may meet a Spotify voice search not working issue on your mobile device. Also, you will face Spotify search not working Windows/Mac. So, please ensure that you had turned off Spotify Offline Mode to search Spotify playlists.
On iOS/Android: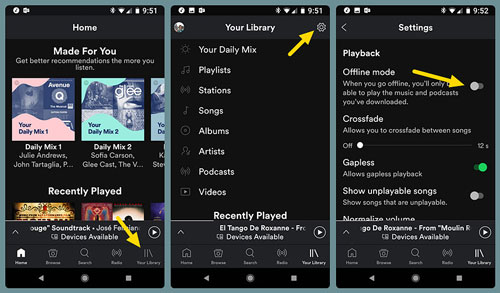 Open Spotify on your mobile phone.
Go to "Settings" > "Playback" to find the "Offline mode" option.
Switch the button to set "Offline" to "Off".
On Windows: Login to the Spotify desktop app and click on the 'three-dots' icon at the top left corner. Then choose 'File' > 'Offline More' to go to turn it off if it is on.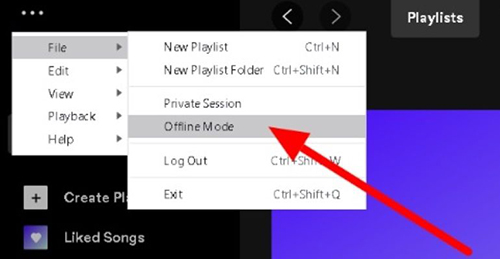 On Mac: Go to Apple menu > Spotify > Offline to check the status of offline mode. If it is enabled, then disable it.
Fix 4. Uninstall and Reinstall Spotify
Or try to uninstall and reinstall the Spotify app on a computer or mobile device. Here is how.
On Windows: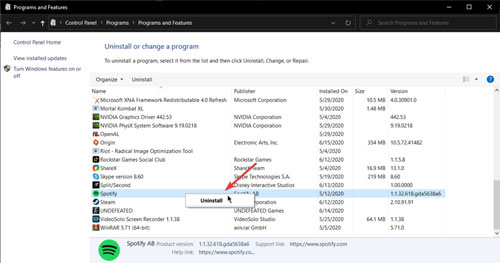 Go to the control panel on your Windows computer and choose the Spotify app to uninstall.
From the start menu, type "%AppData%" and choose to open the AppData folder.
Go to the "Roaming" folder, then find and delete the "Spotify" folder.
Now restart your computer to download and reinstall the Spotify app.
On Mac: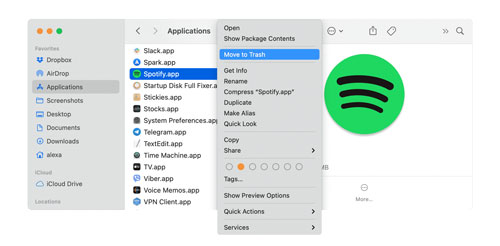 First, you need to fully quit the Spotify app on your Mac computer. Please make it by 'Go' > 'Utilities' > 'Activity Monitor' > 'Spotify processes' > 'Quit Process'.
Start Finder and go to Applications. Then choose 'Spotify' > 'Move To Trash'.
Then hit on 'Go' and hold the Option / Alt Key. And choose 'Library' > 'Caches'.
After that, you can delete Spotify folders from your Mac computer.
On Android: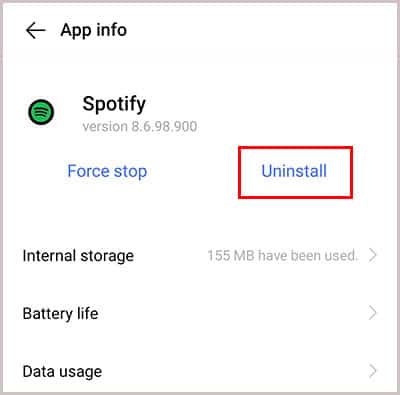 Go to the Google Play Store on your Android device.
Find the Spotify app in the Store. Once found, click on Spotify and hit on 'Uninstall'.
Once uninstalled, go on to install the Spotify app again.
On iPhone: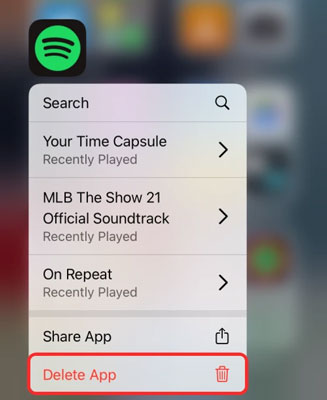 Find and hold the Spotify app on your iPhone.
Choose 'Remove App' and then hit on 'Delete' to uninstall the Spotify app.
After that, head to reinstall the app on your device.
Fix 5. Clear Spotify Cache
You can also try to clear Spotify cache to solve Spotify search not working mobile/desktop problem. Check the detailed steps below to do that.
For Windows:
Step 1. Enter the Spotify app and head to its settings section.
Step 2. Locate the 'Offline storage location' section. And then go to that location on your computer.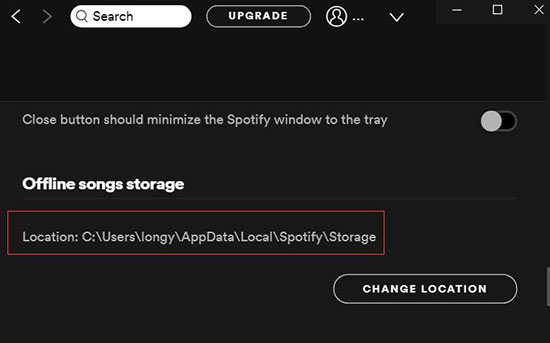 Step 3. Open File Explorer and head to the target folder of Spotify offline files.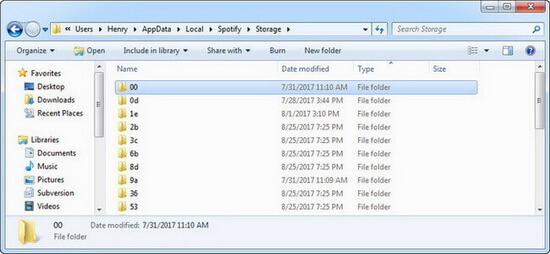 Step 4. Once located, delete all the Spotify files in the window.
For Android:
Step 1. Open the Settings app on your phone.
Step 2. Find the 'Apps' section and look for the Spotify app in it. Then click on the Spotify app's option.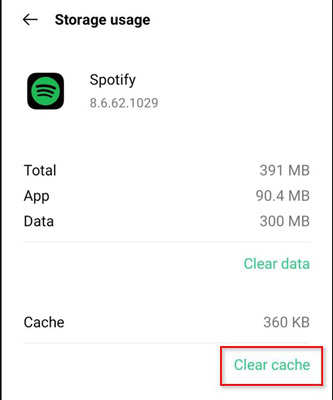 Step 3. Hit on 'Storage' > 'Clear cache'.
Fix 6. Update Spotify App
If you use an old version of the Spotify app, you will get the issue of Spotify search broken. So, you need to check whether you are using the latest Spotify app. Now, follow the guide below.
For Android: Head to Google Play Store > find the Spotify app. If you see the 'Update' option, then hit on it to upgrade.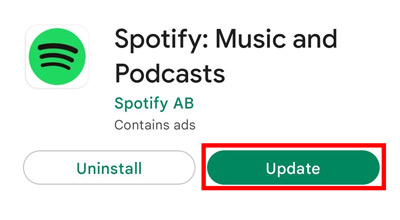 For iOS: Enter App Store and look for the Spotify app to check whether there is an update option. If yes, click on it to update.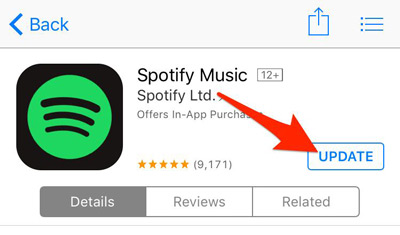 For Mac/Windows: Go to the profile option on the Spotify app and choose 'Update Spotify now'. Or click on 'More' > 'Help' > 'About Spotify' to get its latest version.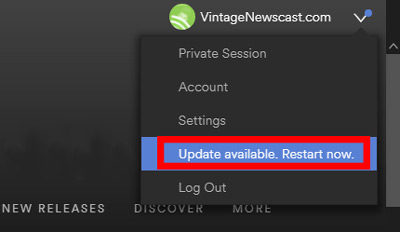 Fix 7. Try to Use Search on Spotify Web Player
Still can't search on Spotify app with the above tips? Then you can try that via the Spotify Web Player.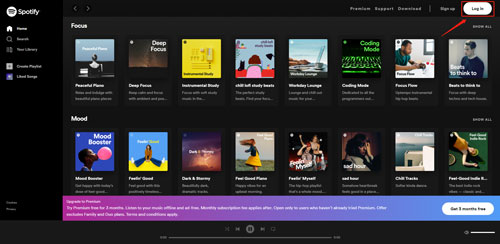 Step 1. Head to the Spotify Web Player webpage on your computer.
Step 2. Go on to log in to your Spotify account.
Step 3. Then hit on the 'Search' option on the left side to start to search Spotify podcasts/tracks.
Besides, you can search Spotify songs on Google to fix the Spotify search doesn't work issues.
Bonus Tips: How to Download Spotify Music Offline
With the Spotify search, you can find almost any music you like from Spotify. And you may want to save them to your device for use. Yet, if you are a Spotify free subscription user, you can't download Spotify songs for offline listening. Even if you subscribe to Spotify premium to download songs offline, it may take up all the free space on your phone. Besides, they are cache files only which you can't move to other devices.
Well, to let you enjoy Spotify songs in a better way without any limits, here is a tool for you. That's to download Spotify music to MP3 by using DRmare Spotify Music Downloader. It is professional enough to download and convert music from Spotify with the original quality. Also, it can convert Spotify playlist/song/album to plain MP3, FLAC and more audio formats. In this case, you can transfer Spotify files to any platform you want.
In addition, you can change the output audio quality for Spotify tracks. You can reset their output sample rate, bit rate, channel and more before converting. After converting, Spotify music files will be kept on your computer for use anywhere offline.
DRmare Music Converter for Spotify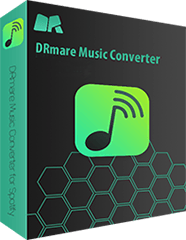 Convert Spotify audiobooks, music, podcasts, and so on
Remove all limitations to play Spotify on any device
Edit ID3 tags, tidy the downloaded Spotify music on your library
Download unlimited Spotify songs for free, save your money
Now you can follow the steps to download and manage Spotify music on your local computer or other devices. After that, you don't need to keep searching for the songs online. And you won't meet Spotify search not working Android/iOS/Windows/Mac issue.
Step 1

Import Spotify music

Install the DRmare Spotify Music Converter on your desktop and open it then. You can drag & drop Spotify audio to the DRmare software from the Spotify app. Or you can copy and paste to input the Spotify music link and click "+".
Step 2

Select a new format for Spotify tracks

You can keep the default MP3 format for Spotify files. If you want to change it, you can click the menu from the top right corner and choose "Preferences". From there, you can change the format, channel, sample rate and bit rate of Spotify.
Step 3

Start downloading Spotify music

When everything is ready, tap the "Convert" button to save Spotify songs offline on your local computer. With the automatic converting feature, you don't need to do anything else. Just wait a few minutes to get your songs. At last, you can download and keep the songs you find on Spotify for offline listening without any limits.