I try to play songs from Spotify on my Safari, it prompts me that "This browser doesn't support Spotify Web Player. Switch browsers or download the Spotify app for your desktop." Why is Spotify Web Player not working? Is there another alternative or do I have to install another browser? - Question from Teresa on the Spotify community.
The Spotify Web Player is the most convenient way to listen to Spotify music. It doesn't require installing extra packages but uses a web browser. But the drawback is sometimes Spotify Web Player not working. It might pop up the error message "Spotify web player an error occurred" on Chrome/Firefox/Safari. And then you can't log in or there is no response after clicking the "Play" button.
Here I'd like to take this chance to introduce more info about it. And offer possible reasons why you will meet it and good solutions on how to fix the issues with Spotify.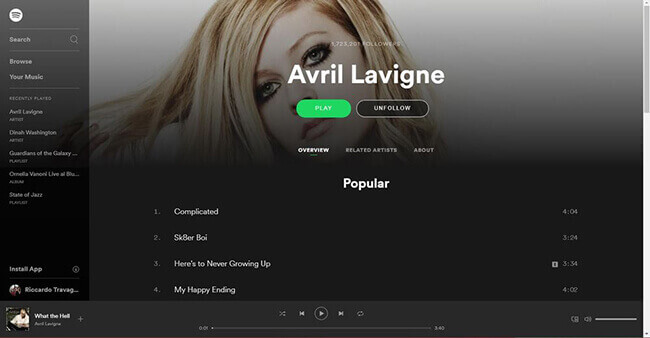 Part 1. How to Enable Spotify Web Player in Your Browser
The Spotify Web Player is a web-based service, which has almost all the features of the desktop app. You can use this web player to search for Spotify artists, tracks, and albums. You can browse new featured playlists of any genres and moods. Also, you can edit your playlists on your own browsers.
It supports many popular web browsers, including Google Chrome, Firefox, Edge, Opera. As for the Safari, this browser doesn't support Spotify Web Player due to some security concerns of Widevine plug-in by Apple. Anyway, you can simply install a new browser if you are using Mac computers.
(Note: Sometimes, you might meet the error message 'Spotify no longer supports this version of Chrome. Please update your
browser for uninterrupted listening.' If you are using the latest Chrome, please ignore it and wait an official way to fix it. If not, please update your Chrome directly.)
Spotify doesn't enable player in your browser by default. If you are the first time to use it, please follow the steps to enable it. Here I take the Google Chrome for example.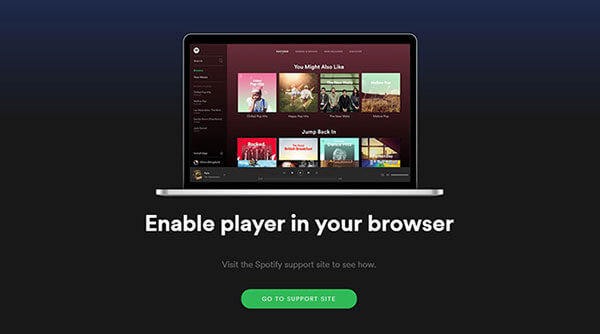 How to Get Spotify Web Player to Work on Chrome
Step 1. Launch Chrome and then go to the Spotify Web Player page. You will see the message "Playback of protected content is not enabled".

Step 2. Open a new tab and copy this link "chrome://settings/content" to the browser address bar and press the "Enter" key.
Step 3. Scroll down to find the menu "Protected content". Click the small downward arrow icon. And then enable the option "Allow site to play protected content".
Step 4. Refresh the Spotify Web Player page and you should be able to use it. You can input your username and password to log in if you are using it for the first time.
When meeting Spotify Web Player not working on Chrome 2020, you can also refer to the above tutorial to solve it. Besides, the steps to do the settings on Firefox, Edge is more or less the same. If you still have any questions about it, you might google it online.
Part 2. Why Is Spotify Web Player Not Working
In general, after enabling the settings, your browser should be able to load the Spotify Web Player without any problem. But I found that many users still complained that Spotify Web Player doesn't work. It happens especially after a new version web player is released.
Before introducing the ways to fix issues, it's necessary to illustrate why won't Spotify Web Player work. Well, it could be caused by the internet connection or your internet service. Your Spotify Web Player is blocking by the Firewall settings. There is a bad cache on your computer or the cookies of your web browser are corrupted.
Besides, there are three other reasons that we mentioned above. Your web browser is outdated or doesn't support Spotify. Or you just forget to enable protected content on your browser. You will face the 'Playback of protected content is not enabled' message. You can enable protected content in your browser by following the steps in Part 1.
Here are all reasons why does Spotify Web Player not working. You try the following solutions updated recently in 2019 which are proven to work.
Part 3. Spotify Web Player Not Woring - How to Fix
Method 1. Check the Internet connection
You can try to load other websites. If none of them open either, you can restart your router first and try it again in a few minutes later. Also, make sure you don't use any proxy settings. In case it still doesn't work, you should call your Internet service provider (ISP) to report the problem. They will offer a solution and then the Spotify web browser not working could be fixed well.
Method 2. Check anti-virus and firewall settings
If Spotify is the only website that you can't connect to, then the problem could be narrowed. You can check if there are any Antivirus or Firewalls settings that block this service. I'd suggest you disable your Antivirus and Firewalls on your Windows or Mac first.

Step 1. There is a 'Search' box under the bottom-left corner of your Windows computer. Please type the 'Control Panel' in the 'Type here to search' to open it.
Step 2. Navigate to the 'System and Security' section and then choose 'Windows Defender Firewall'.
Step 3. Toggle off the firewall by clicking the 'Turn Windows Defender Firewall on or off' from the side menu.
Step 4. Restart your Windows computer to save settings. And you will fix the Spotify web not working issue.
Method 3. Remove browser cache files
Nowadays, many computers try to provide better Internet service by caching web pages and related data to the local computer. And then it's faster and easier to load the web page. But sometimes it may cache wrong data or errors. As a result, the page, including the Spotify browser won't be opened. In this case, you'd better delete all the cached data of your browser such as cookies, history, temp files, and so on. Also, you can flush the DNS on your computer.
Step 1. Type the 'Command Prompt' under the 'Search' button. Right-click the Command prompt and choose the 'Run as administrator' tab.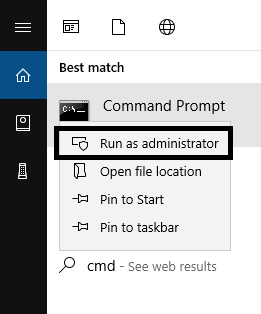 Step 2. Now, please input the following commands:
ipconfig /release
ipconfig /flushdns
ipconfig /renew
Step 3. Just restart your web browser to access Spotify and check whether Spotify Web Player not loading is fixed or not?
Method 4. Delete cookies on your web browser
The functions of cookies are similar to cache files. It is able to store and manage information that websites store on your computer. And it could be used when you return to the websites in the future. If the cookies are corrupted, you will face the issue that Spotify Web Player won't load. To fix it, please delete cookies from your browser.
Method 5. Update your browser
If you try the 4 methods but still can't fix it, there could be something wrong with the browser. It could be too old or doesn't support Spotify Web Player. When using the compatible one, please remove it and then reinstall the latest version. All Chrome/Firefox/Safari browsers can be downloaded from the related official website.
Method 6. Spotify Web Player not playing fixed
If you can open the Spotify Web Player and it loads perfectly, but it doesn't play music, you can do the following things. Copy and paste the link of the Spotify album to your browser and play it individually. Besides, please make sure you are not using Spotify across multiple devices at the same time. If yes, please choose 'This Web Player' as the option to listen to music under the 'Connect' button. And then Spotify Web Player not playing issue can be fixed well.
Part 4. Fix Spotify Web Player Not Working Once and for All
Many users like to use the Spotify Web Player for several reasons. For example, it can let you keep fewer apps on your computer. Only use the browser, open Spotify playlist links, and you can start to access the Spotify library. You can gain portability in enjoying music.
But there are times no matter what methods you tried, it is just not possible to fix Spotify Web Player not loading. So is there another convenient way to listen to Spotify playlists? No need to install the official app and use Spotify Web Player.
Sure. The process to stream Spotify songs online is complicated and related to a lot of services between the server and the client computers. If you can download the Spotify songs as MP3 formats, then it will save you a lot of troubles which may prevent the songs from playback. So why not download the songs to your local computer?
DRmare Spotify Music Converter provides a one-stop solution. You can use it to download Spotify songs without Premium online. Also, it supports to convert the original OGG Vorbis format to MP3, M4A, AAC, WAV, FLAC, M4B. After that, you can play them with any media players effortlessly.
Best Music Converter for Spotify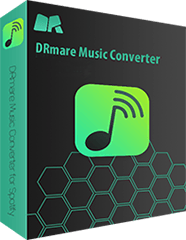 User-friendly interface, it takes only a few clicks to backup the songs in batch
Powerful enough to keep 100% quality while running at 5X faster speed
Keep original ID 3 tags, artist info, metadata such as album cover, title, year, author
Support to run on both Windows and Mac computers with the latest version systems
The trial version is totally free and it supports to convert the first minute of each song. If you have bought the software, you can input the license to register it so that to download full songs. Now please follow me to download the Spotify tracks to common audio files. It helps you play on any browsers and players offline.
Step 1

Add the URL of Spotify playlist

Have received a link of Spotify songs you want to convert from your friends? You can simply copy and paste it to the address bar of the software and press "+". Or you can drag and drop the link of the Spotify playlist to the DRmare software from the Spotify app.
Step 2

Choose a common music format

Spotify original songs are in OGG Vorbis format. It is impossible to play them elsewhere without encoding. Pick a popular format such as MP3 by going to the preferences window > tap "Convert" tab > Select "MP3" format.
Step 3

Download Spotify playlists to local files

After that, you can head to the bottom of the software and click "Convert" button. It should start to convert the Spotify playlist in batch with up to 5X speed. When the songs are downloaded offline, you don't need to worry about the problem that Spotify Web Player does not work anymore. Hope you enjoy playing the songs freely as you want everywhere.