Is there a way to stop Spotify from opening on startup in my computer? It makes my computer slow time from time.
Spotify offers different apps for Windows, Mac computer, iPhone, Android and car stereo. You will encounter such common issue on these devices if they are old and have low hardware configuration.
This is really annoying. If you'd like to disable Spotify automatic startup, you just need to check the following ultimate solutions. No matter what device you have, you will find the right solution here.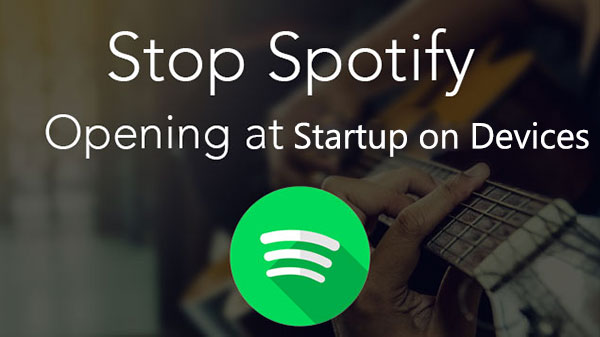 Part 1. Stop Spotify from Opening on Startup In Windows
Windows is a most widely used systems with different models Windows XP/Vista/7/8/10. You can follow the two options to prevent the Spotify desktop app from running when you boot your Windows from the settings window or Windows Task Manager.
Spotify Settings
Step 1. Open "Spotify", you will see the main screen.
Step 2. Click "Edit" > "Preferences" to open the settings window.
Step 3. Scroll down to find and click "Show Advanced Settings" button.
Step 4. Scroll to find the "Startup and Windows Behaviour " Section and select "No" from the drop-down menu of "Open Spotify automatically after you log into the computer".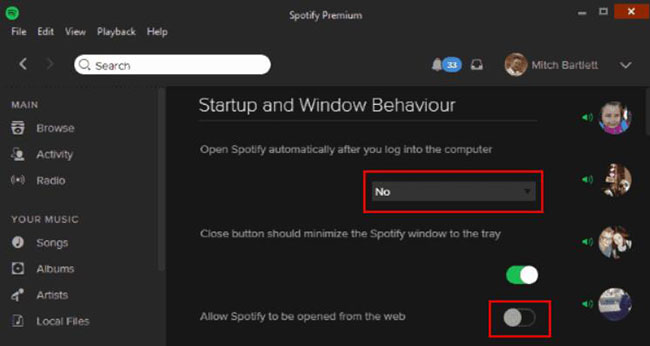 Windows Task Manager
Step 1. Right click on a blank area of the task bar from the bottom of your Windows PC and choose "Task Manager".
Step 2. On the popup task manager window, select "Startup" tab.
Step 3. Right-click "Spotify" and then select "Disable".
Part 2. Stop Spotify from Opening on Startup On Mac
Mac computer usually runs more smoothly compared to Windows computer. However, it is still annoying sometimes if the Spotify starts automatically. Similarly you can go to the settings window of Spotify or Mac system preferences to stop Spotify from booting.
Spotify Preferences
Step 1. Launch Spotify and click "Preferences" top menu on Mac.
Step 2. Next, scroll to find the "Show Advanced Settings" button and then go to the "Startup and Window Behaviour".
Step 3. Finally, find the setting "Open Spotify automatically after you log into the computer" and select no on the drop-down menu.
Mac System Preferences
For mac system, you can also control the startup apps by going into the system preferences.
Step 1. Click "System Preferences" top menu.
Step 2. Click "Users & Groups" and then select the "Login" item tab.
Step 3. You will see a list of accounts and the startup apps.
Step 3. Click the lock icon and input your Apple ID to unlock it first.
Step 4. You can unselect the box beside the apps which you want to remove from startup. Here you can choose "Spotify" to remove it.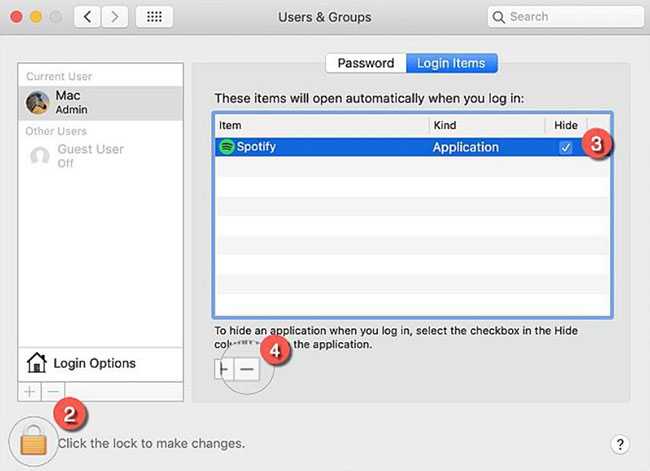 Part 3. Disable Spotify Automaitc Startup from iPhone/Android/Car and Any Devices
Disable Spotify to Run from Web
What if Spotify opens on startup even though disabled on computers? Is there a way to disable Spotify from starting on iPhone, Android, car as well?
If you are bothered with this issue, this must has something to do with the Spotify web player. It is a web-based app which runs on different devices and systems. To make sure you to fix the auto-start issue with the Spotify app, please follow the steps to disable it.
Step 1. Run Spotify app from your devices.
Step 2. Go to the settings window.
Step 3. Click "Advanced Settings".
Step 4. Unselect the option "Allow Spotify to be opened from the web".
Also, if you shut down your computer, phone without turning off the Spotify app due to system update, it is normal that it will start automatically.
Uninstall Spotify from Your Devices
Another ultimate solution is to uninstall your Spotify completely from all your devices. It works 100%. But this will make you lose the privilege to listening to your favorite songs.
If you'd like to keep listening to your songs from any devices, you can use the DRmare Spotify Song Downloader for Windows/Mac to help you convert Spotify songs and transfer them to any devices. By doing this, it will also save your monthly subscription fee too.
It is a most professional Spotify converter in the world with up to 5X speed and lossless quality. The downloaded music will be kept with original metadata, ID3 tags and so on. Interested in it? You can try it out directly. For more tips, visit: How to Download Spotify Songs without Premium.