"Is Spotify down right now?" Spotify has become an inseparable aspect of the daily routine for countless music lovers worldwide, as it dominates the music streaming industry with a staggering 30% share of the global market. However, when it comes to the Spotify down question, it can be frustrating when you encounter problems and cannot enjoy your favorite tunes.
Whether you are experiencing connection errors or app crashes, we understand the frustration that arises. Don't worry, as we are dedicated to providing you with comprehensive assistance in resolving any difficulties you may face. By adhering to the instructions provided in this guide, you will swiftly identify and overcome prevalent issues associated with Spotify.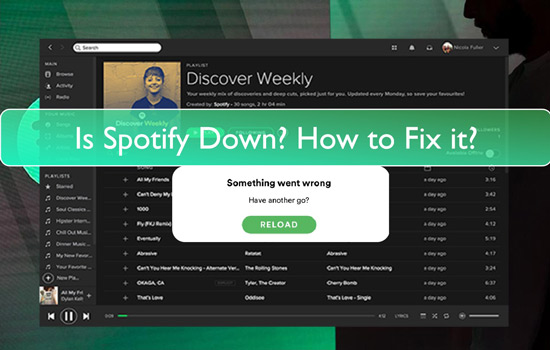 Part 1. Why Is Spotify Not Working?
Spotify's music streaming service can experience Spotify down issues due to various reasons. The complex server network that handles user requests daily can encounter problems such as hardware failures, software errors, and technical glitches. Additionally, server overload can contribute to downtime, slow internet speeds, and dropped connections, further impacting Spotify's availability.
Moreover, software bugs inherent in any complex system like Spotify can cause disruptions or unexpected behavior. While periodic maintenance is necessary to enhance performance, it can temporarily render certain features unavailable or result in the Spotify server being down. In addition, individual users may experience momentary disruptions due to user errors.
These may include entering incorrect login credentials, using outdated app versions, or needing better network connections.
Part 2. How to Solve Spotify Down Issue - Common Fixes
Being a Spotify listener, if you have been experiencing difficulties or downtime issues, there is no need to worry anymore. We are here to help you troubleshoot and resolve the common causes of Spotify being down.
Whether you are encountering playback errors, login problems, or Spotify server down issues, we have highlighted fixes for resolving these glitches below. Follow these fixes to get Spotify back and running in no time:
Fix 1. Check the Spotify Server Status
Suppose you are experiencing constant issues with your Spotify account. In that case, it is essential to determine whether the problem lies with your device or if it is a widespread issue affecting Spotify's servers.
Try Spotify on Another Device
If you have trouble with Spotify on one device, try using it on other devices to see if the problem happens there too. By testing Spotify on another smartphone, tablet, or computer, you can narrow down whether the problem is specific to your device or a broader server-related issue.
Utilize Spotify Status Twitter Account
The Spotify Status Twitter account is a valuable resource informing users about ongoing service-side problems. By visiting their Twitter page (@SpotifyStatus), you can quickly determine if other users report similar issues.
Check Downdetector
To get a broader perspective on the status of Spotify's servers, you can turn to Spotify Downdetector. This reputable third-party website tracks and aggregates user-reported issues for various services. This platform can help confirm whether the Spotify server down problem is widespread or limited to your specific location.
Fix 2. Restart the Spotify App
However, if the issue is limited to your device, a quick fix is to restart the Spotify app. Moreover, doing this might help you resolve any syncing problems and restore functionality. To restart the Spotify app on your Android or iOS device, follow the straightforward instructions guided below:
For Android:
Step 1: Locate and open the "Settings" app on your Android device. In the Settings menu, go down until you see the "Apps" option and tap on it. Inside the Apps menu, look through the list and choose "Spotify" from the options you have.
Step 2: After selecting Spotify, look for the "Force Stop" option, and tap on it. Carefully read the confirmation message and then tap on the "OK" or "Confirm" button in the dialog box.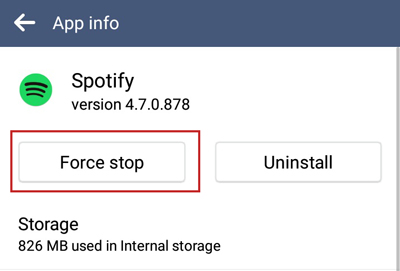 For iPhone:
To restart the Spotify app on your iPhone, swipe up from the bottom of the screen to access all the apps currently running in the background. Afterward, locate the Spotify app and swipe it up to close it.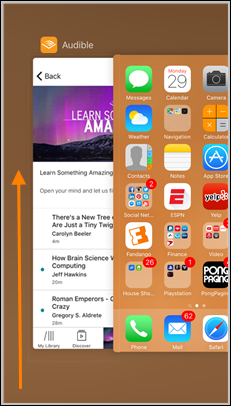 Fix 3. Restart Your Device
Although it may seem like a minor fix, restarting your phone often works like magic when troubleshooting. It's a highly recommended solution that frequently proves effective in resolving Spotify server down issue.
For Android:
Step 1: Locate your device's Power and Volume Up buttons and press both buttons simultaneously. Make sure your device's screen is on and displaying the current interface.
Step 2: Keep it pressed for a few seconds. Now, your device may vibrate or display a menu on the screen. Look for the "Restart" option on the screen. This option might be labeled "Restart", "Reboot", or a similar term. Select the "Restart" option, and make sure you don't tap on any other buttons or options.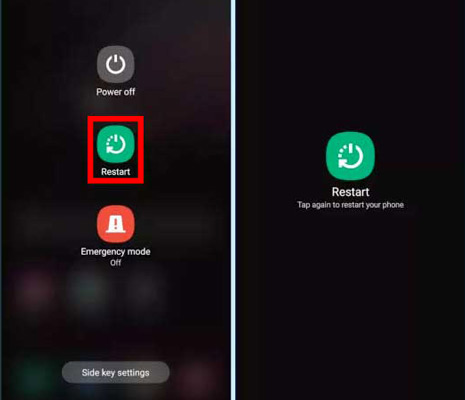 For iPhone:
Step 1: Press and keep your finger on the Power and Volume Up buttons at the same time for a little while. A power screen will appear through which you have to drag the "Slide to Power Off" slider.
Step 2: Now, be patient and wait for your phone to turn off completely. Gently hold down the Power button for a brief period, allowing the Apple logo to appear on the display. This will turn your phone back on.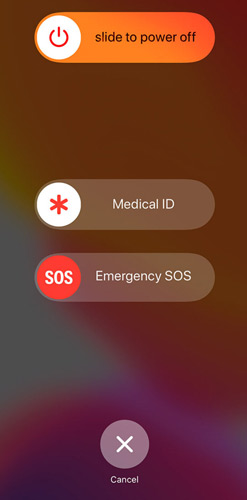 Fix 4. Update the Spotify App
Falling a couple of Spotify app updates typically does not pose any problems, but if you lag significantly, the app may malfunction, particularly with significant updates that alter how the app functions. So, it's a good idea to make sure your app is always up-to-date to counter the "is Spotify down right now" query. You can easily do this by checking for updates in the Play Store or App Store.
For Android:
Step 1: Launch your Android device's "Google Play Store" and access your profile settings. For that, look for your profile icon in the top-right corner of the Play Store interface and tap on it. Open the "Manage Apps & Device" section.
Step 2: After completing the preceding step, locate the option labeled "Updates Available". Tap on this option to unveil a comprehensive list of applications with pending updates.
Step 3: Scroll through the list of apps until you find Spotify. If an update for Spotify is shown, tap the "Update" button next to Spotify's name. This will initiate the update process for Spotify specifically.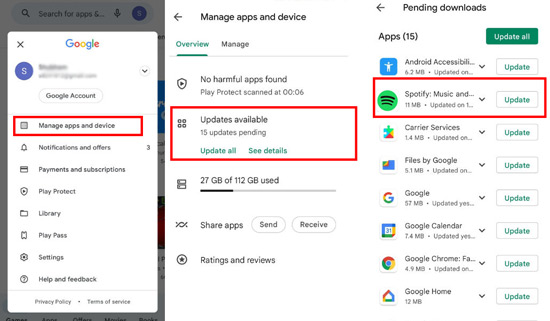 For iPhone:
Step 1: Locate and tap the "App Store" icon on your Apple device's home screen. Once the "App Store" is open, look for your profile icon. It is usually located at the screen's top right or top left corner.
Step 2: Upon accessing your profile, proceed to scroll down until you reach the designated section titled "Updates". Thoroughly inspect the list and search for "Spotify". Verify whether an update is accessible for the Spotify application.
Step 3: In the event that an update is indeed available for Spotify, you will notice the presence of an "Update" button adjacent to the name of the Spotify application. To commence the update procedure for Spotify, simply tap on the "Update" button.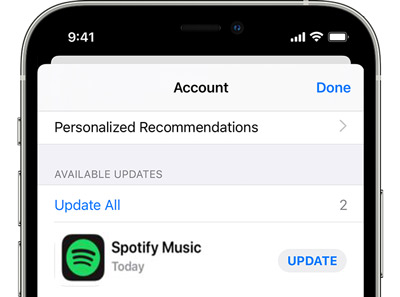 Fix 5. Update the Mobile OS Version
In case it has been a while since your last system update, consider checking for updates, as they can enhance performance, fix bugs, and improve your overall experience. Keeping your software up to date may also help resolve any issues you face with "is Spotify still down".
For Android:
Step 1: Begin by launching the "Settings" app on your Android device. Once in the "Settings" app, navigate to the "System" section. Afterward, locate and tap the "System Update" option.
Step 2: Subsequently, you will be presented with the choice to "Check for Updates". Select this option, and the system will initiate a search for available updates. If an update is indeed accessible, you will receive a notification along with instructions on how to update your Android device.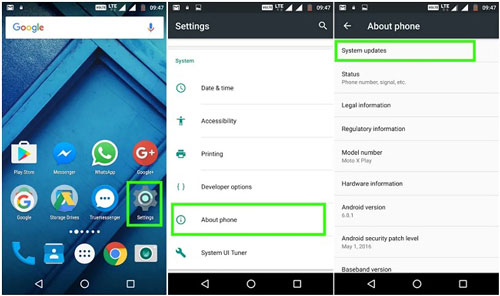 For iPhone:
Step 1: To start, get into the "Settings" application on your device. Next, locate and select the "General" option and tap on it to proceed. Following this, select the option for "Software Update".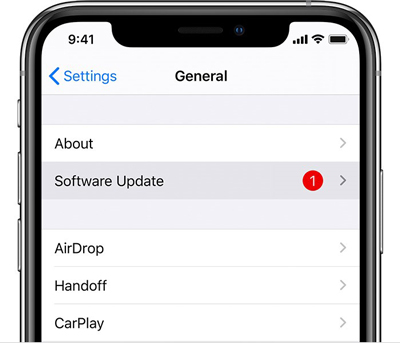 Step 2: The iPhone will automatically search for any available updates. If there are any updates, press the "Download and Install" button and follow the on-screen instructions to update it effortlessly.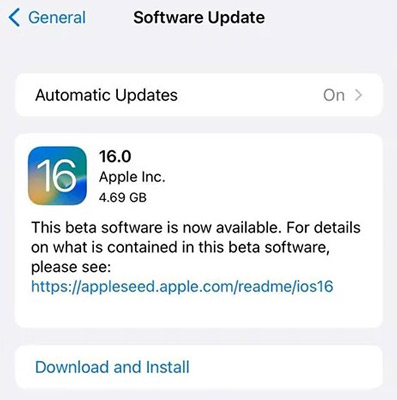 Part 3. How to Listen to Spotify Music While Spotify App and Web Player Is Down
In the event that the Spotify app and web player are experiencing technical difficulties, such as Spotify servers down, users can turn to DRmare Music Converter for uninterrupted access to their favorite Spotify music. Regardless of whether you are using the free or premium version, DRmare Music Converter provides a dependable solution for downloading and converting Spotify songs, playlists, and albums into widely-used audio formats.
This ensures that you can enjoy your favorite tunes offline on any device. With its seamless functionality, DRmare Music Converter provides a convenient alternative to listening to Spotify music when the official platforms are temporarily unavailable. Stay connected to your music library with DRmare efficient streaming music converting solution.
DRmare Spotify Music Downloader
Step-by-Step Instructions to Convert Spotify Music to Listen Offline
If you have tried all the above fixes but to no avail, convert and download Spotify music on your computer for offline listening, especially when you think about why Spotify is down. Follow these detailed steps to ensure you can save and enjoy your favorite tracks indefinitely:
Step 1

Download DRmare Music Converter and Select Songs

Head to the DRmare Music Converter official site and hit the "Download" button. After downloading it, install it on your device and double-click the shortcut icon on your desktop to launch DRmare Music Converter. Next, navigate the Spotify app and locate the songs, playlists, or albums you wish to convert.
Step 2

Add Song Link and Customize Parameters

You can use its Spotify link downloader feature by copying and pasting the Spotify music tracks URLs into the search box. Once the tracks have been loaded into DRmare Spotify Song Converter, click on the menu bar and select "Preferences". You can choose the desired output format appearing in the new window. Additionally, you can customize various audio parameters like bit rate, frame rate, codec, and channel.
Step 3

Downloading and Converting Spotify to MP3

After completing all the previous steps, click the "Convert" button to initiate the download and conversion process. DRmare will now convert Spotify to MP3 or standard audio file formats. Once the conversion is complete, you can locate the converted songs in the destination folder. From there, you can transfer them to any device or player you choose for offline playback whenever you desire.
Wrapping Up
To conclude, experiencing downtime with Spotify can be frustrating for music lovers worldwide. While the exact reasons behind "is Spotify down" may vary, it is likely due to technical glitches or maintenance activities. However, there are a few fixes mentioned above that you can take to troubleshoot the issue on your end.