"I was just working while listening to Spotify songs, the Spotify application become not responding suddenly. Not matter what I do, it is just freezing there. How can I solve it? Help! This problem is pissing me off." - Question from the Spotify community.
As the most trendy streaming music platform which boasted have over 200 million active users, it is not likely that you haven't hear about Spotify. And if you a regular user of Spotify, you may have already meet the similar problem that Spotify app is not working on either Windows, Mac, iPhone or Android phones. Because that is so common.
Whenever your Spotify is down, what would you do? If your answer is to complain at the Spotify help desk, then please don't hurry to do that.
This issue can be related to the memory usage, firewall settings, network and so on. You should really try these solutions first on how to solve Spotify Application not responding.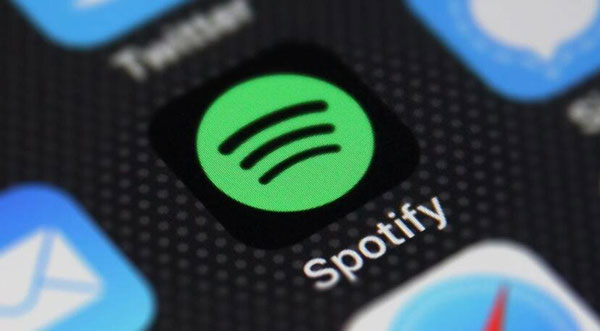 1. End and Reopen Spotify Process
This is the first solution would like to try before restarting your device. When Spotify freezes, usually that is because of low memory. If your Spotify is not responding on your Android phone or iPhone, usually you just need to press the "Home" button to show all the background adds and then you can slide to close Spotify. If you have it on your computer, please try the following steps.
Windows PC
Step 1. Press "Ctrl+Shift+Esc" on your Windows 7/8/10.
Step 2. On the opened Windows Task Manager, you will see a series of running apps on the "Processes" tab.
Step 3. Find and choose Spotify process and then click "End task" to close it.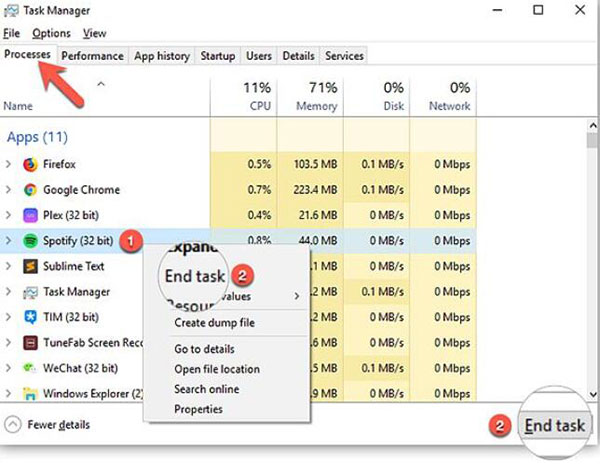 Mac
Step 1. Press the hot key "Command+Option+Escape" to open the the Force Quit Applications window.
Step 2. From there, you can choose "Spotify" and click "Force Quit".
2. Restart the Device Where You Run Spotify On
In most of the case, if your Spotify app is not responding, it may cause your device either mobile or computer freeze as well. If so, you won't be able to open the task manager, force quick applications window or do any more operations.
You can force shut download your Windows PC, Mac and Android phone by long pressing the power button and then try the same way to power on it. For iPhone, you can press the side button and choose "Restart" on the popup window.
3. Add Spotify to Your Antivirus/Firewall White List
One of the reasons why Spotify crash could be process conflict. Sometimes the Antivirus or Firewall is too aggressive which will report and stop the normal processes from running. If a required process for Spotify can't be started, it will surely obstruct the Spotify.
This is more common on Windows PC and other devices don't have so many security software. Here I will show you how to add Spotify to the whitelist of Microsoft Windows Defender.
1. Open Windows Defender security center.
2. Click "Virus & threat protection" > "Settings" > Scroll down to "Exclusions".
3. Click "Add an exclusion".
4. Select "Folder" and then add the Spotify folder exclusion.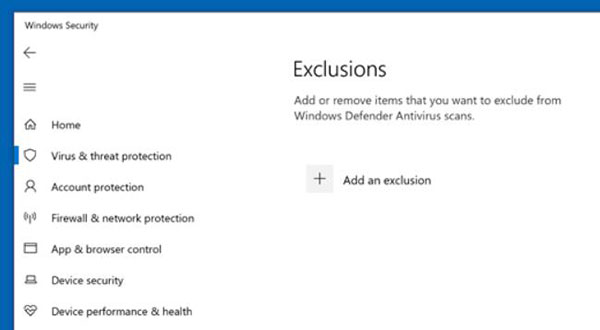 4. Reinstall Spotify App
Still can't fix Spotify program not responding? The program maybe damaged or has some missing file. This is more true if you get the issue when you are opening the program. You should go ahead to reinstall a clean version of Spotify.
PC
#1. Open the start up and type in "Control Panel".
#2. Click "Control Panel" > "Programs" > "Programs & Features".
#3. Right click "Spotify" and choose "Uninstaller".
#4. Head to Spotify Download page and follow the screen instruction to download and reinstall it.
Mac OSX
#1. Drag Spotify application to trash to remove it completely.
#2. Search and reinstall "Spotify" application from the Apple App store.
Android
#1. Click "Settings" > "Applications" > "Manage Applications".
#2. Search and reinstall "Spotify" application from the Google Play store.
iOS
This is same for all iOS devices iPhone, iPad and iPod Touch.
#1. Long press the Spotify app until it shakes, then press the "X" to remove it.
#2. Reinstall Spotify from the App store.
Part 5. Switch to Other Music Player
As an online streaming platform, the Spotify music relies deeply on network to run perfectly. Though you can download Spotify songs by subscribing to the premium membership, it will require you to login again to verify you are an active subscribed user.
If there is a network issue which influence the verification from the Spotify server, some exceptions will happen.
If you don't want to meet this the Spotify not opening or working issue, the best way is to give up Spotify and turn to other music players such as Windows Media Player, VLC player and so on.
To keep your privilege to continue to enjoy Spotify songs, you can download and transcode Spotify music to MP3 format by using DRmare Music Converter for Windows/Mac.
It is totally worth a try for it has really powerful features and the trial version is free.
Best Music Convert for Spotify