"I have downloaded many songs and albums on my computer for listening. But one day I woke up and suddenly found that all of the songs on my Spotify account had disappeared. Anyone know why and is there a way to retrieve them?" - Question from Spotify community.
Spotify has over 40 millions of songs . But if you check your downloaded playlists as time goes on, you may find some of the songs or albums are greyed out and your playlists may get shorter. We have hear many users encountered the similar issue before. Do you want to know why? Now let's explore the reasons and find the solution to solve it for you.
View also: How to Download Spotify Songs without Premium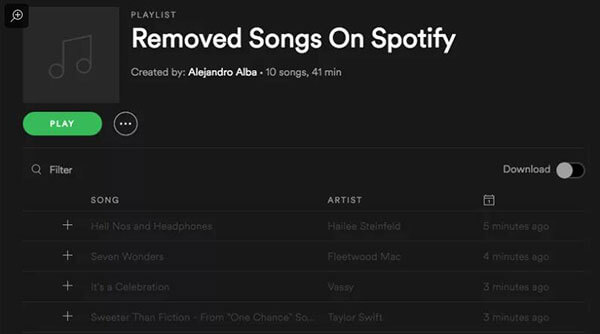 Why Do Songs Disappear from Spotify
Many reasons could cause this issue, so please don't be surprised if you can't find some specific songs. Following are the main causes:
1. Spotify songs license authorization has been removed by the artists or producers.
In this case your downloaded songs will be greyed out as they don't exist on the platform anymore. For instance, Taylor Swift had removed all her albums from Spotify due to her dissatisfaction of the free account which doesn't pay any loyalties to artists.
2. Your Downloaded albums or playlists are expired or exceeded the limitations.
With the DRM protection, Spotify only allows premium users to download up to 10000 tracks within 3 devices. If the total number exceed 10000, Spotify will delete the previous songs for downloading new ones. Also, you are required to login online every 30 days so that to verify you are still subscribed to the premium membership.
3. You change the region or some exceptions happened to the network.
Spotify has different policy on different countries and regions. Some songs which are available on one country are not necessarily on another one. If some exceptions happened to the network, Spotify may not be able to recognize your location as well. In this case, if you want to access to the music from a different region, you can use a VPN.
4. Your songs are broken or deleted by viruses.
It seems rare if you have Antivirus installed on your computer, but it does happen if you don't pay attention to it. when your songs are damaged or deleted by viruses, they won't show up.
How to Backup Spotify Songs to Your Local Devices Safely Forever
From what we have discussed above, even if we download Spotify music offline with the premium, we just can't guarantee to keep them forever on your devices. This is a pity if you have some favorite songs which you never want to lose. Is there a way to transfer the songs to backup and reduce such a pain?
The answer is yes if you can overcome the difficulties. First, Spotify songs are in OGG format with DRM protection, making it impossible to play elsewhere outside the Spotify app. Second, besides the DRM, the OGG file format also come with encryption. This means you can't access to the location of the saved OGG songs on your computer.
Fortunately, DRmare software can be a lifesaver for you which can solve these difficulties in a breeze. DRmare Spotify Album Downloader for Mac/Windows adopts the exclusive technology to decrypt and convert Spotify songs simultaneously. It doesn't require you to access to your downloaded files but capture the music directly from the URL.
View also: Top 6 Best 2018 Spotify Song Downloader
Why Choose DRmare Music Converter for Spotify?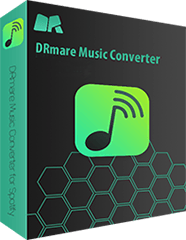 Beautiful and professional interface, get the job done quickly and efficiently
Convert any songs, albums, playlists at up to 5X speed while keeping original quality
The output music files can be played on any devices such as iOS, Android, Windows
One stop solution to archive your songs with original meta data, artist info
Tired of songs missing from Spotify? It is time to fix it immediately. By extracting the DRM free MP3 files from Spotify, you can put them on your USB external hard drive, SD card or any other mobile devices for storing. Now let's get started.

Step 1

Import the Spotify URL

DRmare software depends on the Spotify app to run, so please make sure you have installed right version music app from the official website. In case you haven't log in with your premium account, please just go ahead to input the account name and password. After that, you can drag and drop any songs, playlists, radio stations, podcasts from the Spotify app to the DRmare application.
Step 2

Customize output audio format

You can pickup one format you like from the list MP3, M4A, M4B, AAC, WAV, FLAC to backup. Among them, WAV and FLAC are lossless formats but the size of the files are big, actually we don't recommend both unless you have unlimited space. MP3 is a most popular one for its fantastic music quality and high compatibility, it is really worth a try.
Step 3

Backup Spotify music offline

After pressing "Convert" button, DRmare software will start to convert Spotify music to MP3 songs. Please disable your Antivirus and Firewalls to make sure it runs smoothly. With the 5X converting speed, it won't take you long to get all your offline songs. Just be patient.
Finally, you can move the converted Spotify songs to your other devices for backup and your Spotify library won't miss any more even if the original songs was removed from Spotify. So just enjoy listening to them anywhere and forever.