Sometimes we need to laugh to relax ourselves. Attending a stand-up comedy show, watching a comedy movie and other ways can make us laugh. In today's post, we will focus on funny podcasts to make you smile. Here we list the top 8 best funny podcasts on Spotify for you. You can check them out below in detail and start listening to them. Also, you will know how to download comedy podcasts on Spotify for listening offline anywhere and anytime. Now, let's begin.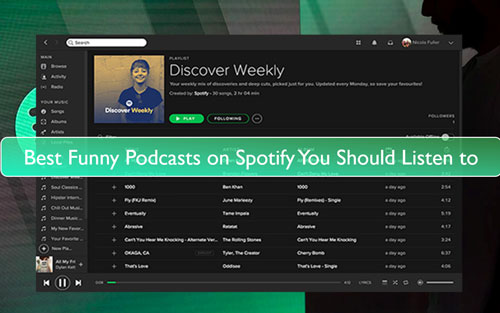 Part 1. Top 8 Best Funny Podcasts on Spotify
In this part, we will list the top 8 best comedy podcasts on Spotify for you. You can check them out one by one.
1. Comedy Bang Bang
Comedy Bang Bang was launched in 2009. And it is a nice place for you to start if you are new to funny podcasts. This podcast will be hosted weekly by Scott Aukerman. He talks to various comedians and guests in open discussions that often turn into improv.
2. Spitballers Comedy Podcast
Spitballers Comedy Podcast is the most popular comedy podcasts Spotify. It is hosted by Andy, Mike and Jason. They will discuss ridiculous topics, answer the most difficult questions you met in your life and so on to make you laugh.
3. WTF with Marc Maron
This funny Spotify podcast is hosted by Marc Maron. He focuses on interviewing others and he will invite people from all kinds of field to his home. People like comedians, writers, actors, musicians and so on will be invited to his show.
4. Stand By Your Band
This comedy podcast on Spotify is hosted by Tommy McNamara and Tom Thakkar. They talk about the bands that Pitchfork criticizes and the bands that your friends find interesting. Also, they ask other comedians to use a playlist of 6 songs to defend the band they favored. Yet, they collect absurd band anecdotes and interviews to let other comedians unacceptable.
5. Dump Pitches
This podcast could be the best stand up comedy podcasts on Spotify. Comedian Monica Nev hosts this interview-style podcast and she invites successful people to her show to share their worst ideas. The ideas can be stupid TV, bad date ideas, awful song lyrics and so on.
6. Are You Garbage?
This funny episode on Spotify is hosted by H. Foley and Kevin Ryan. And they call themselves GARBAGE. In this podcast, every week one guest will be tested via a series of questions to see if they are really 'GARBAGE' too.
7. High School Sucked
The host of this podcast is Jane Stanton and Darcy Michael. They invite new guests every week and talk about kinds of topics. Yet, the key subject is High School. And at the end of the interview, guests will discuss their dramas, chaos and secrets in High School. Also, they will talk about teen torture and so on.
8. The Joe Rogan Experience
This best comedy podcast on Spotify is hosted by Joe Rogan. He is a comedian, TV host, actor and sports commentator. He invites people like authors, friends, comedians, actors and so on, and talks about various serious issues. That includes their youth/secrets/day-to-day lives, the chaos they made and else.
Part 2. How to Download Funny Podcast on Spotify Offline
Now, you get some best funny Spotify podcasts. And you may want to download them for listening offline anytime. Yet, you can do that unless you are a Spotify Premium user. Otherwise, you can check the way we'll show you here to download funny podcasts from Spotify without Spotify Premium.
To do that, you will need the DRmare Spotify Music Converter. This tool is here to help you download any content from Spotify like podcasts, playlists, etc. without a Spotify Premium account. Also, it supports to output Spotify tracks to plain audio formats like FLAC, MP3 and more so that you can enjoy Spotify music on any device with ease. Besides, you are allowed to customize output bit rate, channel for Spotify funny podcasts and other audio content.
Moreover, DRmare Music Converter can run the conversion process at a fast rate. At the same time, it will keep the original quality and full ID3 tags of your Spotify audio tracks. After downloading audio files from Spotify with this tool, you can get them on your computer. And then you can move those music files of Spotify to other platforms and devices for listening offline without a Spotify Premium subscription.
DRmare Spotify Music Converter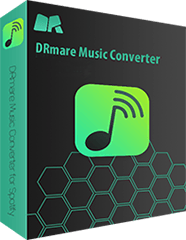 Work for both Spotify Free and Spotify Premium users
Download albums, tracks, or funny podcast on Spotify
Support to convert Spotify tracks to common audio formats
Allow to enjoy Spotify audio content offline anywhere and anytime
Now, let's see how to use DRmare Music Converter to download comedy podcasts on Spotify without Premium step by step.
Step 1

Download and open DRmare Spotify Music Converter on your computer

To start, you need to download and install the DRmare Spotify Music Converter on your Windows or Mac computer first. Please touch the 'Download' button above to get it on your computer. Once installed, then open the tool at once. Then you will get its main screen and the Spotify music app.
Step 2

Add Spotify funny podcasts to DRmare Music Converter

Now, go to the Spotify music app to locate funny podcast you want to download. Then copy the podcast link address. Next, back to the main interface of the DRmare tool and put the link into the search bar. After that, click on the '+' icon to load podcast to DRmare.
Step 3

Change output format of Spotify comedy podcasts

Here you can go to alter output format and other audio parameters for funny Spotify podcasts. Please find the 'Preferences' section in the DRmare tool. Then click on the 'Convert' tab in the new window you get. And then you can start to reset audio format, channel and more for Spotify audio tracks. You can choose to change comedy Spotify podcast to MP3 or else. After that, hit on 'OK'.
Step 4

Convert and download funny podcasts on Spotify

At last, touch the big 'Convert' button and DRmare will start to download Spotify podcasts. A while later, the process is done and you can find the converted Spotify tracks in the 'history' section on the DRmare tool. And you can locate them on your computer and use them offline anytime even anywhere.
Part 3. In Conclusion
In this post, we recommend the top 8 best comedy podcasts on Spotify to you in Part 1. You can check them out one by one in detail. And you can choose your favorite and funny Spotify podcast to listen to. Besides, you can download Spotify funny podcasts for playing offline with Spotify Premium. Or you can do that without premium by using DRmare Spotify Music Converter. With this tool, you can get podcast from Spotify as local files on your computer. Then you can listen to funny podcasts from Spotify offline on the device you like.