The holiday season is the perfect time to cozy up with a good book, and what better way to enjoy a Christmas story than through an audiobook? Audiobooks bring the magic of storytelling to life, allowing you to immerse yourself in the holiday spirit while going about your daily activities. Whether you're baking cookies, decorating the tree, or simply relaxing by the fire, a Christmas audiobook can transport you to a world filled with joy, love, and holiday cheer. In this article, we will explore the top 15 best Christmas audiobooks, guaranteed to make your holiday season even more special.

Part 1. Top 15 Best Christmas Audiobooks You Should Not Miss
No 1. A Christmas Carol by Charles Dickens

For most of us, Christmas is the most powerful holiday for the whole year. No other book captures this than this amazing Christmas carol audiobook. The book tells a powerful story about Christmas that will not only get you in the holiday moods but also daydreaming about your perfect Christmas ever. It is both captivating and intriguing at the same time, making the book a perfect Christmas story book you should enjoy this Christmas.
No 2. When Santa Fell to Earth by Cornelia Funkle

This is a great Christmas audiobook that tells a good hero story about Christmas. As the title suggests the story goes into an imaginary world to consider what will happen to mankind if Santa were to fall to Earth. The story is witty, funny, and heartwarming. This is a great kid story as it tells how kids with all their desires and hopes for an unbelievable Christmas give Santa a hand in such times. It has both the villain and the hero and thus a great story to listen to this festive season.
No 3. How the Grinch Stole Christmas by Dr. Seuss

No other Christmas audio books for kids tell the Christmas story like this book by Dr. Seuss. For children Christmas is always about celebration, meeting family members you have not met in a long, long time and just having a great time. However, in every society, there is a grumpy person that will go on and on talking nonsense about Christmas. About how they failed to get a Christmas gift or even how the ones they got were not good enough. This Christmas audiobook helps you teach your children to be grateful for the little things they have in life. It is all about being grateful and enjoying the spirit of Christmas.
No 4. A Christmas Story by Jean Shepherd

This is another one of the best Christmas audiobooks for adults and kids on this festive season. The book tells a classic American family Christmas story. It will take you back to your own childhood and if you have kids then this book will help you understand them better. It is witty and will give you lots of fun listening to the amazing Christmas story. If you love family stories then no other book captures the American family Christmas story like this audiobook.
No 5. A Baxter Family Christmas by Karen Kingsbury

Christmas does not always find us happy and set for the celebrations. Sometimes tragedy strikes, we take a huge loss and we struggle to find the meaning of life. If this is you, then you should listen to this great Christmas audiobook. The good Christmas audiobooks is about love, emotional struggle, and redemption. It carries the story of the Baxter family who struggles to understand life and death. It only takes the love of a special child to change everything for the family.
No 6. The Night before Christmas by Clement C. Moore

This is another awesome Christmas story audiobooks on Audible that you should listen to this Christmas. A New York Times bestseller, this story will get you thrilled all through to the end. It tells a classic winter Christmas story that will bring back all the good memories about Christmas to your mind. It will not just take you back in time but will leave you happy and in the anticipation of the great Christmas yet to come. It has a great storyline and lots of amazing suspense to get you wanting to hear more of it.
No 7. The Jesus Storybook Bible by Sally Lloyd-Jones

Christmas is all about celebrating the birth of Jesus Christ. It is thus a perfect time for teaching your children about Jesus Christ. The Jesus Storybook Bible is made up of several amazing stories from both the new and the Old Testament. The stories in this best Christmas audiobook for families and kids are phrased in an easy language for kids to understand. It is thus a perfect book for your kids to listen to this Christmas season.
No 8. Happy and Merry by Lisa Scottoline and Francesca Serritella

Sometimes you may not have much time to listen to a longer audiobook or you may just want something short and interesting. If this is you then audio short stories and essays are what you need. One short Christmas audiobooks with awesome essays is the Happy and Merry: Seven Heartwarming Holiday Essays by Lisa Scottoline and Francesca Serritella. The book contains seven great essays that are heartwarming and will get you in the holiday mood. The essays cover a wide range of Christmas themes that makes it the book for everyone this Christmas season.
No 9. A Boy Called Christmas Movie Tie-In Edition by Matt Haig

This is another funny Christmas audiobooks for kids. It is a story of courage, passion, and love. The book tells the story of an 11-year-old named nicknamed Christmas who has to travel to the North Pole to rescue his missing father. The boy has to take the long trip with the companion of his turnip doll that his parents gave him.
No 10. The Best Christmas Pageant Ever by Barbara Robinson

This is an amazingly funny story audiobook to listen to this Christmas. The best seller Christmas book tells a classic Christmas story that will fill you with laughter and joy. It has lots of great jokes and Christmas shaningings that will guarantee you lots of laughter and happiness. If you are feeling a little bit low or you are under some stress this is the book for you. It will keep you laughing to the end.
No 11. The Christmas Pig by J.K. Rowling

It is a heartwarming Christmas audiobook that tells the story of a boy and his beloved toy, Dur Pig. Jack, the main character, and Dur Pig are about to embark on an extraordinary adventure that will change everything. This enchanting tale is perfect for the holiday season and is sure to captivate listeners of all ages. With J.K. Rowling's masterful storytelling and a captivating narration, this audiobook is a perfect addition to your Christmas listening list.
No 12. The Vanderbeekers of 141st Street by Karina Yan Glaser

Set in a brownstone on 141st Street in New York City, this heartwarming story follows the Vanderbeeker family as they face the challenge of convincing their curmudgeonly landlord to let them stay in their beloved home just in time for Christmas. The Vanderbeeker family is full of lovable and relatable characters, each with their own unique personality and quirks. From the determined and resourceful siblings to the grumpy but ultimately endearing landlord, the characters in this audiobook will capture your heart.
No 13. Christmas Stories for Kids 8-12 by Bernard Tate

It is a delightful audiobook that features 12 original short stories perfect for getting kids excited for Christmas morning. The festive anthology includes fun and silly tales that bring the magic of Christmas to life. From an elf trying to make his way back home in time for Christmas to a reindeer lost on Christmas Eve, each story is designed to captivate young listeners and spark their imagination.
No 14. A Soul as Cold as Frost by Jennifer Kropf

The story follows sixteen-year-old Helen Bell, who, after an encounter, gains the ability to see a species of invisible people walking among us. As she navigates this newfound gift, she finds herself drawn into a war of good versus evil, with a young Winter guardian by her side. Narrated by Mia Hutchinson-Shaw, the audiobook brings to life the enchanting world of "A Soul as Cold as Frost", making it a perfect listen for the holiday season. With vivid descriptions and a gripping narrative, the fantasy audiobook is ideal for magical adventures.
No 15. Bedtime Stories for Kid by Kaizen Mindfulness Meditations

It is a delightful audiobook that offers fun and calming Christmas short stories for kids, children, and toddlers to help them fall asleep fast. Narrated by Ashley Nicole Stevens, the audiobook features a collection of magical stories that capture the joy and splendor of the holiday season. With a listening length of 4 hours and 1 minute, the audiobook is designed to reduce anxiety, develop inner peace, and promote happiness in young listeners. From tales of Santa Claus and his elves to heartwarming stories of Christmas wonder, the audiobook is sure to captivate young audiences and help them drift off to sleep with a smile on their faces.
Part 2. How to Download Christmas Audio Books for Playback Anywhere
So you have learned the top 15 best audiobooks for Christmas. What do you think about them? If you find one audiobook that you like, you can buy it from many platforms such as iTunes, Audible, Google Play audiobooks.
But no matter where you get it, the audio book is combined with DRM protection. This means you can only play it on the specific players and you are not allowed to distribute it elsewhere unless you remove the DRM.
DRmare Audiobook Converter is designed to make it easier for enjoy audiobooks anywhere. It supports convert both iTunes and Audible audiobooks losslessly with up to 30X faster speed. With it, you can listen to your favorite Christmas audiobooks anytime, anywhere, even without an internet connection.
How to Download Christmas Audiobooks for Offline Anywhere
Step 1. Visit the official website of DRmare and click on the Download button to download the software for your computer's operating system. Open the app on your computer and click the first "Load Library" button to import your Christmas audiobooks from Audible, iTunes, etc.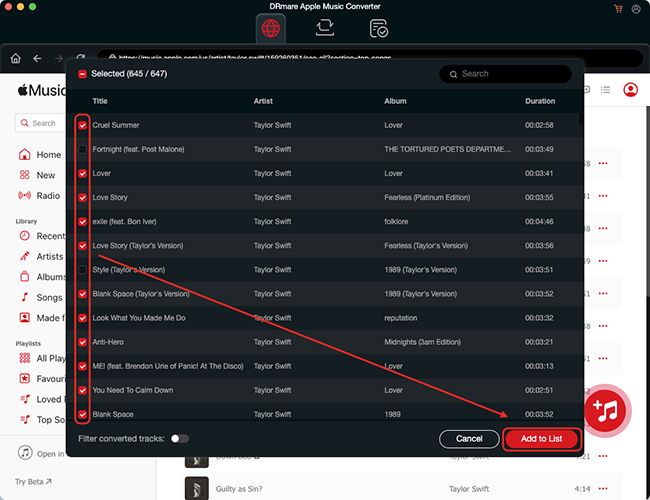 Step 2. After the Christmas audio books are loaded successfully, click the "Format" button and select an output audio format, such as MP3, M4A, AAC, etc. Before converting, you can also customize the output audio quality and other settings according to your preferences.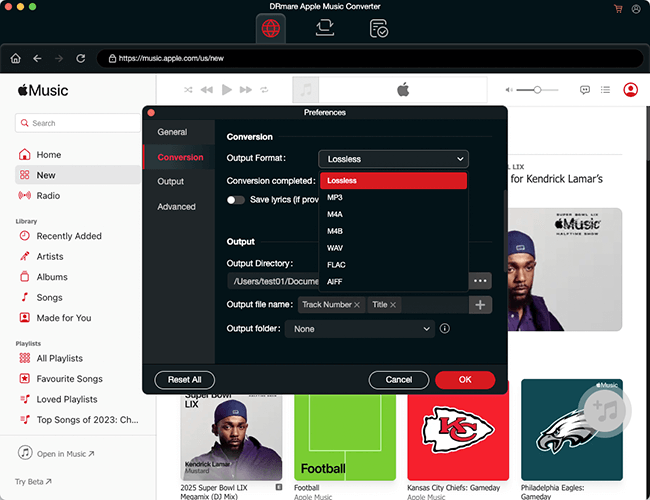 Step 3. Click the "Convert" button to start converting the audiobooks of Christmas to the selected output format. Once the conversion is finished, click the "Converted" icon to locate the converted audiobooks and listen to Audible audiobook offline free on any device.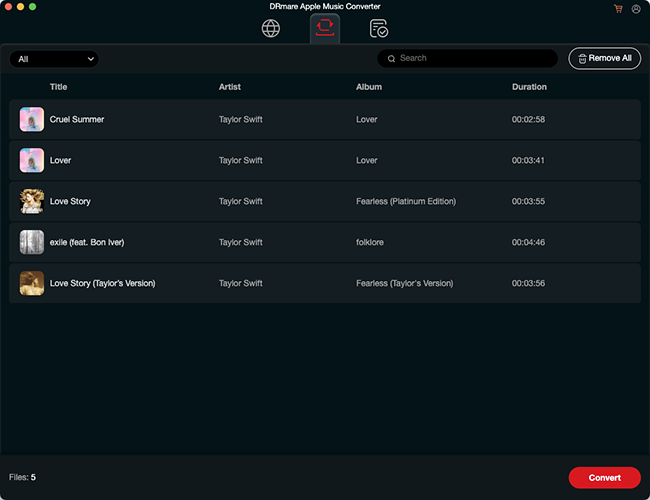 Part 3. Summary
Whether you're looking for a classic Christmas tale, a heartwarming romance, or a festive mystery, there's a Christmas audiobook for everyone. So, grab a mug of hot cocoa, cozy up by the fire, and enjoy a festive story this holiday season. With the wide selection of best Christmas audio books available, you're sure to find the perfect listen to lift your holiday spirits and make this season merry and bright. Happy listening!