Christmas is a great time to have fun, be merry, and just enjoy your time. Listing to funny Christmas songs can go a long way in adding fun and laughter to any get-together. There thousands of Christmas songs sung with a twinge of salt that will bring joy to your heart whenever you listen to them. Some of the best funny Christmas songs to listen to this Christmas include: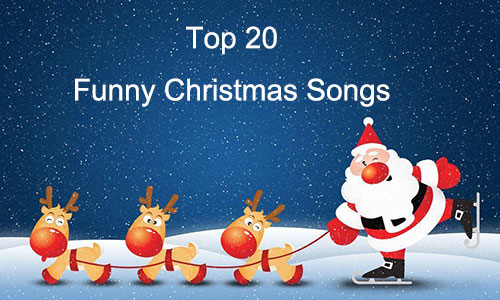 Top 1. All I Want for Christmas is My Two Front Teeth by Arthur Godfrey
This is the perfect song to listen to on Christmas Eve. Before Christmas day, you need to set the moods right for Christmas gifts and sharing the joy of the Christmas spirit in your family. This song will do just that. It reminds you kids of the imminent arrival of Santa, which is one of the biggest events during Christmas for children.
Top 2. Grandma Got Run Over by a Reindeer by Elmo and Patsy
This is another great happy Christmas music that explores human weakness. The song is about a grandma who gets run over by a Reindeer while going home to get her medication because of imbibing too much eggnog. The song has funny lyrics and will bring laughter to any Christmas party.
Top 3. Redneck 12 Days of Christmas by Jeff Foxworthy
This is a hilarious song to listen to if you want to laugh yourself silly this Christmas. The song talks about 12 days of Christmas and twelve gifts. It has great rhymes and easy to follow lyrics. It's great for a Christmas party and especially if children are involved.
Top 4. I Saw Mommy Kissing Santa Claus by Jimmy Boyd
This is a great classic song from the 1950s. The song has adorable lyrics and talks about a boy that saw her mother kissing Santa Claus. The song is perfect for adult-only Christmas parties because its theme may go contrary to children's believe in Santa Claus.
Top 5. I Want a Hippopotamus for Christmas by Gayla Peevey
This popular song is a great merry Christmas music to listen to this Christmas. The song was released in 1953 but it is still popular to this day. All this is because of its happy, intriguing, and funny lyrics that are also quite memorable.
Top 6. Penguin, James Penguin by Brad Paisley
This goofy tune will light your moods in no time. The song is about a secret Santa's spy that helps gather information on the little children on their wishes for Christmas. The song has funny twisted lyrics that will make you happy all day.
Top 7. Merry Christmas from the Family by Montgomery Gentry
No Christmas party is perfect. This cover version of Robert Earl Keen by Montgomery Gentry tells all about Christmas family parties. The song has funny lyrics and is really fun to listen to.
Top 8. What the Hell (It's the Holidays) by Joey + Rory with Wynn Varble
This Christmas tune is written by the funny Wynn Varble. It is about all the little indulgences that we tent do be drawn towards during Christmas. The song is easy to follow, witty and fun to listen to during Christmas.
Top 9. Thinking About Drinking for Christmas by Kristian Bush
This is one of the cool Christmas songs that you should listen to this Christmas. From the title of the song, it is certain the song is funny. It talks about the Christmas anxieties and the uncertainties that happen during the period.
Top 10. Leroy the Redneck Reindeer by Joe Diffie
This is a funny "hero" Christmas song that you will love. The song is about the redneck reindeer that is called in save day when Rudolph falls ill. It is a contrary Christmas tale and is bound to leave in smiles.
Top 11. Season's Greetings from Tarzan, Tonto, and Frankenstein by Phil, John and Kevin
This is a great song from the 1980s. It is sung by Phil Hartman, John Lovitz and Kevin Nealon of the Saturday Night Live. The song is damn funny. It is about seasonal greetings from some damn fictional characters.
Top 12. The Night Santa Went Crazy by Weird Al Yankovic
This song was bound to be funny from the beginning. It is recorded by Weird Al who was known for singing funny songs that mostly made fun of the pop culture. This song is full of crappy lyrics about Christmas. This makes it funniest Christmas songs you will ever listen to.
Top 13. Walking Round in Women's Underwear by Bob Rivers
Bob Rivers is well known for doing song parodies. As a reputable radio personality and has quite some reputation for being funny. This Christmas tune is a great Christmas song parody that you should listen to. It is witty and quite cheeky in every way possible.
Top 14. Holy Night by South Park
This is one of the best funny Christmas carols. It is a great song from yesteryears that will surely capture the Christmas spirit for you. It is also full of funny lyrics to make you smile as you sing along.
Top 15. Christmas Don't Be Late, by the Chipmunks by David Seville
This is a popular Christmas song from the 1950s. The song is sung by three fictional characters and has some lively rhymes to lighten your day.
Top 16. Dear Santa (Bring Me a Man This Christmas) by Weather Girls
This is one of the goofiest Christmas songs ever written. It twists the Christmas message with funny lines that makes it quite intriguing. It is a perfect song for the adult audience.
Top 17. Santa Claus Go Straight to the Ghetto by James Brown
This funk Christmas number is quite funny in a way. It is about Santa visiting the ghettos and has some really funny lines to that effect. This song will make you smile even when you don't want to.
Top 18. Christmas in Hollis by Run-DMC
If you love hip-hop songs, then you will love this Christmas song. It is a funny number about Santa visiting Hollis. It has some fun lines like the one about Santa's wallet that will make you grin.
Top 19. Driving Home for Christmas by Chris Rea
This is another funny Christmas song you should listen to this Christmas. The song is about being stuck in traffic during Christmas. It has funny lines and lots of funny presentations to lighten up your moods.
Top 20. Christmas Rappin by Kurtis Blow
This is one of the funniest Christmas songs you will ever listen to. The song is about Santa joining the rap culture in Harlem. It's quite interesting imagining a hip-hop Santa.
Conclusion
Now you have found the funniest Christmas songs. Listening to these songs should make your holiday more fun. So why not download the funny Christmas music to listen offline from the music platforms? Apple Music is one of the best recommended sources since it offers the songs in AAC codec which guarantees higher quality.
But one thing you need to note is Apple Music are DRM protected. If you'd like to get rid of DRM protection, you can also use DRM Audio Converter for Mac/Windows to convert Apple Music to common MP3 files.