Thinking of the best holidays of the year, Thanksgiving is no doubt one of the top 3 along with Christmas and Halloween. Thanksgiving is a special day full of love and compassion. Thanksgiving is a day where we spend our precious time with loved ones. Thanksgiving is not only about meeting our loved ones, turkeys, pumpkins, etc., but also some pleasant and memorable songs that make Thanksgiving a lot more special and unforgettable.
So, just to make your Thanksgiving a little bit more special, here in this article, we have gathered a list of top 10 Thanksgiving songs on Spotify. And we'll be discussing what makes them so special. Later in this article, we will introduce a special tool that you can use to download those Thanksgiving songs to make your Thanksgiving even better.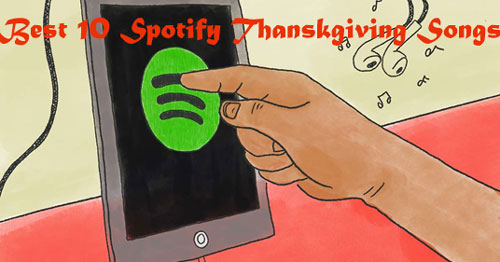 Part 1. Best 10 Spotify Thanksgiving Songs
Here we have compiled a list of the top 10 best Thanksgiving songs on Spotify.
1. Give Thanks and Praises
Number 1 song on our list is a beautiful masterpiece by the legendary Bob Marley. This song was released back in 1983. Since then, this blissful and chill song stayed in our life.
2. A Charlie Brown Thanksgiving
Vince Guaraldi for the Charlie Brown Thanksgiving Specials made this soundtrack. If you like Vince Guaraldi's songs in Peanuts shows, this one will not disappoint you.
3. Thinkin Bout You
This song is from the debut album of Frank Ocean called Channel Orange. This track was later nominated for the Record of the Year for Grammy Award in 2013. This explores emotions, such as regret and heartbreak. So, if your food needs a little bit of salt on the day of Thanksgiving, simply add this song to your playlist. It will make you think of someone specific for sure and might even make you cry.
4. Dinner
Dinner is a single by Devonte Hynes that was released back in 2011 on terrible records. This song is better known as Blood Orange and one of the best Thanksgiving songs out there.
5. Thank You for Being a Friend
This song was written by the legendry Andrew Gold and then recorded by Cynthia Fee for the "Golden Girls". It is the most famous version to date.
6. Keep the Family Close
This song is no doubt one of the most enjoyable songs on the list, mainly because it is from Drake. This song, unlike other songs on our list, is about fake friends who have wronged you and no longer get to enjoy the delicious meals with you.
7. Family Business
Family Business is a song by Kanye West that was released in the album "The College Dropout". It is Kanye West's tribute to the God-brother of Tarrey Torae. It contains additional vocals from famous singers like Linda Petty, Thomasina Atkins, Beverly McCargo, and many others.
8. Cooking Up Something Good
You can tell when your aunt is cooking up something good, and this song is all about that. The guitar tone of this song is good enough to make you forget about all the negative things that the news has to say.
9. I Thank You
David Porter and Issac Hayes first wrote this song, and was officially recorded by the legendary Sam and Dave in 1968. Later, ZZ Top Funkily then again covered this classic in their album, Deguello, in 1970.
10. The Thanksgiving Song
The last song on our list is "The Thanksgiving Song", also known as the "Happy Thanksgiving". This one of the most famous songs that are played globally on Thanksgiving. This song is played all over the radio on Thanksgiving. This song keeps the spirit of Thanksgiving burning.
Part 2. How to Download Thanksgiving Songs on Spotify
Now that we have all the best songs for Thanksgiving Spotify. The question arises that how to download those songs from Spotify. We have the best solution to download those Thanksgiving songs from Spotify.
DRmare Spotify Music Converter is one of the best tools to download music from Spotify. DRmare Spotify Music Converter allows you to download music from Spotify with the highest quality. It supports multiple formats, which means you download your favorite music from Spotify in any of the desired formats like MP3, AAC, FLAC, M4A, etc. This allows you to listen to Spotify music offline.
Step 1: Add Spotify songs to DRmare Spotify Music Converter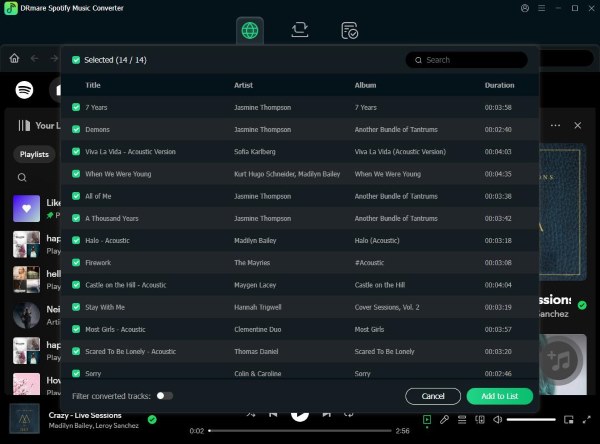 First, you have to download DRmare Spotify Music Converter from its official website. And once you are done installing the app, launch DRmare Spotify Music Converter. Once launched, it will automatically open the Spotify application for you. Then you can go and search for the desired song. Once you find the desired song, copy the URL link of the song. Then paste the copied link in the search bar on DRmare Spotify Music Converter.
Step 2: Alter the settings and other parameters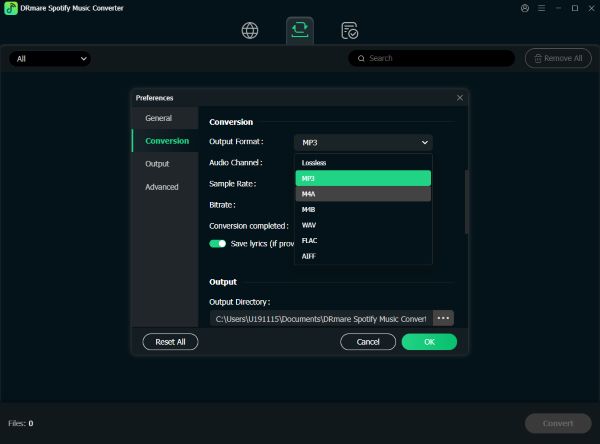 Once you are done importing your music from Spotify, you can alter the format and other parameters. To change the format to MP3, go to settings by going to the "Preference". Once you are in the preferences window, you can change your format to any of the given formats like MP3, AAC, M4A, etc. You can also change the bitrate and sample rate to get the highest possible quality for your songs.
Step 3: Download and convert Spotify music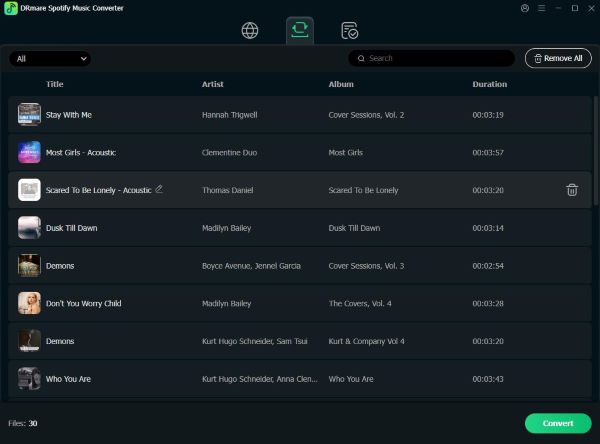 After changing the settings according to your preference, just simply click on the "Convert" button on the bottom corner of the preference window, and it will start downloading. Once it is done downloading, it will automatically be saved in the desired location that you can access later and listen to those songs without being online. As these songs are in MP3 format, you can easily play these songs in any audio device.
Part 3. Conclusion
We have compiled the list of top 10 best Thanksgiving songs in our article. And now it comes down to your personal preference, which song to choose. Once you decide on good Thanksgiving songs on Spotify, you can use DRmare Spotify Music Converter to download that song. DRmare Spotify Music Converter is no doubt the best tool that allow you to download the music in the highest quality and convert it into any desired format.