Latin music's history takes us back to its origin. That is either the sense of the Latino concept or simply Latin rhythms. They are easily recognized courtesy of the attraction that they generate. That's why they are mostly topped streamed on most music streaming services. Latin music ranges from Reggaeton, Spanish, and Trap Latino among others. Here in this post, we will bring you top Latin songs on Spotify suitable for any mood and occasion.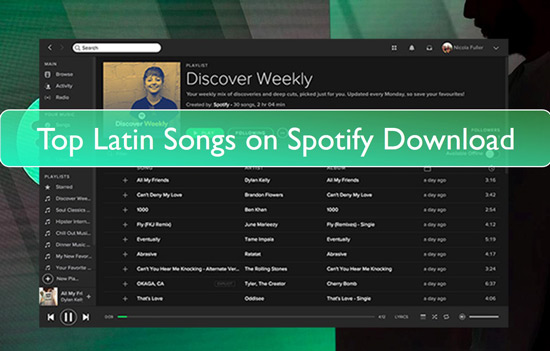 Part 1. Best 10 Latin Songs on Spotify
Latin score has been rising as the most discovered on Spotify. Find out the Spotify top Latin songs on our list.
1. Oye Como Va
This Latina pop song was originally written as Latin Jazz by Puente. Santana later gave it a new dimension with Latin rock sound which currently rocks. It has even featured in the Billboard Hot 100 chart at position 13.
2. Agua
Engulfed with Spanish lyrics, Agua makes it among the Latin dance songs from Spotify that will keep you on your toes. Make it your summertime beat for that feel-good party at the sea shore.
3. Reggaetonera
Reggaetonera starts at a low tone, slowly building into old-school reggae and some dancehall melody. If you want to turn to some partying mood, then Anuel just got the best for you with this track.
4. Guantanamera
Change the mood to some love in the air with this popular Latin song. This track tells the story of a Cuban guy in love with a Guantanamo girl. The lyrics give a perfect definition of what it means to value your soulmate.
5. Conga
By Gloria Estefan, Conga still stands tall after a straight 46 weeks of featuring in the Top 10 of the Billboard Hot 100. It is regarded as one of the most influential Latin dance songs and actually opened wider doors for the Miami Sound Machine Band that Estafan leads.
6. La Cucaracha
James Last started with this Latin song as a politically-based track, enough reason to keep on popping in Spotify. It has so far impacted a lot with the humor geared to Mexican rhythm. It is easily mastered, a reason behind teaching it to children in major Latin American countries.
7. Amor Eterno
It was Gabriel who penned this emotional love song to his late mother before Durcal polished it as a timeless eulogy. Since then, it continues to be played at funerals. Besides, it has become an anthemic Mother's Day hymn that pops up every year in Mexico and beyond.
8. Dream Girl
This remix is top-notch from Rauw Alejandro, with its original just released in late 2019. It escalated Billboard's best Latin songs chart in 2020, garnering over one billion views. It's a no-miss for Caribbean rhythm lovers and Spotify fans.
9. Si Veo a Tu Mama
Si Veo a Tu Mama just gave Bad Bunny another top position on Billboard's popular Latin song chart. It is perfect for summertime, whether partying beside the beach or cooling down with friends. Find it on Spotify among the top streamed.
10. Ay DiOs Mio
Love life is an all-time event that everyone can never tire of. Karol G got her inspiration from the event folding the meeting of her fiancée Anuel. Ay DiOs Mio starts with a slow intro and slowly flows into a sensual reggaeton that pierces the heart like a two-edged sword. Find it in Spotify to carry your day.
Part 2. How to Download Latin Songs on Spotify Free - Tool You'll Need
Other than streaming the above songs live, you can still get the best Latin playlist on Spotify for offline listening. DRmare Spotify Music Converter will convert your best Latin Spotify playlist from OGG Vorbis format into common output formats. These include M4A, AAC, FLAC, WAV, etc. This tool also lets you customize the output quality of your Spotify popular Latin songs such as sample rate, bit depth, and channel.
It harbors an advanced accelerating processor that will download your Latin pop songs at a high rate of 5X speed while retaining the lossless quality of your music. Among them are the title, genre, album, and artist of your Spotify music tracks. You won't need an internet connection and will stream your music on any device or player.
DRmare Spotify Music Converter
Part 3. How to Download Best Latin Spotify Playlist - Detailed Steps
DRmare Music Converter supports both Windows and Mac operating system devices. The steps are easy. Download your preferred version, then install it on your computer. Here's how to convert and save your Spotify Latin songs on your computer and then use them offline on any other device. But ensure your computer already has the Spotify music streaming app installed.
Step 1

Add Spotify songs to the DRmare Music Converter

Firstly, launch the DRmare Spotify Music Converter and wait for the Spotify app to open automatically. Then go to the Music Library on the Spotify app to find the Spotify Latin dance playlist or songs to add for conversion. You can drag and drop the Spotify music files to the DRmare converter or copy the URL of the Spotify playlist and paste it to DRmare's main interface.
Step 2

Adjust output format for Spotify Latin songs

DRmare Music Converter allows you to adjust the output parameters of your Spotify Latin playlist as you wish. To do this, touch the "Menu" bar and go to the "Preferences" option. Next, set the output format as MP3 or other preferences. Then also customize the output audio parameters such as channel, frame rate, etc.
Step 3

Download and convert Spotify Latin music

Click on the "Convert" button and DRmare Spotify Music Converter will begin to convert the top Latin songs from Spotify to the set preferences and save Spotify songs to computer. Finally, locate the converted Spotify music on the destination folder to transfer them to other devices for offline playback.
Step 4

Play local Spotify Latin pop songs offline

You finally got your Spotify music on your computer and now you want to stream the best Latin playlist on Spotify offline. Well, follow these steps.

1. Locate the "Converted" folder that contains the Spotify Latin songs on your computer.
2. Select the converted Latin Spotify songs from that folder.
3. Connect your device to your computer. Right-click on a track, then hit on the "Send to" option.
4. Finally, click on the icon of the device you want to send the songs to. You can now stream your Latin playlist anytime without an internet connection.
Part 4. Conclusion
If you are a lover of Latin hits, then Spotify just got you covered. We have gathered among the top Latin songs on Spotify, suitable for various occasions. They include some cool summer hits, pop, or highly electrified vibes as per your preference. Besides, you can enjoy your hits without needing an internet connection. Simply download and convert them with the recommended Spotify downloader - DRmare Music Converter for forever streaming on any device.