Spotify offers great songs for any users either with free or premium subscription. But the music tastes may vary from different users. Also, even for a same person, the songs preferred will be different under various environments. Sometimes, you may want a little more bass, mids or treble while sometimes you may want to pull back the highs, mids and lows.
Fortunately, Spotify have added the fantastic equalizer feature on both iOS and Android Apps in 2014. You can easily add a little bit of personal touch to all the music you stream so as to cater your listening preferences. Have you ever used this feature yet? If not, please let's take a look at how it works here.
View also: How to Play Spotify Playlist on Virtual DJ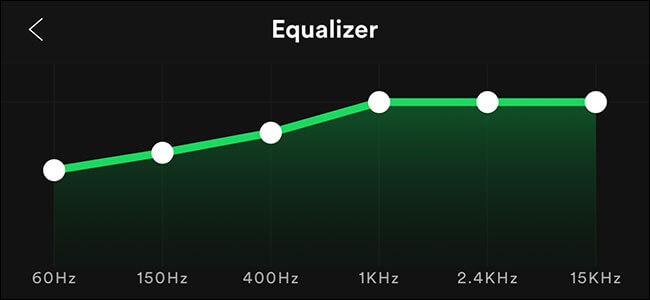 Part 1. How to Use Spotify Equalizer on Mobile Phones
An equalizer refers to a device used in equalization for processing of audio singles. This technology was initially used in recording studios but becomes popular later. By manipulating the frequencies and adjusting different elements of sound, it can make the audio appeals to the listeners. To set the Spotify equalizer, you don't need extra hardware or software, just use the the built-in feature. It works well for iPhone 5/6/7/8/X, iPad, iPod Touch and Android phones such as Galaxy S9, Note 8, LG G7, Huawei P10 and so on.
Use the Equalizer on iOS
Step 1. Launch Spotify on your iPhone, click the "Library" icon in the lower-right corner and then tap "Settings" gear icon in the top-right corner.
Step 2. Next, you can tap "Playback" > "Equalizer", you will see the popup "Equalizer" window.
Step 3. You can select one genre of style you like from the a bunch of presets such as Acoustic, Bass Reducer, Classical, Deep, Electronic, Flat, Hip-Hop, Flat, Jazz, Latin, Piano, Pop, R&B, Spoken Word, Treble Booster etc. Or you can drag the data points up and down from the 60Hz, 150Hz, 400Hz, 1KHz, 2.4KHz, or 15KHz frequencies.
Step 4. When it is done, you you notice the difference of the songs played in the Spotify app.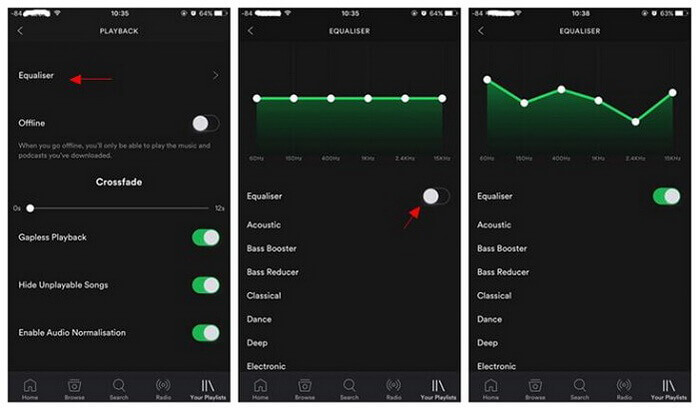 Set Spotify Equalizer on Android
Step 1. Go ahead to launch Spotify app on your Android device, then tap "Library" > "Settings" to open the settings Window.
Step 2. Scroll the window down until you see the "Music Quality" and then tap the "Equalizer" below it.
Step 3. You will receive a warning pop up "Equalizer can alter volume unexpectedly on some devices. If you experience problems, please disable it.", just tick the option "Don't show me this again".
Step 4. Then you can change the music band you like from a series of presets and adjust the frequencies in the same way like you do on iOS devices.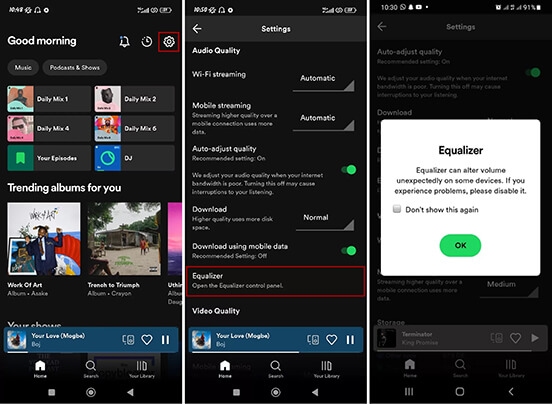 View also: How to Sync Spotify Songs to Android
Part 2. How to Add An Equalizer to Windows/Mac
As of the time of writing this article, we checked there is still not an official equalizer for desktop computers including both Windows and Mac. But just don't worry. There are multiple third party equalizers can help such as the Equalify Pro for Windows and the eqMac2 which a a system-wide audio equalizer for Mac.
The Windows version Equalify charges $10 for a standard tier or $15 for a top tiler and the Mac version is a free donation. This means you don't have to pay for the Mac equalizer to get full features. But if you kind enough, you may donate for it. Here I will take the Windows version to show how it works.
Use Spotify Equalizer on Computers
Step 1. Download and install Equalify to your Windows computer from the official website, the plugin will be integrated into your Spotify app automatically.
Step 2. Restart your Spotify and use it to play any song you want, you will see the samll "EQ" icon on the top bar.
Step 3. Click "EQ" button to expand the equalizer window and then you will be able to select the band of music you like from the presets like Acoustic, Bass Boost, Classical and much more.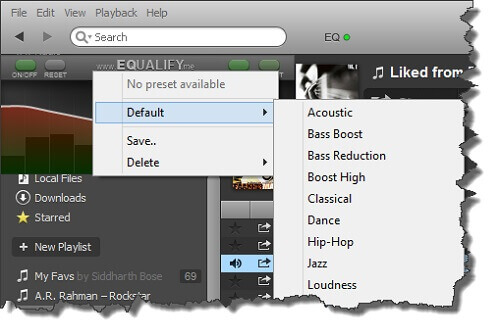 Similarly, you can install the eqMac2 and use the equalizer on your Mac computer.There are a lot of options to mess around with. But as it is so easy and the instruction is basically the same, I won't illustrate it anymore.
View also: How to Download Spotify Songs without Premium
Part 3. Download Spotify Songs to Play on Music Players with Equalizer
Besides the equalizers we mentioned above, there are still other great ways to make your music sounds like never before. For example, if you have subscribed to the Spotify premium membership, you can also adjust the music quality to a maximum value on your devices. It supports normal 96Kbps, High 160Kbps, Extreme 320Kbps on mobile devices and standard 160Kbps and 320Kbps on computers. Another fantastic way is to download the Spotify songs to play on digital music players with equalizers such as VLC, KMPlayer, RealPlayer and much more. All you need is a specific music downloader.
For me, DRmare Spotify Playlist Downloader for Windows/Mac is the best tool that can help you get the job done. Perhaps this one is not the fastest converter in the market but it is the one with best quality I have ever met. The reason why it can keep better output quality is because it adopts the technology to decrypt the original Spotify Ogg songs directly instead of using the recording algorithm. In addition, the 5X speed is not slow actually.
View also: Top 6 Best 2018 Spotify Song Downloader
Best Quality Music Converter for Spotify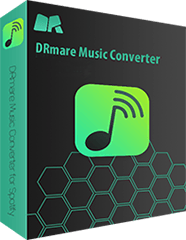 Download Spotify music, like playlists, albums and radio stations
Keep original quality, ID3 tags, artists info such as album cover, title, author, year
Download Spotify songs to MP3, AAC, M4A, FLAC, WAV for any equalizer music players
Support to run on most Windows/Mac systems including the latest 10.13 High Sierra
What is even better is that it is pretty easy to use. Just drag and drop your songs to the software main screen and one click on "Convert" to start to convert all your Spotify songs to your local computer. It doesn't require a premium account to do that. But if you do have premium, it will enhance your music even better.
When you get all the songs offline, you can play them on any of your devices with the players such as VLC, KMPlayer, RealPlayer and so on. And you can adjust the equalizer from the players directly on the players from your Android, iOS devices, computers. Do you want to get the songs to your devices too? Why not download the trial version to try it out for free?