Does Apple Music have an equalizer? Yes, Apple Music has a built-in equalizer that allows you to adjust the sound quality. When you add flavor perfectly, the essence of the music increases.
In this article, you'll learn all about the Apple Music equalizer. You'll learn how to set equalizer on Apple Music, the best settings for the Apple Music EQ, and the top 5 best EQ for Apple Music. Also, we will walk you through how to use any music equalizer in Apple Music without any problem.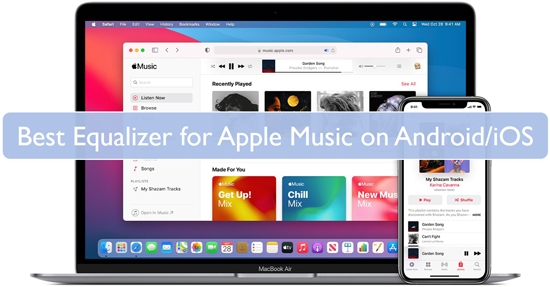 Part 1. How to Use Equalizer on Apple Music
With Apple Music equalizer, you can adjust different sounds for different genres. There are 23 presets for you to choose from. Or you can customize your own equalizer settings as a preset so you can use it again. Now, follow the steps below on how to set equalizer on Apple Music on various platforms. Choose the one you want and follow the guide to adjust the equalizer controls to get the desired effect on your music track.
1.1 Set up Equalizer in Apple Music on iPhone/iPad
Step 1. Tap the Settings app on your iPhone and choose Music from the listed items.
Step 2. Select EQ from the available options and choose your favorite sound effects on the next screen. Personalize the sound quality or use the default Apple Music equalizer to fine-tune the soundtracks.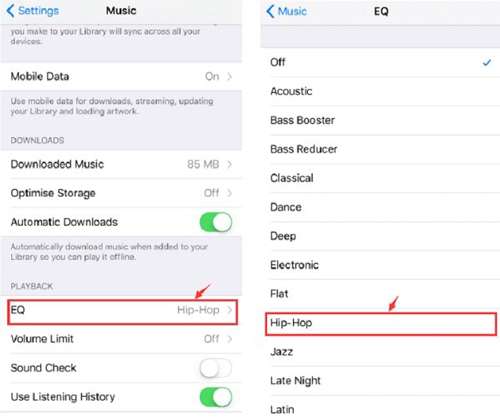 1.2 Change Apple Music Equalizer Android
Step 1. Open Apple Music on your Android device and tap on the three dots at the top right to go to Settings.
Step 2. Select EQ under the Playback tab. Then you can change the equalizer on Apple Music.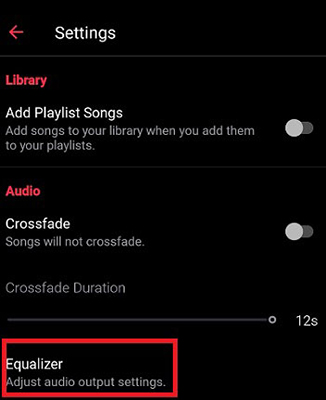 1.3 Set up Equalizer for Apple Music on Mac
Step 1. Open the Apple Music program on your Mac, then click Windows > Equalizer.
Step 2. You will witness a pop-up screen, choose the desired preset, and hit the 'On' button to enable the Apple Music EQ feature.
On the same screen, you can adjust a wide range of options by moving the sliders on it precisely. Change the volume and adjust the frequencies according to your needs for efficient results.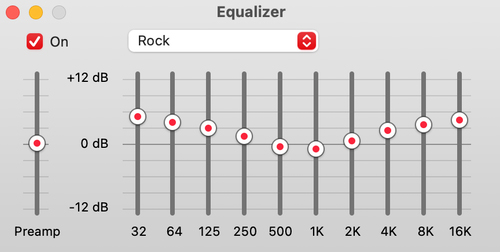 1.4 Set up Equalizer for Apple Music on Windows
Step 1. Open iTunes and then click on View.
Step 2. Select the Show Equalizer option and tick the On option. Then you can customize the equalizer as you want.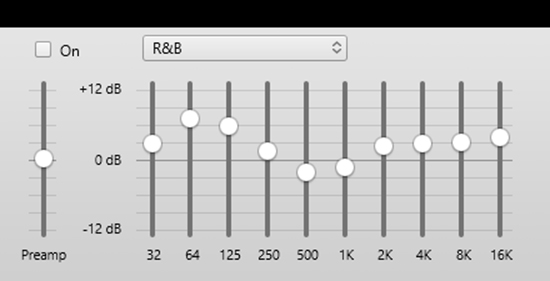 Part 2. Best Apple Music Equalizer Settings
What are the best Apple Music EQ settings? Actually, there is no option that perfectly suits everyone because everyone has different music tastes. But we'll explain every setting's function for your reference.
Acoustic: Best for non-electronic acoustic music.
Classical: Highlights high and deep tones.
Dance: Highlights deeper bass notes.
Deep: Emphasizes bass and mids.
Electronic: Best for EDM music.
Flat: Minimal impact.
Hip-Hop: Best for hip-hop music.
Jazz: Best for jazz.
Late Night: Make your music sound louder.
Loudness: Highlights bass notes.
Lounge: Emphasizes mids and lowers bass notes.
Part 3. Top 5 Best Apple Music Equalizer for iOS/Android
Is there any equalizer app that works with Apple Music? Yes. Below we'll show you the top 5 best equalizer for Apple Music iOS/Android. Choose the perfect product that best meets your expectations.
1. Equalizer Fx: Bass Booster App

It is an exclusive equalizer control for the Apple Music platform. This app offers 5 band equalizer controls and a bass booster to enhance the audio quality of the Apple Music tracks. This application is compatible with iOS gadgets and you can play this equalizer in the background working on the sound factors of the Apple music files.
2. Boom: Music Player and Equalizer

The Boom equalizer is an extraordinary application that works on every detail on the audio tracks. This equalizer provides 3D sound effects with reliable presets, library access, and audio intensity controls. Here you can find a wide range of features in-built to personalize the Apple Music audio tracks efficiently. Use headphones to feel the essence of this equalizer in depth. Enjoy the awesome listening experience of the Apple Music files after embedding this stunning equalizer in your device.
3. Equalizer+ Pro: HD Music Player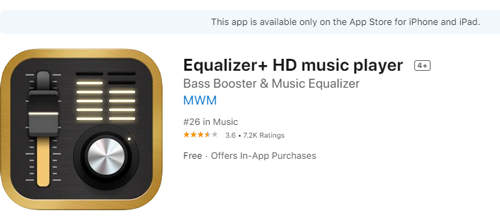 It is one of the best equalizer app for Apple Music for iPhone and iOS gadgets. This app has a free and paid version and according to your needs, you can enroll for a reliable one. In this equalizer, you can find 7 band equalizers and 10 preset features to enhance the overall audio quality of Apple Music. You can use this app to store your favorite songs from the Apple Music platform and stream it on any media player when required.
4. Music Volume EQ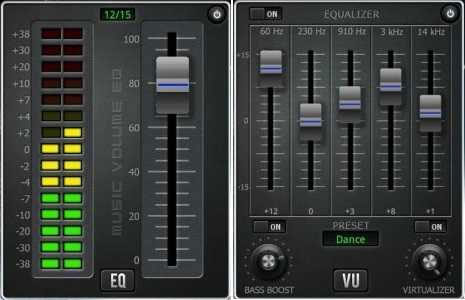 The Music Volume EQ application works on the volume factors as well. You can amplify the audio tracks and enhance the listening experience. This app includes 3D visualizer effects with 5 band EQ control. There are options to enable custom presets, stereo LED VU meter and bass booster effects. Select your theme to customize the equalizer skin as per your desires. You can use this EQ for Android phones and improve the audio quality while listening to your favorite playlists.
5. Flat Equalizer: Bass Booster and Volume Booster

Another amplifying bass booster equalizer that works on the volume and audio quality efficiently. On this EQ theme, you can customize the equalizer by scrolling on the slider control. Enable the toggle switch for bass boost, loudness and virtualizer according to your requirement. In this Android app, you can find 5 band EQ controller and establish awesomely surround sound effects with personalized dark and light skin themes. Use the headphone to enjoy the enriched audio quality of your favorite songs.
These are reliable Apple Music equalizer app for iOS and Android gadgets. You can select the respective ones as per your needs and enhance the audio quality in your device for a mind-blowing experience.
Part 4. How to Fix Apple Music Equalizer Not Working
Apple Music's built-in equalizer is handy. But if you think it can't meet your needs or has some problems, you can consider a third-party equalizer app that works with Apple Music. Now we will show you how to use any music equalizer in Apple Music.
The tool you need is DRmare Audio Converter, which allows you to convert Apple Music tracks to MP3 or other popular files. Afterward, you can move these files to other platforms or use them with any music equalizer.
DRmare Audio Converter has a conversion speed of 30X and will keep the original audio quality and ID3 tags. So you can get lossless Apple Music and use it anytime, anywhere.
DRmare Apple Music Converter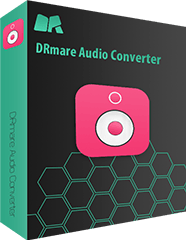 Convert Apple Music to FLAC, MP3, M4A and more
Keep Apple Music songs forever for listening offline
Work at 30X, maintain lossless sound quality and ID3 tags
Use Apple Music with any music equalizer without issues
Step 1

Install the DRmare Audio Converter

Please first download and install the DRmare Audio Converter on your computer. You can click on the Download button above or go to DRmare's official website. After that, fire it up and familiarize yourself with the buttons above.
Step 2

Add Apple Music tracks into DRmare

Remember to download Apple Music songs to your Mac/PC in advance. Then you can easily add the Apple Music files to this DRmare software for conversion. To do that, click on the + icon at the bottom left and you can select audio files from your computer or iTunes app.
Step 3

Reset the output parameters for Apple Music

If you don't do this step, DRmare Audio Converter will convert your added Apple Music songs to MP3. Or you can choose to change the output prarameters. To do that, click on the Format icon at the bottom right and you can customize the output format, codec, channel, and more.
Step 4

Convert Apple Music for music equalizer

Finally, press the Convert button to start to remove DRM from Apple Music and convert Apple Music files. You must wait for a few minutes until the download process completes. After then, you can view the downloaded Apple Music soundtracks on the History menu or check out the local system drive containing the converted Apple Music tracks.
After converting Apple Music files, you can use them with any music equalizer on your computer. If you want to use an Apple Music Android or iOS, simply move these Apple Music files to your iPhone or Android phone.
Part 5. Conclusion
We hope this article on Apple Music equalizer was helpful to you. It's worth mentioning that you can use DRmare Audio Converter to convert Apple Music to commonly used audio files. You can then keep Apple Music forever and listen offline even without a subscription. Best of all, you can use any music equalizer with Apple Music, or play Apple Music however you want.