"Deezer or Tidal? Which is better?" You may ask yourself when choosing between them. Tidal and Deezer are two popular music streaming services. They have something in commons. And there are differences between them.
So, to help you decide which to choose, let's take a closer look at Deezer vs Tidal here. In this post, we will compare Tidal vs. Deezer at several aspects. Just learn more here.

1. Deezer vs Tidal: Music Library
First, let's see Tidal or Deezer has the best music library.
At present, both Deezer and Tidal own over 50 million tracks and millions of playlists and albums.
Deezer's music library comes in a diverse range of tracks. However, Deezer only has audio. There are no albums, or artist window's exclusive in Deezer. In Deezer, you can enjoy songs with lyrics and sing with the artist you like.
While Tidal also has a huge music catalog as it offers shows, interviews and music videos. Besides, it presents perfectly curated playlists and exclusive windows for artists. But there is a pity that you can't get lyrics in Tidal.
2. Deezer HiFi vs Tidal Sound Quality
Next, let's trail to Deezer vs Tidal sound quality. The Tidal vs Deezer audio quality battle has a lot to compare.
First, Deezer has HiFi CD-quality audio. Deezer HiFi is named Deezer Elite formerly. It streams tracks with 16 bit / 44.1 kHz FLAC. Streaming high quality tracks on Deezer needs a rapid speed of Internet. Besides, Deezer presents the standard 128 kbps quality, 320kbps. And HiFi quality is at a bit rate of 1411kbps. Moreover, Deezer HiFi also available for Chromecast. Enjoying Deezer HiFi music from Google Nest Audio now works some countries. They are Australia, France, Canada, Italy, UK, USA, Spain and Mexico.
For Tidal, the lowest audio quality you can stream is at a bit rate of 320kbps. And it extends to offer HiFi resolution audio, which is very different from Deezer HiFi audio. Tidal HiFi offers a lossless audio experience for its users with Dolby Atoms and 360 reality audio. What's more, Tidal partners with MQA to bring you master quality audio. For Tidal Master vs Deezer HiFi, Tidal Master is far much better than the HiFi quality.
This not only sets Tidal apart from Deezer but also from every other music streaming service. When it comes to Deezer Elite vs Tidal audio quality, Tidal is unbeatable and comes out on top.
To have a clear view of Deezer sound quality vs Tidal, here is a list for you.
* Deezer HiFi: FLAC - 16 bit / 1.411 kbps
* Deezer Premium: MP3 - 320 kbps
* Tidal HiFi: FLAC - 16 bit / 44.1 kHz or MQA - 24 bit / 96 kHz
* Tidal Premium: AAC - 320 kbps
3. Tidal vs Deezer: Price Plans
In this part, we will go on to learn more about Deezer vs Tidal price plans.
On pricing, Deezer brings on the table 4 plans. It also offers a free trial for users.
Deezer Price Plan:

* Deezer Free Plan: Free, streams audio quality of 128kbps MP3, listen to Deezer music online with ads.
Note: If you want to listen to Deezer music offline without ads, you can download music from Deezer via the Deezer music downloader.
* Deezer Premium: $9.99/month, unlimited streaming. It streams audio at a bit rate of 320kbps without ads.
* Deezer Family: $14.99 a month for up to 6 family members.
* Deezer HiFi: $14.99 for a single account, streams at a lossless quality.
While Tidal lacks a free plan. But it offers a 30-day trial period for every tier it offers. It comes with 2 tiers—Tidal Premium and Tidal HiFi.
Tidal Premium Price Plans:

* Tidal Premium Standard: $9.99 a month, with a standard audio quality (320 kbps).
* Tidal Premium Family: $14.99 a month, up to 6 family members in an account
* Tidal Premium Military: $5.99 a month
* Tidal Premium Student: $4.99 a month
* Tidal Premium First Responder: $5.99 a month
Tidal HiFi Price Plans:
* Tidal HiFi Standard: $19.99 a month, with lossless High Fidelity audio quality (1411 kbps).
* Tidal HiFi Family: $29.99 a month
* Tidal HiFi Military: $11.99 a month
* Tidal HiFi Student: $9.99 a month
* Tidal HiFi First Responder: $11.99 a month
4. Deezer vs Tidal: Compatibility
For the compatibility of Tidal vs Deezer, here you can know more.
Deezer works excellently on nearly all platforms. It has a web player for Chrome, IE, Safari and Firefox. It remains pretty modern. And it works on Android, iOS, Windows phones, Apple Watch and so on. It also runs on Apple TV, Android TV and other smart TVs. Besides, you can play Deezer music on Xbox and HiFi devices.
Tidal also has a web player. It is compatible with all browsers (Chrome only for HiFi). It is also available for iOS, Android, Windows, and MacOS. Tidal also runs on Harmon Kardon, Sonos and other partnered devices.
Tips: Tidal songs can be played on devices that is fully compatible with the Tidal app. If not, please use DRmare Tidal Music Converter. It can download and convert Tidal to FLAC, etc. for playing on all devices.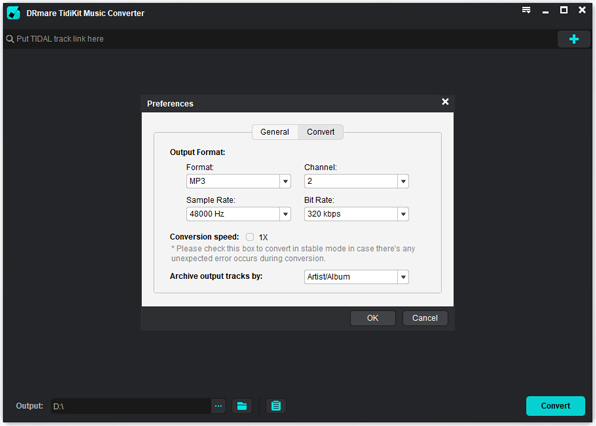 5. Tidal vs Deezer: Music Discovery
When it comes to the music discovery of Deezer vs Tidal, here you can learn more.
Deezer offers features like Flow, Mixes, Search and Channels for users to find more music.
Features on Deezer to Discover New Music:
* Deezer Flow: It can suit the subscriber's user mood accordingly. The Flow utility scrapes deep into your library. And it tries to gauge the taste of the music and presents a suggestion of new music.
* Mixes: It is based on the tracks you like, except that a mix focuses on a genre of music or a single topic.
* Search: Type the name of the artist, track, album or #tag in the search bar on Deezer to find the music.
* Channels: It is a group of curated content according to the genre, mood or event located beneath.
On Tidal, you are not able to import your music. But it comes with two discovery utility called Discovery and Rising.
Discovery Utility on Tidal:
* Discovery: It is an upcoming platform for artist to publicize their music.
* Rising: It helps artists to gain a large audience.
On Tidal, you can watch Music videos. While Deezer doesn't have this feature.
6. Deezer vs Tidal: Availability
Deezer is available for people out of the United States. It is available in 182 out of 192 countries in the world.
On the other hand, Tidal is only available in 56 countries in the world. Deezer comes with an inbuilt lyrics utility. This is a perfect spot for discovering and experiencing new tracks and playlists. Furthermore, you can customize your tracks, bringing forth a unique feel each time.
7. Tidal vs. Deezer: User Interface
For the user interface of Tidal and Deezer, they differ a lot. Deezer has a clean interface. And it has a feature of lyrics. So, you can view the lyrics when playing a track. Besides, you can hit the 'Favorite' tap to save the songs you like.
While the UI of Tidal is easy to navigate. It has a dark mode. On the main screen, you can see a banner of features content. And below is the recommended new tracks and albums. At the Explore tab, you can find music you like.
8. Deezer vs. Tidal: Social Features
The social features on a music app is also important. When you find a song you like, you may want to share to your friends. Here we will dive into the social features on Deezer vs Tidal.
Deezer supports you to follow the profiles of your friends, view and save their playlists. It also allows users to share songs to lots of apps. But, you can't view your friends' live listening activity in Deezer.
Tidal allows users to share the song they like on social media. iOS and Android users can share music and video to their own Instagram and Facebook stories. That's it, no more other social features available. You won't know what your friends are listening to. Also, you can't see how popular certain playlists and artists are.
9. Deezer vs Tidal: Equalizer
What is equalizer? Equalizer can let you define the level of some audio frequencies for the sound. So, do Deezer and Tidal have an equalizer?
For Deezer, it has the built-in equalizer on its app. You can go to the Setting on Deezer app to find and activate the Equalizer. Then you can play the music on Deezer through the equalizer.
However, there is no equalizer in Tidal. But you can find some external Tidal equalizer to help you.
10. Comparison Table of Tidal vs Deezer
Tidal
Deezer
Number of Songs
70+ million
50+ million
Platforms

iOS, Android, MacOS, Windows, Web

Android, iOS, Web, Window Phone

Audio Quality

Premium: 320 kbps AAC

HiFi: 1411 kbps FLAC/ALAC

Free: 128 kbps

Premium: 320 kbps MP3

HiFi: 1411 kbps FLAC

Subscription Plan Price

Premium: $9.99/month

HiFi: $19.99/month

Premium: $9.99/month

Family: $14.99/month (up to 6 family members)

HiFi: $14.99/month

Availability
56 countries
182 countries
Free Plan

No

Yes
Social Connection
Facebook/Instagram
Twitter/Facebook/AirDrop
Which Is Better: Deezer or Tidal
In this review, we learned about some aspects of Deezer vs Tidal. Both of them is a good music streaming service for you. Besides, each has its own strength and drawbacks. Deezer is available for almost all countries and it offers a free plan. While Tidal offers more tracks than Deezer. In a word, you can choose the one according to your needs. Hope you can enjoy more wonderful music with the music service you like.