Tidal is a music streaming service known for its high-quality sound quality. It offers different sound quality options to suit different preferences and devices, including Standard, HiFi and Master. Tidal's standard quality offers a bitrate of 320 kbps, similar to other popular streaming services. HiFi provides lossless audio at a bit rate of 1411 kbps in FLAC format. Master, also known as MQA (Master Quality Authenticated), is a high-resolution audio format that provides studio-quality sound. To get Tidal's HiFi or MQA sound quality, you need a Tidal HiFi or HiFi Plus subscription. Today we mainly talk about Tidal MQA. Follow us to experience your favorite music in the best possible quality.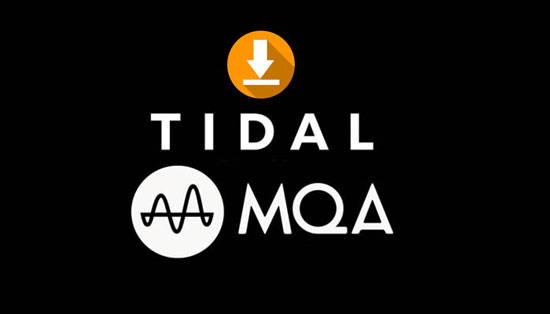 Part 1. Overview of Tidal MQA
What Is Tidal MQA?
Tidal MQA, or Master Quality Authenticated, is a high-quality audio streaming format available on Tidal. MQA files are usually encoded at a higher bit rate and provide enhanced audio resolution without compromising quality. It provides a superior listening experience compared to other audio formats such as MP3 or FLAC.
Tidal MQA Compatible Devices?
To listen to MQA on Tidal, you need a compatible device and a subscription to Tidal HiFi Plus. Tidal MQA is available on all desktop and mobile devices, and some integration partners such as Bluesound, Cambridge Audio, DALI, and so on.
How to Listen to MQA on Tidal?
You can use the latest Tidal app on your computer or mobile device. Or go to Tidal Web Player to enjoy Tidal Masters.
Step 1. Go to the Tidal app or web player on your device.
Step 2. On the 'Home' screen, scroll down and tap on 'Master Quality Authenticated Albums/Playlists'.
Step 3. Choose an album or playlist and tap 'View all' and you can play Tidal music with Master quality.
Alternatively, you can tap on the 'Explore' tab and search for the song you want to listen to. Once there is a 'Master' icon, then you can play it with MQA.
Part 2. How to Download Tidal MQA Files on Desktop
Tidal MQA songs can be downloaded for offline playback, but there is no download option on the desktop app. Thankfully, you can use DRmare Tidal Music Converter to download MQA from Tidal. It is the best Tidal MQA downloader as it maintains 100% lossless sound quality. Plus, even if you're a free Tidal user, you can use it to download songs for offline playback.
In addition, it can output Tidal tracks to common formats like FLAC, MP3, WAV, etc. It also preserves 100% of related ID3 tags, including title, album, etc. With this software, you can download Tidal MQA/HiFi albums, playlists, and tracks as local files on your computer. These downloaded songs are kept forever even after your Tidal subscription expires. You can then listen to these Tidal MQA files offline on any device you like.
DRmare Tidal Music Converter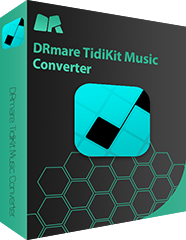 Download songs, albums, and playlists from Tidal MQA
Losslessly convert Tidal to MP3, WAV, FLAC, M4A, etc.
Work at 5X running speed, keep original ID3 tags
Preserve lossless HiFi and MQA music quality
Tutorial: Get Tidal Download Master Quality by DRmare Tidal MQA Downloader
Step 1

Import MQA Tidal songs to DRmare

Download and install DRmare Tidal Music Converter on your computer. Double-click to open it. Then the Tidal app will be started as well. Next, find your favorite MQA Tidal tracks on the Tidal app. Once got, drag and drop the Tidal MQA tracks from Tidal to DRmare program. Or you can get Tidal MQA music's link address, paste it into DRmare's search box, and click on '+'. Then the tracks will be loaded on the main screen of the DRmare tool.
Step 2

Customize output parameters for Tidal MQA tracks

To open the settings window of the DRmare program, on the macOS, you need to find the "DRmare TidiKit Music Converter" tab from the menu bar of the Mac. On Windows, you can click the "Menu" icon from the top-right lists in the DRmare. Then please select the "Preferences" > "Convert" option. Then you can reset the output settings for MQA quality. Please choose the output format to FLAC. And set the sample rate to 96,000 Hz and bit depth to 24 bit. Then save the setting by hitting 'OK'.
Step 3

Download MQA from Tidal on computer

Now, press the "Convert" button. Then the Tidal MQA download process is working and it saves Tidal songs on computer. You can see it as the picture above. At last, you can click on the red spot icon with track numbers, where you can find all Tidal Master downloads. You can also get them in the target folder on your computer via the "Folder" icon. Then you can listen to Tidal MQA files offline, keep them forever, or move them to other devices.
Part 3. How to Download Tidal MQA Files on Mobile
We know that Tidal HiFi Plus subscribers can listen to Tidal MQA offline via offline mode. If you have a Tidal HiFi Plus account, then you can download MQA from Tidal on Android and iOS devices. Then you can play Tidal MQA offline. Now, let's learn how to get Tidal download Master quality step by step.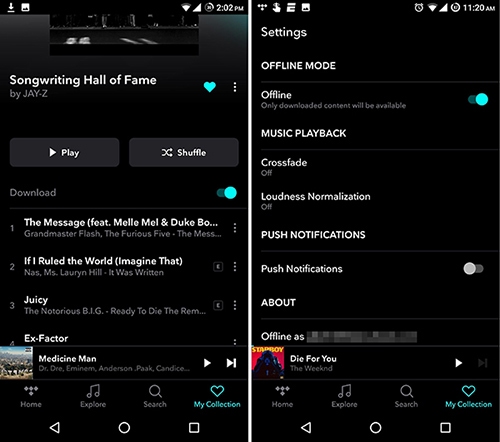 Step 1. Start the Tidal app from your mobile device.
Step 2. Type and search for the song you want to download in the Tidal app. (You can follow the steps in Part 1 to find MQA lists.)
Step 3. If the song supports MQA quality, then you will see a "Master" icon next to it. Next, hit on the item to start to Tidal Master quality download.
Step 4. Once downloaded, you can find the Tidal MQA downloads in the 'My Collection' > 'Downloaded' section.
Part 4. Best Tidal MQA Streamers/DACs
MQA on Tidal is not only available to stream on all mobile and desktop devices, but also on select partners. Here we want to introduce you some of the best Tidal MQA streamers. With Tidal Connect, you can seamlessly listen to your favorite Tidal MQA songs through these speakers.
1. Bluesound
Bluesound is the first multiroom system to support MQA. All Bluesound players are equipped with a powerful codec and audio renderer, enabling a "Master Quality Authenticated" (MQA) system to deliver high quality audio. The good news is that the Bluesound player also supports Tidal MQA, allowing users to access and enjoy high-resolution music streaming on their devices.
2. DALI
DALI was founded in 1983 with a passion for state-of-the-art sound. The DALI CALLISTO series supports MQA and you can use it to stream Tidal music easily.
3. NAD
Founded in 1972, NAD is dedicated to making the listening experience better for as many people as possible. After 2016, all NAD systems that support BluOS support MQA.
3 Best DAC for Tidal MQA
To get the optimal audio quality from Tidal MQA, you can use an external MQA-certified DAC or headphone amplifier.
In general, the internal DAC inside Apple restricts the audio output to 16-bit quality. It is enough for Tidal HiFi, but it can't get the most from Tidal MQA. On Android devices, the output quality is set as 16 bit by default. It is the same as Apple. So, for a real MQA lover, the external DAC or headphone amplifier is great to listen to Tidal MQA music on phones.
Here are some best headphone amplifiers or the best DAC for Tidal MQA. As for the details, you can search for them on Amazon or other online shopping sites.
1. iFi Nano iDSD Black Label Portable USB DAC / Headphone Amplifier
2. iFi xDSD Portable Bluetooth aptX DAC / Headphone Amplifier
3. AudioQuest - DragonFly Red USB DAC/ Headphone Amplifier
Part 5. FAQs about Tidal MQA
Q1: Are All Tracks on Tidal Available in MQA Format?
A: No, not all tracks on Tidal are available in MQA format. But Tidal continues to add more MQA tracks to its library.
Q2: Can I Get Tidal MQA for Free?
A: No. You will need to subscribe to Tidal HiFi Plus to get Tidal Master quality audio.
Q3: How Do I Find MQA Songs on Tidal?
A: You can go to 'Master Quality Authenticated Albums/Playlists' to view MQA songs. Or you can search for a specific song and once there is a 'Master' icon, it can be listened in MQA format. Before listening, please make sure that you had chosen 'Master' quality in 'Settings' > 'Streaming'.
Q4: Where Can I Listen to MQA on Tidal?
A: Wit a Tidal HiFi Plus account, you can play Tidal MQA on the latest Tidal app on all mobile and desktop devices. Also, you can listen to Tidal Master on Tidal Web Player via the most popular web browsers. But you can't do that with Safari and Microsoft Edge browsers.
Q5: How Can I Download Tidal MQA Files to My Computer?
A: Although the Tidal desktop application does not have an offline mode, you can download MQA from Tidal using DRmare Tidal Downloader. It keeps 100% lossless sound quality and original ID3 tags, so you can enjoy real MQA music offline on your computer without an internet connection. You can also move the downloaded Tidal music files to play on other devices.
In Conclusion
All in all, the Tidal MQA delivers studio-quality sound for a great listening experience. You can use a compatible device and a Tidal HiFi subscription to access your favorite songs in MQA format. You can also download Tidal MQA files for offline listening, but it's only available on the mobile app. So we recommend you to use DRmare Tidal Music Converter, which allows you to losslessly download MQA from Tidal to your computer for offline playback on any platforms and devices.