Shortly after Audible is finally back on Sonos via Sonos app or Audible app, in order to compete with Amazon Audible audiobooks, Google is rolling out a slew of new features to its audiobooks that is the inevitable trend after Google added audiobooks to Google Play on Jan 23, 2018. Apart from smart home gadgets, music subscription service, or cloud storage for business, now it's time for Google Play Books' audiobooks in its fight against Amazon. Here, let's have a detailed review of a series of new audiobooks features in Google Play Books from this major update rolled out for Android, iOS and other devices that support Google Assistant.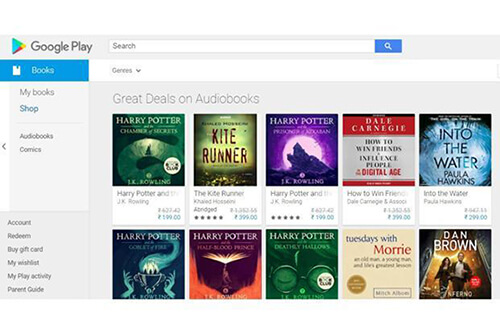 Part 1. New Audiobook Features - Books on Google Play
Smart Resume
From these upgrades, one of the most excellent features is Smart Resume, which is useful in our daily life when playing audiobooks on Google Play. This Smart Resume can rewind you to the beginning of a word or sentence automatically when you are interrupted by some accidental reasons, such as you receive an updated map direction from Google Maps or someone calls for you while you are clearly listening to an audiobook. Thanks to this smart feature, you don't worry any unexpected interruption when enjoying audiobooks any more.
Bookmarks
The other new feature is Bookmarks, which allows you to revisit audiobooks with ease. Bookmarks, as the name suggests, it is ability to make marks on the particular points in an audiobook so that you can go back to the bookmarks quickly. Plus, you are also able to adjust the speed of the narration, meaning that you can speed up or slow down audiobooks in the range of 3X and 0.5X speed for playing according to your special requirements.
Assistant Routines Support
You will be happy to find out that it's the ability to add audiobooks to your Google Assistant's Routines. If you often use Google Assistant, you might have already used this new Routines feature with Google Assistant. Although there are plenty of limitations, Routines is able to let you do some Google Assistant actions at once. There is no doubt that it's a nice experience that you can continue to listen to your audiobooks when you wake up. Also, you can use Routines to automatically play the book as part of a morning program for your children.
Family Library
If you have a huge family system and your family members are living in all around the world, obviously it is a good news that Google announced that Family Library is available in 13 new countries, which allows you to share e-books and audiobooks with up to five family members who are living in the following 13 new countries, also: Belgium, Germany, Italy, Netherlands, Norway, Poland, Russia, Spain, Switzerland, Chile, Mexico, Japan (audiobooks only) and South Africa.
Part 2. Which One to Choose: Google Play vs. Amazon Audible
As a matter of fact, in order to complete with Google, Audible has already also rolled out a free giveaway for Audible users to download free Audible books on Amazon Echo a few days ago. However, which one to choose finally, Google Play Books or Amazon Audible to enjoy your audiobook trip? From the detailed cost comparison between Google's audiobooks and Audible's audiobooks, I will give some personal suggestions for you.
The best way to decide between Google audiobooks and Audible books is to honestly examine how many audiobooks you listen to each month. If enjoying audibooks is a regular part of your routine, Audible seems a smart choice to listen to audiobooks. But if you don't often enjoy audiobooks, Google Play is the better option for avoiding the subscription fee.