Coming with the Apple TV 4K set-top box which is able to play 4K HDR films from iTunes store and other platforms launched by Apple Inc, Apple quietly doubled the amount of time to 48 hours that iTunes rentals can be watched in the US on September 22, 2017. Although it's not a big change, it's really worth celebrating for people in the US who are fed with this restriction. While people live in other parts of the world, they already have the ability to finish watching a rented movie within 48 hours for a long time.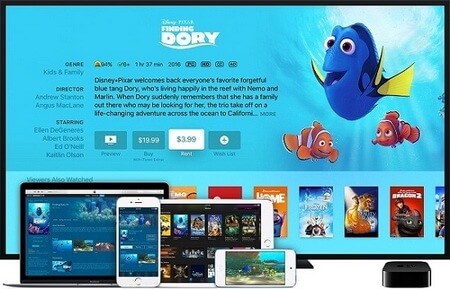 Prior to today, according to Apple's movie rental policy, Apple allowed people in the US who rented movies from iTunes to finish them within 24 hours after you start pressing the play button. Fortunately, rule changed. Now, they are able to get 48 hours instead of 24 hours to finish watching the rentals. From the support document updated by Apple, there is a detailed explanation about the period of iTunes rentals.
More about the Time Limitation of iTunes Rentals
After you rent a movie from iTunes store, you have 30 days to watch it. Once you start to watch it, you need to finish it within 48 hours. Before it expires, you can watch this movie for many times as much as possible.
Please be well noted that even if you don't watch this rental movie, when 30 days is up, the iTunes rental will disappear automatically from your iTunes library. That is to say, you must pay for renting iTunes movies again.
iTunes customers are allowed to download movie rentals on a single device for watching offline. But Apple points out that "the limitation of 48 hours starts even if you're offline".
How to Break 48-hour Time Limitation from iTunes Movie Rentals
Generally speaking, iTunes digital content, not only for purchases but also for rentals, are encoding M4V container format with built-in FairPlay DRM technology that restricts you to watch movies and TV shows purchased and rented from iTunes anywhere but on Apple-approved devices and players with iTunes-linked Apple ID, such as iPhone, iPad, iPod Touch, and Apple TV. Besides, iTunes rentals have the 48-hours time restriction and it can only exist on one device at a time. If you would like to really possess iTunes movies that you rented legally and remove the 48-hour time limitation, the forecast thing you should do is to discover a professional iTunes DRM removal solution to get rid of DRM protection. Here, we'll meet DRmare M4V Converter for Mac/Windows, one of the most excellent M4V video converters around the world. It is specialized in removing DRM protection from iTunes rentals and purchases at 30X faster speed and converting iTunes M4V videos to other common formats with keeping 100% original quality. For the complete and detailed tutorial to remove DRM from iTunes movie rentals, you can follow this source page: How to Remove DRM from iTunes Rentals with DRmare.