As you know, all songs on iTunes are protected by FairPlay DRM, except for purchased iTunes songs. Not only that, but if you purchased songs before 2009, they are also protected by DRM. DRM protection prevents you from playing iTunes music on non-Apple devices. Therefore, many people are looking for a way to unprotect iTunes music.
In this article, we will introduce how to unprotect iTunes songs with the best 4 methods. After that, you can access unprotected iTunes songs on other unauthorized devices. These songs are yours and you can keep them forever. Just follow the tutorial below and learn how to do this.
See also: Top 3 Best Free DRM Removal Software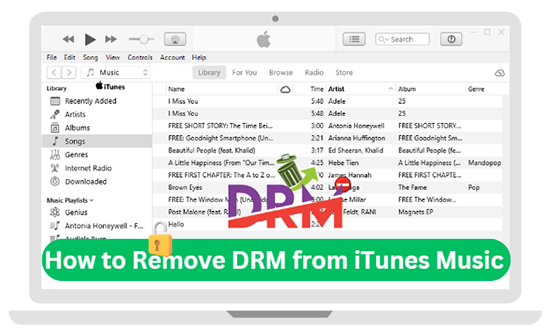 Part 1. How to Unprotect iTunes Songs with DRmare Audio Converter
DRmare Audio Converter is the best method to unprotect iTunes music and Apple Music. It is a professional iTunes DRM removal that can also convert iTunes music/Apple Music to DRM-free MP3, AAC, M4A, M4B, FLAC, and WAV.
This software works with super-fast 30 times speed, and it supports batch conversion. With it, you can get 100% lossless iTunes music and Apple Music stored in your local area. Then you can use iTunes music offline on any device without any limitations.
DRmare Audio Converter
How to Convert Protected iTunes Files to Unprotected
Before we show you how to unprotect iTunes songs, you can install DRmare Audio Converter via the "Download" button above. It works well on both Windows and Mac computers. Just choose the right version according to your computer system.
Step 1

Load downloaded iTunes M4P songs to DRmare

Download and install DRmare Audio Converter on your Mac computer. Then open the program and you will see iTunes also open. Browse and add protected iTunes files directly via the 'Add Files' button. Or you can drag and drop files from iTunes to this software.
Step 2

Choose output format for iTunes songs

Simply click the "format" button and you can select the output format for iTunes songs to match your needs. You are also allowed to change the codec, sample rate, bit rate, and so on. Remember to click on "OK" after the changes.
Step 3

Remove DRM from iTunes music

Please just click the "Convert" button to start the 30X conversion process. In a few minutes, DRmare will unprotect iTunes files and convert them to the format you set before. Then, you can see all your iTunes DRM-free songs inside the output folder. You can move them to any other device to play freely. No license is required.
Part 2. How to Remove iTunes DRM for Free by Requiem 4.1
Requiem 4.1 allows you to remove DRM from iTunes music free. A great advantage is that you can also use it to unprotect iTunes videos. Unlike other software, it works by cracking the DRM encryption of the original iTunes files, so the sound quality is 100% lossless. It is available for Windows, Mac and Linux, and it is very easy to use. However, it has not been updated since 2012. If you don't mind, follow the steps below to use it.
Note: It is only available for iTunes 10.7 or lower versions.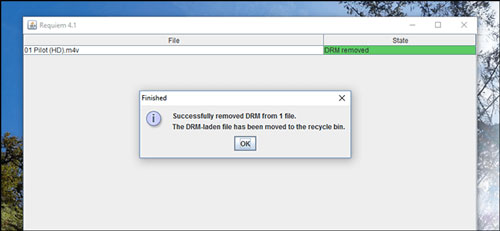 Step 1. Download and install Requiem 4.1 on your computer.
Step 2. Open iTunes and download the iTunes music that you want to remove DRM.
Step 3. Close iTunes and open Requiem and it will automatically remove DRM from iTunes songs in your library.
Part 3. How to Unprotect iTunes Music via iTunes Match
Currently, songs purchased from the iTunes Store do not have Digital Rights Management (DRM). However, music purchased from the iTunes Store prior to 2009 does have DRM. Fortunately, you can use iTunes Match to remove DRM from iTunes purchases.
iTunes Match is a paid service from Apple that allows you to upload up to 100,000 tracks from your iTunes Library to iCloud. The uploaded songs will be matched to DRM-free tracks in the iTunes Store. After that, you can stream or download these DRM-free tracks to up to 10 devices.
Note: iTunes Match only works for DRM-protected iTunes purchases.
Step 1. Open the iTunes program and go to the 'iTunes Store'.
Step 2. Find and click on 'iTunes Match'
Step 3. Check for your payment info and hit 'Subscribe'.
Step 4. After subscribing, iTunes Match will scan your iTunes music library for matches automatically.
Step 5. Go to the "My Music" tab at the top of iTunes. Then choose the songs you want to remove DRM.
Step 6. Hit the 'Delete' key on your keyboard and then hit 'Delete Songs' at the pop-up text.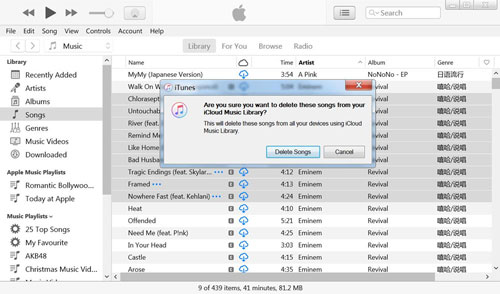 Step 7. After deleting the original DRM-protected iTunes purchases, you get the unprotected iTunes songs. To access them, go to "iTunes Store" > "Quick Links" > "Purchased" > 'Music'. You can click on the "Cloud" icon to re-download the DRM-free iTunes purchases.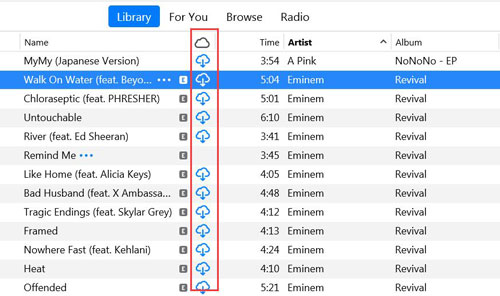 Part 4. How to Remove DRM from iTunes Music by Burning to CDs
Here is another solution on how to unprotect iTunes songs. That is to burn iTunes music to a CD. You can do this directly in iTunes, so you don't need to install other tools. Also, this is a completely free method.
Remember, you need a CD/DVD that supports AAC format because iTunes songs protected by DRM are AAC files. Also, if you have a playlist that contains DRM songs, you can only burn it up to 7 times. Here are the steps for you.
Note: You can only burn the same song once in iTunes. And it will take a long time to burn lots of music files.
Step 1. Insert a blank CD into your computer.
Step 2. Open the iTunes application and hit on 'File' > 'New Playlist' to create a playlist that contains the audio files you want to unprotect.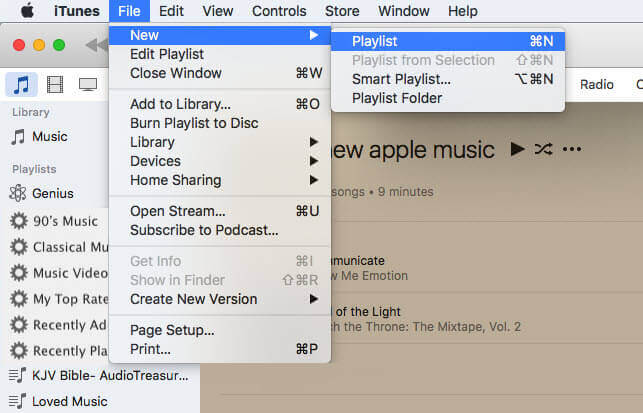 Step 3. Then right-click on the playlist and choose the 'Burn Playlist to Disc' option.
Step 4. Choose 'Audio CD' from the window box. Then Click on the 'Burn' button and it will unprotect iTunes songs and burn them to CD.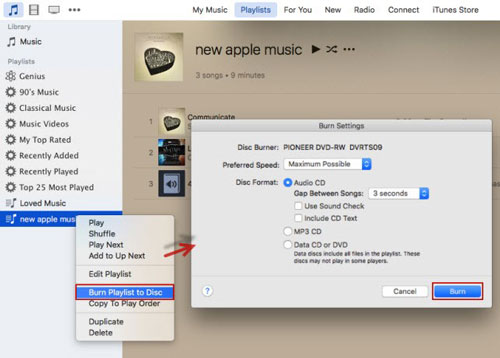 Step 5. Once burned, you can rip the burned iTunes songs to your computer from CD. Please eject the CD from your computer first.
Step 6. Open iTunes, head to 'Edit' > 'Preferences' > 'General' option. Then hit 'Import Settings'.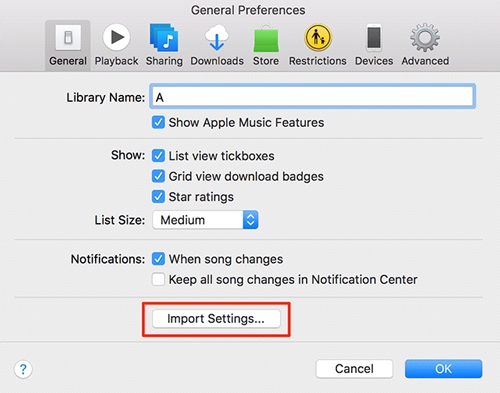 Step 7. Insert the CD into your computer again. Then hit the 'Yes' button to start to rip iTunes songs from CD.
Part 5. FAQs about Removing iTunes DRM
Q1: What Is FairPlay DRM of iTunes?
A: It's Digital Rights Management, an encryption method developed by Apple Inc to protect iTunes content, including music, movies, videos, eBooks, and more. You cannot use DRM-protected iTunes content on unauthorized devices.
See also: Everything You Want to Know about DRM
Q2: How Do I Know If the Song Have DRM Protection?
A: To check if the iTunes song is DRM-protected, right-click on the song and then choose 'Song Info' > 'File'. If the song is protected, you will see 'Protected AAC audio file' in the 'kind' section.
Q3: Can I Remove DRM from iTunes Music?
A: Yes, you can use iTunes Match to remove DRM from iTunes purchases, or burn iTunes music to CD to unprotect music. Or, you can use DRmare Audio Converter to unprotect Apple Music files and iTunes files in a lossless way.
Q4: Is It Legal to Unprotect iTunes Songs?
A: Generally speaking, if you remove DRM from iTunes for commercial purposes, it is illegal. However, if you have purchased and downloaded songs from iTunes, then convert them to popular DRM-free audio formats just for personal use, it is legal.
Q5: Why Do You Need to Remove iTunes DRM?
A: Because iTunes music protected by DRM can only be accessed on the device you authorized with your iTunes account. Plus, if you cancel your subscription, your entire iTunes music library will disappear. If you cancel DRM protection, you can keep unprotected iTunes music forever, or listen to it on any device you want.
In Summary
Now you have learned how to unprotect iTunes songs with the best 4 methods. Among them, DRmare Audio Converter is the best solution. It can losslessly convert protected iTunes files to unprotected MP3/AAC/M4A/M4B/WAV/FLAC files. It also works for Apple Music, Audible audiobooks, and so on. With it, you can enjoy iTunes music freely.