iTunes is one of the biggest libraries where you can get tons of classic, hot, new movies and TV shows. When you are in the iTunes Store looking for movies, you may find that some movies offer both options to rent or buy them. Do you feel confused about which option to opt for sometimes?
In general, iTunes purchases and rentals have many common things and differences. It is really frustrated to buy the movies and end up discovering that you only need to rent it. To prevent it from happening, I will walk you around in this article to find out the detailed commons and differences between iTunes movie rentals and purchases.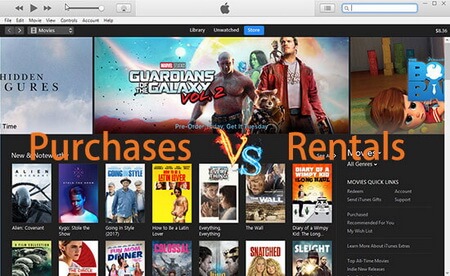 Part 1. iTunes Movie Rentals VS. Purchases: Common Things
To get started, let's take a look at the common things. The most important similarity about iTunes movie rentals and purchases is that both are integrated with the FairPlay DRM protection.
Under this FairPlay encryption, you are required to authorize the Apple devices or players before you can play the videos and the number of devices is limited to 5 at most. If you have already authorized to more than 5 devices, then you must deauthorize from one device first before you can use it in another one.
In addition, you are not allowed to copy the iTunes videos to other non-Apple devices like Android mobile devices, TVs etc. The other common thing is that the video quality is same. Whether you buy or rent the HD/SD movies, you can always enjoy the movie with same image quality.
Part 2. iTunes Movie Rentals VS. Purchases: Differences
Though iTunes rentals and purchases have some similarities, there are many differences in several aspects. Following I will list the four most obvious differences.
Price
Generally speaking, the price of rental movies is much lower than the purchased movies. As for the rentals, the lowest price is $0.99 for special promotion and they usually cost $2.99 for SD videos, $3.99 to $4.99 for regular movies, and $5.99 to $9.99 for latest movies. While movie purchases normally costs from $9.99 to $14.99 though some of them maybe offered at a low price too.
Content availability
There are different movies which are only available for buy or rent or both. For instance, some latest movies which are currently in theaters may only be available for rent and some classic movies are only available for buy based on the contracts between the movie studios and Apple Inc. But usually the number of movies for buy is much larger than the one for rent.
Time validity
If you buy a movie, you will be able to watch it repeatedly forever as long as you authorize it on the devices. However, this is completely different with the iTunes movie rentals. After renting, you are only allowed to enjoy the movies within 30 days. If you haven't started to watch it before the deadline, the rental movie will be automatically deleted from your iTunes. Furthermore, if you have started to watch it, you are supposed to finish watching it within 24 hours in USA and 48 hours in other countries in the world, else the movies will be expired.
Playback and sync
For the purchased videos, you can transfer and sync the purchased movies between different Apple devices like Mac computers, IOS devices, Apple TVs for up to 5 devices. And for the rental movies, if you want to sync to other devices like iPhone, iPad and iPod or Apple TV, you must rent them from computers because you won't be able to sync them from IOS devices or Apple TV to computer. The last but not the least is that when syncing the rental movies from computer to your IOS devices, it will be deleted completely when it syncs completely, you can only play rental movie on a device at a time.
Part 3. iTunes Movie Rentals VS. Purchases: Summarize
From what we have discussed above, we found that the difference between iTunes Movie rentals and purchases is big to some extent and they are actually designed to meet the requirements of various customers.
The answer to the question whether buy or rent a movie totally depends on your preferences. If you find a great movie which you want to enjoy repeatedly or backup for future watching, you should go with the purchase option. Else if you only want to watch the movie for one time, you can simply rent the movie to save money.
Nevertheless, both options are not perfect because they have the same iTunes FairPlay DRM encryption. You are not allowed to copy either the purchased iTunes movies or rented movies to watch on non-Apple devices. Especially for the rental videos, it is really inconvenient to enjoy them across different platforms and sometimes they maybe expired before you have enough time to watch them completely.
But you don't need to worry about that any more. With the advanced DRM removal application namely DRmare M4V Converter for Mac/Windows, you can now unlock FairPlay DRM from iTunes rentals and purchases like a cork.
You just need to import your iTunes videos and then click 'Convert' button, DRmare software will help you get rid of the DRM automatically for good. After that, you can enjoy all iTunes movie purchases as well as rentals anytime anywhere. You can also download the free version of this smart tool to evaluate by yourself.