When it comes to online video streaming services, YouTube ranks high among music fans. Simultaneously, many users wish to enjoy Hi-Fi upbeat YouTube Music on their Android phones without an internet connection. But how do you get YouTube's exclusive audio for offline playback on your mobile phone?
While many methods are available, not all are safe or legal for downloading music from YouTube on Android. YouTube's terms of service can be manipulated, and your device could be at risk of malware or viruses if you utilize certain techniques. Therefore, you need a reliable and professional method to enjoy the best YouTube listening experience on a phone.
Fortunately, in this article, we'll teach you how to download music from YouTube on Android using a top-notch tool. We will also show a trick to help you download all the music from YouTube Music instantly. Now, let's get started!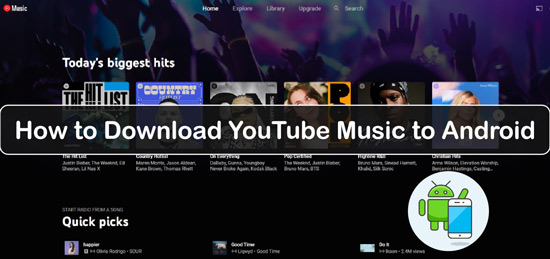 Part 1. How to Download Music from YouTube on Android Phone - Official Ways
Before trying to download music from YouTube to Android phone, you should know that YouTube does not authorize all methods. Some third-party applications and websites violate YouTube's terms of service. Therefore, it is recommended to utilize the following official methods to download music on Android from YouTube.
Way 1. Manually Download YouTube Music to Android Phone
With a YouTube Music Premium subscription, you can manually download any song, album, playlist, or podcast episode to your Android phone for offline. Now, follow the steps on how to do that.
Step 1. Launch the YouTube Music for Android application.
Step 2. Search and locate the desired song, album, or podcast episode.
Step 3. Tap the Download icon (a down arrow), or the Menu icon (three dots), followed by the download icon to save it.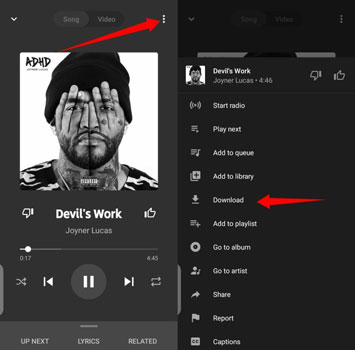 Step 4. The Download icon will transform into a checkmark when the download is complete.
Step 5. To access the content you've downloaded, select Library, and then Downloads.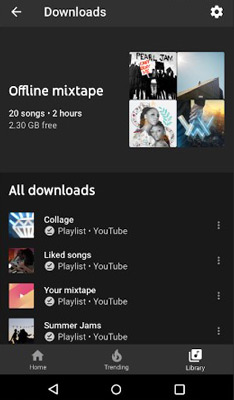 Way 2. Automatically Download Music on Android from YouTube Music
The Smart Downloads feature of YouTube Music is another method to download YouTube Music and enjoy offline music on Android. This feature automatically downloads up to 500 of your favorite or most listened-to recordings. You can also determine how much storage space Smart Downloads will utilize. Besides, make sure that your Android device is running with Android 4.0.3 or above. Here check the steps below.
Step 1. Launch the YouTube Music application from your Android device.
Step 2. Tap your profile's image in the upper-right corner.
Step 3. To access Downloads, tap Settings and then navigate down.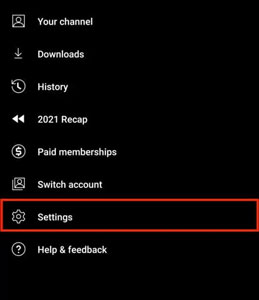 Step 4. Turn on the Smart Downloads switch.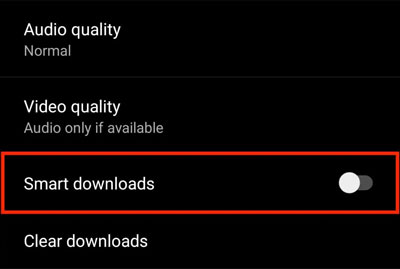 Step 5. Adjust the slider to the desired storage space for Smart Downloads.
After that, the app will automatically download music from YouTube Music for you based on your listening habits and preferences. By selecting Library and then Downloads, you can also view the number of songs downloaded and the amount of storage space used.
Part 2. How to Download Music from YouTube to Android Phone - Best Way
Besides the official ways, DRmare Audio Capture should be the best method for downloading and converting music from YouTube to Android. This professional third party tool also allows you to record and download any audio from any streaming platform on your computer, including Spotify, Tidal, Apple Music, Deezer and more.
DRmare Audio Capture exports high-quality audio files of YouTube Music in various audio formats, including MP3, M4A, AAC, WAV, FLAC, etc. The audio files can be edited by clipping, merging, or combining to suit your needs.
That's not all, DRmare Audio Capture preserves the complete ID3 tags and metadata information of the recorded audio tracks, including title, artist, album cover, genre, etc. Besides, you can edit them according to your requirements. Moreover, this program can simultaneously and precisely record multiple music tracks in a collection.
With this tool, you can then record and keep YouTube Music songs on your computer. And then you can transfer YouTube Music files to Android phone for use offline. You can also move them to other devices for playing.
DRmare Audio Capture
Now, you can check out the easy steps below to download and convert YouTube Music to Android phone via DRmare Audio Capture.
Step 1. To begin, download and install this DRmare tool on your Windows or Mac computer. After launching it, you will find that there is some popular app like iTunes, Chrome, etc. in the screen. To access YouTube Music, you need to go to its website via a web browser as there is no YouTube Music desktop app. If your target web browser is not in the screen, then select the "+" icon to add it to the DRmare tool.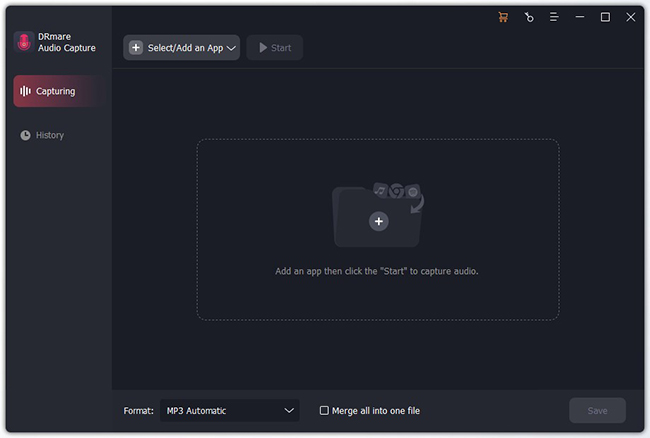 Step 2. Next, go to the Format window by hitting on the Format icon. Then select your desired audio format for YouTube Music to MP3, M4A, AAC, WAV, M4B and FLAC. You can also adjust other output parameters such as the codec, audio bit rate, sample rate, and audio channel you like. After all the settings, tap OK.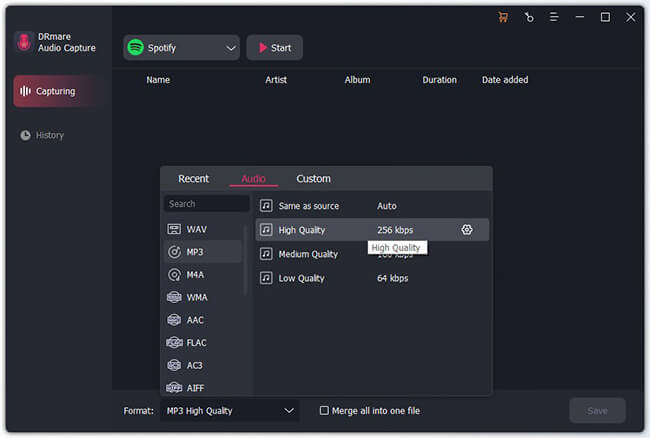 Step 3. Now, launch the web browser app from the DRmare Audio Capture's main interface. Next, head to the webpage of YouTube Music and play your favorite song. It will be detected and recorded automatically. If you want to record multiple tracks, just play the song in a new tab.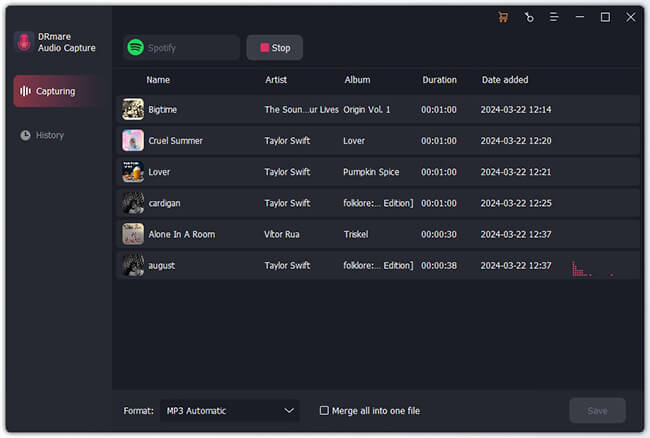 Step 4. When the tune stops playing, the recording will end. If you wish to further modify the track, hover the cursor over the track and select the Edit icon. Then you can trim and cut the soundtrack. Also, you can alter and customize the ID3 tags of the songs.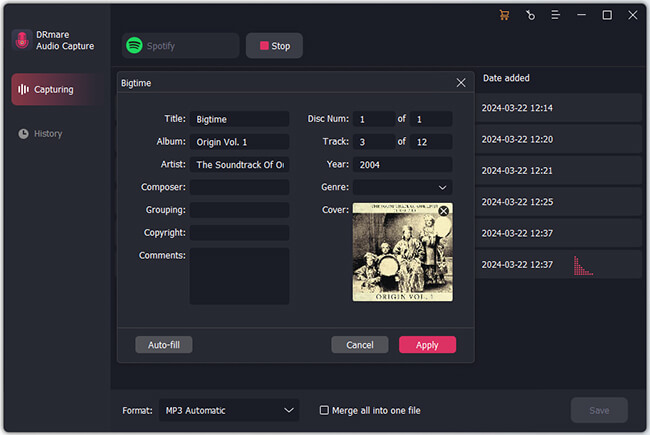 Step 5. Next, hit the Save button to store all your YouTube Music tunes on your computer. You can then locate the downloaded YouTube Music files by clicking the Search icon.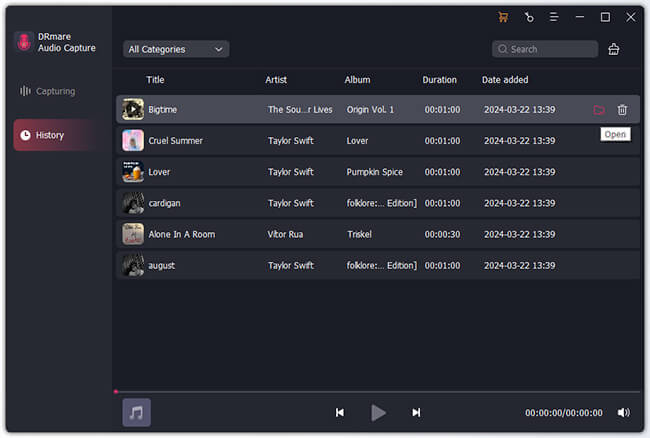 Step 6. At last, plug your Android phone to your computer via a USB cable. Then find and move the recorded YouTube Music tracks to your phone. After that, you can enjoy YouTube Music on Android offline without any limits.
Part 3. How to Download Music from YouTube on Android for Free
YouMP34 is another method to download YouTube Music on Android phone for free. This free application allows you to download MP3 (audio music) or MP4 (various video formats) files in three simple steps. The methods to use YouMP34 are as follows.
Step 1. Download and install YouMP34 on your Android phone from its official website.
Step 2. Launch the application and search for the YouTube video or song you wish to download. You can use the search box to enter the YouTube URL.
Step 3. Select your desired video or audio file, then choose the format and quality to download it from the showing window. You can also view the video or music's duration, image, title, and description.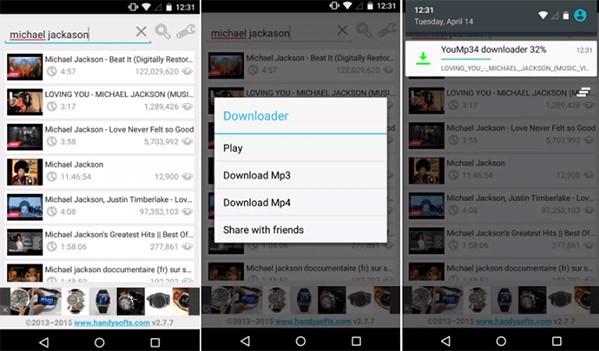 Part 4. Conclusion
Downloading music from YouTube on Android is possible and easy with the help of some apps and websites. Among the methods we have discussed above, DRmare Audio Capture is the best way to download and convert YouTube Music to Android phone. This software can record and download audio from any streaming platform with high quality and accuracy. You can also edit and manage your audio files with ease. After that, you can keep the soundtrack on your device forever and move them to any platform for enjoying offline.