Samsung Music app is a well-known music player and streaming service available on Samsung devices. Using this app, you can explore and listen to songs of the best audio quality. Moreover, you can create your playlists and music libraries according to genre, album, artist, etc.
However, there can be a possibility that you won't be able to find particular songs on the Samsung Music app. Therefore, you can navigate to the YouTube Music app to locate millions of songs belonging to different genres.
You may want to download music from YouTube to Samsung Music to find all your favorite songs at one location. But there is no direct method to do this instantly. Fortunately, this article will highlight three methods on how to add music to Samsung Music from YouTube.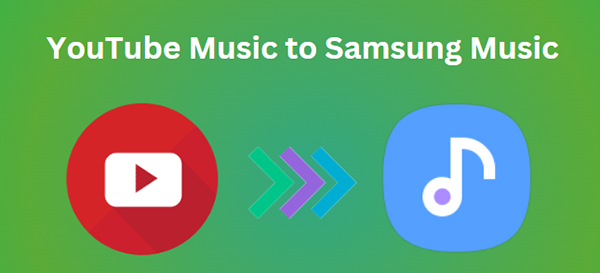 Part 1. How to Download Music from YouTube to Samsung Music
In this part of the article, we will teach you how to download music from YouTube to the Samsung Music app using a third-party tool. Therefore, carefully read the instructions to make the transfer process smooth and successful.
It's always the case that Samsung Music supports the following audio formats, including MP3, FLAC, AAC, and WMA. To add YouTube Music to Samsung Music app, the premise is downloading them to one of the Samsung Music-compatible audio files.
Downloading music from YouTube while keeping the original audio quality can be tricky sometimes. However, with desktop tools like DRmare Audio Capture, you can make it possible to download your favorite music tracks from YouTube effectively.
This tool is not an ordinary audio capturer, as it offers all the essential features to provide the best user experience. Moreover, it has an easy-to-use interface that students and beginners can efficiently operate. DRmare Audio Capture shows compatibility with all major audio file formats. For instance, you can download YouTube Music in MP3, M4A, M4B, WAV, FLAC, and AAC file formats. In this case, YouTube Music downloads can be added to Samsung Music app without any limits.
Furthermore, it ensures the best audio quality without intervening with external sounds. Hence, it's a must-have tool if you are frequently downloading songs from YouTube to your computer.
DRmare Audio Capture
Guidelines to Download YouTube Music to Local Computer
The procedure to download YouTube Music to your local computer is quite simple. Just follow the below instructions to avoid any difficulties during the process.
Step 1

Use the Plus Button to Add YouTube Music

Make sure to properly install and launch the DRmare Audio Capture tool on your PC by following the displayed instructions on your screen. After launching it, you can see its main interface and click on the "Plus" icon. You can add targeted apps like YouTube or YouTube Music to this program using this feature.
Step 2

Change Output Settings and Play YouTube Song

To change the output settings, simply click on the "Format" icon. In the displayed menu, you can choose the file format, bit rate, codec, and more. Please don't forget to set the output format as one of the Samsung Music-supported formats. Click the "OK" button to move forward. Once done, head to your YouTube Music and search for the songs you want to download. Once you have started to play the song, DRmare Audio Capture will also begin ripping audio from YouTube.
Step 3

Edit YouTube Music Recording (Optional)

The tool will automatically finish the audio recording after the YouTube song ends. You can also batch-record multiple songs at the same time. Afterward, you can move the cursor to the downloaded song and tap on the "Edit" icon. By doing so, you can edit the audio recording preferably. After editing the music, click the "Save" button to conclude.
Add Downloaded YouTube Music to Samsung Music App
Once you have downloaded the songs from YouTube locally, you can use the USB cable for further processing. Here are a few instructions to add YouTube Music to the Samsung Music app.
Step 1: Begin by connecting your Android device to your PC using a USB cable. From the pop-up notification on your phone, select "Transfer Media Files."
Step 2: Now, navigate the Music folder of your Android device on your PC. Following this, drag and drop the downloaded YouTube Music. Once the transfer process ends, you can disconnect your device from the PC. Now open the Samsung Music app that will read the transferred YouTube Music songs automatically.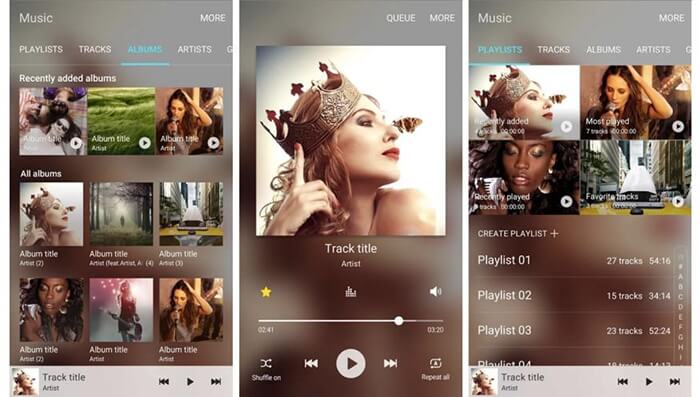 Part 2. How to Transfer Music from YouTube Music to Samsung Music Online
To transfer YouTube Music to Samsung Music without connecting your device to a PC, you can try the MusConv tool. This tool does not require you to build a connection between your mobile phone and desktop. By simply logging into your YouTube account and Samsung Music app, you can transfer songs between them easily. When it comes to the compatibility of MusConv, you can use this tool on multiple devices like iOS, Mac, Windows, and Android.

Moreover, it also supports more than 125 streaming services like YouTube, SoundCloud, Spotify, YouTube Music, Amazon Music, Samsung Music, etc. To use this tool to transfer songs from YouTube to your Samsung Music app, follow the below steps:
Transfer YouTube Music Playlists to Samsung Music Online
Step 1: After launching this tool, select the music streaming platform from which you want to transfer songs. Select YouTube or YouTube Music app as the source music streaming service. Afterward, log into your YouTube or YouTube Music account carefully.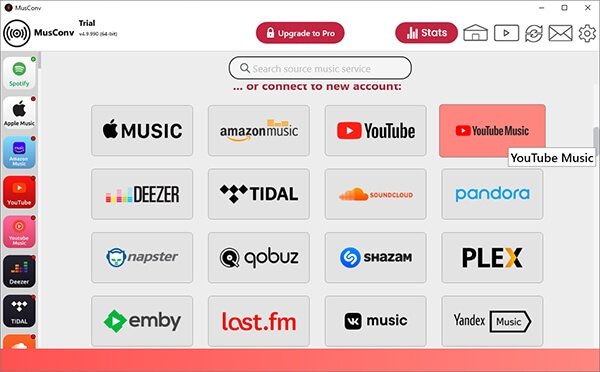 Step 2: Now, choose the music tracks or playlists you wish to transfer. Hit the "Transfer" button and select "Samsung Music" from the given options. Sign into your Samsung Music app by following the on-screen instructions. Wait until the process finishes successfully.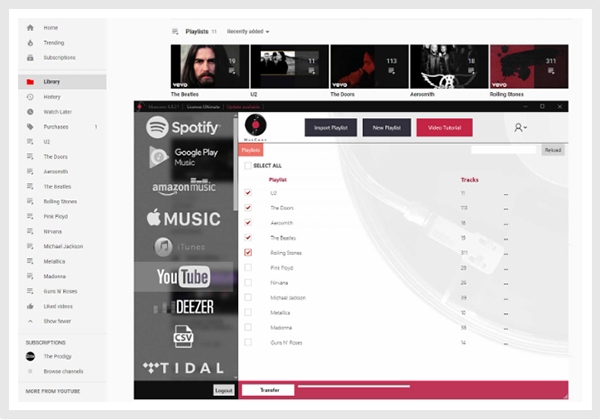 Part 3. How to Add Music to Samsung Music from YouTube on Samsung Phone
Online tools can also help you in transferring music from YouTube to your Samsung Music app. In this section, we will highlight a famous online YouTube to Samsung Music converter, called Y2mate that you can access on your Android device easily. By reading the following instructions, you can add YouTube Music to Samsung Music on your Android device.
Y2mate is an online tool that can be easily accessed through all devices. It's a free tool that allows users to download multiple audio files from YouTube and YouTube Music without any complications. It's a simple tool as it does not require any registration or account sign-up. Moreover, it maintains a decent audio quality so that you can enjoy listening to your downloaded songs on your devices.
In order to use Y2mate to transfer songs from YouTube to the Samsung Music app, you can read the below instructions.
Download Music on Samsung Phone from YouTube to Samsung Music
Step 1. Access the official website of Y2mate through any web browser on your Android device. Once the homepage opens, you can search the YouTube Music file by entering the related keywords.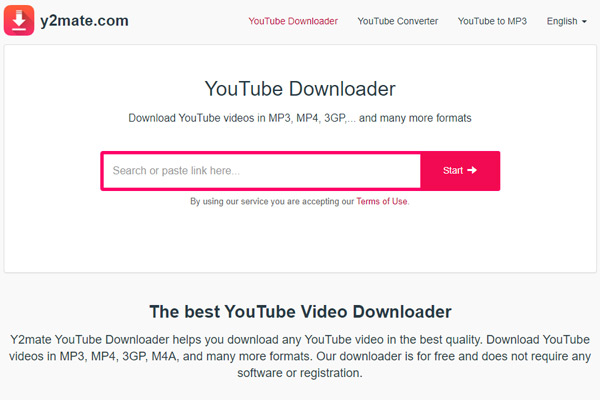 Step 2. You can also copy and paste the URL of the YouTube Music file that you wish to download on its search bar. Afterward, choose the quality and press the "Download" button to download YouTube Music on Android devices.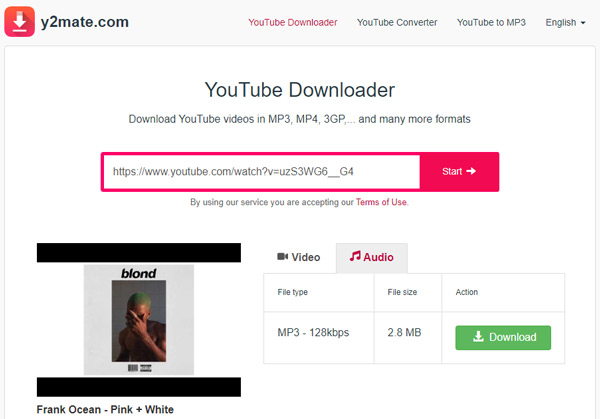 Step 3. Once the process ends, open your Samsung Music app on your Samsung device. If you don't have it installed, you can download it from the Google Play Store. The Samsung Music app will automatically search for music files on your device and adds them to its library.
Part 4. In Conclusion
Your Samsung Music app may not have lesser-known songs that you want to listen to. To tackle this issue, you can take instructions from this article to download and transfer YouTube Music to Samsung Music. We have designed three efficient methods that you can utilize according to your feasibility. However, if you want a professional desktop tool, our recommendation is DRmare Audio Capture.