Why the Apple Watch? This great device for a healthy life has taken many by storm. It will do a ton of duties right from your wrist. Use the Apple Watch as a fitness partner to check your pace, monitor your heart rate, and listen to music, among other things. Many music streaming services have you covered such as YouTube Music.
You can play your YouTube Music on Apple Watch directly over an internet or Wi-Fi connection. You, however, need a YouTube Premium account to run such an errand. Check out more on how to stream YouTube Music both online and offline even without using a Premium plan in the subsequent sections.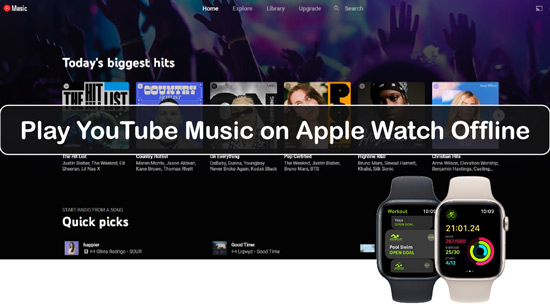 Part 1. How to Download YouTube Music on Apple Watch Officially
Requirements for Streaming YouTube Music on Apple Watch
The first go-ahead to get YouTube Music on your Apple Watch is to subscribe to your YouTube Music Premium account. Likewise, your Apple Watch should be above the Series 3 version while the Watch OS version 6 and above. Here are the steps to use your music on Apple Watch officially.
Set up YouTube Music App for Apple Watch via App Store
Step 1. First, install the YouTube Music app from the built-in App Store.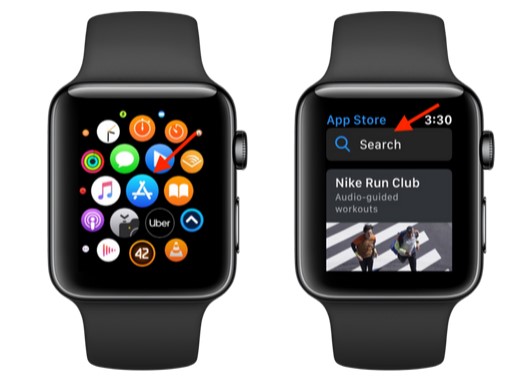 Step 2. Then, launch the YouTube Music app on your Apple Watch.
Step 3. Go to your YouTube Music library and browse for the songs and albums you want to play.
Step 4. Easily play your music as you control the playback which includes pause, backward, forward, and give thumbs up, among others.

Listen to YouTube Music on Apple Watch with Cellular
You can also sync YouTube Music on your Apple Watch with Cellular. This will only work on an Apple Watch with cellular.
Step 1. Go to your iPhone "Settings" > "Music" option.
Step 2. Turn on Cellular Data.
Step 3. Next, tap on the "Audio Quality" option then tap on the "Cellular" streaming option.
Step 4. Finally, choose a quality to play on.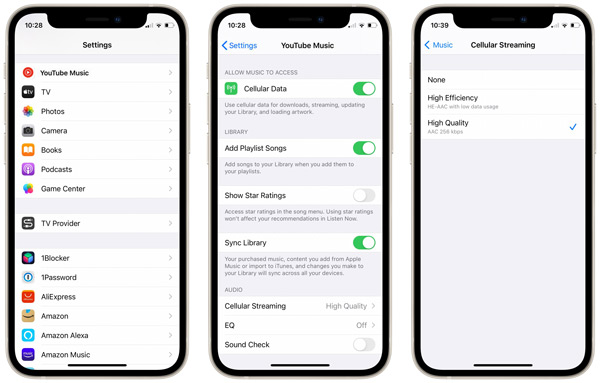 The Limitations of Apple Watch for Playing YouTube Music
You'll realize that the Apple Watch YouTube Music app is not rosy after all. A few thorns will prick you along, such as needing a Premium account to play your music directly. Besides, you need an internet connection and the overall capacity of 2 GB the Apple Watch slams at could be little, requiring additional purchase if you require more space.
Part 2. How to Play YouTube Music on an Apple Watch Offline Without Phone
A bit of a challenge is that you cannot use YouTube Music on the Apple Watch offline on a free version. You will need to capture your YouTube Music sound and enable offline playback. DRmare Audio Capture works perfectly with all kinds of media sources, including YouTube Music. It will capture numerous data types like audiobooks, podcasts, radio, and unlimited music, among others.
It also keeps 100% originality of the captured YouTube Music data by retaining the ID3 tags like the album cover, artist, title, genre, etc. DRmare works at a quick speed and will manage batch YouTube Music recordings to save you time and energy. More so, you can edit your captured YouTube Music songs by trimming, cutting, merging, or adding a ringtone to the hits.
You can also enjoy your YouTube Music anywhere as DRmare supports a series of audio formats which include M4A, AAC, MP3, WAV, FLAC, etc. These formats are highly compatible with numerous devices like Apple Watch, Bluetooth speakers, VLC players, mobile devices, iTunes, etc.
DRmare Audio Capture
A Guide to Record and Download YouTube Music as Local Files
DRmare Audio Capture will give you lossless quality and multiple tracks for batch capture. Visit the official site and download the software to your computer.
Step 1

Install and Launch DRmare Audio Capture

After a successful download, install and launch DRmare Audio Capture on your computer. Instantly, you'll be ready to record any sound from any browser like iTunes, IE Explorer, Chrome, etc. To add a YouTube Music application, just click on the "+" tab and choose "YouTube Music" to add it directly.
Step 2

Customize the Parameters of YouTube Music for Apple Watch

There are six output formats for your choice. But to make YouTube Music compatible with Apple Watch, you'd better to set up AAC as the target one. What's more, you can personalize the output parameters of YouTube Music like sample rate, bit rate, and channel accordingly to gain a nice listening experience.
Step 3

Play and Record YouTube Music

You will now run the YouTube Music application to play any song that you want to record. The application will detect and record playing YouTube Music on your computer. You can do the recording in batches while using a web browser to access YouTube Music.
Step 4

Edit Your YouTube Music Songs

The recording process will stop automatically when the song finishes playing. If you wish to make further edits to the track, hover your cursor over the song and click the editing icon. DRmare Audio Capture's audio editor provides tools for your audio files according to your preferences. To preserve your recordings, click the 'Save' button, and all the songs will be saved on your computer.
Once the playback of the song you are recording ends, the process will stop automatically. You can go on to edit your YouTube Music tracks by hovering the cursor on the song and then click on the "Edit" icon. You can trim, rearrange, cut, merge, or do any edit on your YouTube songs.
Step 5

Save and Locate YouTube Songs

Hit on the "Save" button to finally save your YouTube Music on your computer. You can then locate the "Converted" history icon with the number of songs recorded in it. Nonetheless, you can use the "Search" icon to find a specific YouTube song and listen to YouTube Music offline.
Sync YouTube Music to Apple Watch for Offline Listening
Converted YouTube songs are now readily available as common output formats on your computer. You can add them to your Apple Watch for offline listening via these steps.
Step 1. Add YouTube Music Library to iTunes
First, launch iTunes on your computer. Then, click on the "File" > "Add File to Library" option to add the recorded YouTube Music to iTunes.

Step 2. Sync YouTube Music to iPhone from iTunes
Connect your iPhone to the computer via a USB cable then tap on your "
iPhone
" icon in the upper corner of iTunes. Go to the "
Menu
" bar and select the "
Sync Music
" > "
Entire Music Library
" option to
sync the YouTube Music to your iPhone
.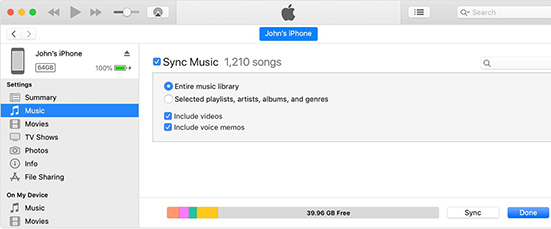 Step 3. Move YouTube Music to Apple Watch for Offline Listening
Go to the "Settings" > "Bluetooth" option to switch on Bluetooth on your iPhone. Then, open the "Apple Watch" app on your iPhone and switch to the "My Watch" option. Finally, click on the "Music" > "Add Music" option to add the downloaded "YouTube Music" to your "Apple Watch". Now, you can start to listen to YouTube Music on Apple Watch without phone offline.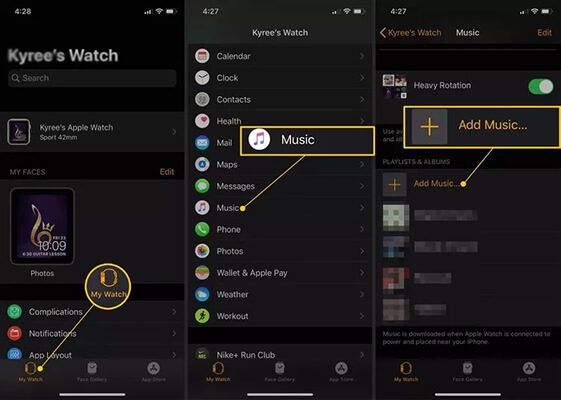 Part 3. Tips for Using YouTube Music on Apple Watch
Tips to Play YouTube Music on Apple Music
Several tips are available to help you get the best YouTube Music app for the Apple Watch.
1. You can create playlists by grouping your music for easy access and identification.
2. Try shuffling your tracks so that you don't follow a particular way but make them spicy.
3. Easily pause, stop, or fast forward your tracks as per your wish.
4. You can also enable "recommend downloads" so that the system curates for you the music you are likely to choose for downloads.
How to Fix YouTube Music Not Working on Apple Watch
You may be facing issues with the YouTube Music Apple Watch not working and wondering how to fix it. This could be caused by poor internet connection, an unknown error, or limited memory space on your device, among other issues. Here are some solutions to solve this problem:
Fix 1. Ensure you have a stable internet connection to prevent any interruptions.
Fix 2. Your phone's memory should also be enough. You can free up some space if space is the problem.
Fix 3. Check your download settings on YouTube if you have prevented any downloads that warrant slowness.
Fix 4. Clear the cache of your YouTube Music app. A clogged system will automatically slow down the download process.
Fix 5. You can also uninstall and reinstall the YouTube app to see if the issue is arising from there. Likewise, upgrading the apps occasionally.
See Also: How to Fix YouTube Music Not Working
Part 4. Final Words
Can Apple Watch play YouTube Music officially? The answer could be obvious after reading this article. But it requires a YouTube Premium account. Therefore, the best way to download music to Apple Watch from YouTube is capturing YouTube Music to Apple Watch-supported AAC files with the help of DRmare Audio Capture. Even with a free subscription, you can easily play YouTube Music on Apple Watch offline without phone.