YouTube Music is a streaming music service that offers an ad-free listening experience and the ability to download songs and playlists for offline listening. People love to listen to music, but not everyone can pay to listen, which is why many users seek to download music from the platform without paying for a subscription.
Whether you are a music lover or a creator who wants to get quality sound/music clips for your short films or movies. In all these scenarios, you need third-party tools to download exclusive music from YouTube for free. In this article, we'll guide you through how to download YouTube Music without Premium using DRmare Audio Capture. You will also learn how to download music from YouTube Premium.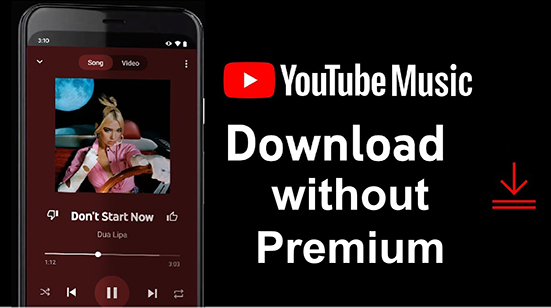 Part 1. Benefits of YouTube Music Premium
YouTube Music offers both free and paid services. For the free service, you can enjoy almost all YouTube Music content with ads and no download option. With YouTube Music Premium, you can enjoy an ad-free music listening experience. It lets you enjoy YouTube Music's entire music library with the option to download them for offline playback. Here are some of the benefits of YouTube Music Premium.
See also: How to Get YouTube Music Premium Membership
Ad-Free Listening
YouTube Music Premium offers an uninterrupted listening experience without the annoying ads that often disrupt your music enjoyment. When using the free version of YouTube Music, ads may pop up between songs, causing interruptions.
Offline Downloads
One of the standout features of YouTube Music Premium is the ability to download songs and playlists for offline listening. Downloading YouTube Music to your device is useful when traveling and in places with poor network conditions.
Background Play
YouTube Music Premium allows you to play music in the background while using other apps or turning off your phone. Essentially, this means you can keep your music playing while multitasking, or save battery life during long listening sessions.
High-Quality Audio Streaming
Audiophiles can enjoy high-quality music on YouTube Music Premium. It plays music at a higher bitrate than the free version, making it clearer and crisper.
Part 2. How to Download YouTube Premium Music
The YouTube Music app for Android, iPhone, iPad, and computer lets you download your favorite song with a premium subscription. Here's how it's done:
Step 1: On your device, launch the YouTube Music app.
Step 2: Navigate to a certain song, playlist, album, music video, radio station, or live performance.
Step 3: Next, select 'Download' from the three-dot 'Menu' in the top-right corner. Then YouTube Music will download and save the material you choose.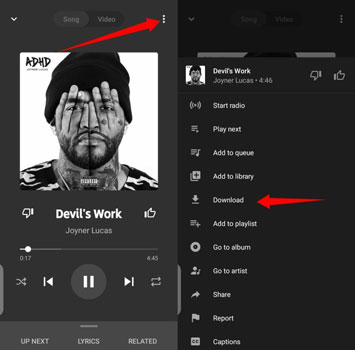 Part 3. How to Download YouTube Music without Premium
Offline downloading is a unique benefit of YouTube Music Premium, but not everyone is willing to subscribe. The good news is that YouTube Music can be downloaded without a paid subscription. All you need is DRmare Audio Capture, a powerful tool that opens the door to the world of free music downloads on YouTube.
DRmare Audio Capture allows you to download music from YouTube without paying a subscription and is extremely efficient. It excels at preserving the original audio quality of YouTube music tracks. It captures music streams with unparalleled fidelity, ensuring downloaded songs don't compromise on quality.
With an impressive 5X download speed, you can quickly get your favorite music from YouTube and enjoy it offline instantly. It allows you to convert downloaded YouTube music to multiple formats including MP3, FLAC, AAC, etc., ensuring compatibility with your favorite devices and players. It is worth mentioning that it also supports downloading and capturing music from other streaming music websites such as Spotify, Tidal, Deezer, Pandora, etc.
DRmare Audio Capture
Please download and launch DRmare Audio Capture on your device. Then check out this quick tutorial on how to download music from YouTube Music without Premium.
Step 1

Set up DRmare Audio Capture

Open DRmare Audio Capture and you can see some application icons on its main screen. You can go to Chrome or IEXPLORE to head to the YouTube Music web player. Or you can click on the 'Plus' icon to add the YouTube Music app.
Step 2

Reset output settings for YouTube Music

Click on the 'Format' icon (first icon at the bottom right) and you can customize the output settings for your YouTube Music songs. You are allowed to change the audio format, codec, channel, and so on. Once reset the settings, click on 'OK'. You can also skip this step and DRmare Audio Capture will automatically download YouTube Music to MP3 by default.
Step 3

Start downloading and recording the YouTube Music songs

Now click on the 'YouTube Music' icon and start playing a song/playlist/album that you want to download. DRmare Audio Capture will automatically record and download the playing YouTube Music songs. It will finish the downloading once your songs ends. You can then click on the 'Edit' icon on the downloaded audio file to cut or edit your YouTube Music songs.
Step 4

Save and locate the downloaded YouTube Music audio files

Finally, you can click on the 'Save' button to save all your edited YouTube Music songs. You can find them in your computer's local folder. You can also hit the 'History' icon at the bottom-right corner to locate them on this software. After that, you can play YouTube Music songs offline or move these audio files to any device you want.
Part 4. Final Thoughts
With DRmare Audio Capture, it's easier than ever to access YouTube Music's Premium features for free. Ads-free listening, offline playback, etc. are no longer an issue. DRmare Audio Capture is revolutionary for music lovers because of its high download speeds, extensive support for file formats, near-instant playback, and free access to YouTube Music without a subscription. So why wait? Capture high-quality YouTube music or other streaming music and take the sound with you to enhance your listening experience.