Tesla has revolutionized our perception of driving by showcasing remarkable technological advancements, elegant designs, and the exceptional power of electric motors. And with the recent integration of music services within Tesla vehicles, car enthusiasts can now enjoy a customized and immersive musical experience. What better way to listen to your favorite music while running some errands or driving through the mountains in your exquisite Tesla.
But how do you play you YouTube Music playlist in Tesla? While Tesla provides music streaming services like Spotify and TuneIn, numerous fans are wondering 'Does Tesla have YouTube Music?' In this article, we will provide a comprehensive guide on how to play YouTube Music in Tesla. You can discover the tips and tricks to enhance your driving experience and seamlessly listen to your favorite music while on the road.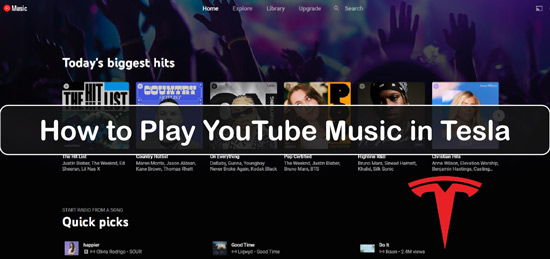 Part 1. How to Play YouTube Music in Tesla via Bluetooth
The simplest way to play YouTube Music on Tesla is via Bluetooth. It is a great way to make driving more enjoyable while listening to your exclusive music. You can easily access your customized playlists, discover new releases, and groove to the beats by pairing your Tesla with your smartphone or any Bluetooth-enabled device. Let's get started with the easy steps to synchronize YouTube Music and your Tesla for an amazing audio journey.
Step 1. Make sure the Bluetooth function is turned on both your devices.
Step 2. Go to Add New Device > Start Search. It will start searching for nearby Bluetooth devices that are available.
Step 3. The Bluetooth settings screen will list every Bluetooth device within range.
Step 4. Choose your phone from the list you want to pair with. Soon after, a randomly generated number will appear on your phone and the Bluetooth settings screen.
Step 5. Check and confirm the number on your phone and the one on the Bluetooth settings screen are the same. Then continue playing YouTube Music songs on Tesla after confirmation.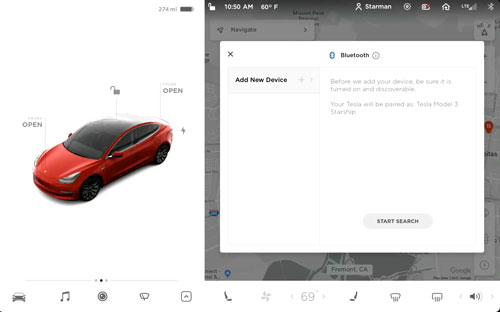 Part 2. How to Play YouTube Music on Tesla via TeslaMirror/TslaMirror
TeslaMirror, or TslaMirror, revolutionizes how Tesla owners experience music in their vehicles. With the help of this innovative application, YouTube Music can be seamlessly added to Tesla's infotainment system, raising the bar for in-car entertainment. Drivers and passengers can access many songs, playlists, and music videos from YouTube using TeslaMirror.
This app conveniently displays them on Tesla's screen. Furthermore, this creative approach turns the journey into a customized concert on wheels by providing a dynamic audio-visual experience. Let's look at how to use TeslaMirror/TslaMirror to play YouTube Music and open up a world of musical possibilities for your Tesla.
For Android (TeslaMirror)
Step 1. Open the Google Play Store on your Android device and look for "TeslaMirror". Then download and install the app.
Step 2. Start TeslaMirror on your Android phone or tablet. When requested, grant the appropriate permissions.
Step 3. Tap the "Apps" button on the infotainment screen on your Tesla.
Step 4. Choose "TeslaMirror" under the "Apps" heading.
Step 5. Select "Screen Mirror" or "Mirroring" from the TeslaMirror menu. The screen of your Android device will begin to appear on Tesla's display.
Step 6. Select the songs, playlists, or music videos you want to enjoy by going to the YouTube Music app on your Android device. After that, you can enjoy YouTube Music on Tesla you want.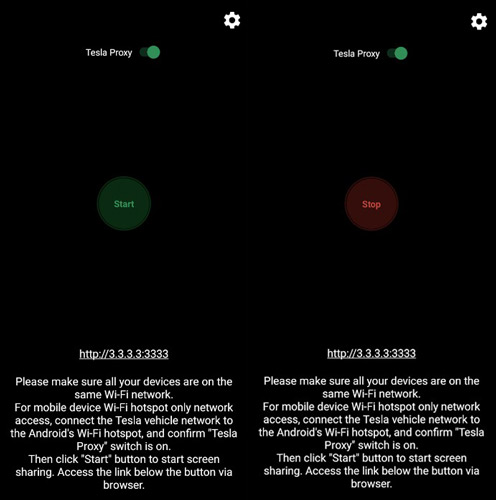 For iOS (TslaMirror)
Step 1. Download and install "TslaMirror" on your iOS device via the Apple Store.
Step 2. Open the Bluetooth settings and look for your Tesla car's name in the list of available devices. Tap on the name of your Tesla car to establish a Bluetooth connection between your phone and the car.
Step 3. Locate the TslaMirror app on your iOS device and tap to open it. Now, select "Start Mirroring" option.
Step 4. Your iOS device's screen is now mirrored on your Tesla car's touchscreen. You can now play YouTube Music directly from your car's touchscreen.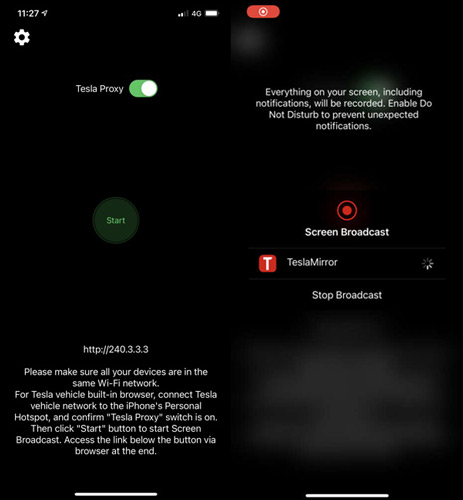 Part 3. How to Listen to YouTube Music on Tesla via USB Drive
Besides the ways above, you can also use YouTube Music in Tesla via the USB drive. To do that, you will need the DRmare Audio Capture. Using this user-friendly tool, users can record and save music from YouTube Music as local files. Besides, it can capture audio from several streaming audio and video platforms for free.
Simultaneously, the recorded audio is downloaded and converted in popular file formats including MP3, M4A, FLAC, WAV, etc. And for the best part, it captures multiple audio without compromising the original sound quality. What's more, this DRmare tool keeps the raw metadata intact. So, you can easily manage your music tracks including using the artist names, album titles, and genres.
After that, you will get local YouTube Music files on your computer. Then you can move and save them to the USB stick for use on your Tesla vehicle. Moreover, you can stream YouTube Music songs on other devices via the USB flash drive.
DRmare Audio Capture
Now, you can follow this quick guide to see how to convert YouTube Music for Tesla and play YouTube Music on Tesla using DRmare Audio Capture.
Step 1. Download and install DRmare Audio Capture on PC or Mac. Open the app and select the "+" symbol to add your target web browser like Chrome, etc. that you like to use to enter the YouTube Music website.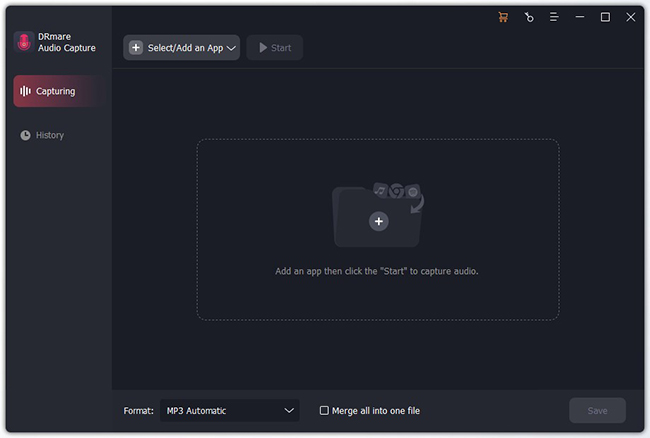 Step 2. Click the format button to choose your desired output audio format and other parameters for songs from YouTube Music. The software supports multiple formats such as MP3, AAC, FLAC and so on. Also, you can adjust channel, sample rate, or bit rate. After then, click OK.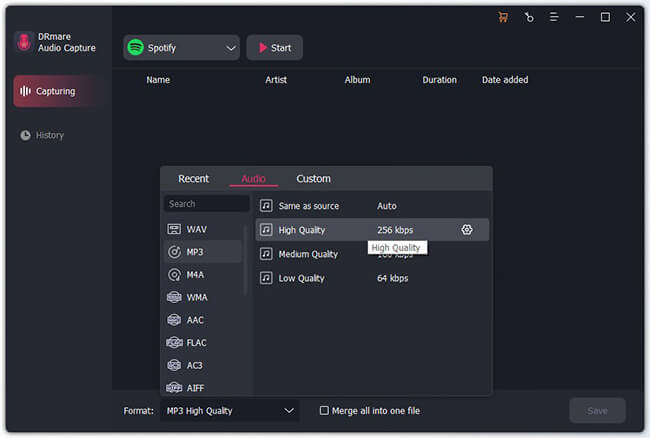 Step 3. Next, open web browser application from the main screen of the DRmare tool. And then go to the YouTube Music webpage and start playing music you like. The DRmare software will automatically detect and capture the audio from YouTube Music website in real time.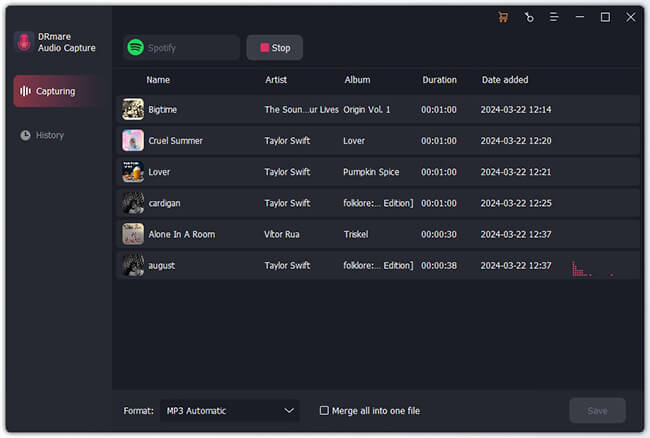 Step 4. When the recording ends, click the "Save" button to download YouTube Music songs on your computer. The converted history indicator in DRmare Audio Capture's main interface will display the recorded song count. You can click on it to check the local YouTube Music audio tracks.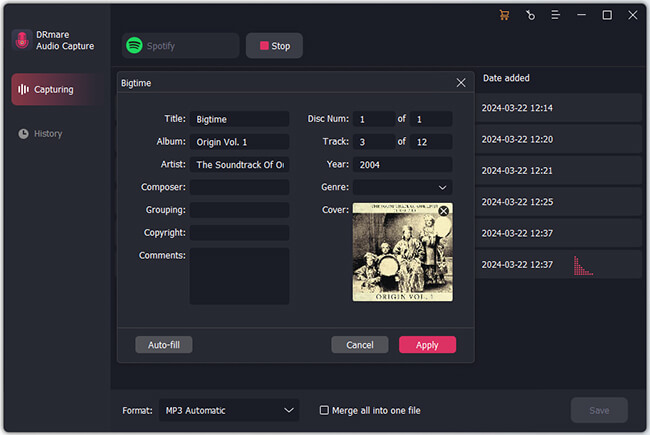 Step 5. Now, attach your USB drive to the USB port on your computer to transfer YouTube Music files. Then go to find, copy and paste YouTube Music songs you want to play in Tesla to the USB drive. After the transfer process is finished, safely remove the USB drive from your computer.
Step 6. Now, connect the USB stick in your Tesla vehicle. Next, go to the media or music menu on the touchscreen of the Tesla. Then locate the USB drive as the audio source in the media/music section. And then check the YouTube Music files that are stored on the USB drive. At last, look through the files and play the playlists or songs you want to listen to from YouTube Music in Tesla.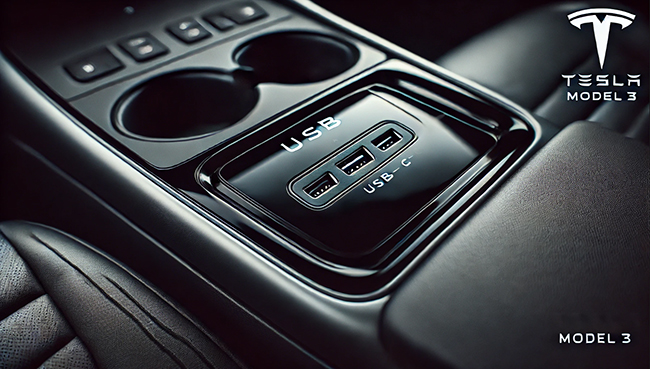 Part 4. In Conclusion
In conclusion, playing YouTube Music on Tesla is a convenient and enjoyable way to enhance your driving experience. Following the simple ways mentioned above, you can enjoy a wide range of music on the road. With the ability to control playback through on-screen controls or steering wheel buttons, you have full control over your musical journey. So, sit back, relax, and let YouTube Music provide the soundtrack for your Tesla adventures.