"Does Tesla support Audible?" It is a pity that there is no Tesla Audible integration now. Tesla can only support Spotify, YouTube and other music services currently. In this case, how to play Audible on Tesla? Any fix? Yes. Here in this post, there are two easy ways for you to listen to Audible in Tesla. One is to use the Bluetooth connection, the other is to use the USB drive. For more detail, let's check out the following parts.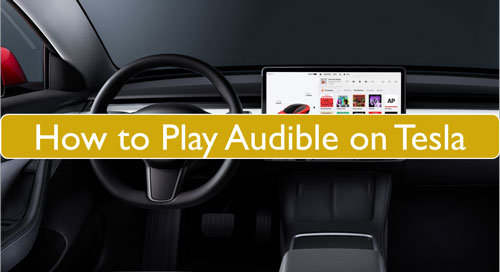 Part 1. How to Listen to Audible in Tesla through Bluetooth
To listen to music in the car, most of you may do that via Android Auto or Apple CarPlay. Yet, that doesn't work on Tesla as it doesn't support both Apple CarPlay and Android Auto. But don't worry. Here is another way for you to use Audible on Tesla. That's to use the Bluetooth feature. As Audible app can work with mobile devices, you can stream music from Audible app on Tesla via the Bluetooth pairing with your mobile device. Now, let's see how to use Bluetooth to help enjoy Audible audiobooks on Tesla.
View also: How to Play Audible Audiobooks via Bluetooth
Note: Please make sure that you had purchased the Audible audiobooks you like and subscribe to Audible.
Step 1. On the touchscreen of your Tesla, click on the 'Bluetooth' option.
Step 2. On your mobile phone or tablet, turn on the Bluetooth option and make it discoverable.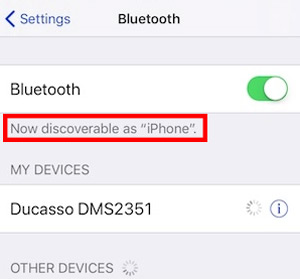 Step 3. Back to the Tesla's touchscreen, click on the 'Add New Device' option under the Bluetooth settings section. And then touch 'Start Search'. It will then detect all the available Bluetooth devices.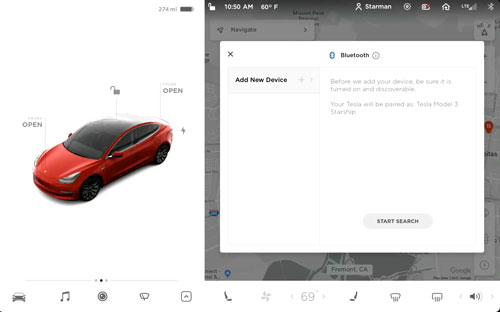 Step 4. Choose your phone at the available devices list you want to pair.
Step 5. Match your Tesla and your phone. Then confirm the numbers shown on these two devices.
Step 6. Once paired successfully, you can play audiobooks you like on Audible from your phone. And then you can listen to Audible in Tesla through Bluetooth.
Part 2. How to Play Audible in Tesla by USB Flash Drive
Playing Audible in Tesla by Bluetooth is quite easy. Yet, you need to control Audible playback with your phone. This is not convenient enough. In this case, we will introduce an easier way for you to play Audible on Tesla. That's to use the USB flash drive. All you need to do is to save Audible audiobooks to the USB drive. And then connect the USB drive to your Tesla and enjoy Audible books offline. To keep Audible audiobooks on the USB drive, you will need a tool to help.
DRmare Audio Converter is an audio conversion tool that can help you. We know that Audible audiobooks are protected and stored in AA/AAX audio format. And the USB drive can't recognize such audio format. So, here we can use the DRmare Audio Converter to remove protection from Audible audiobooks. And then convert Audible audiobooks to plain audio formats like FLAC, MP3 and more. As a result, the converted Audible audiobooks can be moved and saved onto the USB flash drive for use on Tesla and other devices.
Besides, the DRmare Audio Converter can work at a super-fast conversion speed. Also, it will keep the original quality and complete ID3 tags of the Audible books you convert. And it allows you to alter the sample rate, pitch and more for the Audible audiobooks you want to convert. In addition, you can split large Audible files to small parts for easy access.
DRmare Audio Converter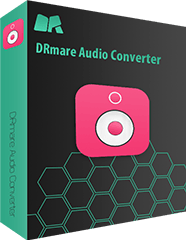 Convert Audible audiobooks to MP3, AAC, WAV, etc.
Batch convert Audible books for use on Tesla and other devices
Preserve full ID3 tags of Audible audiobooks when run at a rapid speed
Adjust output audio parameters, and split audiobooks to small parts
How to Convert and Download Audible to Tesla-supported Files by DRmare Audio Converter
This section is to show you how to use DRmare Audio Converter to convert audiobooks from Audible for Tesla. You can follow the step-by-step guide here to start. And then you can learn how to listen to Audible on Tesla Model 3, Tesla Model Y and more.
Step 1

Open DRmare Audio Converter

Tap the 'Download' button above to download and install the DRmare Audio Converter for Windows or Mac on your computer. Once installed, launch it and you will get its main screen.
Step 2

Import Audible audiobooks to DRmare Audio Converter

Before adding Audible audiobooks to DRmare program, you need to download your favorite Audible audiobooks from Audible in advance. Next, you can click on the 'add files' button on DRmare program to import the Audible books for converting.
Step 3

Set output format for Audible in Tesla

Here you can reset the output format for enjoy Audible in Tesla. Please click on the 'audio' icon on DRmare Audio Converter. And then you can go to alter the output audio format, sample rate and more for Audible audiobooks. You can also increase Audible volume, change pitch and so on. To do that, you can hit on the 'edit' icon next to the audiobooks' title on DRmare program. After that, tap the 'OK' button on the window to apply the settings.
Step 4

Convert Audible for Tesla

Once done the settings, touch the 'Convert' button. DRmare Audio Converter will start to convert and download Audible for Tesla. When the process is done, you can hit on the 'history' icon to find the local Audible audiobooks.
Step 5

Play Audible on Tesla

Now, plug the USB drive into your computer. Then move the converted Audible audiobooks to USB drive. And then connect the USB drive to your Tesla vehicle and wait for Tesla to detect and recognize your USB drive. Once recognized, go to 'My Music & Devices' > 'USB' on the touch screen. Next, you can listen to Audible in Tesla via the built-in media player on your car.
Part 3. FAQs about Audible on Tesla
Q1: Do I Need an Audible Subscription to Listen to Audible Audiobooks on Tesla?
A: Yes. Audible is a membership platform for users to enjoy kinds of audiobooks. If you want to access audiobooks on Audible, you need to subscribe to a paid plan. Also, there is a one-month free trial of Audible for $0.
View also: Audible Plus vs Premium Plus
Q2: How Can I Control Playback of Audible Audiobooks in Tesla?
A: It is easy. You can do that on the Tesla's touchscreen. There you can pause, rewind, play, alter volume and so on for Audible audio playback.
Q3: Why Audible Not Playing in Tesla and How to Fix It?
A: First, you need to check you have turned on Bluetooth on both your car and mobile device and connected them well. Then check and reconnect the internet connection. Besides, check your Audible subscription's status and renew it if it expires.
Part 4. Conclusion
Though there is no Audible app for Tesla, you can still play Audible on Tesla via the two ways introduced here. You can use the Bluetooth or USB drive to make it. By using Bluetooth, it is easy but there is limitation. So, the best way for you is to use the USB drive. With the DRmare Audio Converter, you can convert and keep Audible audiobooks on the USB drive with high quality. And then you can use Audible in Tesla or other devices offline via a USB stick without any restriction.