"Does Tesla have Spotify?" Yes. Since 2019, there is a Spotify Tesla integration. Tesla had updated version 10 of its in-car software. So Tesla Model S, Model X and Model 3 owners can enjoy lots of entertainment. Besides, it supports Spotify premium, YouTube, Hulu and Netflix.
If you are new to Tesla and wonder how to use Spotify in Tesla, then you could go ahead with this post. Here we would like to introduce the best two ways for you to play Spotify on Tesla. You can connect Spotify to Tesla with or without Spotify premium. Let's move on and see how to do that.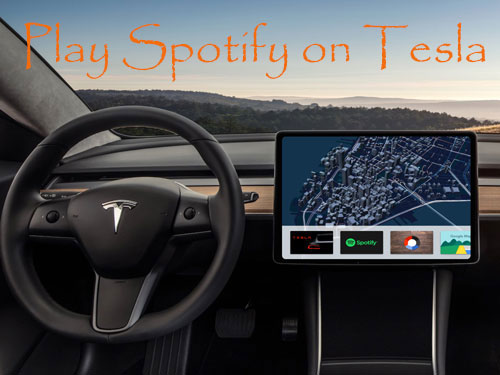 Part 1. How to Use Spotify in Tesla with Spotify Premium
The update of Tesla allows Spotify premium users to enjoy the Tesla Spotify integration. If you have a Spotify premium account, then here let's go ahead to see how to get Spotify on Tesla model 3, and so on.
Note: Please update the software in your car to version 10.0. And please make sure that your Spotify premium is still valid.
Way 1. How to Sign into Spotify on Tesla to Play Spotify Music
Step 1. Touch the 'Music' icon from the bottom of your Tesla display screen. Then hit on the 'Spotify' icon.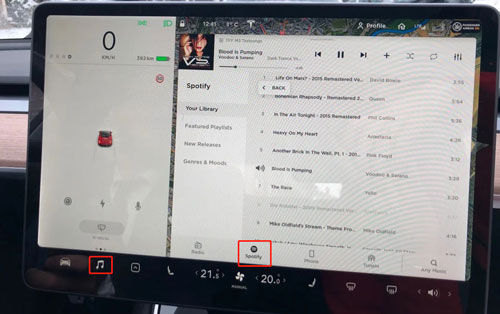 Step 2. Log in with your Spotify premium account or your Tesla Spotify premium account with Tesla's premium connectivity pack.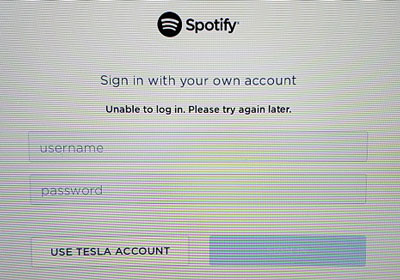 When you log in with your Spotify premium account, then you will see the same screen as before. And you can view your Spotify library and sync Spotify playlists to your tablets, phone or laptop with the car.
When you log in with your Tesla account, then the car will log in with its own Spotify premium account. And you can see your Spotify library in the main interface. Then you can listen to the ads-free songs you like.
Step 3. After then, you can play Spotify on Tesla if you want via the voice control when driving.
Way 2. How to Connect Spotify to Tesla from Mobile Phone
Step 1. Open the Spotify app on your mobile phone.
Step 2. Turn on the Bluetooth and connect your phone to your Tesla via Bluetooth.
Step 3. Click on the 'Bluetooth' icon on the touchscreen of your Tesla. Then set your phone as Media Source.
Step 4. Head to the web browser on the touchscreen and enter tesplayer.com.
Step 5. Sign in to TesPlayer to use Spotify via your Spotify premium account.
Step 6. Once done, go to find any song you like and start to play Spotity on Tesla.
Part 2. How to Connect Spotify Tesla without Spotify Premium
In the last part, the way we showed you is for Spotify premium users. What if you are Spotify-free users? Is there any workaround to use Spotify in Tesla? Don't worry. In this part, we will show you how to download and add Spotify to Tesla without premium. Then you can enjoy Spotify music on Tesla without any limits.
To listen to Spotify on Tesla without a premium account, you need to use a third-party tool to help you. Here we would like to recommend DRmare Spotify Music Converter to you.
This smart program is designed to download Spotify music without premium. And it can convert Spotify music to common audio files without touching the original quality.
With this tool, you can convert Spotify music to MP3, AAC, FLAC, and Tesla-supported formats. And you can define the output audio parameters like bit rate, sample rate, and so on you like.
Besides, it can batch convert Spotify songs at a fast speed which won't take much of your time. Then you can get the converted Spotify music on your computer and use Spotify in Tesla Model 3 and else with ease.
DRmare Spotify Music Converter
How to Get Spotify on Tesla - Detailed Steps
Step 1

Import Spotify audio to DRmare software

Install DRmare Spotify Music Converter program on your computer and then open it. To import Spotify music to the DRmare program, there are two ways. One is to drag and drop Spotify songs you like from Spotify to the DRmare main interface. The other is to copy and paste the Spotify tracks' URL to the DRmare's search bar. After then, you will see your Spotify files are loaded on the DRmare main screen.
Step 2

Set output settings for Tesla Spotify Music

Touch the menu bar and choose 'Preferences' from the drop list. Then choose 'Convert' in the pop-up window. Then you can go ahead to set the output audio format and other audio parameters of Spotify for Tesla. In addition, you can define the channel, sample rate, and bit rate to enhance the audio quality.
Step 3

Get Tesla Spotify download

Once finished with the settings, you could click on the 'Convert' button. Then DRmare will start the conversion process and convert Spotify music at a fast speed. Then you will get the converted Spotify music on your computer. And then you can connect Spotify and Tesla without premium. Please check the Spotify files on your computer via the 'Converted' icon on DRmare.
How to Play Spotify on Tesla
At last, you can connect your USB drive to your computer and move Spotify music to USB. Then plug the USB drive into your Tesla. Next, choose the Tesla built-in media player to play Spotify in Tesla without any limitations.
Part 3. How to Fix Tesla Spotify Not Working
While using Spotify Tesla, some users claim that there are some issues, like Spotify on Tesla not loading/playing or so. In this case, we will cover some fixes in this part for you. Please learn more here to solve Spotify not working in Tesla.
Fix 1. Restart Your Tesla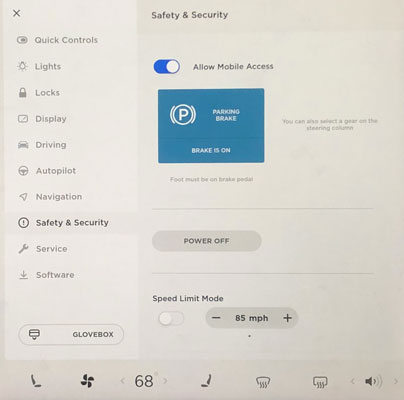 You can try the easy way to fix the issue. That's to restart your Tesla. Please go to the touchscreen settings. Then find the 'Safety & Security' option from the Controls section. Next, touch 'Power Off'.
Fix 2. Log out of Spotify and Log in Back
If there is a bug with the Spotify app on Tesla, then you can try to sign out and sign in again to your Tesla Spotify account. Here let's see how to log out of Spotify on Tesla to solve the issue.
Step 1. Click on 'Spotify' on Tesla's touchscreen.
Step 2. Scroll to the right till you find the last page.
Step 3. Then you will see the 'Sign Out' option. Then click on it to log out of your Spotify account.
Step 4. Later, type your Spotify account info to sign back in.
Fix 3. Switch the Language on Your Tesla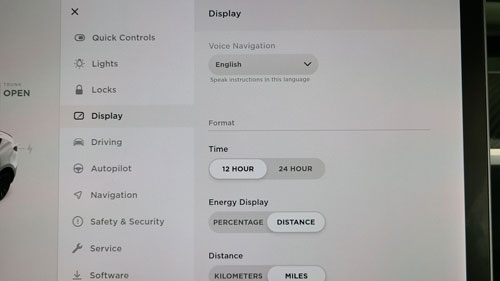 Step 1. Head to the 'Menu' page on the touchscreen. Then you will see lots of settings options there.
Step 2. Hit on 'Display' and locate the option to change the language.
Step 3. You will see 'English' is the default language in your car. Then tap on it and switch it to a new one.
Step 4. Then restart your car and apply it.
Fix 4. Change Internet Connection from WiFi to Phone Hotspot
If you use an unstable WiFi connection in your car, then you will face Spotify Tesla not working issue. So, you can try to use your phone's hotspot to use Spotify in Tesla. Here is how.
Step 1. Power on your mobile phone and turn on hotspot.
Step 2. Make your car in 'Drive' or 'Reverse'. Please don't move.
Step 3. Click on 'LTE bars' on Tesla's screen and choose 'WiFi Settings'.
Step 4. Enable WiFi and connect your car to your phone's hotspot.
Step 5. Type the password of your hotspot. Then open Spotify in Tesla to see whether the Tesla Spotify playlist not updating issue is fixed or not.
Part 4. FAQs about Tesla and Spotify
Q1: Is Spotify Free with Tesla?
A: No. You need a Spotify premium account to use Spotify on Tesla. Or you can use DRmare Spotify Music Converter to help get Spotify on a USB drive. Then you can connect Spotify to Tesla via a USB drive.
Q2: Can I Listen to Spotify Music on Tesla Offline?
A: Now, there is no news for Spotify Tesla offline. Yet, you can use Spotify in Tesla offline via the USB drive once you got the local Spotify files.
Q3: How Can I Remove Tesla from Spotify?
A: You can go to the settings on the Spotify app. Then pick up the authorized applications and you will find Tesla is here. Next, head to remove Tidal from your Spotify account.
Q4: What Apps Can We Use in Tesla?
A: Once you update your Tesla to the latest version, you can access YouTube, Spotify, Google Maps and more apps.