Many people face stress and anxiety due to their daily life problems. Moreover, busy work schedules make our life routine chaotic and exhausting. In such circumstances, many people struggle to sleep. To treat this issue, you can find various sleeping music on YouTube.
You can easily find different categories and playlists of calming music on YouTube Music. Thus, listening to such music can reduce your stress levels and enhance your ability to concentrate. Also, it can help you treat your insomnia without effort.
To find the best sleep music on YouTube, this article can greatly help you. Moreover, we will also introduce a professional tool that can help you download sleeping music from YouTube Music effectively. Therefore, read this article with full attention to reduce your anxiety and stress to enjoy a sound sleep.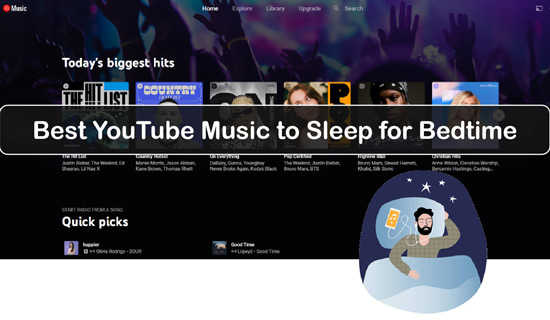 Part 1. Top 5 YouTube Music for Sleep
Are you excited to learn about YouTube Music for sleep? In this part of the article, you can find the top 5 YouTube sleeping music for improving your sleeping patterns.
1. Heal Insomnia Deep Sleep Music
This YouTube Music by Bliss Sleep Music is 3 hours long and features subtle and calming sounds. You can play this sleep YouTube Music to relax your mind from everyday tensions. Along with improving your mood, it can automatically create a comfortable environment around you. Moreover, you can also find more relaxing music on the Bliss Sleep Music channel.
2. Brahms Lullaby for Babies
Do you want soft music to make your baby sleep fast? This YouTube music is gentle and soft that can instantly brighten your mood. Furthermore, it has the potential to make you feel productive and relaxed. It is 90 minutes long that can make adults and children go to sleep by eradicating their worries.
3. The Best Sleep Healing Frequency
Are you facing extreme sleep disorders? This sleep music YouTube by Powerthoughts Meditation Club uses 432Hz frequency that can efficiently heal your insomnia. It's a 2 hours long YouTube music that can make you forget your distractions flawlessly. Moreover, it can help you enhance your concentration ability and focus by generating calming effect.
4. Rain Sound (Pure White Noise for Natural Deep Sleep Inducing)
Rain sounds can bring great pleasure and comfort to people. This sleep music YouTube features rain sounds that can bring you close to nature instantly. It's 200 minutes long that can effortlessly reduce your anxiety and high BP levels. According to studies, rain sounds can generate alpha waves in your mind that can quickly bring a calming effect to your body.
5. Relaxing Piano Music
Are you fond of listening to the piano? By listening to this particular YouTube sleep music, you can release your tensions effortlessly. It's 44 minutes long YouTube music produced by Music Body and Spirit channel. Moreover, you can also play piano music while doing yoga and meditation. By doing so, your body will feel relaxed, which can help you maintain your sleep pattern in a healthy manner.
Part 2. How to Download Sleep Music on YouTube
If you wish to download YouTube Music for sleep in the best possible quality, you can rely on DRmare Audio Capture. It's a well-renowned tool comprising advanced technology to download audio files in their original quality. Moreover, it can function with all famous audio file formats like M4A, MP3, and more. Thus, you can operate this tool on Mac and Windows platforms without facing any limitations.
DRmare Audio Capture is not only restricted to an audio downloader. This tool can convert your downloaded audio files into other formats without compromising the original quality. Before downloading any audio file, you can select any format according to your requirement. Therefore, it's the best available tool to download or save sleeping music from YouTube with great ease.
DRmare Audio Capture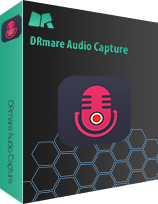 Has a friendly user interface as it begins the audio recording automatically
Supports to change an audio file's bit rate, codec, channel, and sample rate before downloading
Offers a built-in audio editor to trim or cut any particular part of the downloaded audio file
Efficiently downloads multiple audio files at the same time through batch processing
Instructions to Download YouTube Sleep Music via DRmare Audio Capture
After learning the key points about DRmare Audio Capture, let's learn how to use this tool for downloading sleeping music on YouTube.
Step 1

Open DRmare Audio Capture

After downloading and starting DRmare Audio Capture, hit the "Plus" icon displayed on its homepage. Then add the web browser you like as the target app to download music files from YouTube Music.
Step 2

Set output parameters for sleeping music on YouTube

Now, locate the "Format" icon and click on it to customize the output audio settings. Here you can choose to convert YouTube Music to MP3 as it is widely-used. Also, you can modify the channel, bit rate and so on according to your need. After that, click 'OK'.
Step 3

Play and record sleep music on YouTube

Once done, go to the target web browser and head to the YouTube Music website via the DRmare tool. Then search for the sleep music you want to play. Now, play the desired sleep music, and the tool will record and download the sound automatically. Once your YouTube Music track ends, the tool will also conclude the audio recording.
Step 4

Edit and save the audio file from YouTube Music

Before saving YouTube Music to sleep audio file, you can click on the "Edit" icon. Through its editor, you can make quick changes with a few clicks. Once done, hit the "Save" button. In order to locate your saved audio files on your PC/Mac, just tap on the "History" icon given on this tool. After that, you can move and enjoy sleeping music on YouTube offline on any device you want.
Part 3. In Conclusion
Sleeping disorders or insomnia can have adverse effects on your health. This article has discussed the best YouTube sleeping music to end the struggle to get a sound sleep after working for a whole day. You can relax your mind and body efficiently by listening to sleep music on YouTube.
Besides, if you want to download and save sleep music from YouTube in the best quality, you can try DRmare Audio Capture. It's a professional tool that can download audio files in various formats. In this case, you can listen to YouTube Music offline anywhere and anytime.