Are you looking forward to some Amazon Music DRM removal that can guide you on how to remove DRM from Amazon Music? We have done some extensive research for the sake of your convenience and found all the comprehensive information for users' ease, so they don't have to go anywhere else in search of the right information.
In this article, we will let you know all about the way through which you can remove DRM from Amazon Music. Just read this article till the end without skipping anything, and we hope that by the end of this information you will be able to find the answers to all your queries.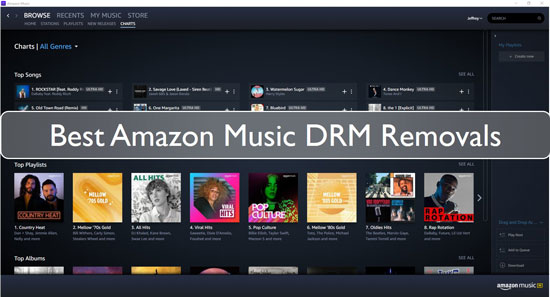 Part 1. What Is Amazon Music DRM
Before we move towards how to remove DRM from Amazon Music downloads, it is essential to know what is Digital Rights Management (DRM). It is a method that is utilized by streaming services that are subscription-based including Amazon Music and Spotify to manage the process of use, protect the rights of digital media, and modify it.
Here all the Amazon Music regardless of the fact it is Prime Music or Music Unlimited is encrypted with DRM, which restricts you to share and save Amazon Music on unverified devices or sources even if you have full access to a subscription of Amazon Music.
Part 2. Why We Need to Remove DRM from Amazon Music
The question of why Amazon Music DRM removal is needed then it is vital to remember that although Amazon Music is accessible on numerous devices including Fire TV and Echo speakers, there's a huge variety of devices and sources that don't approve and work on Amazon Music.
That's the reason. If you need to make your preferred Amazon Music in access on those non-approved devices, you are supposed to remove DRM from Amazon Music first. You also need to remember that when you stop paying for Amazon, the music you've downloaded previously to the device will not be in access and cease to work in offline mode.
Benefits of Removing DRM from Amazon Music
Amazon Music can't be accessed for free. It is essential to know that not all kinds of songs on Amazon are licensed to be sold without DRM protection. The main benefit to remove DRM from Amazon Music is that by doing so, you are allowed to gain access to it that is accessible to non-verified devices.
After getting Amazon Music DRM removed, you can listen to and play your favorite songs without any trouble. This also helps you in removing copyright protection from the songs that can't be played otherwise. It doesn't matter whether the songs are purchased or rented, you can play them on unauthorized devices and copy media files to wherever you like.
Part 3. Best Amazon Music DRM Removal - DRmare Amazon Music Converter
DRmare Amazon Music Converter is one of the top-class Amazon Music DRM removal that allows you to access the different formats of Amazon Music and let you convert them without any issue. There are people who wonder that does Amazon Music have DRM? The answer is no, but to do it, you need a tool to get Amazon Music DRM-free songs.
Another thing that needs to be mentioned is that the quality of the songs convert through this application stays precisely the same as the original. You don't have to be worried about losing the sound quality here and enjoy your favorite tracks in the best way possible.
After you are done downloading the Amazon Music songs, you can list them according to your preference and include the name of the artists, songs, genre, year, albums, etc. And then you can enjoy Amazon Music DRM-free audio files on any device and platform you want.
How to Remove DRM from Amazon Music and Download Amazon Music via DRmare iMazonKit Music Converter
To remove Amazon Music DRM, go for the following steps one-by-one and find out how it can be done.
Step 1

Install and sign in DRmare Amazon Music Converter

At the start, get the DRmare Amazon Music Converter on your PC from its official website. Then launch it, and tap on the 'Sign In' button to enter your Amazon Music account.
Step 2

Set the parameters of Amazon Music to remove DRM

Now press on the Menu icon that you will see on the top-right corner on DRmare. From here, you are allowed to pick the option of 'Preferences'. A new window will open so just press on the option of 'Advanced' to organize the output format and set to convert Amazon Music to FLAC or so. You can also change the bit rate, channel, and more as you like.

Step 3

Add Amazon Music to DRmare Amazon Music Converter

Then search for the playlists you like on Amazon Web Player in DRmare. Then press on the playlist and add it to DRmare for converting through the option of 'Add Files'. You can pick some songs from the playlist for downloading. After you are done with it, click the option that says 'Convert'.

Step 4

Download and remove DRM from Amazon Music

In the end, you will see the downloading process of Amazon Music. And DRmare Amazon Music Converter will download and remove Amazon Music DRM from Amazon Music playlist for you. After that, the files will be on your PC from where you can find them through the 'Converted' icon.
We hope that by following these steps users would be able to remove DRM from Amazon Prime Music and HD Music successfully.
Part 4. Another Amazon Music DRM Removal - DRmare Audio Capture
To remove Amazon Music DRM, there is another tool that can be used and its name is DRmare Audio Capture. This well-known audio recorder works best for PC and Mac. It allows you to capture and download songs from Amazon Music and any other streaming audio and video websites without losing the quality of the original song. It helps you to convert audio tracks into various formats such as AAC, MP3, M4A, and others.
How to Record and Remove DRM from Amazon Music with DRmare Audio Capture
Following are the steps that help you how to remove DRM protection from Amazon Music by Drmare Audio Capture. Now, let's find them out.
Step 1

Open DRmare Audio Capture

At the start, install and open the DRmare Music Capture program on your PC where you will see a few application icons in the program interface. From here, you need to check if the Amazon Music application or the web browser you are using to enter the Amazon Music Web Player is in the list or not. If it is not there, then you could tap the big "+" button to add it.
Step 2

Set output format for Amazon Music

Tap the option that says "Format" and you will see a window from where you need to choose the output format for your Amazon Music. You can arrange MP3 format by default as it is of high compatibility with multiple devices. In case, you need to make Amazon Music work better, you can change the channel, codec, etc.
Step 3

Start to record Amazon Music to remove DRM

After finishing the setting, press the web browser to go to the Amazon Music home page. Or open the Amazon Music app, login into it with your Amazon account. Here you need to select the tracks from Amazon Music that you like to capture.
When you are done finding the music, you have to play them and the DRmare Music Capture program will open a recording window. It will begin to record and download music from Amazon Music via automatic processing.
Step 4

Edit and trim the recorded Amazon Music

From here you can edit the recorded Amazon Music, trim the songs and edit the tags before you are about to tap "OK" to save your edit.
Step 5

Download and save Amazon Music DRM-free songs

In the end, press the option that states "Save" to save Amazon Music to computer. You are allowed to locate them on your computer and stream them to any other devices for offline playback.
Conclusion
All those people who were looking forward to knowing how to remove DRM from Amazon Music might probably have found the answers to their questions now. You can use the Amazon Music DRM removal mentioned above and make the most out of your favorite Amazon songs wherever you like to. Just choose one and try it out, and then enjoy DRM-free Amazon Music on any platform and device without any limit.