TikTok is taking the world by storm. Content creators across the globe are making awesome videos using the popular app. Besides offering fantastic video effects and transitions, it also boasts an expansive music library, so you can create the biggest music sensations. All you need to do is download TikTok, record an aesthetic video, and add a beautiful background music track to become famous on TikTok.
However, if you want to add your favorite Amazon Music on TikTok, you may find that it is not possible directly. In case you are wondering why that is, we will talk about some of the reasons in this article. Also, we have come up with the best alternate solution to this problem. So, read below to learn how to use Amazon Music TikTok using a third-party app.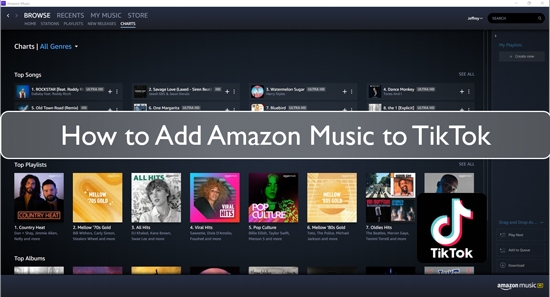 Part 1. Can You Add Amazon Music to TikTok?
Amazon Music is one of the leading music streaming platforms with over 70 million soundtracks. It offers ad-free and high-fidelity music streaming so you can enjoy the perfect listening experience. However, it comes with many limitations. For example, Amazon Music tracks are protected in an encoded format. This means it is not possible to save them as local files on your computer directly.
Moreover, Amazon Music TikTok support is currently not available. As a result, TikTok does not allow you to import Amazon song tracks from the library. All in all, you cannot add your favorite Amazon playlist in your TikTok videos due to encryption and format issues.
Part 2. How to Make Amazon Music TikTok to Work - Best Way
In order to make Amazon Music TikTok work, one surefire way is to download the Amazon Music songs to your local library first. Then you can transfer the downloaded Amazon Music tracks to video editing tools such as InShot, which allows you to add the Amazon Music in TikTok videos. For this, you will need a third-party application. And luckily, we have a well-designed Amazon Music tool for you.
DRmare Amazon Music Converter is a professional HD Music and Unlimited Music converting software. This comprehensive tool allows you to remove the powerful encryption from the Amazon Music audio files and download them as local files.
Using this tool, you can convert protected Amazon Music to standard audio formats such as MP3, FLAC, WAV, M4A, M4B, and more. Furthermore, this Unlimited Music Downloader is designed with a user-friendly interface. So, it is very easy to use.
Besides, the batch conversion feature and the 5X conversion speed make it convert Amazon Music songs faster. DRmare iMazonKit Music Converter also preserves original ID3 tags to help classify your Amazon Music songs. Plus, you can customize the audio parameter of Amazon Music tracks such as audio channel, bit rate, sample rate, etc.
DRmare iMazonKit Music Converter
Part 3. How to Convert Amazon Music for TikTok
Not sure how to convert Amazon Music for TikTok? No worries. As mentioned earlier, DRmare iMazonKit Music Converter is simple to use, allowing you to save Amazon Music easily. Just follow these quick steps, and you will be done.
Step 1

Download and install DRmare iMazonKit Music Converter

Download DRmare iMazonKit Music Converter from its official website. Make sure to install the correct version for your Windows or Mac. Also, ensure that you had installed the Amazon Music app on your computer.
Step 2

Launch the DRmare iMazonKit Music Converter

Now click on the icon to launch the DRmare iMazonKit Music Converter on your PC. At the same time, the Amazon Music app will also open.
Step 3

Customize output format for Amazon Music to TikTok

Move to the menu option on DRmare program and click on Preferences. Then head to the Convert section and choose the output format for Amazon Music TikTok. You can choose the output format from the format dropdown to convert Amazon Music to FLAC, MP3, WAV, M4A, M4B, etc. Simultaneously, you can alter other audio parameters such as bit rate, sample rate, audio channel, etc. according to your demands. Plus, you can choose to archive Amazon Music playlists by artists, albums, etc.
Step 4

Choose and import Amazon Music to DRmare

Navigate to the Amazon Music app to choose the Amazon Music playlist and right-click on the one you like. Then tap on Share playlist to copy the link in the pop-up window. Or you can simply click on the three dots located in front of the Amazon Music playlist to get the URL.
Step 5

Start to convert Amazon Music for TikTok

After adding the Amazon Music playlist to DRmare, hit the Convert button on the bottom of the screen. The Amazon Music TikTok conversion process will start automatically. Lastly, just locate the converted Amazon Music on your PC and use them as local files.
Part 4. How to Add Amazon Music to TikTok
Once the Amazon Music is converted to MP3 or another format, you can use it as a background sound in your TikTok videos. The next step is to import the downloaded Amazon Music to video editing software. For this, we recommend using the InShot app.
InShot is a versatile video creation and editing application for iOS and Android devices. It comes with a suite of professional video editing features to help you create eye-catching video content. Using InShot, you can also add exciting music tracks to your videos. It lets you import your favorite playlists from your music library and make some noise on your social media. Let's take a look at how you can use InShot to make Amazon Music TikTok work.
Before you begin, transfer the downloaded Amazon Music to your phone using a USB cable or Bluetooth. Moreover, download and install the InShot video editing app from the Google Play Store or App Store depending on your phone. Then follow the steps mentioned below in detail to add Amazon Music to InShot.
Step 1: Start a new project
Open the InShot app on your phone. Click on the Video option and choose New Project to start editing.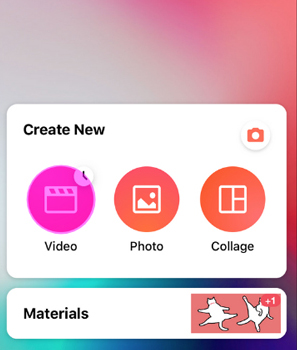 Step 2: Import the TikTok video
Now choose the TikTok video you want to edit and click on the green tick button located on the bottom right of the screen.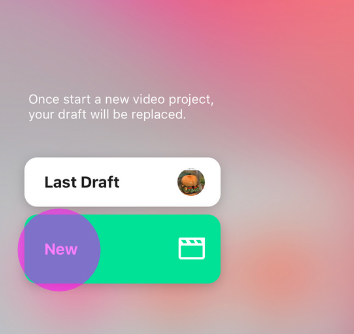 Step 3: Add Amazon Music to TikTok video
Next, drag the timeline on the video to the point where you want to add sound. Tap on the Music icon from the editing options and then hit Tracks > Import Audio. Browse through your music library and select the converted Amazon Music of your choice.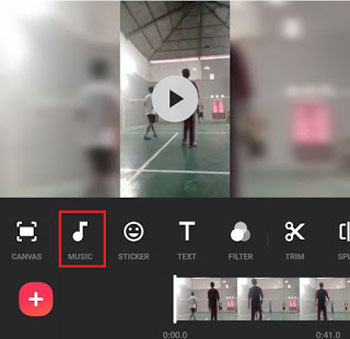 Step 4: Save the edited video
Finally, hit the Save icon present at the top corner. Choose your desired resolution, frame rate, and format and click Save again.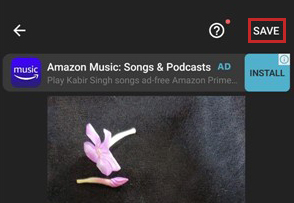 Part 5. Conclusion
In this tutorial, we have mentioned the best way to use Amazon Music TikTok. DRmare iMazonKit Music Converter helps you edit your TikTok video with your favorite Amazon Music track. It simply removes the encryption and make it easy to download Amazon Music to iPhone and Android phone. Not just that, you can also stream high-fidelity Amazon Music offline on other devices using DRmare.
So, if you are a TikToker, give DRmare iMazonKit a try and enjoy Amazon Music on TikTok.