As one of the best streaming services, Apple Music contains over 50 millions of songs. You can find any music you want for travel, running, working or anything else.
Because it takes up a lot of cellular data if you keep streaming songs online outside without Wifi, it is advisable to download Apple Music for offline listening.
And usually this is not a difficult job but just click the download button beside the songs, albums, playlists. But in my daily life, I found many users complaining Apple Music not Download songs. When clicking the download button, it just keeps spinning forever without really doing anything.
Well, this could be caused by a lot of reasons such as iOS bugs, phone settings and so on. Don't worry and try these top 10 solutions to fix it quickly.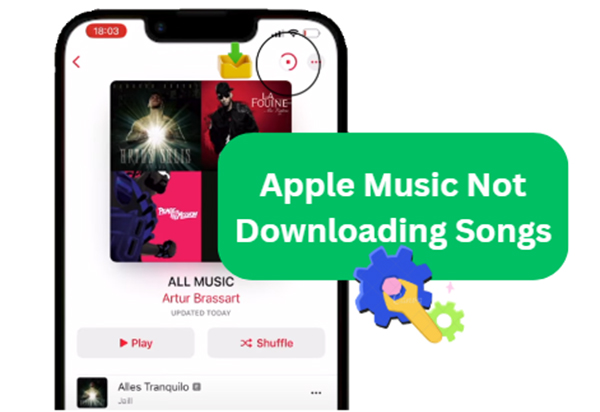 Top 1. Check Your Internet Network
Without internet connection, you can hardly do anything online. You must have at least cellular data or Wifi to download songs on your Android/iOS devices. If you are using cellular data, you need to allow Apple Music app to use it. Take iPhone for example, you can follow the steps.
Click "Settings" to open the settings window.
Click "Music" and then scroll down to the "STREAMING & DOWNLOADS".
Switch the button beside the option "Use Cellular Data" on.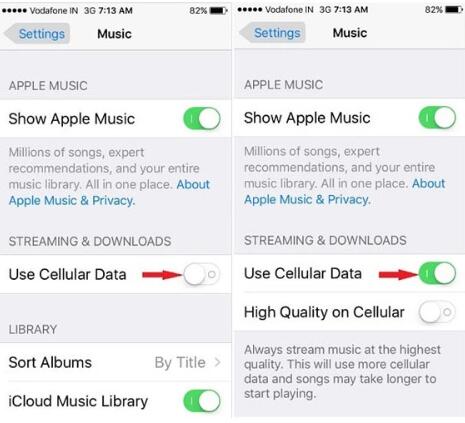 Top 2. Check Device Storage
If your device space is full, it is normal that no more media files can be downloaded. Yet, many users also reported that if the space is full, the album cover, song cover etc. won't show up on Apple Music app too.
Click "Settings" from your phone.
Click "Storage" to go to the storage overview page, you will see how much capacity is occupied by audio, video, documents, photos and so on.
If it is full, please try to delete some useless media files to free up more space.
Top 3. Sign Out and Sign In Apple Music
As an online streaming service, Apple Music only allowed paid subscription users to download songs offline. This is verified through the Apple ID. If the Apple music account lose connection with the Apple server, you can relogin to establish a new connection.
Tap on "Settings" and tap your username besides the "Apple ID".
From the popup menu, please click "Sign Out".
After that, try again to input your Apple ID and password to sign in.
You can try again to download Apple Music songs to see if it works well.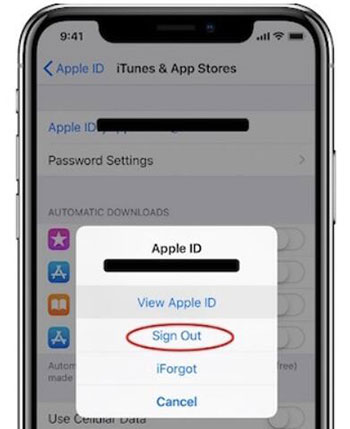 Top 4. Restart Apple Music App or iTunes
Sometimes if nothing happens for a long time after pressing the "Download" button, your Music app or iTunes maybe freeze.
On a Mac or Windows computer, you can simply force quit iTunes from the force quit window or the Windows Task Manager.
On an Android phone or iPhone, please swipe up from the bottom, then you will see the background apps and you can close the Apple Music app.
Top 5. Turn on iCloud Music Library
Apple Music contains the best feature iCloud Music Library which enables you to sync music from your own music library, CD collections and so on. If it is turned off by accident, you won't be able to download the music you uploaded.
Click "Settings" icon to go to the settings window.
Go to "Music" tab, you will see the "iCloud Music Library" option.
If the option is off, please simply switch it "on".
Top 6. Restart Your Phone
If your phone has been on for a long time, there will be a lot of cache files which will slow down your device. According to my experience, it does fix many problems and it is also one of the easiest ways.
Take iPhone XS for example. Please press and hold the "Power" button for a little while, it will show you a list of menus. You can choose "Restart" to restart your iPhone.
Top 7. Update Apple Music App
Apple Music app could be buggy like any other streaming music Spotify, Pandora, Google Play music and so on. This is extremely true for the Apple Music for Android version which takes much longer to update.
Open "Google Play" store.
Search "Apple Music" and click "Update" button beside it.
When the new version is downloaded, please follow the screen wizard to reinstall it.
Top 8. Update iOS System
Apple Music has seamless integration with iOS system. In order to get the best experience and highest performance, you can update the iOS system to the latest version.
Tap on the "Settings" app on your iPhone.
Click "General" tab and then click "Software Update".
If there is a new iOS version software available, you can click "Download and Install" to update it. Note: Update your system may wide all the data on your iPhone, so please make sure you have backup them first.
Top 9. Contact Apple Support Team
If you have tried these solutions above but still can't fix the problems on your computers or mobile devices, it is time to contact Apple Support team. You can either submit a thread from the Apple community, chat with or call Apple support team. They will check if this problem is caused by their server and analyze your case carefully.
Top 10. Try Third-Party Apple Music Downloader
Apple Music songs are combined with copy protection. This makes it difficult to download and distribute to other devices.
If you'd like to save your time and transfer Apple Music to all your Android/iOS/Windows/Mac devices, one of the best ways is to use the DRmare DRM Audio Converter for Mac/Windows to download Apple Music as MP3. It runs at 30X faster speed with lossless quality.
With it, you will be completely free from the error that Apple Music songs not downloading and save you lots of money in enjoying music. Wanna give it a try? Just click the "Download" button below.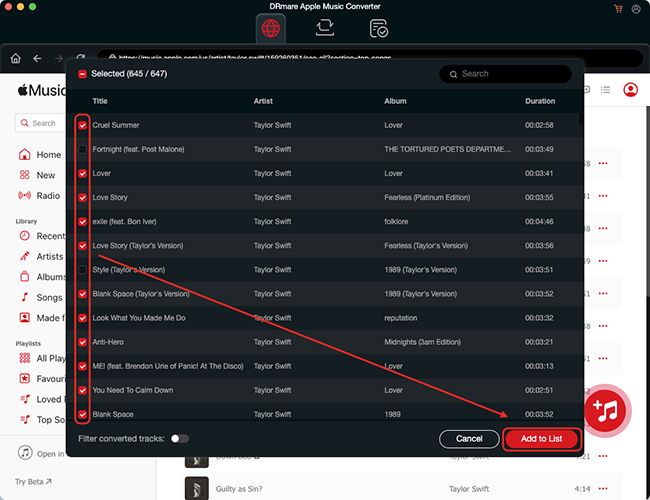 Follow this video demo to solve Apple Music not downloading on mobile devices: