Audible is a popular audiobook provider. You can listen to Audible audiobooks on your phone, tablet, smart speaker, and more. Plus, the beauty is that you can sync your Audible account across multiple devices. With it, Audible remembers where you heard it so you can always pick up where you left off.
However, things didn't always go smoothly. Many users have experienced issues with Audible not syncing between devices. So, here we have found some quick fixes to restore sync progress. Let's move on to the solution.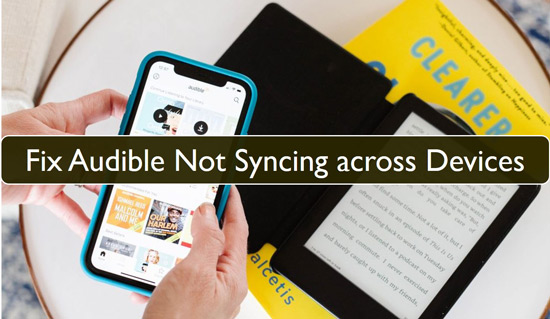 Solution 1. Check the Network Connection
Perhaps it is the network connection that is not functioning. Because the sync progress needs a stable Internet connection. So, the first thing you can do is confirm that your device is connected to a wireless network.
Switch the wireless connection OFF then ON. Your device should be synced if the network is working. Then the Audible app not syncing issue will be solved.
Solution 2. Restart Your Device and Audible App
Restarting the Audible app or device is a quick fix when you meet Audible not syncing across devices. To do this, close the Audible app as well as the Audible devices. Then restart them and check if they can now sync.
Solution 3. Reinstall Audible App
Sometimes, the Audible not syncing between devices problem could be a result of the Audible app. Maybe it is not updated to the latest version or it didn't install properly. Reinstalling the Audible app can help you solve the problem. To do this, please check the steps here.
Step 1. Find the Audible app on your device.
Step 2. Long press it until the "Uninstall" option appears. Click on it to delete the app from your device.
Step 3. Next, go to "App Store" or "Google Play Store" to download the latest version of the Audible app.
Step 4. Then reinstall the Audible app and restart your device to fix the Audible not syncing with Kindle or other devices.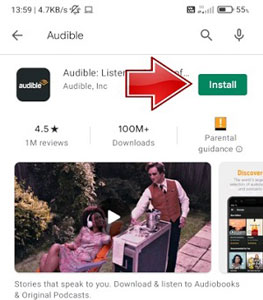 Solution 4. Check If Whispersync for Voice is Enabled
The Whispersync for Voice is a feature that enables an automatic syncing of your position in your audiobook. With it, you can continue listening to your audiobooks without remembering the position where you leave. So, if you meet the problem of Audible and Kindle not syncing, you can check if Whispersync for Voice is enabled.
Step 1. Go to the Amazon official website. Scroll down and select "Manage Your Content and Devices" at the bottom of the page.
Step 2. Then select the Preferences option.
Step 3. Choose Device Synchronization (Whispersync Settings) and then make sure the feature is turned ON.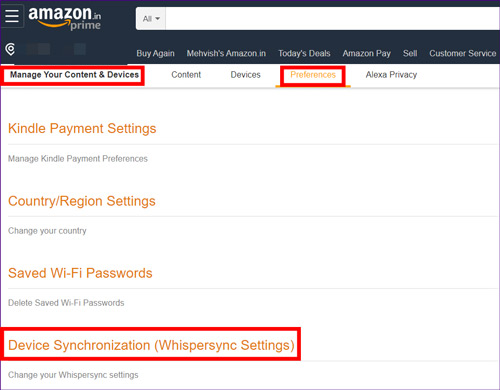 Solution 5. Check Your Audible Account
Perhaps, you failed to sign into the same Audible account and that's why the Audible not syncing across devices issue is occurring. Here you can follow the steps below to learn how to fix it.
Step 1. Sign out of your Audible account.
Step 2. Then launch the Audible on one device.
Step 3. Tap, "I'm already using Audible".
Step 4. Next, tap the "Sign in" tab with your Audible username. It's located at the bottom of the screen.
Step 5. Then tap "Sign In". Ensure you use the same Audible account for your devices.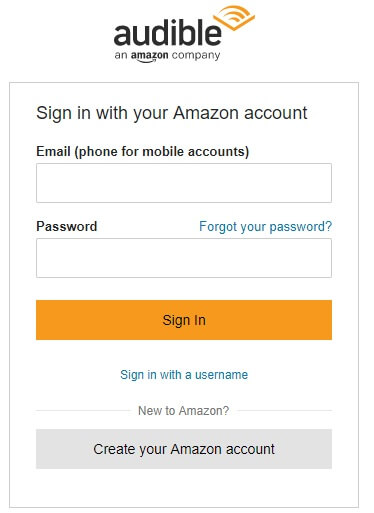 Solution 6. Manually Sync Audible across Devices
If the Whispersync for Voice is enabled but Audible not syncing between devices, maybe it's because the position of Audible audiobooks has not been synced yet. And you can manually sync Audible across devices. Check how to solve Audible sync not working on Android and iPhone devices.
On Android:
Step 1. Ensure you have connected your Android device to a WiFi connection.
Step 2. Open the Audible app and go to the "Library" section.
Step 3. Next, swipe down on the screen with your thumb until you see the "Spinning" arrow.
Step 4. Then release your thumb to refresh the library.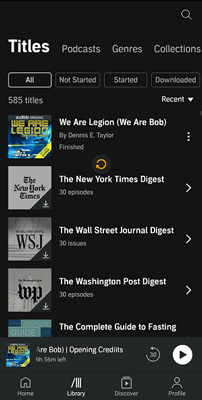 On iPhone:
Another solution to this error is to delete the Audible application because it might be corrupted. It will probably fix this issue after you delete it. You can go to your app store to download Audible again and sign in.
Step 1. Tap on the "Profile" button found at the bottom right corner of the Audible app's screen.
Step 2. Click on the "Settings" icon in the top right corner.
Step 3. Click on the "Player" option.
Step 4. Toggle the "Sync Device Position" switch OFF. Then switch ON and check whether Audible not syncing across devices issue fix or not.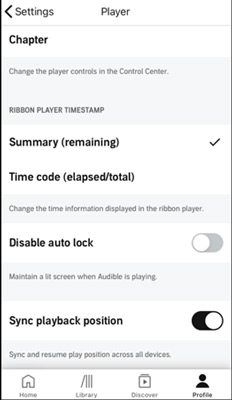 Solution 7. Contact Audible Support
The Audible support team gives 24/7 support to its users. If you've tried all the above solutions and still can't fix the Audible sync not working issue, then simply contact the team.
Step 1. Go to the official Audible.com site and click on the orange "Contact Us" tab at the bottom of the page.
Step 2. You'll be redirected to a page where you can ask for assistance. Just choose a topic and then click on the "Sign In" tab to sign in to your account and contact the team.
Step 3. Alternatively, you'll get answers to common questions and other helpful links on the page.
Solution 8. Convert and Move Audible Audiobooks to Other Devices
Still have problems with Audible not syncing between devices? Then you can try an alternative way to transfer Audible audiobooks to your devices. The tool you need is DRmare Audio Converter, which allows you to download Audible books to MP3 for playing on any device. In addition to MP3, it also supports FLAC, AAC, M4A, M4B, and WAV.
Quality is no doubt. DRmare retains 100% lossless sound quality and all ID3 tags by default. The ID3 editor is another asset to help you manually edit the audiobooks. Likewise, you can easily split larger Audible books into manageable portions. All these happen at a high speed of X30 rate for quick batch extraction, thanks to its latest audio decryption technique.
DRmare Audible Audiobooks Converter
8.1 How to Convert Audible Audiobooks
DRmare Audio Converter comes with the powerful ability to remove any limitation from the protected Audible audiobooks. Go to the official website and download the correct version of it for your device. After then, let's learn how it works.
Step 1

Launch DRmare Audio Converter

Install the DRmare Audio Converter on your computer and then launch it to start the conversion process. Notably, the iTunes program will also open automatically.
Step 2

Add Audible audiobooks to the program

The main window of DRmare will show up shortly. Now begin to add your Audible audiobooks to its interface. Click on the first "Add" button at the bottom left corner of the DRmare main screen to import the audiobooks that you wish to add.
Step 3

Customize the output preferences for Audible books

Go to the "Format" tab to select a common output format. Also, proceed to customize the parameters like sample rate, channel, and bit rate, among others. Likewise, DRmare Audiobooks Converter lets you perform ID3 tag information edits including the speed, pitch, volume, etc. You can also split bigger files into smaller sections.
Step 4

Convert Audible audiobooks

Here, click on the "Convert" tab to download Audible books on computer. Then locate the converted Audible audiobooks on your computer's local disk. You can transfer them to any device without any Audible not syncing issues. You can also listen to them offline even if your subscription expires.
8.2 How to Move Audible Books to Other Devices to Fix Audible Not Syncing Issue
Finally, you can free yourself from the Audible and Kindle not syncing problem and other Audible app not syncing issue once you complete the conversion process.
Step 1. Connect your portable device to your computer. Then locate the Converted folder that contains the Audible audiobooks from your computer's local disk.
Step 2. Choose the audiobooks you want to move. Likewise, you can choose to move the entire folder.
Step 3. Right-click on the folder or individual tracks and hit the "Send to" option.
Step 4. Click on the icon of the device you want to move the folder to.
Step 5. Safe remove your device from your computer and enjoy all audiobooks offline without experiencing Audible not syncing problems.
In Conclusion
Today we show you 8 solutions to Audible not syncing across devices. You can try them one by one and you will find that the last solution works 100%. With DRmare Audible Converter, you can download Audible books as popular files and then transfer them to any device you want. You will finally enjoy your audiobooks on any device anywhere without any Audible out of sync issues.