There's no denying that Audible is a fantastic pick for those who like listening to audiobooks. Audiobooks from renowned audiobook publishers, periodicals, and newspapers are available on the site. Over 200,000 audiobooks from writers all over the globe are said to be available on Audible. The Audible app for Android, iOS, and Windows has just been released, making the audio available on a wide range of current devices.
Despite its many benefits, the Audible app is far from flawless. Many Audible customers have been meeting the Audible app keeps crashing iPhone and Android phone issue. If you are one of these people, it is feasible for you to resolve the issue. In this post, we'll look at some of the possible causes of your Audible app crashing and some workable fixes. Please check the article and learn more.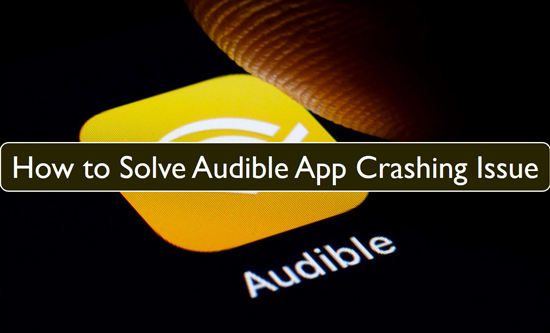 Part 1. Why Does Audible Keep Crashing?
It is highly recommended that we investigate the potential reasons for the issue with the Audible app crashing before moving on to the particular solutions to the problem. Here are several underlying problems that may contribute to the Audible keeps crashing on iPhone/Android problem.
1. System Software Glitches - Even if it doesn't happen often, the Audible app crashing issue might be caused by a problem with your device's software.
2. Unstable Internet - The Audible app demands that your internet connection be reliable for it to work properly, and this is particularly true if you want to live stream audiobooks.
3. Internal App Bug - Like many other applications, the Audible app is not flawless. Sometimes, the program can acquire internal issues that will cause the Audible app crashing. These bugs can be fixed, though.
4. Lack of Storage - Sometimes, we load our devices with so many different media files that we forget that mobile devices need a certain amount of free space to operate programs properly. You may have issues with the Audible app keeps crashing Android/iPhone if the storage space on your smartphone is full.
Part 2. Six Solutions to Fix Audible App Crashing Issue
In this part of the article, we will finally explore some of the best solutions to fix the Audible app crashing issue. Let's take a look at them.
1. Force Close All the Running Apps on Android/iPhone
Force closing apps is a great way to fix Audible keeps crashing Android/iPhone problem. Here is how to force close the Audible app on your iPhone or Android phone.
On Android:
Step 1. Start at the bottom and swipe up, hold, then hold let go.
Step 2. Use the left and right arrows on your phone's touchscreen to navigate. Tap the Clear all button on the left.
On iOS:
Step 1. It's possible to accomplish this by swiping up on an iPhone with Face ID or double-clicking the Home button on an iPhone without Face ID.
Step 2. Close all applications by swiping them all up.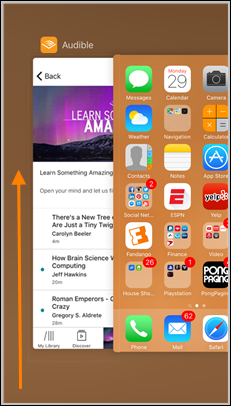 2. Restart Audible App and Your Device
Restarting the device is yet another easy fix for Audible app crashing or any crashed program. In most cases, restarting the Audible app is necessary to fix any internal flaws that may cause any internal disputes. To restart your phone, you can follow the guide here.
Step 1. Long press the power button of your device. Then, select Restart to shut down.
Step 2. Press and hold the power button to power it back on.
Restarting an application is said to improve your odds of successfully fixing a problem with an application crashing by up to seventy percent.
3. Uninstall and Reinstall Audible App
Uninstalling and then reinstalling the Audible app is another solution to the problem of Audible crashing Android/iPhone regularly. It should be noted that uninstalling the program would delete all audiobooks that have been downloaded and those marked as finished.
After you have reinstalled the Audible software on your device, you will need to download them again and designate them as favorites.
On Android:
Step 1. Launch the Google Play Store app, then press the symbol that looks like a profile picture.
Step 2. Navigate to the Installed tab under Manage Apps & Devices.
Step 3. To remove the Audible app from your device, choose the corresponding Uninstall option.
Step 4. To install Audible for Android, click the Install button that is located next to the app.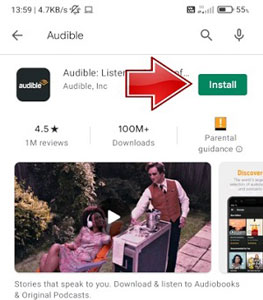 On iOS:
Step 1. To open the Audible app, tap and hold its icon. To remove the Audible app from your device, locate the X symbol in one of the app's corners and click it.
Step 2. Tap the Delete button that appears on the window that just popped up.
Step 3. Visit the App Store, search for the Audible app, and then reinstall it on your device.
4. Update Your iOS/Android System
The Audible app crashing issue might be caused by an outdated software version on your device. As a result, you must keep your device up to date with the latest software.
On iOS:
Step 1. To begin, go to "Settings" and choose "General".
Step 2. "Software Update" is located at the bottom of the "General" section.
Step 3. If there are any accessible updates, download and install them if necessary.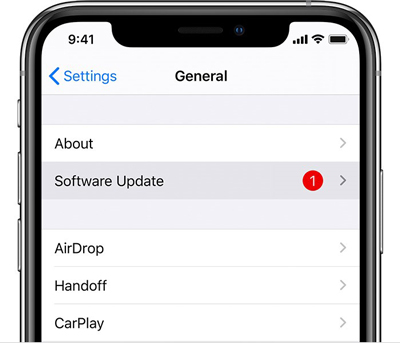 On Android:
Step 1. Go to "Settings" > "Advanced" and pick "System" from the main menu.
Step 2. Select "System Update" from the "System" menu to see if any software updates are available.
Step 3. Make sure to download and install any available updates.
5. Check Your Device Storage
For an application to perform efficiently, the system software must have enough storage space on your smartphone. Make sure your device has adequate storage space before you begin.
For maximum application performance, we suggest you have at least 1GB of free space on your phone. Just go to "Settings" and "Storage" to see how much space is available.
6. Play Audible Audiobooks with Other Players
If the above ways still can't help fix the Audible app crashing issue, then you can refer to this method. That's to use the DRmare Audio Converter to save Audible books to computer. Then you can enjoy Audible audiobooks on other players without having the Audible keeps crashing issue.
DRmare Audio Converter allows you to transform Audible files into standard audio tracks that can be played on any device. It can output audio files in various formats, including MP3, AAC, M4A and more. Additionally, you can reset the codec, adjust the level, etc. with the Audible books you want with this tool.
The DRmare Audio Converter can access your Audible files, decrypt them, and extract the audio files without any further processing. In addition to that, it can transcode audio files while preserving the original information. Moreover, the conversion process of Audible books is 100% lossless.
Following the completion of the conversion, the Audible books will be downloaded into your computer, where they will remain permanently. After that, you can transfer and play Audible books on MP3 player or another device to listen to while not connecting to the Internet.
DRmare Audible Audiobooks Converter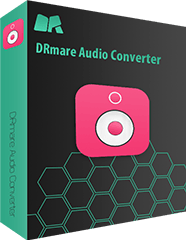 Convert and download Audible AA/AAX files, Apple Music, and more
Batch convert Audible books to various formats, including MP3, AAC, FLAC, WAV, etc.
Make it simpler to navigate huge audiobook files by dividing them into smaller chapters
Convert books from Audible at a faster conversion rate
Step 1. Download and install the DRmare Audio Converter on your PC. Then launch it to get started. At the same time, the iTunes program will show as well.
Step 2. To import your Audible books, click the two 'add files' buttons at the bottom left of DRmare. You may import audiobooks from your PC or iTunes library. Please download your liked Audible books from the Audible app/website on your computer first.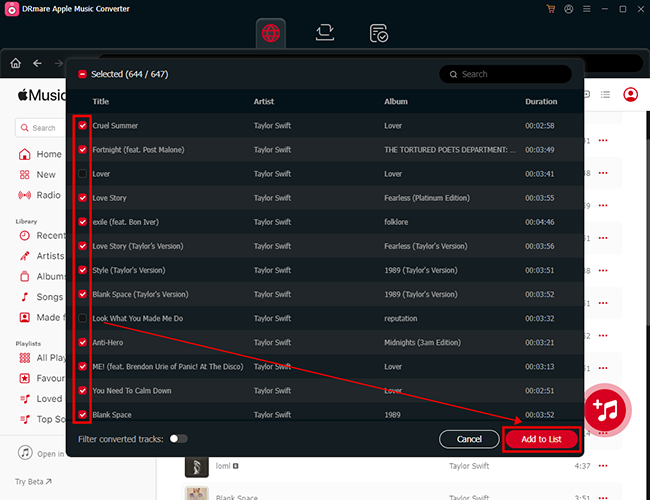 Step 3. The default output format for DRmare software is 'MP3' by design. So, there's nothing more you need to do. If 'MP3' isn't selected, you may change the output format by clicking the audio icon. Also, you can adjust the codec and more you want for your Audible audiobooks.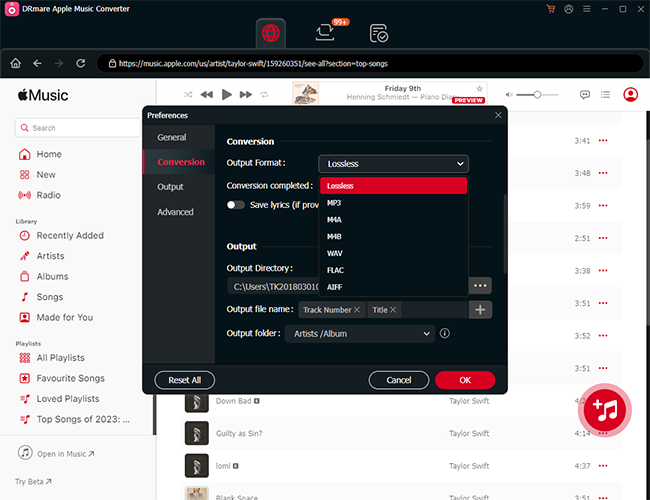 Step 4. To start converting Audible audiobooks, use the 'Convert' button on DRmare Audio Converter. You can see the audio files are converting. Once the conversion process completes, find them via the 'history' icon on DRmare program. Then you can locate the Audible files on your computer. And then you can transfer and enjoy the Audible audiobooks on any device on the go without the Audible app keeps crashing issue.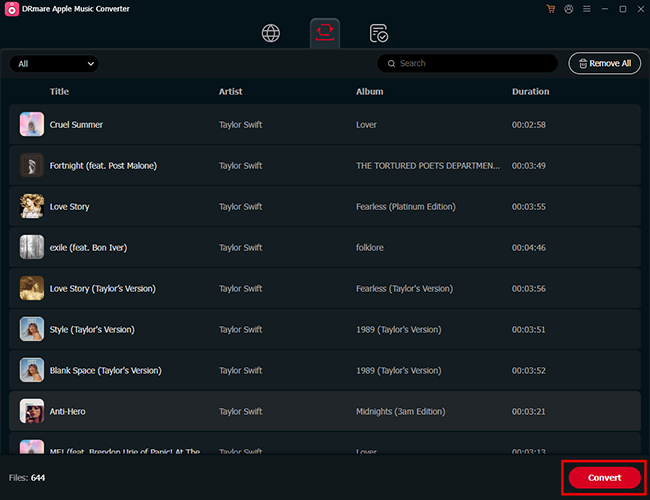 Part 3. Conclusion
You now have all the information you need to fix the Audible app crashing on iPhone/Android issue. A great method to convert Audible audiobooks for offline playing on any device or application has also been provided.
Also, you don't have to worry about your Audible keeps crashing thanks to DRmare Audio Converter. This software will help you keep your favorite Audible audiobooks for offline playing on any player.