Amazon Kindle is a wide variety of e-readers that allow users to browse, purchase, download as well as read e-books, magazines, and other digital media files, while Audible announced also by Amazon is one of the world's largest sellers and producers of downloadable audiobooks. So many Amazon fans wonder to know whether Audible books are compatible with all the Kindle tablets. If yes, how to listen to Audible audiobooks on Kindle?
In reality, not all Kindle family can support Audible files directly, such as Kindle Paperwhite, Kindle (7th Gen), and Kindle Voyage, although most of them are available for audio books from Audible.com. But don't worry. In this article, I will show you the professional tutorials to play Audible AA/AAX books on all kinds of Kindle devices, including both compatible and incompatible tablets of Kindle.
Kindle Family Supported Audible: All-New Kindle Oasis (9th Gen), Kindle Oasis (8th Gen), Kindle (8th Gen), Kindle (1th & 2nd Gen), Kindle Touch, Kindle Keyboard, Kindle Fire/Fire HD/Fire HDX, etc.
Dedicated e-Readers: Kindle Paperwhite, Kindle (7th Gen) and Kindle Voyage
View also: Listen to Spotify Music on Kindle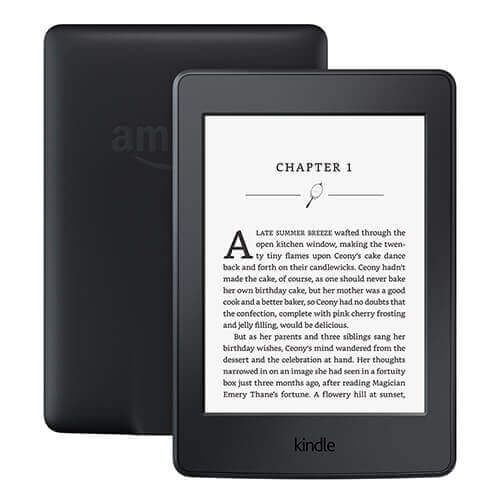 Part 1. How to Play Audible Audiobooks on Kindle Tablets Directly
As is known to all, many devices in Kindle family enable users to listen to Audible audio books directly. However, how to play an audiobook on the different Kindle? On the strength of different modes of Kindle, I will give the detailed guide for your reference.
Kindle/Kindle Oasis/All-new Kindle Oasis
Kindle, Kindle Oasis and all-new Kindle Oasis are equipped with Bluetooth function that allows readers and listeners to use Bluetooth speakers or headphones to listen to Audible audiobooks through Bluetooth.
In order to make Audible available for Kindle devices, please make sure your Kindle or Kindle Oasis is connected to WiFi network and then you can start to complete the over-the-air software update to your devices. Once updated successfully, you can see your Audible audiobooks show up in your library automatically and you are able to listen to Audible immediately on your Kindle.
Step 1. Tap My Library from the Home screen and touch All to see all audiobooks you purchased.
Step 2. Click the audiobook you would like to play. Please make sure audiobooks have been downloaded completely. If not, you can click the Download to do it.
Step 3. If you haven't paired a Bluetooth device with your Kindle, you can touch the Pair Device to connect wanted device. And then you can listen to the audiobook freely.
Kindle Keyboard
There are two ways for you to play Audible books on Kindle keyboard. One is to draw support a devices with built-in speakers. The other way is to use your headphones for personal listening. No matter which way you choose, you need to use 5-way controller to see downloaded audiobooks and select audiobooks from Home screen.
Kindle 1st/2nd Gen/Kindle DX
Three modes of Kindle mentioned above are a little old Kindle models, which are different from new Kindle devices, because they are not integrated with the Audible service by default. In order to transfer Audible audio files to these Kindle tablets, you should download and install Audible Manager to activate your devices. Here we go.
Step 1. You can use USB cable to connect Kindle to your computer.
Step 2. If you haven't downloaded Audible Manager on your computer, please install it on your computer firstly.
Step 3. Launch Audible Manager and go to the main menu to click the 'Devices' -> 'Add New Device' -> 'OK'. Audible Manager will be closed and start to install the components to your device.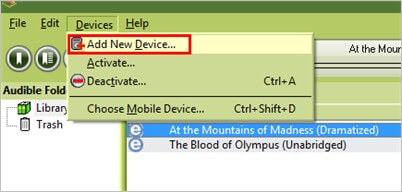 Step 4. Once the program restarts, please choose Amazon Kindle and right click on Kindle tablet to touch 'Active'. You will be required to log in your Audible account and password to activate your Kindle device.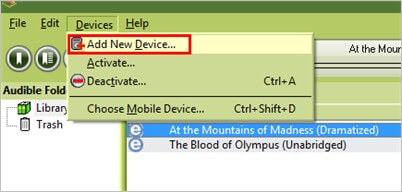 Step 5. Touch Library on the left side of the main screen, all audio books downloaded on your computer will appear in automatically. Now you can start to select wanted audiobooks and click the 'Add' to Device to transfer them to your Kindle for playback.
Kindle Fire HD/ Fire HDX/Touch
Digital audiobooks purchased from Audible are currently compatible with Fire tablets and Kindle Touch, so you can directly enter into the My Library, swipe from the left edge of the screen and then click the Audiobooks to download favorite audiobooks to your Fire tablets. As for Kindle Touch, please touch the Cloud on the Home screen to choose wanted audiobooks to download. Once the download is complete, you are able to play the audiobook on your Kindle devices even without wireless network connection.
View also: Transfer iTunes M4V to Kindle Fire
Part 2. How to Listen to Audible AA/AAX Audiobooks on Paperwhite/Kindle (7th Gen)/Kindle Voyage
Is it possible to listen to Audible audiobooks on Paperwhite, Kindle (7th Gen) and Kindle Voyage? The answer could be positive. Though you are not able to play Audible books on these Kindle devices like other compatible tablets due to DRM protection and specific AA/AAX format, you can use the following two ways to enjoy Audible on incompatible Kindle devices.
Kindle App
Generally speaking, Kindle App is available for computer running Windows or Mac operating system and iOS or Android devices. So you can download and install Kindle app to help you sync Audible books to Kindle tablets, only if Audible audiobooks come with an eBook companion. This solution is very easy and totally free for everyone.
Best DRmare Audible Audiobook Converter
The alternative tool to Kindle app is DRmare Audible Audiobook Converter, which is designed to remove DRM protection from Audible AA/AAX files and convert DRM AA/AAX to MP3, FLAC, WAV, M4A, AAC and other common audio formats. It can work at 30X faster speed with 100% original quality preserved. Plus, it allows you to customize output audiobooks, including bit rate, audio channel, codec, etc. according to your own needs.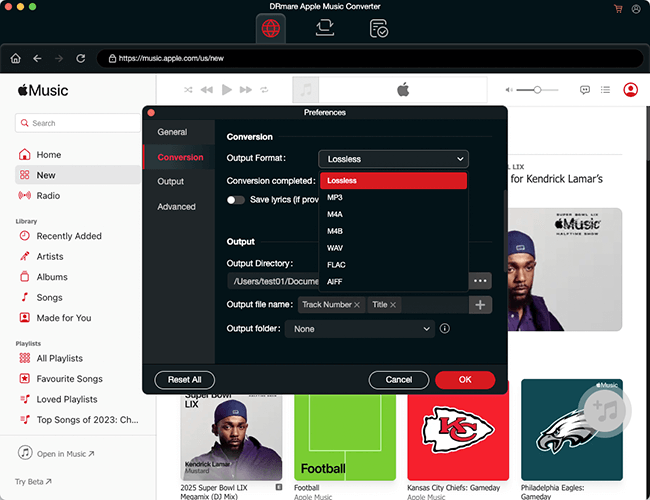 After conversion, you can copy and paste DRM-free Audible audiobooks to any Kindle device, including Paperwhite, Kindle Oasis, Kindle Voyage, etc. for offline listening freely. With the help of DRmare Audible AA/AAX Converter, you are also able to listen to Audible audiobooks on MP3 player without any limitation. For the detailed tutorial, you can refer to this helpful source page: How to Convert Audible AA/AAX to MP3. Why not download its free trial version to test its performance by your own?