Is Audible free with Amazon Prime? Unfortunately, no. Audible membership is separate from Amazon Prime membership. But that doesn't mean you can't enjoy any services. If you are a Prime member, you can get Audible audiobooks for free from a selection of audiobooks. Read on and learn how to listen to Audible free with Amazon Prime in three ways. You can also learn how to save these audiobooks to listen to them forever.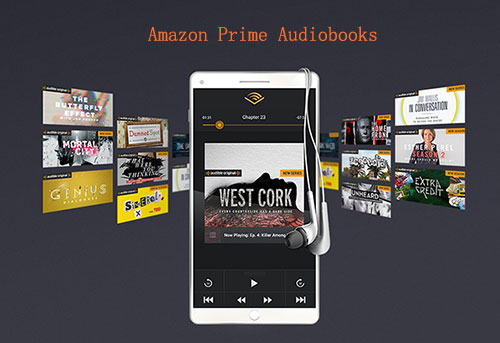 Part 1. How to Find Amazon Prime Free Audiobooks via Kindle Store
Amazon is the world's largest seller of books, e-books and audiobooks. To improve the experience of enjoying digital content, it also created the Whispersync service. This allows users to switch seamlessly between reading and listening.
When you search for an eBook, it will display the corresponding audiobooks that are available. You can stream them online, but you do not have the right to download them. For offline listening, it requires an Audible membership.
Now, let's see how to find free Audible books with Prime below.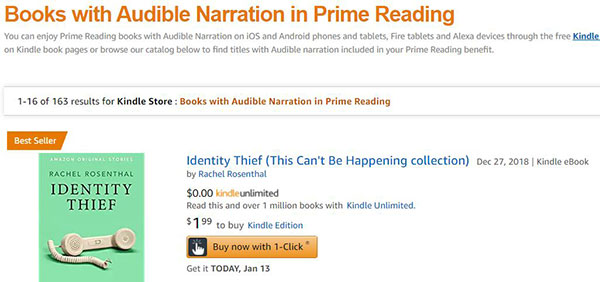 Step 1. Open your Fire or Kindle device. If you are using a computer, go to the Amazon website, and select the "Kindle Store" section.
Step 2. Search for a book you want. Then it will show you some book results.
Step 3. Check to find the eBook which has a Prime logo and the Wispersync option.
Step 4. You can borrow the eBook first with a Prime membership. Then click the "Listen for free" button to borrow the audiobooks.
Please note only some titles are available on Amazon Prime. If you'd like to see all the Amazon Prime free audiobooks, you can click "Prime Benefits" under the "Audible" category on a Fire tablet.
Or you can check Amazon Prime audiobooks free list with Audible Narration on computers. Go to www.amazon.com/primereading webpage to find a book with Audible Narration. Then hit on "Read and Listen for Free" to get the book.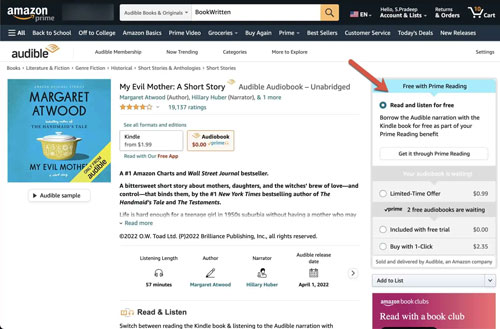 Part 2. How to Get Free Audible Books with Prime via Audible Channel
If you are a Prime member, you can get Audible free with Amazon Prime via Audible Channels. It offers short-form audio podcasts, documentaries, comedy shows, programs, and more in the Audible app. You can get access to a number of Audible books for free.
For non-subscribers, they can stream up to 30 minutes of content by accessing the channels. It's also worth mentioning that Amazon Prime membership doesn't include an Audible membership. But you can get discounted pricing on membership. The separate subscription fee for the Audible Channel is $4.95/month.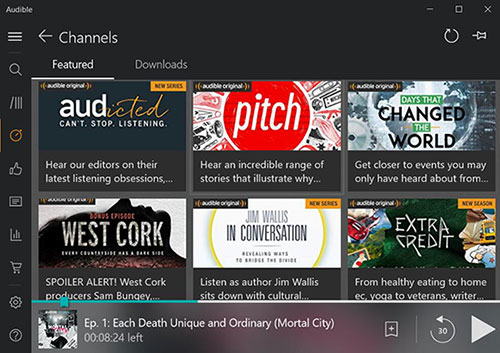 Step 1. Open the Audible app from your Fire, computer, or whatsoever.
Step 2. You will see the menu "Channels for Prime", please click it and open it.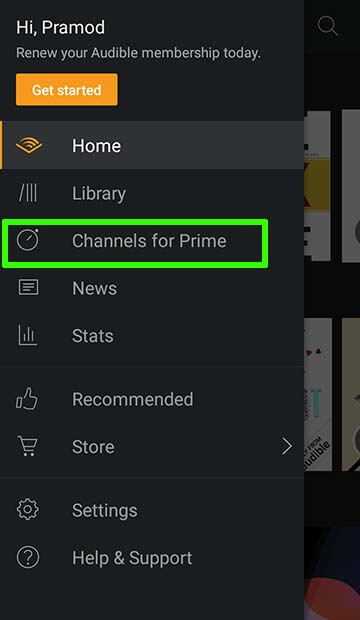 Step 3. From the opened window, you will see a list of featured content.
Step 4. You can open and follow the channel you want. To stream the audiobook online, just click the "Play" button.
If you are an Audible member, the 'Channels for Prime' option won't show up. And it will be switched to 'Originals', which content is different from Audible Channels.
Part 3. How to Get Audible Free Trial with Amazon Prime
If you're already an Amazon Prime member, you can get a free 90-day trial of Audible Premium Plus. You get all the benefits of Audible Premium Plus at no extra cost. During the free trial, you get three free audiobooks. After the trial period ends, you can cancel Prime or subscribe to Audible for $14.95 per month at any time. To subscribe to Amazon Prime, click here.
Part 4. How to Download and Save Amazon Prime Audiobooks Free Forever
After knowing how to find free Audible books with Prime, we will show you how to save them for listening forever. The tool you need is DRmare Audible Converter, which allows you to download and save Audible books forever.
Besides, Audible audiobooks are AA/AAX files that can't be recognized by common players. And this powerful DRmare Audible Converter allows you to convert protected Audible files to popular audio files including MP3, FLAC, AAC, and more. And then, you can listen to free Audible with Amazon Prime anywhere.
Key Features of DRmare Audible Converter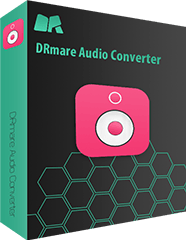 Download and save Audible audiobooks to listen to forever
Batch convert Audible AA/AAX to MP3, AAC, M4B, etc. at a fast 30X speed
Split large audiobook files into small chapters, edit the audio pitch, volume, etc.
Retain lossless sound quality and raw metadata information
How to Download Amazon Prime Audiobooks Free and Keep Forever
How to keep Audible free books with Prime forever? You can make it possible by doing a few clicks with DRmare Audible Converter. Let's see how to do it below:
Step 1

Load free Audible books on Amazon Prime to DRmare

Please download your Amazon Prime free Audible books in advance. Then install and open the DRmare Audible Converter. Click on the 'add files' icon at the bottom right to import audiobooks for converting.
Step 2

Define output format for Amazon Prime free audiobooks

To play the audiobooks on any other device, we'd recommend you choose the MP3 format. To set the output audio format, please go to the 'audio' icon at the bottom-right corner. There you can start to choose the output audio format, codec and other audio parameters. Besides, you can reset the pitch, volume and speed for your audiobooks.
Step 3

Get free Audible books with Prime on DRmare

Finally, you can click the "Convert" button to start converting books from Audible to MP3 audio. Within a while, your audiobooks are ready to play on any player offline. In this way, you will own the audiobooks from Amazon Prime forever.
Part 5. FAQs of Audible with Amazon Prime
Q1: Does Amazon Prime Include Audible?
A: No. The Prime membership is separate from Audible membership. But there are some free Audible audiobooks for Prime members.
Q2: Do I Have to Have Audible Membership to Enjoy the Prime Benefits?
A: No, you can sign in to the Audible app with your Amazon account to get the audiobooks.
Q3: Some Audible Books Are Not Free Available with Prime. Can I Buy Them at a Cheaper Price?
A: No, to enjoy discounts, you need to subscribe to Audible membership.
Q4: How Many Audiobooks Can I Have Access to with a Prime Subscription?
A: In general, you can listen to about 50 free audiobooks under 10 different categories.
Q5: What Are the Differences between Amazon Prime Audiobooks, Kindle Unlimited and Audible?
A: They all belong to Amazon. But they are separate services.
Amazon Prime Audiobooks is also named Prime Reading. It is a part of benefit from the Amazon Prime subscription. It offers free books for Prime users and the books can be accessed via the Kindle app or Kindle devices.
Kindle Unlimited is a separate service of Amazon. Subscribers can access more than 1.4 million Kindle books and magazines. This subscription is not included in the Prime membership.
Audible is the largest audiobook provider in the market. And it offers over 400,000 titles of audiobooks. You can get free Audible credits to get audiobooks or subscribe to its plan.
Q6: What Kinds of Audiobooks Are Available on Amazon Prime?
A: It includes many genres of audiobooks. Please check the detail below.
Comics and Graphic Novels
Children's Literature
Fairy Tales, Folk Tales, Legends and Mythology
Drama
Historical Events
Gothic and Romance
Horror and Supernatural
Mystery and Detective
Humor
Poetry
Religion
Politics
Short Stories
Women
Science Fiction and Fantasy
Q7: How Do I Get Free Audible Books on Amazon Prime?
A: You can get Audible free books with Prime from Kindle Store, Audible Channel, or 90-day Audible free trial.
Part 6. In Conclusion
Now you know three ways to access free audiobooks with Amazon Prime. If you're a Prime member, you can enjoy a selection of Audible audiobooks for free. Also, we guide you to save your Audible books to play anytime, anywhere. With DRmare Audible Converter, you can convert Audible audiobooks to normal audio files for use on other devices. You can also keep these converted Audible files for as long as you want.