3 Ways to Play Audible Audiobooks on Google Home
Q: Does Google Home work with Audible? If yes, can I ask my Google assistant to play Audible on Google Home? I'm looking for the best solution to enjoy audiobooks on Google Home.
Audible and Google Home are created and controlled by two totally different companies. So it seems impossible to use them natively. Fortunately, there is no Audible app for Google Home, but it offers users two ways to listen to Audible titles on this smart speaker.
You can pair your Google Home speaker with your phone or computer via Bluetooth to get audiobooks. Or you can cast Audible to Google Home through the Google Home app on your Android devices.
As for controlling Audible book with a voice command for Google home, it's also a possibility. To achieve it, what you need to do is to upload Audible audiobooks to Google Play Music. After that, you can ask Google assistant to start your Audible audiobooks.
Here are three complete workarounds you can listen to Audible on Google Home device.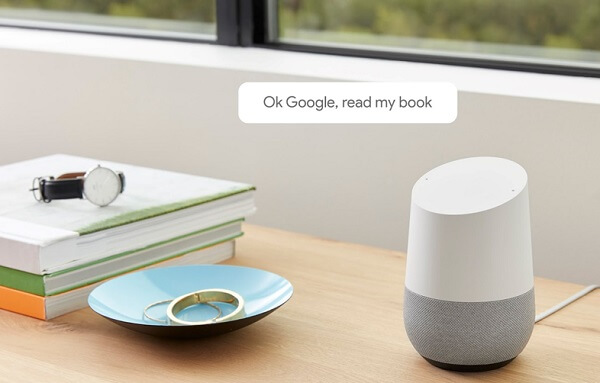 Part 1. Ask Google Assistant to Play Audible on Google Home from Google Play Music
There are many people knowing how to play Audible on Google Home using Bluetooth or Google Home app. As a matter of fact, users are eager to find a way of asking Google assistant to start titles from this audiobook app.
Under this circumstance, we will illustrate the method to link Audible to Google Home in advance. Google Play Music is the default music player app of Google Home. It allows people to use voice command to control audio playback on Google Home devices. So, you just need to upload your Audible Audiobooks to Google Play Music. It could be the best way to play audiobooks on Google Home, Google Home Mini, Google Home Hub, and many other smart speakers.
Audiobooks purchased from Audible are AA or AAX files, which can't be uploaded to Google Play Music. But don't worry. DRmare Audible Audiobooks Converter can fix it out perfectly. Specialized in unlocking Audible audiobooks, it can convert Audible AA/AAX to MP3, AAC, M4A, FLAC, WAV with 100% original quality and 100% ID3 tags kept. Besides, it's able to split a huge audiobook into small segments according to the original chapters.
Once you got the converted audiobooks, you can easily import them to Google Play Music for aking Google Home to play Audible. Now please check this brief guide below.
How to Convert Audible Audiobooks for Google Home
Step 1

Load Audible audiobooks to DRmare program

After you downloaded Audible books on your computer, there are 2 ways to add them to DRmare software. Click the first 'Add Files' button to select Audible audiobooks for playing on Google Home. Or, you can drag and drop audiobooks from your computer to the main interface. Besides, you can click the 'Edit' icon to split Audible audiobooks by chapters or customize ID3 tags.
Step 2

Customize output format for Google Home

All users can upload and store up to 50000 songs to this free music storage service. The supported audio formats for upload include MP3, AAC, FLAC, Ogg, WMA, or ALAC. It could be well noted that non-MP3 files will be converted to MP3. So we can directly choose MP3 as the output format by clicking the 'Audio' icon.
Step 3

Download and convert Audible books

Now, please click the 'Convert' button at the right-bottom corner to launch the conversion process. It will run at 100X speed to convert added Audible files to MP3 for uploading to Google Play Music.

Note: The free version of the DRmare Audible Converter enables you to convert one-third audiobooks of each file. You need to purchase the full version to unlock it.
How to Ask Google Home to Play Audible from Google Play Music
Step 1. Launch or install Google Play Music Chrome extension on your computer. And then open the Google Play Music web player.
Step 2. Click the three-horizontal-line menu from the top-left bar to choose the 'Upload Music' section. Now, you can start to select converted Audible books to upload to Google Play Music.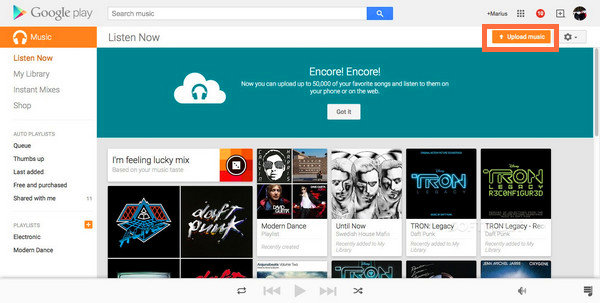 Step 3. When the syncing process finishes, you can play Audible books on Google Home Mini by voice directly. For example, you can say 'OK, Google, read [book title]' to request a specific audiobook.
Part 2. Listen to Audible on Google Home via Bluetooth
The above way is simple and effective, isn't it? But if you only want to look for a free way to listen to Audible on Google Home, you can skip to this Part. Using Bluetooth should be the easiest way to connect Audible to Google Home Mini. You have two options to pair your mobile device with Google Home.
Pair to Google Home via Voice Commands
Step 1. Activate the Bluetooth on your mobile device.
Step 2. Turn on the Google Home. Say "OK, Google, Bluetooth pairing". Then the smart speaker will automatically search the nearby Bluetooth devices.
Step 3. Choose the name of your phone and finish the connection.
Connect to Google Home by Google Home App
Step 1.Open Google Home App on your Android. Then tap on the device icon on the right top corner in the app.
Step 2. Press the '…' icon on Google Home to get into the Settings menu. Scroll to the bottom to find 'Paired Bluetooth Devices' > 'Enable Pairing Mode'.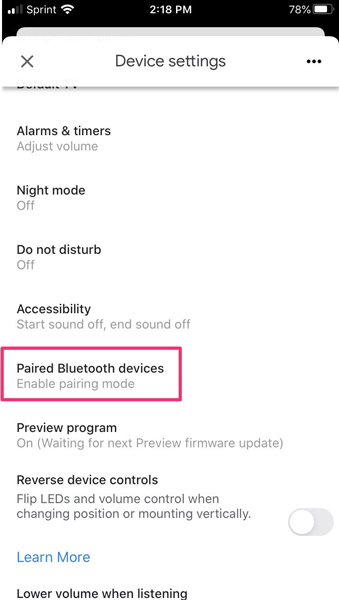 Step 3. Open the Bluetooth on your phone to connect to Google Home speaker.
Once the Bluetooth is paired, you can go ahead to listen to Audible audiobooks on Google Home by mirroring the audio from your phone.
Note: To unpair Google Home, you can tap on the cross mark on the devices already connected. Then you will get a popup screen. Simply tap on 'Unpair' to disconnect Google Home.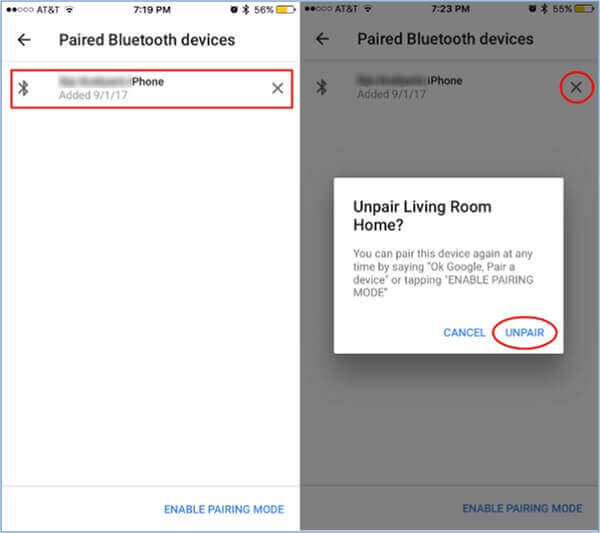 Part 3. Cast Audible to Google Home with Google Home App
Apart from the above two ways, there is also another way to add Audible to Google Home. We can cast Audible to Google Home through the Google Home app on mobile devices. But it's important to be noted that this solution is only working for Android devices. If you are using an iPhone, you are suggested to use the first or second way.
Before you start to cast the audiobooks, you are also required to download and install the Google Home app on your smart device. Then follow the steps of casting Audible to Google Home Mini below:
How to Cast Audible to Google Home
Step 1. Confirm both of your devices and Google Home are connected to the same Wi-Fi network.
Step 2. Open the Google Home app on your phone. On the main screen, click the burger button then choose the 'Cast screen/audio' menu.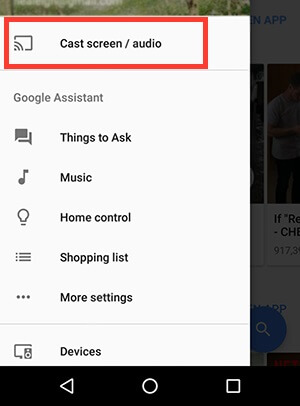 Step 3. Once you see the name of your mobile device, tap it, and click 'OK' to confirm.
Step 4. After that, launch the Audible app on your phone and start to play the audiobooks. Then the audio will be cast to the Google Home speaker without lag.
Part 4. Final Verdict
In the foreseeable future, it seems unlikely that you can use Audible with Google Home devices natively. So don't miss the effective 3 ways to play Audible audiobooks on Google Home.
By the way, if you want to control audiobook playback via the voice command, the first way seems the best option. With the help of the DRmare Audible Converter, you can ask Google Assistant to read Audible audiobooks.