As a wonderful home sound system, Sonos allows you to listen to pure and immersive sound at home room by room. Because of its superficial sound quality, more and more Audible addicts like playing audiobooks on Sonos. But after an update in late 2015, Sonos has been incompatible with existing Audible integration on its wireless speaker for a long time.
As a result, when you enter into the community of Sonos, you will discover that Audible fans are eager to get Audible back working on Sonos system. As a matter of fact, there are some alternative ways to make Audible audiobooks playable on Sonos. So, in this article, I will introduce some useful suggestions to get Audible files on Sonos freely.
View also: How to Play Spotify on Sonos

Part 1. How to Play Audible Audiobooks on Sonos via Line-In Connection
Fortunately, some Sonos products are able to be connected with an external audio device, such as phone, table and computer via Line-In connection on the back of Sonos speaker. But you have to pay attention that not all Sonos products have a line-In connection.
In order to use Line-In connection to listen to Audible audiobooks on Sonos, you should equip with one from the following Sonos speakers, including Sonos PLAY:1, PLAY:3, PLAY:5, PLAYBAR, PLAYBASE CONNECT and CONNECT:AMP. Plus, a mobile device or computer playing Audible files and a corresponding audio cable are required to get started.
Step 1. Please connect your mobile device with Sonos product via audio cable to the Line-In connection on the back of Sonos production.
Step 2. Open the Sonos Controller app to go to More Menu ->Settings > Room Settings and choose the Sonos product you have the line-In connected to.
Step 3. Tap Line-In tab -> Autoplay Room, select player name from the Autoplay menu, and close the window to save all settings.
Step 4. Start to play Audible audiobooks on your mobile device, and audiobooks will be played through Sonos automatically.
Part 2. Can I Play Audible Audiobooks on Sonos without Line-in Connection
Using Line-In connection is the easy method for listening to Audible audiobooks on Sonos speaker. However, it can't be denied that there are some drawbacks by this way. What if your Sonos home sound system doesn't have the function of Line-In connection? Even if equipped with this feature, you have to play audiobooks on the authorized players, like iTunes, Windows Media Player or Audible Manager and keep your devices connected with Sonos product via an audio cable.
So, is there another approach to stream Audible audiobooks to Sonos for playback, just like streaming common audio files to Sonos with the same Wifi network? Fortunately, the answer is positive. The only thing you should do is to convert Audible audiobooks to common audio files by removing DRM protection from them. And then you can play unprotected Audible audiobooks on Sonos speakers with the same Wifi network.
Part 3. How to Listen to Audible Audiobooks on Sonos by Removing Audible DRM
DRmare Audible AA/AAX Converter is an all-in-one Audible DRM removal tool, which is specially designed to bypass different audio DRM copyright protection. With the clean and safe UI, this smart Audible audiobook converter is capable of keeping 100% original quality while removing DRM restriction from Audible files, including ID3 tags, audio codec, bit rate, sample rate, etc. Besides, you can use this software to convert Audible DRM AA/AAX files to MP3, FLAC, WAV and other common formats by doing a few clicks.
View also: Top 5 Best Audible Audiobook Converters
DRmare DRM AA/AAX Audiobook Converter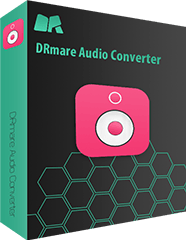 Strip DRM limitation from Audible AA/AAX audiobooks, iTunes audiobooks, etc.
Encode Audible AA/AAX to MP3, AAC, M4A, FLAC and other formats
Personalize converted audio files with built-in ID tag editor and splitting function
Run at a 30X faster speed to convert all Audible books with parallel processes
Now, you can refer to the following tutorial to remove DRM protection from Audible audiobooks with using DRmare Audible Audiobook Converter.
Step 1

Load downloaded Audible audibooks to DRmare

There are two ways for you to import Audible DRM .aa and .aax files to DRmare software. The more intuitive method is to click the first "Add Files" button at the bottom left of the main interface. The other way is to add Audible downloaded audiobooks via dragging&dropping action. Audiobook converter supports batch conversion, so you can import all Audible files to it once.
Step 2

Choose the output format for Sonos

Since Sonos supports multiple audio formats, like AAC, MP3, OGG, WMA, FLAC and more, you can click the "Format" option to open the format list and choose one format compatible with Sonos as the output format. With built-in splitting function, this professional tool also supports cutting and trimming imported audiobooks via chapters, time and others according to your needs.
Step 3

Remove DRM and convert Audible audibooks

After getting ready for all the conversion necessity, please click the "Convert" button at the bottom right of the main screen. DRmare Audible DRM removal software will get rid of DRM protection and convert them to DRM-free audio files. The conversion time depends on the number of audiobooks you added.
More Tips: How to Play iTunes Audiobooks on Sonos
From the FAQ of Sonos community, lots of iTunes fans have no idea about playing iTunes audiobooks on Sonos. So, here, I will also show you how to listen to iTunes audiobooks on Sonos. Audiobooks purchased from iTunes have different licensing rights, called FairPlay DRM technology, which leads iTunes audiobooks can be downloaded only once and playable on iTunes and selected Apple devices. That is to say, systems like Sonos can't recognize iTunes DRM audiobooks directly.
Fortunately, DRmare Audible Audiobook Converter can not only work on removing Audible DRM protection, but also has ability to break the lock of FairPlay DRM protection. Therefore, you can follow the tutorial given above to remove DRM protection from iTunes audiobooks and convert iTunes M4A and M4B audiobooks to MP3 or other formats. After that, you can stream unprotected iTunes audiobooks on Sonos with the same Wifi network freely.