Audiobook is a great companion for us especially when we are going for a long flight trip or car journey. As one of the world's largest online spoken audio stores, Amazon's Audible.com has become the most popular place for all audiobook listeners to purchase any audiobook from over 200,000 titles. Customers are required to sign up Audible membership with $14.95 monthly fee in order to buy books from the store. Apart from the subscription fee, each audiobook on Audible costs around $25 or so, making Audible the most expensive audiobook seller as well. Therefore, it's necessary to find another way out. Some are seeking for the cheaper alternatives to Audible, some are looking for solutions to get Audible books for free. As we already introduced the top 8 Audible alternatives a while back, we are going to focus on the best ways to download free Audible audiobooks here, including how to join Audible membership as well as how to download free audiobooks from Audible without paying.
View also: How to Get Spotify Premium Free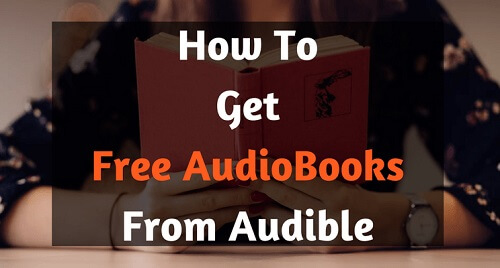 Method 1. Get 2 Free Audiobooks on Audible with Trial Plan
If you haven't joined Audible membership yet, then this method will be the best for you and give you any two free audiobooks on Audible store after you successfully signed up its 30 days free trial plan.
Tips: For subscribed Audible users, you can simply skip to the second method as below.
Audible 30 Days Free Trial Plan
Before getting started, let's get a brief look at Audible's free trial plan. Specifically speaking, it's provided for people who want to give the service a try before sticking to the paid membership. The whole plan has a validity of 30 days in total, during which you can download any 2 audiobooks for free from top sellers to new releases and more. You don't need to worry about the cost as you can cut ties from Audible at anytime before the free trial ends. If you want to keep using the service after 30 days, you will be charged $14.95 with a free audiobook offer each month. But if you ceased the membership after using the trial plan, you can still keep those 2 free audiobooks downloaded from Audible forever. That's the solution we are talking about here. Now you'll see the complete guide to easily get the 2 free audiobook from Audible with the free trial service step by step.
Step 1

Sign up Amazon Audible account

Go to Audible.com, click Sign in option at the top right or Try Audible Free in the middle banner. Then you'll be directed to the page where you should sign up an Audible account firstly.
Step 2

Start 30-day free trial

Once registered, log into your account, click Account Details option. Then you'll see the introduction of Audible membership plan. Tap Start your free trial. Then you'll be navigated to the step to enter your credit card and personal info. After that, click Start Free Trial to finish the subscription.
Alternatively, you can click the shopping cart icon once you logged into your account. Then you'll be required to order the 30-day free trial plan at $0.0. Simply follow its instructions to add the credit card info and complete the order.
Step 3

Download 2 free audiobooks from Audible library

Now you'll be ready to download any 2 free audiobooks from Audible once you successfully subscribed the 30-day free trial service. You can browse the whole Audible store from best-sellers, new releases to classics to find the specific audiobook you want to download. Then click the Add to Cart button to get and save the books on your computer for free.
Note: To avoid the account from automatically deduct subscription fee once the trial ends, you are highly suggested to cancel the free trial plan once you downloaded the 2 free audiobooks from Audible.
Useful Tips: Play Audible Audiobooks Anywhere
Once you downloaded the free Audible books as expected, they'll be saved in your account library, allowing you to listen to the audiobooks on computer with any media player. However, if you are trying to transfer those free Audible audiobooks to mobile devices, it will be a different story as you'll find out only a few devices are supported to play the books. In fact, that's because Audible audio books are encoded with DRM policy in AA, AAX formats. You are not allowed to copy the files to non-authorized MP3 players for listening. If you want to listen to Audible audiobooks anywhere, you should use a special Audible DRM removal app such as DRmare Audio Converter to crack the DRM for good. For more details, visit this guide: How to Convert Audible AA/AAX to MP3.
View also: Top 5 Best Free Audio Recorders
Method 2. Download Free Titles from Audible at Anytime
In fact, no matter you are using free trial or paid accounts, Audible offers free audiobooks for all customers. To get the free titles, you can simply enter the "free audio books" keywords in the search bar of Audible store, and you'll be given a large number of free audiobooks varied from different genres. To get those free audiobooks, all you have to do is register an Audible account. The limit of this method is that you can't get any audiobook for free, but only random titles provided by Audible.
Step 1

Browse free audiobooks on Audible

Once you logged into your Audible account, go to search bar and enter "free audio books" or something like that and click Enter. You'll get the list of all free books on Audible in different categories.
Step 2

Order the books for free

If you locate any book that you want to listen to, simply click Add to Cart button and complete the order as required without paying.