Kanye West is one of the famous celebrities with lots of controversies. Such as he declared that Beyonce had "the best video of all time." on Taylor Swift's acceptance speed. He named one of his album as "Yeezus", a play off Jesus. His plan to run for the 2020 president of USA. Especially because of his speech "slavery was a choice", Kanye West is officially cancelled. #CancelKanye is a popular hashtag in Twitter and many fans abandoned him.
So is Kanye West still a huge star? Sure. Kanye West is an undeniable popular and talented rapper, singer, songwriter, producers in USA. He has sold over 120 million records worldwide and won a total of 21 Grammy awards, making his one of the best-selling music artists and the most awarded artists of all time.
If you enjoy music from Jay-Z, Drake, you will like Kanye West songs and albums too. Just follow this tutorial to learn more about him.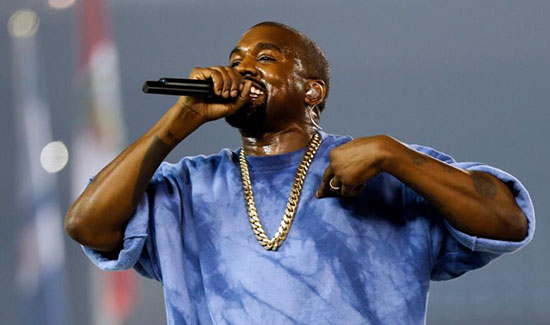 Part 1. Things You May Not Know about Kanye West
Kanye West was initially famous as a producer. He makes beats for other stellar rappers Talib Kweli, Mos Def, Ludacris, Alicia Keys and Beyonce. The Jay-Z's album Blueprint which is cooperated with Kanye West has become a top selling and album. After that, he wants to be an independent music maker and hip-hop singer. Here are the top 7 things about him.
1. His full name is Kanye Omari West, born in Atlanta in June 1977.
2. When he is 10 years old, he stayed in China for over a year with his mother who taught English in Nanjing University.
3. In 2002, he has a fatal car accident. During his recovery in hospital, he continue to produce music "Through the Wire" which is his debut single.
4. Kanye West drop out of Chicago State University and compose the album "The College Drop-out".
5. He was engaged to a fashion designer Alexis Phifer and he married Kim Kardashian in May 2014.
6. His favourite band is Franz Ferdinand which is a group of indie artists from Glasgow.
7. More than 50% of Kanye West tracks are cooperated with others.
Part 2. Kanye Music from Best to Worst
The last album West has on Billboard 200 Chart top list is "Ye" released 1 year ago. It's the 8th No.1 album of Kanye on billboard. For the past year, he has been working hard on the upcoming album "Yandhi". Kanye has premiered a new track "We'll Find A Way". This album has been delayed. While waiting for it to be released, we can take a look at the previous best Kanye West albums and tracks.
Top Kanye West Albums
My Beautiful Dark Twisted Fantasy - Released in November 2010, it is considered as the best work of Kanye and it received widespread acclaim from critics.
Yeezus - Released in 2013, is Kanye's sixth consecutive number debut on Billboard 200 chart though it has been characterized as West's most experimental work.
Late Registration - This is his second album released in 2015 with edges in musical terms. It is created with the cooperation of film score composer Jon Brion and other talented people.
The College Dropout - A Striking album with the constitutive elements of his style: complicate hip-hop beats and topical subject.
Graduation - Released in 2007, this album is more introspective and the sound is fantastic.
Best Kanye West Songs
Just like legend stars Stevie Wonder, Elvis Presley, Elton John, Kanye West is one of the male artists that had the most top hits on the US billboards. Following are the top songs you shouldn't miss.
"MAMA", "Watch", "Number", "Ye vs. the People", "Figure it Out", "Lift Yourself", "What Would Meek Do", "Yikes", "I Won", "Digital Girl Remix", "Dat Side", "KANGA", "Let's Get Married", "Can't Say No", "I Thought About Killing You", "All Mine", "No Mistakes", "Wouldn't Leave", "Violent Crimes", "Ghost Town".
Part 3. Best Sources to Kanye West MP3 Free Download
Kanye West music is available from many platforms including free and paid ones. Following are the best websites I'd like to recommend.
Spotify
Spotify is the pioneer and largest music streaming source in the world. It offers both free and paid tiers services. You can find and listen to Kanye's music for free when you are at work or doing sports. For a free account, the music quality can reach up to 160Kbps on computers and 96Kbps on mobile devices.
One thing you need to note is that Spotify free subscription doesn't support offline listening. If you'd like to download Kanye West's songs as MP3 for offline listening with paying for the Premium, you can also use a third party Spotify Music Downloader for Mac from DRmare. You just need to launch the software, import your songs and click "Convert" button. The trial version is totally free, so please feel free to try it out.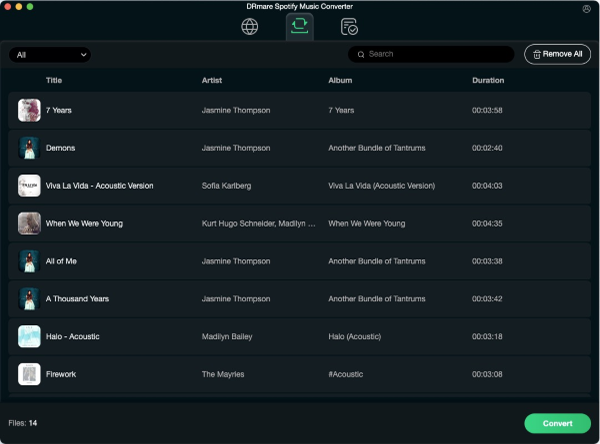 YouTube
YouTube is mainly known as a best place for watching videos. The good news is that many artists release their music videos on YouTube including Kanye West. If you enjoy music videos, YouTube is a second-to-none choose. To save the video offline, you just need to use a free YouTube downloader. Just search such tools from Google and you will find a lot over there.
Apple Music
If you are an Apple fan, it is a better idea to subscribe to the built-in Apple Music. This service stream music at AAC codec with up to 256Kbps. The sound is crystal clear and it doesn't fall flat compared to any other platforms. But unlike Spotify, Apple Music doesn't offer a free trier service. Fortunately, you can try the 3 Month Apple Music free trial out. In addition, Apple constantly provide free giveaways and there are other ways to get Apple Music free, please pay some attention to Apple's official website.