The first time I hear the top single Happier was on "The Voice" finale on Dec. 18 when the DJ Marshmello join the British band Bastille to preform it.
This song is currently stands at No.1 on the US Dance Charts and top 40 Radio AirPlay charts, making it the unprecedented success for such category of music.
I really love this song for its sad story, touching melody, beautiful lyrics and I made it my iPhone ringtone after that. Also, because Marshmello always wears the white custom helmet, making him so mysterious.
I can't resist to search info online to learn more about Marshmello and his other best songs. If you are also a dance music lover, you can follow me to learn the details and download all Marshmello songs to MP3 for free.
See also: How to Download Ariana Grande Songs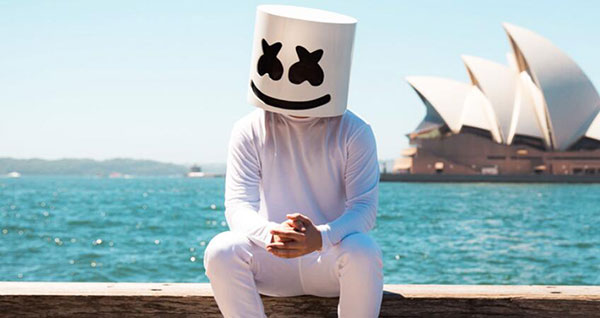 Part 1. Who Is Marshmello and Bastille?
Marshemello Identiy Reveal
Few fans know about Marshmello's identity initially because he wears mask all the time, inspired by DJ Deadmau5 who did the same thing with a dead mouse mask. Then Forbes confirmed that his real name is Chris Comstock, also known as Dotcom, is an American electronic music producer and DJ.
According to Marshmello, he don't want to take his mask off because he don't want or need fame and he just like to focus on creating great music that anyone like. He first gained international recognition by releasing remixes of songs by American DJ Jack U and Russian-German DJ Zedd. And he released debut studio album Joytime, Joytime 2, Joytime 3 and is well known for the songs "Silence", "Wolves", "Friends", "Happier" and so on.
Bastille
Bastille is a British band formed in 2010. The name derives from Bastille Day which is Smith's birthday too. It began as a solo project by lead vocalist Dan Smith. Later it expanded to include keyboardist Kyle Simmons, bassist and guitarist Will Farquarson and drummer Chris Wood.
Their well known albums are Bad Blood, All This Bad Blood, Wild World, Doom Days, Other People's Heartache.
Part 2. Top 10 Best Marshmello Song List
Marshmello music covers many different genres and styles from future bass to electronic trap. If you are an EDM fan, you should definitely not miss these top 10 list. It includes the old Marshmello songs, singles and new tracks.
#1: "Find Me"
As the title suggests, this seems a song to make fun of himself about the mysterious mask-wearing type. It is from his debut album Joytime and is full of Marshmello's signature.
This is the intro track to Joytime. It is another track to learn more about Marshmello.
#3: "Magic" with Jauz
Jauz and Marshmello are super friends. "Magic" is created when they get together. It is adorable and wonderful.
#4: "Summer"
It is a warm love song that will make you smile. Yet there is a tiny hint of melancholy there, what makes it a terrific songs.
#5: "keep It Mello" feat. Omar LinX
This is the ultimate song of Joytime which feature the vivid Marshmello character. In this music video, he roams the streets while treating and terrorizing the neighborhood.
#6: "Alone"
It is not easy to enjoy being alone. But if you can keep on pushing and just be yourself, others will come around. It is one of the best Marshmello songs with high-pitched vocal.
#7: "Ritual" feat. Wrabel
It contains a soulful vocal from Wrabel and a comfortable rhythm, making it a perfect song.
#8: Wlolves feat. Selena Gomez
It opens with meloncholic acoustic guitar. Selena Gomez's raw vocal sounds great. In this song, you will find a softer, deeper side to Marshmello.
#9: "Silence" feat. Khalid
This is a crossover collaboration with the R&D star Khalid, taking Marshmello's career to the next level.
#10: Happier feat. Bastille
"Happier" is another brand new single by Marshmello and Bastille. The theme of this song is to embrace the pain that we feel losing someone close to us. This is what made us happier.
Part 3. How to Marshmello Music Videos from YouTube for Free
Marshmello is initially known by uploading free songs to SoundCloud, you can download the free MP3 from SoundCloud. But if you'd prefer the music videos which are more vivid, you can download them from YouTube with a free YouTube Downloader Online.

1. Visit the savefrom.net free YouTube downloader online.
2. You can locate the link of the Marshmeloo music videos which you want to download and paste it to the input box of the downloader.
3. Click the small "arrow" icon, it will search the resource quickly and you can click the button "download video in browser" and then click "Download".
4. It takes a quick while to download it and just wait patiently.
Part 4. Batch Free Download Marshmello Song List from Spotify
With a free audio recorder or video downloader, it does work well to get the all the songs you want for free. But there is a small shorting that it takes real time to record songs or videos.
For your convenience, we'd recommend you download them in batch from Spotify by using the DRmareSpotify Playlist Converter for Mac/Windows. How? Just generate all the Marshmello playlists, albums you want from your computer and then batch import them and convert them within 1 click.
Why DRmare Spotify Song Downloader Is Better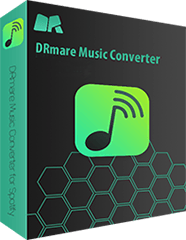 Full Spoitfy music category support, download any playlist, track freely with 5X speed
Automatically archive your converted songs by album, artist and so on
Multiple output settings such as M4A, MP3, M4B, AAC, WAV, FLAC
The converted files can be played on unlimited portable Android/iOS devices, etc.
Apple Music is combined with the FairPlay DRM protection, limiting any subscriber to distribute the songs elsewhere. DRmare use the same mechanism to reverse the process, so users can get better use of the software.
Save Marshmellow Songs Offline In Batch
Step 1.Located the Marshmello songs or playlists you want from Spotify. You can generate your own playlists.
Step 2. Launch DRmare software and then drag & drop to import any playlists you want from Spotify.
Step 3. Keep the default MP3 format or choose a new format according to your preferences.
Step 4. Select an output folder on your computer and click "Convert", all your songs will be converted in a timely manner.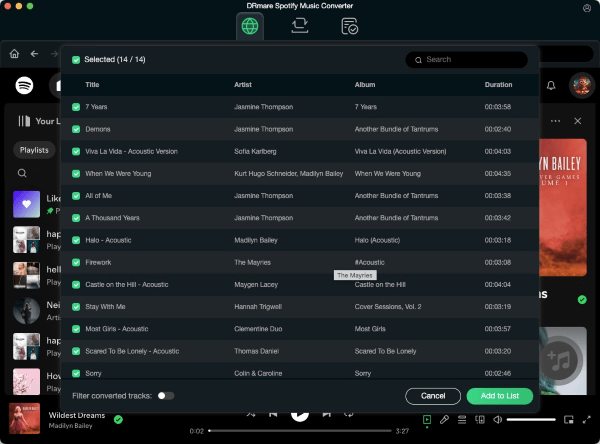 That is it. The DRmare Spotify Music converter is not free, but it can save you a lot of time. This is totally worth it if you want to import multiple songs. One thing you need to pay attention is that the software is only for personal use, so please don't try to sell the songs for making money.