Since Amazon introduced the Echo with Alexa in 2014, smart speakers has been booming in the world. Google offers the Google Home powered by Google Assistant; Apple releases the HomePod with Sierra and a lot to third party smart speakers come with Alexa, Google Assistant and Microsoft Cortana.
A smart speaker can not only help you get the latest news, play music but also control your smart home devices etc. But every one is usually tied with the specific smart assistant and ecosystem it comes with, so pay some attention to the difference before buying is really necessary. Here we will do a quick review of the best smart speakers of 2018.
1. Amazon Echo Spot $129.99- Best Overall Smart Speaker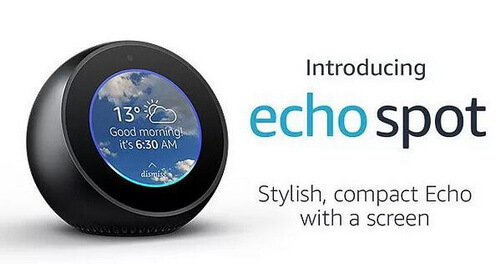 Amazon Echo line is powered by the most competent voice assistant Alexa which have thousands of skills and supports different voices. The product line contains several smart assistant devices to serve different purposes. And all of them supports a series of streaming service Spotify, Apple Music, iHeartRadio and so on. They are best smart speakers for Spotify users. The Echo Spot is one of the few speakers which have the touch screen display, making easiest ever to have a video call. Compared to the Echo Show, it is not only cuter but also in a lower price. It is a non brainer if you'd like to experience a little more about smart home features.
View also: How to Stream Apple Music on Amazon Echo
2. Google Home $129.00- Best Design Smart Speaker
In terms of device diversity, Google also create multiple versions on the smart home product link. Google Home is released in 2016 by Google to complete with Amazon's Echo directly. Excepts for the difference between the voice assistance Alexa and Google Assistant, Google Home looks much more cuter and the voice quality is a little more superior to Echo. Besides, it works very well with Chromecast compatible device, Google Play Music, YouTube Red etc.
View also: How to Play Audible Audiobooks on Google Home
3. Amazon Echo Dot $49.99 -Best Budget Smart Speaker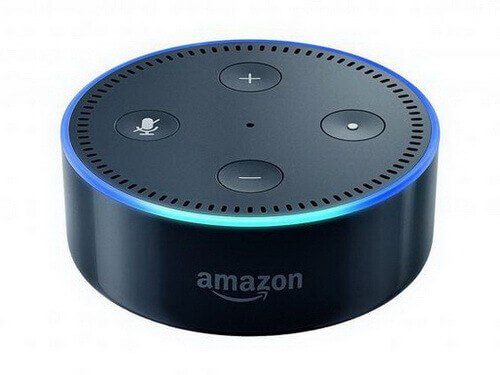 This is the most affordable speaker from the Echo line. It costs only $49.99(Sometimes$29.95 during promotion). It combines the features of Alexa, Bluetooth, WiFi, multi-room support and so on. The drawback is it may not sound perfectly when playing music. Luckily, it has the physical 3.5mm Aux port which enables you to connect to another speaker if you'd like to have a better listening experience.
View also: Listen to iTunes Audiobooks on Echo
4. Google Home Max $399.00 - Best HiFi Smart Speaker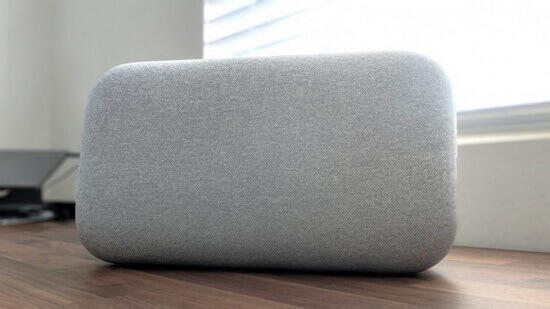 Google Home Max is the best smart speaker for music released in 2017. It supports the Google Assistant with a large number of services such as controlling playback of music, video, home automation. This still can't do as much as Alexa, it has been keeping on catching up and the gap is gradually closing. The best part of Google Home Max is the only smart device in the category which offers HiFi quality.
View also: How to Stream Apple Music on Google Chromecast
5. Apple HomePod $349.99- Best Smart Speaker for Apple Die-hard Fans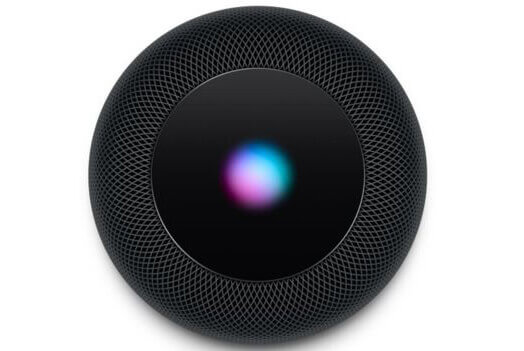 Apple HomePod was released not long ago on February 2018. It is powered by the Siri system which is not so effective and limited to a few phones. And it is not able to play any local music. The reason why I still recommend it is because it support the iOS device like iPhone, iPad, iPod. The A8 processing chip makes it has almost the same music quality as the Google Max, making it the best smart speaker for iPhone. If you have subscribed to Apple Music, want to control Apple Home Kit or you have invested a lot on other Apple devices, HomePod will be a great companion.
View also: How to Play Apple Music on HomePod
6. Sonos One $199.00- Best Third-Party Smart Speaker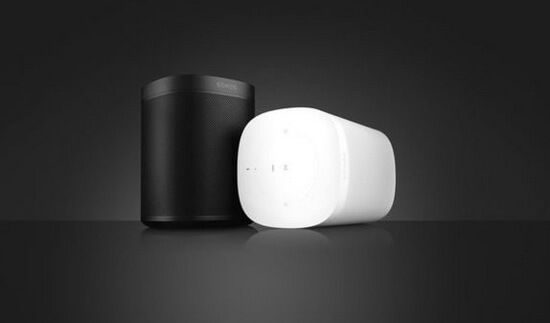 When talking about multi-room audio speaker, Sonos is ranked in the top 1 for years. Sonos products are compatible with almost all the audio streaming services like Spotify, Audible, Tidal, Google Play Music. The sound quality is compelling. This Sonos One device has already have the Alexa in it now. Also, it promise to add Google Assistant in the coming days. It is also the only device which will have two assistants.
View also: Audible Audiobook Service Finally Return to Sonos
7. Harman Kardon Invoke $138.96 - Best Smart Speakers to Receive Calls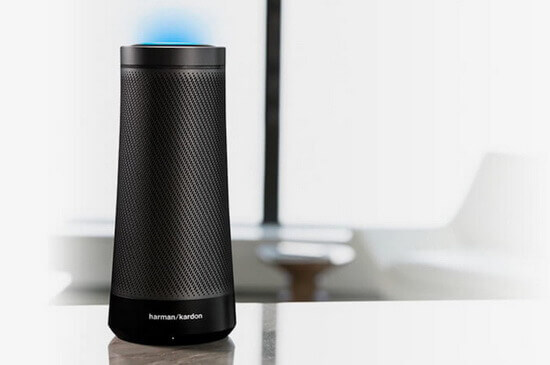 Harman Kardon Invoke is the only smart speaker with Cortana assistant. Frankly speaking, Cortana is one or two generations behind the Alexa, Google Assistant. It still doesn't support most smart home kits except only some devices from SmartThings, Nest, Philips etc. But it has the unique feature to help you receive calls. If you'd enjoy this features, Harman Kardon Invoke is a good option, otherwise we'd not recommend it.
8. JBL Link 20 $199.95- Best Portable Smart Speaker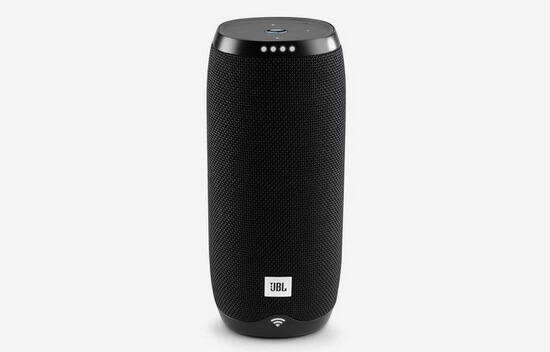 This is another best google assistant speaker. Almost all the speakers mentioned above require you to plug in to a power outlet to work. JBL Link 20 is an exception. You can simply take it everywhere. The battery support at least 10 hours heavy use. With the Google Assistant support and the compelling sound quality, it is undoubtedly the best portable audio player.
What Should We Look for
There are still a lot of devices which we didn't list here such as the famous Echo Plus/Show/Tap, Google Home Mini etc. It really doesn't mean they are bad but because there are similar better products in the list. We just want to try our best to cover as many smart speakers as possible in different aspects.
To choose a best smart speaker, you can consider what kind of features you cares most and what ecosystem you want to bind your streaming devices to. Do you use it for playing music, receiving calls, setting up a timer or to-do list, controlling home gadgets? What kind of music you enjoy, Google Play Music, Amazon Music, Apple Music? What kinds of smart home devices do you have? Also, you can opt for multiple types of smart speakers if you really don't care about spending extra money.
Do you have any thoughts or questions on this topic? Just type in your comments below, we will try our best to help you out.