Amazon Echo is a brand of smart speakers including Echo Dot/Tap/Look/Show/Spot/Plus created by Amazon. Similar to Google Home, Apple HomePod, these kinds of speakers are capable of controlling your home devices. And they can do lots of tasks through voice interaction. Such as adjusting the thermostat, offering weather report, real time traffic info. All these are done through the intelligent voice assistant called Alexa. After its first release in 2014, it quickly become widely available in the market in 2015.
As a smart speaker, Echo can makes your home more smart. Also, it provides you awesome experience of listening to podcasts, audiobooks, music. It supports many music services like Amazon Music, Spotify, Pandora, iHeartRadio, TuneIn. But can you connect Apple Music to amazon Echo as it doesn't seem to exist on the speaker? Here we will walk you through with the all the helpful tips blow.
View also:
How to Stream Apple Music on Homepod
How to Stream Apple Music on Chromecast
How to Listen to iTunes Audiobooks on Echo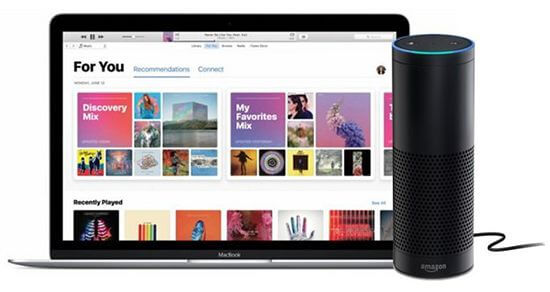 Part 1. Connect to Apple Music to Amazon Echo Through Bluetooth
Apple Music doesn't come with the Amazon Echo by default and we still don't when it will be available on Echo. But don't worry, it doesn't mean that you can't let Alexa to Play Apple Music for you. With the Bluetooth support, you can directly connect your Echo to your iPhone or any other mobiles phones or computers with Alexa. It will work as a Bluetooth speaker.
Step 1. Turn on the Bluetooth option on your Echo. To put Echo in Bluetooth mode, you can simply say 'Alexa, Pair'.
Step 2. Pair your Bluetooth device to the Echo device. Make sure your device is within the range of your Amazon Echo. Then open your phone/computer, go to Settings > Bluetooth. You will see the Echo under the available devices tab and you can simply tap the Echo device to connect. Or you can say 'Alexa, Connected to Bluetooth'.
Step 3. Start streaming Apple Music from your phone/computer to Echo. After that, you just need to play the music you want. Everything playing on your phone will be automatically streamed to the Echo.
Step 4. To stop the connection, you can say 'Alexa, disconnect'.
Note: If paired with many devices, the Echo speaker will only connect to the most recently paired one.
View also: How to Play Audible Audiobooks via Bluetooth
Part 2. How to Link Apple Music to Amazon Echo to Play Easily with Alexa
Bluetooth offers a workable and pretty good way to listen to Apple Music, but it is not perfect. Sometimes it is not so convenient because you have to carry your mobile phone/computer on all the time. Is it possible to upload Apple M4P files to Echo so that they will be supported natively by Alexa?
Many users may doubt this because all Apple Music files are in an encrypted format M4P with FairPlay DRM protection. Under DRM protection, the digital music files are only playable within Apple's ecosystem like iPod, iPhone or iPad. That is right. But with the development of technology, removing DRM protection is not a new thing anymore. And it is totally legal as long as you are use it for personal. DRmare Audio Converter for Mac/Windows is one of the best tools come in this situation for rescue.
DRmare Apple Music to Echo Converter
Are you hurry to find out how it works? Just download the trial version and follow me to use it immediately. To convert more smoothly, please make sure you have downloaded and prepared all the Apple Music files on iTunes already.
Step 1

Add the Apple Music which you want to convert

I would recommend you to drag & drop the M4P music files directly from iTunes if you just need to convert a few songs. Else if you have hundreds of thousands of music, you can click the 'Add Files' button to browse and select them within several clicks.
Step 2

Turn M4P into plain music files

DRmare supports many widely used output formats like MP3, FLAC, AAC, MAV. You can pick up the one you prefer. Apart from selecting the output format, you can also edit the tags, customize the playback parameters. So that to make your songs more personalized.
Step 3

Batch remove DRM within 1 click

No matter how many files you want, DRmare Audio Converter will handle them within one click. The converting speed will reach 30X faster speed. I am so surprised when I use the software for the first time. I am grateful that DRmare software saves me so much time in doing this.
Step 4

Upload Apple Music to Amazon Cloud

To do this, you can download the Amazon Music app for PC or Mac. And then you will be able to upload your music to Amazon Music cloud service with ease. Just follow the screen wizard. When it is done, all the music will be able to accessible by Alexa. You can simply use the command 'Alexa, play Amazon Music' to play them. Note: You are only allow to upload 250 songs to Amazon Music for free. For more music, you are recommended to subscribe to the Amazon Music.
Part 3. Quick Summarize
Now you have learned the two best ways to stream Apple Music to Amazon Echo, which one do you prefer? It depends everyone's requirements.
In the first solution, you don't need any extra software or devices to complete the job. The drawback is that you need to setup the Bluetooth connection all the time. It will be good if you only enjoy music time from time. However, if you are a heavy music lover, obviously the second way will be of much value to you. Though the paid version of DRmare Audio Converter for Windows/Mac may charge you $34.95, it is totally worth it. You will get thousands of DRM free music and lifetime free update service. With only an extra step to remove DRM from thousands of all your music files, you can listen to them freely anytime on Amazon Echo by asking Alexa. It is an once and for all solution.
Do you think so? Let's know your thoughts by comments below.