Notion is an around and cloud-based workspace tool. It allows users to collaborate on documents, tasks, and more in real time across different devices. Also, it supports to create a task list, import calendar events, projects, and so on. Not only that, users can insert kinds of media in their project, like audio, image and so on.
Today, in this post, we will show you how to embed Spotify playlist in Notion for your page. We know that Spotify is a large music platform and it is popular. So, most people may want to know how to add Spotify playlist to Notion. In this case, users not only can make a wonderful page, but also can show off their liked music and recommend music to others. Now, follow this article to learn how to do that.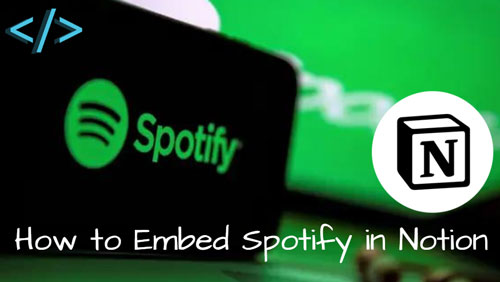 Part 1. How to Embed Spotify Playlist in Notion on Mobile/Desktop
First, it is noted that there is no a direct bock in Notion for you to add a Spotify playlist or podcast. But, you can embed the shared link of Spotify playlist in Notion via the embed block in the Notion app. Now, we will show you around how to make it step by step.
On Laptop/Desktop:
Step 1. Enter the Spotify web player and log in to your account. And then locate the playlist or podcast you like to add.
Step 2. Hit on the 'three-dots' icon next to the name of the playlist or podcast. Then choose 'Share' > 'Copy Embed Code'.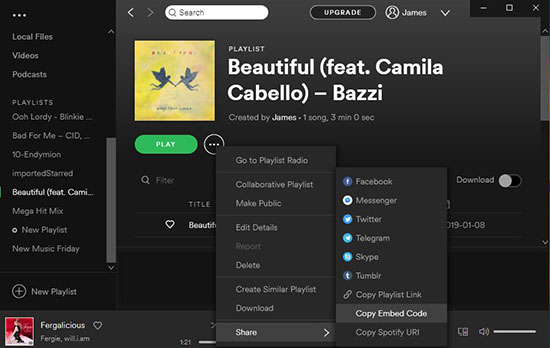 Step 3. In the 'Embed code' window, you can alter the color, size, or else. After that, click on the 'Copy' button to copy the embed code. If you don't see the code, then tick 'Show code' to view it.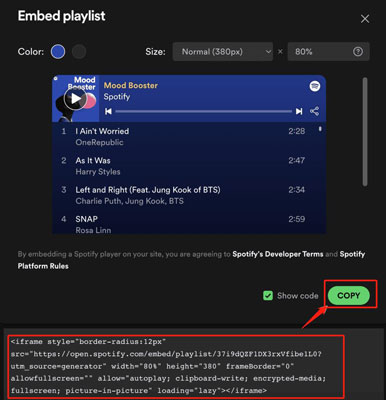 Step 4. Start the Notion app on your computer. If you haven't installed it, then head to download and install it.
Step 5. Open a page that you want to embed Spotify into Notion template. Then use the '/' keyboard shortcut to launch the quick action.
Step 6. Type '/embed' and then click on the 'Embed' option from the list.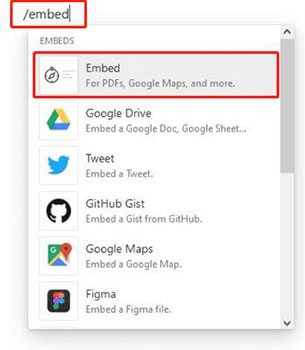 Step 7. Now, put the code or link of Spotify playlist and then hit on 'Embed link'.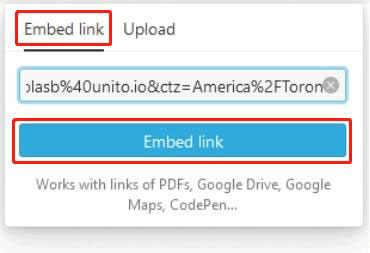 View also: How to Embed Spotify Playlist to Website
On Mobile Device:
Step 1. Open the Spotify application on your Android or iOS device and sign in your account. Then find the playlist you want to embed into Notion page.
Step 2. Next, head to copy its shared link or embed code by click on '...' > 'Share'.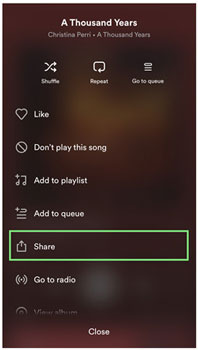 Step 3. Launch the Notion mobile app and open the page where you want to add Spotify playlist.
Step 4. Touch the '+' icon at the bottom left corner on the page and then click on 'embed'.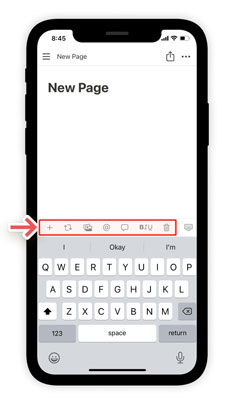 Step 5. Put the shared link into the blank box and click on the 'Embed link' button.
After the steps, you will successfully add Spotify to Notion and you will get a Spotify Notion widget on your page. Then you can click on the 'Play' button to stream music.
Note: You can also add song/album/artist from Spotify into Notion and the process is quite the same as inserting a playlist. By the way, the embed Spotify playlist/song/podcast/album in Notion can only be played the first 30 seconds of audio due to the restriction of Spotify and Notion.
Part 2. How to Add Spotify to Notion - Best Way
From above, we show you how to embed Spotify in Notion on desktop and mobile devices. Yet, the Spotify audio content you embed can only allow you listen to the first 30 seconds, not a whole audio track. In this case, you may wonder if there is a way to insert a complete song from Spotify to Notion. Now, we could tell you that the answer is yes. Notion also allows users to upload local music files for use in their project. So, you can upload Spotify music to Notion and add it to your page.
DRmare Spotify Music Converter is the tool to help you now. Spotify songs have limitations that can't let you use them on other platforms like Notion. But DRmare Spotify Music Converter can remove the restrictions from Spotify audio content. After that, you can move and put Spotify music files on other platforms for use without any limits.
Besides, this tool can help convert Spotify music to MP3, FLAC and more plain audio formats. Also, it can save the ID3 tags and original quality of Spotify audio files after converting. You can also customize the audio bit rate, channel and more for Spotify audio tracks. And this program can work at a fast rate. After the conversion, you will get local Spotify songs/playlists and more and you can embed Spotify into Notion for playing.
DRmare Spotify Music Converter
Now, in this part, you will learn how to download and convert Spotify to plain audio files for use on Notion. Please follow the guide below and start the process.
Step 1

Open the DRmare Spotify Music Converter

Click on the 'Download' button above and then install DRmare Music Converter on your computer. After that, open it and go to the pop-up Spotify music app. Then locate any audio tracks you like to use in Notion. And then drag the track to the DRmare tool. Or, copy the link of the soundtrack and put it into the blank bar on DRmare tool. After that, click on the 'plus' icon.
View also: How to Convert Spotify URI to MP3
Step 2

Reset output format for Spotify Notion

After importing Spotify files to DRmare, then you can head to reset the output audio parameters. Please click on the 'Preferences' option after clicking on the 'menu' icon on DRmare tool. And then tap on the 'Convert' option in the new window. Then you can go to change audio format, audio bit rate, channel and so on you want. After that, click on the 'OK' button.
Step 3

Convert Spotify music for Notion

Click on the 'Convert' button to convert Spotify audio for Notion. Once done, hit on the 'history' icon to check all the local Spotify files on your computer. Then you can start to put Spotify on Notion for streaming.
How to Connect Spotify to Notion
Step 1. Open the Notion app from your computer.
Step 2. Start a page and click on the '+' icon. Then pick up 'Audio' and press 'enter'. Or, you can type '/audio' and hit on 'enter'.
Step 3. Now, you will get a menu. Here choose 'upload' to browse and select converted Spotify music on your computer. Or, you can drag Spotify files to Notion page from your desktop directly. After that, Notion will convert audio files to its custom audio player.
Finally, you can listen to a complete Spotify song on Notion with ease.
Part 3. FAQs about Spotify Notion
Q1: Why Is Notion Spotify Not Showing and What Can I Do?
A: There are some reasons that causes the issue. But to fix it, you can try to reset Notion app on your device and delete the Notion folder under 'C:\Users\[USERNAME] \AppData\Roaming' on your Windows PC. Or, you can check the network connection on your device.
Q2: Why Spotify Notion Only Plays 30 Seconds?
A: Due to the restrictions of Spotify, you can only listen to a 30-second audio file in Notion. But you can use SoundCloud or DRmare Music Converter to resolve this issue.
Q3: Is Notion Completely Free?
A: For individual users, Notion is free to use but it has limitations. You can only upload videos, images and file attachments up to 5MB each.
Q4: Can I Add Other Widgets to Notion?
A: Yes. Besides Notion Spotify widget, you can also add widgets like Google Weather, Google Calendar and more you want.
View also: How to Get Spotify Mini Player
Part 4. In Conclusion
This post shows you how to put Spotify on Notion on computer and mobile devices in detail. You can read it and follow the steps to embed Spotify playlist/song/podcast/album and more into Notion to share with others. Besides, you should try using DRmare Spotify Music Converter. With it, you can download and convert Spotify audio tracks to common audio files. Then you can add Spotify to Notion without any limits and you can listen to a whole track. In addition, you can move local Spotify music to other platforms and devices for use with ease.