When it comes to presentation, Microsoft PowerPoint and Google Slides are two of the dominant software in the market. PowerPoint has been the worldwide leading presentation for dozens of years while Google Slides is only created a few years ago.
But Google Slides has some advantages like free of charge and easy accessibility. You don't need to pay for any money to use it freely across all your devices computers, iOS, Windows, Mac, BlackBerry, Chromebook, tablets and so on. All of these features make Google Slides a best alternative to PPT. The only small shortcoming is that it lacks the option to add audio files to it directly.
Fortunately, you can still add music by inserting the link directly or adding a video from Google Drive or YouTube. Here I take Spotify music to illustrate how to add Spotify songs to Google Slides.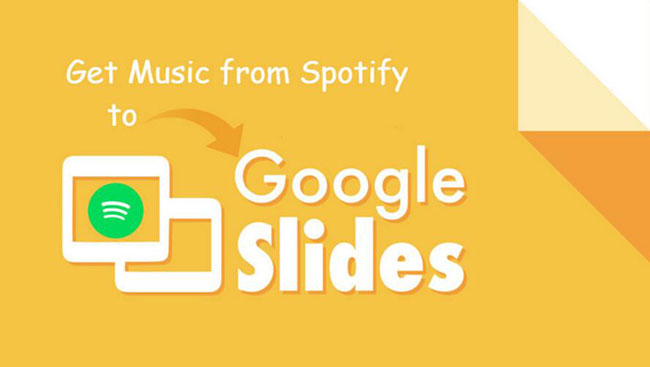 Part 1. How to Add Music to Google Slides by Pasting the Link
Spotify is the pioneer and kind of streaming music with over 40 million of soundtracks. As of the time of writing, Spotify has over 207 million of active users and 100 million paid users. You can easily locate the songs you want with the Spotify recommendation algorithm such as the Music Radar and Discover Weekly.
You can share Spotify music to others via Facebook, Twitter, Skype, Tumblr or copying the link directly. To add a link of Spotify songs to Google Slides, you can follow the steps.
Open the Spotify app or the Spotify Web Player to locate the song you want > click "..." > "Share" > "Copy Song Link".
Open a Google Slides presentation document of which you want to insert the audio.
You can choose to add the Spotify link to text or image. Just choose the text or picture > click "Insert" > "Link" to insert the link.
Now when you are doing the presentation, you can click the link to open a new window to play the Spotify song.
Note: As an online software, you need to make sure you have good Internet connection to play Spotify music on Google Slides.
Part 2. How to Insert Spotify Music via Google Drive
Though there is not an option to insert soundtrack to Google Slides, you can insert a video with sound from Google Drive or YouTube. So you can transfer Spotify songs to Google Drive or YouTube first. How?
Since Spotify is an online streaming music, you need to save Spotify tracks as common audio files. You can use a free recorder or a professional Spotify music downloader.
For saving your precious time and effort, I'd recommend you to use DRmare Spotify Playlist Downloader for Mac/Windows.
This software combines the most advanced features to help you batch save Spotify to your computer losslessly. In this way, you keep your favorite songs available offline as well as distribute them to any other devices.
Best Spotify Music Converter in 2019
Now you can follow these 6 steps to convert Spotify, upload Spotify songs to Google Drive and insert Spotify music to Google Slides.
Step 1

Import Spotify songs or playlists

DRmare supports to convert up to 100 songs at a time. If you have multiples Spotify songs you want to use for your presentation, you can simply drag & drop them to import to DRmare software main screen.
Step 2

Set the output format

The default format is MP3, you can keep it usually. If you want to change the format and other parameters, you can click the top "Help" menu and choose "Preferences" to open the settings window to change it. Personally I'd choose MP3 which is a universal file format.
Step 3

Download Spotify songs to your local device

After that, you can navigate to the bottom screen of Spotify and click "Convert", your songs will be converted quickly. Please just wait for it to completely patiently. When it is done, you will have the common audio files offline.
Step 4

Convert the audio files to video

Since Google Slides doesn't support audio, you need to convert your MP3 audio files to MP4 video first. Here I'd recommend you to get the Wondershare Video Converter Online free version to do that directly.
Step 5

Upload Spotify songs to Google Drive

You can log in Google Drive, then right click a blank area to choose "Upload files" or "Upload folder" to browse the local MP4 files which contain the MP4 music files from your computer. Similarly, you can also transfer Spotify music to YouTube.
Step 6

Insert Spotify Music to Google Slides via Google Drive

Open the Google Slides presentation that you want to include the audio.
Click the top menu "Insert" and select "Video".
Click "Google Drive" and then browse to import the video with Spotify music.
Then customize the video playback option as "Autoplay when presenting" to ensure the audio plays automatically.