Since its inception, EDM has been known to have the most complimenting sound additions and catchy rhythms that make it fun and danceable. There are many trending EDM songs currently within anyone's reach, thanks to Spotify streaming music. Spotify has been at the forefront when it comes to streaming. Its variety of curated playlist makes it easy for anyone to find his/her genre. Whether you like house music with mid-tempo percussion or techno music with strives, just know that Spotify got you covered. These 10 Electronic Dance Music on Spotify will blow you off each time you go on a dancing spree.
View also: Top 10 Best Spotify EDM Playlists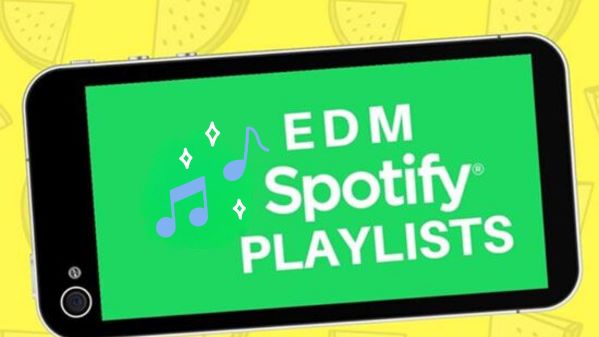 1. Happy Now – Kygo, Sandro Cavazza
Kygo knows how to bring up that bright side of you in the most amazing manner. His music, Happy now, has turned out to be one of the best EDM playlists on Spotify. Officially launched in late 2018, Happy now has gone unbeatable miles. It is actually driven by Sandro's perfect vocals giving it a top-notch touch when Kygo pops in with his tropical style signature. Actually, it is its catchy chords which will pull you out of your chair to the dancing floor. Purported to would have been dedicated to their lost and longtime friend, Avicii, this track is surely a perfect way to drive out that sad memories with its interesting combination of organic sound for a better renewal.
2. In My Mind – Dynoro
This is purely an iconic music anthem that will get you on your feet in no time. The remixed edition of Dynoro and Gigi gives this track an exclusive tinge of electric energy. Get it on Spotify for an energetic start of the day. In a past interview, Dynoro admitted that this track brings out the energy of the crowd in the most compelling manner. This is the reason why you have to keep it in your mind for that power energy.
3. Look Back at It – A Boogie With da Hoodie
It is the melodies and incomprehensible noises that put this track at its rightful place. Just like the King of Pop, Michael, A Boogie's music is full of vigor and hypnotizing vibes. His moves probably bring on a new dance music style that even the King of Pop could not attest to. Enjoy it on Spotify premium for uninterrupted streaming.
4. Wow – Post Malone
Just when we were still in the middle of the Christmas mood, Post Malone decided to spice up our holiday with yet another best EDM playlist on Spotify. Truly melodic and catchy, you definitely won't help yourself from getting off your chair to shake those little bum-bums in the best way you know. Although it does start off innocently, the icing lands the cake when the drums finally kick in.
5. Repeat After me – Dimitri Vegas
Even though this electrifying music may have been released this year, it purely fits best EDM songs 2018. It all started last year with a joined effort of some top 100 DJs coming together for this standing production. With Dimitri Vegas, Armin Van and W&W pulled this track. It actually features the signature sound of these best three. Together with its catchy hooks, it is good to go for both nightclubbing and energetic festivities.
6. Giant – Calvin Harris
From blending of powerful electronic digital music touches to combination of organic flourishes is what puts this track at its high level. This playlist will definitely pull you out of your low moments, elevating you to a strong tower within a short time. Feel like a giant once more with this best Spotify dance playlists.
7. One Shot – Dehko, Young Roc
One Shot is another top edm songs 2018 that crimped into the new year with its sense of touch. This is truly an uplifting anthem that gets you fully entertained from start to finish. It also has a unique way of unfolding the vibes of yesteryears together with the never-ending sense of stylish lyrics. If you want to keep the fire burning from last year, then this musical anthem is the way to go.
8. Calling Home – The Catacombs
The Catacombs know how to keep you glued. Right from 'Strangers' to 'Wonder Why' and now 'Calling Home', your 2018 would have been such a motivational wind-up one with this track. 'Calling home' is such a high attraction seeker music that is still currently one of the trending EDM songs. With this track, you are sure of going to even the furthest mile, dancing along the hooks.
9. America – Young Bombs
Another EDM Spotify that should not evade your playlist is America by Young Bombs. This track is actually a remix of their earlier ambient progressive sound music. It is breathtaking and refreshing at the same time. Listen to it on Spotify and feel the sticky, funky kind of music that will keep you glued to your system for the better part of the day.
10. Never Looking Back – Alex Sonata
When it comes to infusing instrumental waves with high vocal tones, Alex gets it right. Never Looking Back has been popular for quite some time now. Its vocals are richly blended such that they'll leave you yearning for more. It is among the best Spotify dance playlists that you can listen to when driving through the stop signs, never needing to look back. Nonetheless, there is no reason to keep calm when listening to this song, sing, and dance along as you enjoy every beat.
The Bottom Line
Even though these might have been the bomb in 2018, it doesn't deter them from appearing in the front row this year. It is evident that EDM is exciting and very fascinating for the audience and the musician alike. Hence, these being the best EDM playlists on Spotify, you will definitely get all the energy you deserve for that crazy party when you keep them in your playlist. Furthermore, you can download them and listen to them offline whenever you need to as long as you have the DRmare Spotify Audio Converter for Mac/Windows.