"How to put a song on loop on Spotify?" When listening to music on Spotify, you may want to repeat a song or a playlist that you favored and play it again and again. But how to make it? It is not a hard task. Spotify offers lots of features and functions for use to enjoy music with a better listening experience. You can stream, pause, skip songs or else on Spotify. Also, you can shuffle Spotify playlist, like or dislike tracks, and so on. Moreover, there is a Spotify loop button. What is the meaning of it? This button is for you to restart listening to a Spotify song/playlist/album when it finishes.
But, where is the Spotify repeat button and how to do that? Please take it ease. In this post, we will show you how to loop a song on Spotify with/without premium in detailed steps. Please follow the post and learn more.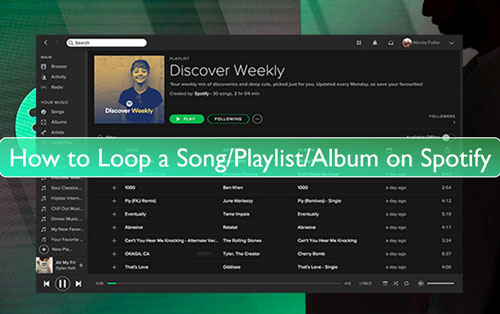 Part 1. How to Loop Songs on Spotify on Mobile
How to loop a song on Spotify iPhone/Android? For users who use Spotify on mobile devices, you can check out the steps below to see how to repeat songs on Spotify. But please note that you need a Spotify premium account to do that.
View also: How to Get Spotify Premium for Free
Step 1. Start the Spotify music app on your Android, iPhone or other iOS devices.
Step 2. Locate a song, an album, or a playlist that you want to repeat. Then play it.
Step 3. Click on the 'Now Playing' bar at the bottom on the screen. Then you will be at the song playing screen.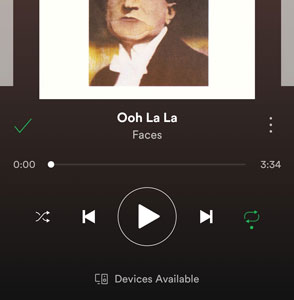 Step 4. Locate the 'loop' or 'repeat' button. The button looks like a circle with two arrows. Then touch it and it will turn into green. And the loop function is enabled for Spotify album/playlist.
Note: If you want to loop a song on Spotify, please tap twice on the 'loop button. Then you will see a small '1' icon with it. Finally, Spotify will repeat playing your current song again and again. If you want to turn off loop function on Spotify, then just hit on the 'repeat' button to turn it to grey.
Part 2. How to Loop Song/Playlist/Album on Spotify on Desktop
Here you will see how to loop on Spotify for songs, playlist, and albums on Windows and Mac computers. The steps are both available for the Spotify desktop app and Spotify Web Player. Now, check the steps in detail and start.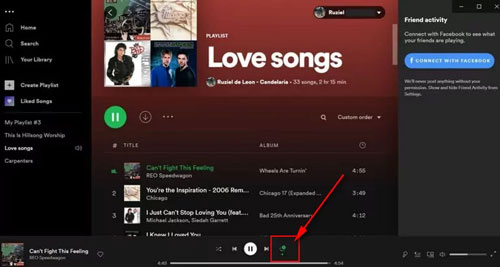 Step 1. Open the Spotify desktop app or Spotify Web Player from your Windows or Mac computer.
Step 2. Find the song/playlist/album that you want to loop and play it.
Step 3. Then you will get the music playing bar at the bottom of the Spotify screen. And then please find the 'repeat' button and tap it twice.
Step 4. Now, the button will turn into green and you can see a small '1' in it. Then you've put a song on repeat on Spotify.
Note: If you want to loop a playlist or an album on Spotify, you just need to click on the 'repeat' button once. Then Spotify will repeat all the songs in the playlist or album for you. Also, you can use keyboard shortcuts to enable Spotify loop button. On Windows, hold 'Ctrl + R'. While on Mac, hold 'Cmd + R'.
Part 3. How to Loop a Song on Spotify Anywhere Forever without Premium
Besides using the Spotify platform to repeat Spotify song/playlist/album, here we'd like to share another tip with you. That's to loop a playlist, a song, and more from Spotify via other media players. By using this way, you don't need a Spotify premium account and even the Spotify app. But before that, you need to get Spotify songs as local files by a third-party tool. We know that Spotify files are protected which can't be put on other platforms directly. So, we need to break this first.
DRmare Spotify Song Converter is the tool here to assist you. It can bypass the protection from all Spotify contents, including songs, playlists, podcasts, albums and more. And it can download, convert and save Spotify audio files as local audio files on your local device. Besides, it allows you to change the output audio formats like WAV, FLAC, MP3 and so on.
Also, you can modify the audio channel, sample rate, and more for Spotify audio tracks. Moreover, this tool can run the conversion process at a rapid speed and keep the original quality. Besides, all ID3 tags in the Spotify track will be preserved well. After the conversion, you will get the local Spotify music files and then you can move them to other media players. And then you will know how to loop a playlist on Spotify on other platforms without premium.
DRmare Spotify Music Converter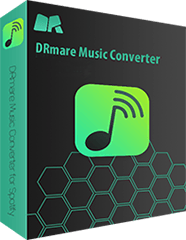 Download Spotify podcasts, playlist, albums and more without premium
Support to edit output audio parameters like channel and so on
Convert Spotify music to M4A, FLAC, MP3, WAV and more
Support to loop Spotify album/song/playlist offline anytime and anywhere
In this section, we will show you how to convert Spotify music via DRmare Music Converter for repeating with other media players. First, you have to download and install this DRmare tool on your Mac or Windows computer. Also, you must have the official Spotify app pre-installed on your computer.
Step 1

Import Spotify songs to DRmare

Start the installed DRmare Music Converter on your Mac or Windows computer. Then you will see its beautiful main screen and the Spotify app. Next, enter the Spotify app to find and locate any track you want to convert for looping. Once got, then drag and drop it to the DRmare tool's interface. The song will be then displayed. Or, you can copy the shared link to the song and paste it into the blank box on the DRmare program. Then you need to click on the big '+' icon. And your song will be loaded into the DRmare tool.
Step 2

Set output format for songs on Spotify

To make Spotify music compatible with your dedsired platforms, you can set the output format for them. Please find the Preferences option on the DRmare program on your computer. Then click on the 'Convert' tab and you will be able to choose audio format, bit rate and more for Spotify songs. You can pick up MP3 to convert Spotify to MP3 or choose other formats you want. After that, click 'OK' to save the presets.
Step 3

Download Spotify songs to local device

At last, touch the 'Convert' button to download and convert songs from Spotify. Later, you will get them via the 'Converted' section on the DRmare program. And then you can move the Spotify music files to mobile device or else. And you can loop Spotify songs via other music players on your device without any limits.
Part 4. FAQs about Spotify Loop Feature
Q1: Can I Put a Podcast on Loop on Spotify?
A: No. Now, Spotify doesn't allow users to repeat podcasts. If you want to do that, you can download Spotify podcasts via DRmare Music Converter. And then use other media player to loop podcasts on Spotify.
Q2: Why I Can't See the Repeat Button on Spotify?
A: It is noted that the loop option is available for 'shuffle-free playlists'. If you use a Spotify free account, you can only enjoy music in the shuffle mode with ads. In this case, you can't loop songs on Spotify.
Q3: Do You Need Spotify Premium to Loop Songs?
A: If you use Spotify on mobile device, then you need a Spotify Premium account to access the repeat feature. Then you can loop song in Spotify online and offline. While on Spotify desktop app, you can repeat Spotify songs freely.
Q4: Can I Repeat Multiple Songs on Spotify?
A: Yes. But you need to create a Spotify playlist with the songs you want to loop. And then put the whole playlist on repeat.
Q5: Can I Loop a Specific Part of a Song on Spotify?
A: No, you can't. There is no such a function on Spotify. You can only repeat the entire song on Spotify.
Part 5. The Verdict
Now, you know how to put a song on repeat on Spotify on mobile or desktop. Just go to loop songs/playlists/albums you like on Spotify and listen to them over and over again. If you have a Spotify premium account, you can do that on your phone with ease. Otherwise, you can go to your computer to do that. Or, you can use other media players to loop and play Spotify songs. If so, then you need to use DRmare Spotify Music Converter to convert and download Spotify music to computer as local files. Then you can transfer Spotify audio to your desired media player for playing on repeat.