As the year passes, like our mates, we are also excited to listen to music and discover the most streamed album on Spotify. This year loyalty by the fan family was maintained, and as expected, familiar and famous artists won the race. Spotify is a large platform with a gigantic pool of listeners from all around the globe. Spotify family comprises 456 million users. In this article, we have shortlisted and found the album by the fantastic music artist that has received the most streams on Spotify.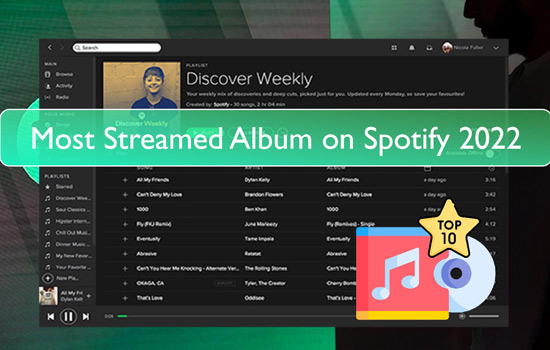 Part 1. Most Streamed Album on Spotify- Top 10 Best
Most streamed albums on Spotify are the ones that are most listened to albums on Spotify. These below-mentioned albums are the most popular and favored songs. Let's check the most streamed Spotify albums in 2022.
1. Equals
Well, we do not doubt to see Ed Sheeran on the top of the line. In the world of streaming, they are remarkable and one of the most known musicians when coming to streaming platforms. Ed Sheeran's new album, "=" (pronounced "equals"), plays a significant role in boosting its popularity.
2. Beerbongs & Bentleys
Post Malone is one of the famous artists. Last year he was the most streamed artist on Spotify, with over 6.5 billion listeners globally. The album was distributed on April 27th, 2018, by Republic Records. Swae Lee, 21 Savage, Ty Dolla Sign, Nicki Minaj, G-Eazy, and YG are the supported artists that contributed spots to the song.
3. DUA LIPA
Dua lipa song, by a female artist, is one of the most listened to and watched pieces online in the records of the channel. Dua Lipa's song "levitating" grabbed the spot for the most popular stream in the US in 2021. It holds a count of 804.71 million audio and video streams.
4. Hollywood's Bleeding
Post Malone's album Hollywood's Bleeding has beaten the milestone of 100 million streams. It was launched in September. In its publishing week, "circles" topped the Billboard 100 chart.
5. When We All Fall Asleep, Where Do We Go
An American singer and songwriter, Billie Eilish's first studio album, "We All Fall Asleep, Where Do We Go". It did well and was available to the public for purchase in the United States and by Polydor Records in the United Kingdom on 29 March 2019.
6. Future Nostalgia
Future Nostalgia is Dua Lipa's 2nd album that comes under the list of the most streamed albums on Spotify. It was released on March 27th, 2020, by Warner Records. This album is influenced by the songs Dua Lipa loved when she was young.
7. Purpose
Justin Beiber, a Canadian musician, recorded an album titled "Purpose", which was registered in a studio setting. Belief act as a follow-up to his album, was made available for purchase on November 13th, 2015, by Def Jam Recordings and School Boy Records. The album comprises cameos from Travis Scott, Big Sean, Skrillex, Halsey, and Diplo.
8. Justice
Justin Bieber has stolen the show with his album "Justice'' which was released five months ago. According to Spotify's July data, Justin Bieber has 83.3 monthly listeners. It gives him the upper edge of being "the platform's all-time most-listened-to artist".
9. Midnights
Taylor swift songs deliver a reputable sign of great music. Her 10th album, released on October 21, 2022, has left everyone else mesmerized and has established the record for the most streamed album on Spotify in 24 hours. It is also the fastest and best-selling album, with over 1.5 million units. Taylor Swift has explained these 13 songs as the journey of terror and sweet dreams in the middle of the night.
10. "?"
XXXTentacion, a singer and a rapper, released his last studio album "?" until he was murdered. It was made available for purchase on March 16th, 2018, by Capitol Music Group and Bad Vibes Forever.
Part 2. How to Download Most Streamed Albums on Spotify
Here are top 10 most played albums on Spotify, so how to listen to them offline on to go? DRmare Music Converter for Spotify is one of the incredible and best tools used as a converter of Spotify music. You can download and convert over 80 million Spotify songs, albums, playlists, podcasts to various output formats such as MP3, FLAC, WAV, AAC, etc., to play them on any device offline without the compulsion of logging into an account or signing up for Spotify Premium.
The wait is over. You can download most streamed albums on Spotify using this powerful Spotify playlist downloader. It has the capability of converting Spotify audio soundtracks at 5X tremendous speed. With the help of this tool, you can play most streamed album anywhere without waiting.
Step 1

Add Most Streamed Albums on Spotify to Download

Fire up DRmare Spotify Music Converter for Mac or Windows on your computer. The Spotify client app will be opening automatically. Now drag and drop the most listened to album on Spotify you want to download to this professional Spotify music downloader.
Step 2

Select Spotify Album Output Audio Format

On the screen in the menu, you can see 'Preferences'. Click it. Set the output format and other parameters for the most played albums on Spotify.
Step 3

Download Most Streamed Spotify Albums as MP3

Once you have done all the settings, click 'Convert' button and wait. After conversion, you can hit on the 'history' icon and view the converted Spotify albums.
Part 3. FAQs about Most Listened Album on Spotify
Q1: What Is the Most Streamed Album on Spotify?
Recently, Ed Sheeran's Equals has been the most-streamed song. It is Ed Sheeran's latest album; the album touches the banner chart with 118,000 sales in the U.S. Ed Shereen is one of the top artists with over 62 million live coverage and 68,000 units sold.
Q2: What Is the Most-streamed Album on Spotify in 24 hours?
Midnights by Taylor Swift was released on October 21, 2022. It has established a record for the most streamed album in a single day on Spotify.
Q3: What Is the Most Streamed Female Album on Spotify?
In the channel's history, Dua Lipa, a female artist, has received the most online view. It was listened to by Spotify users over 90.8 million times on Spotify.
Q4: What Is the Most Streamed Hip Hop Album on Spotify?
The most streamed hip-hop album on Spotify is by XXXTentacion '?'. It has established records for being the most-viewed hip-hop song.
Q5: Who has the Most Streamed Album on Spotify?
Ed Shereen has the most streamed album on Spotify.
Q6: How to See Your Most Listened-to Albums on Spotify?
You can log in to your Spotify account and see your top artist, favorite tracks, and genres. It is because you need help seeing the most listened-to playlist directly. For this, you need to look for help from a third-party tool. For example, visit this website Spotify.com/US/Wrapped. Once logged in, you can choose from three options; "on the Record '', "Missed Hits" and "Your Top Songs 2022". Select "Your Top Songs 2022".
Part 4. Final Word
Spotify users can get relevant information from this article. Now you know everything about the most streamed album on Spotify and the top 10 Spotify-streamed artists. You can also make use of the DRmare Spotify Music Converter tool. It helps you listen to Spotify albums anytime, anywhere offline, for free.