"I hate Spotify ads, they come up often whenever I am immersed in beautiful songs. I understand it is a limitation of the Spotify freemium service. But I can't really afford the monthly Spotify premium. What can I do? Can I hack Spotify PC version on my Windows PC?" - Question from Kendall Torres.
As of April 2019, Spotify, which is one of the most widely used music platforms, has a total of 217 million monthly active users worldwide. Among them, only 100 million users are paid. That means more than 117 million users didn't pay for the service. That makes sense. Not everyone is made of money.
We don't encourage cheating or cracking. But that is one of the money ways for the people who live on a budget to enjoy the same pleasure of Spotify premium songs. As long as it is for personal use only, no one will lose anything.
For your interests, we will introduce you to the best way to download Spotify cracked PC version for premium. And we will share with you an alternative Spotify Premium crack PC tool to do it well.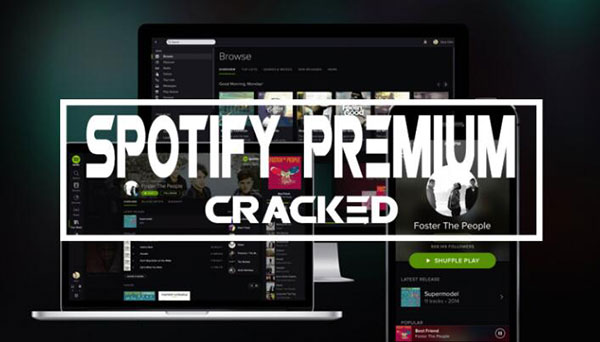 Part 1. Download Spotify Premium Cracked PC for Windows/Mac/Linux
Previously, we talked about how to get Spotify premium APK for Android/iPhone. It requires you to root your phones. Compared to Spotify Premium cracked version for mobile, Spotify crack PC is easier to use. You don't need to do anything special to download and install the Spotify Premium crack PC on your computer.
The only drawback is that few sources provide such downloads. If you have been searching online for a long time, now you don't need to waste time anymore. Just click here to go to the download provider page of the cracked Spotify PC version.
Step 1. After opening the page, you can get Spotify Premium crack PC download. It's able to download the right version of Spotify Premium free PC. You can choose Spotify Premium cracked for Windows PC, Mac OSX, or Linux based on your computer type.
Step 2. And then follow the screen wizard to install Spotify premium for PC to your computer step by step.
Step 3. Next, you can launch the Spotify desktop version and sign in with your free account. This modified version will help you bypass the subscription validation. Now, you are a paid subscriber. You can use the Spotify Premium PC cracked tool to enjoy Spotify Premium for free.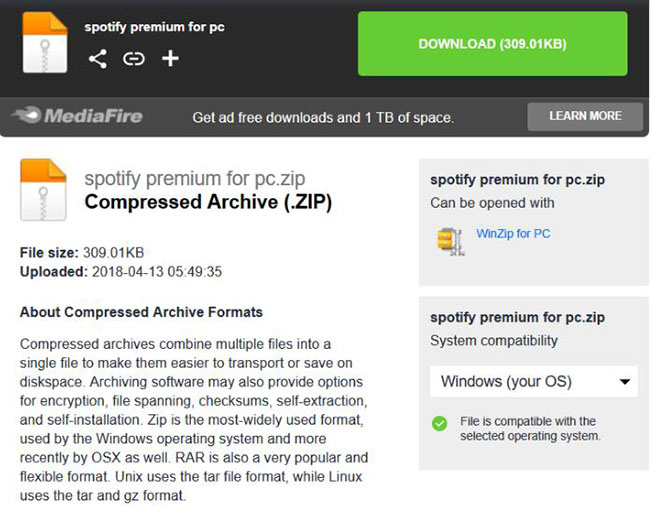 Advantages
#1. The Spotify cracked PC version has been completely cleansed of any ads.
#2. You can enjoy unlimited playlists and downloads on your computer.
Disadvantages
#1. Your Spotify account may be banned or suspended by using the hacked Spotify PC version.
#2. It is not safe because sometimes the downloaded package may come with viruses.
Part 2. Alternative Way to Get Spotify Premium Crack PC Version
It's simple to download Spotify Premium PC crack version with the help of Spotify Premium for PC. But it comes with some risks. Accounts could be banned by Spotify officials. Someone may say why worry about the account, you can just sign up a new one directly in case it is disabled? That is right on one hand.
But some users are hesitating when trying to crack Spotify Premium PC version. Honestly, it is really not convenient if your account can't be used. You will lose all the playlists you have curated with a lot of time and energy. These playlists are treasures no one will ever want to lose.
So we'd recommend you this 100% safe and easy alternative way to get a cracked Spotify Premium PC download.
What You Need
#1. Computer. You can use Windows 10, Windows 8, Windows 7. Or Mac OSX 10.15 Catalina, 10.14 Mojave, 10.13 High Sierra, 10.12, 10.11, 10.10,10.9, 10.8.
#2. Spotify desktop version. Make sure you have installed the Spotify official version on your computer.
#3. DRmare Spotify Music Converter.
DRmare Spotify to Computer Downloader is one of the best Spotify cracked for PC tools. It is on the top 5 list all the time in the world for its advanced technology and frequent update to crack Spotify PC. With it, you can batch download and convert Spotify songs with a free account on your computer without any troubles. It will automatically block ads and keep Spotify songs forever offline. And then, you can listen to ad-free Spotify music on any device offline.
DRmare Spotify Cracked for PC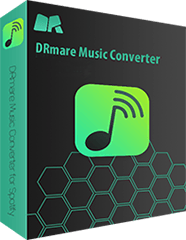 One of the best Spotify PC crack tools to hack Spotify Premium
Intuitive interface, easy to import Spotify music, podcasts, audiobooks, radio
Support multiple output formats MP3, M4A, AAC, WAV, FLAC for download
Remove ads from Spotify songs while keeping the original ID 3 tags, metadata
Archive all the downloaded Spotify tracks on your computer by artist/album
This smart tool is able to get cracked Spotify for Windows and Mac versions. Now you can follow these 3 steps to download all Spotify tracks and keep on your computer forever via this Spotify cracked for Windows and Mac tool. It helps you enjoy the Spotify high-quality songs offline without ads even if you have unsubscribed the Spotify premium membership.

Step 1

Load Spotify tracks you like

After launching DRmare Spotify hacked for PC tool, you will see the Spotify desktop app opening as well. Please just drag & drop the songs, playlists, albums from the Spotify app to the DRmare software. Or use the Spotify URL to load Spotify songs quickly.
Step 2

Define the output parameters

Generally, we'd recommend you select an MP3 format to store all your files on your computer. MP3 has best-balanced music quality and file size. If you have tremendous capacity on your computer, you can also try to select FLAC or WAV which are lossless formats.
Step 3

Crack Spotify PC & Download Spotify songs

Now just click "Convert", DRmare will crack Spotify for PC and save all your Spotify to your computer in batch. Please just wait a little while patiently. All Spotify songs are ad-free files and you can enjoy them offline with your free account.
Advantages
#1. Listen to Spotify songs without ads.
#2. Download Spotify playlists anytime without any limitations.
#3. Enjoy up to 320 Kbps high-quality songs forever.
#4. Transfer the downloaded songs to any device for any purpose.
#5. You don't need to download Spotify cracked PC version for premium anymore.
Disadvantages
#1. It charges you some dollars one-time fee for lifetime use.
Sum Up: Spotify Cracked PC for Premium
There are two Spotify cracked PC versions you can find in this article. Spotify Premium for PC is available for Windows, Mac, and Linux operating systems. It gives Spotify users the ability to get Spotify Premium free. But this free Spotify Premium PC crack tool is unsafe and has some glitches accidentally.
DRmare Spotify Music Converter could be the better tool to crack Spotify on Windows and Mac. It works like a Spotify crack PC tool but better than it. With the help of such a tool, you can enjoy offline Spotify music without ads, like using a Spotify Premium. Moreover, you can listen to Spotify songs on all devices and players even without the Spotify app.
Anyway, you can test the above two tools separately on your computer. And choose your favorite one to get a cracked Spotify PC version. If you have any questions when using these Spotify crack for PC, please leave them in the comment area. We will give further assistance to you as soon as possible.