"How to play Spotify playlist on Foobar2000?" Many users may be eager to know the solution. Before that, we need to know more about Foobar2000 Spotify.
Foobar2000 is a free audio player. It is available for Microsoft Windows, iOS and Android. It can work for music playback. It also can generate media libraries, convert media file encodings and extract CDs. As such a powerful tool, however, users can't play Spotify in Foobar2000.
Thus, here comes to the theme of this post. That is how to play Spotify through Foobar2000. Let's find the solution as below.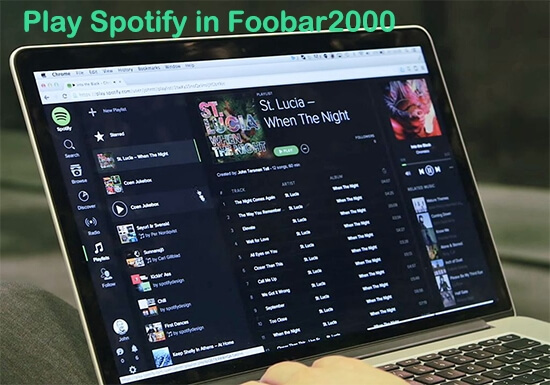 Part 1. Why Foobar2000 Spotify Connect Failed
For Spotify Foobar2000, there is no integration between them. And Foobar2000 supports MP3, Ogg Vorbis, etc. input formats. But, Spotify files are formed in Ogg Vorbis. The format is not the same one as Foobar2000 allows. Those Spotify audio files could only be played inside Spotify.
Therefore, there's no way for you on how to use Spotify in Foobar2000. Except that you can transfer Spotify's format for Foobar2000 supported formats. In this case, you can easily connect Spotify to Foobar2000. And then you can play Spotify through Foobar2000.
Part 2. Play Spotify through Foobar2000 by DRmare Music Converter
DRmare Spotify Music Converter can help you get Foobar2000 Spotify work. It can convert Spotify tracks to MP3, etc. so that you can get Spotify in Foobar2000. The DRmare Spotify Converter will help you play lossless Spotify on Foobar2000.
Furthermore, the DRmare tool also keeps the ID3 tags of Spotify tracks. As a result, you can easily identify them and manage them in Foobar2000. Besides, DRmare software runs at 5X faster speed. So, you could get the converted Spotify tracks immediately.
After the conversion, you can move Spotify to Foobar2000. Then you can play Spotify through Foobar2000 directly.
DRmare Spotify Music Converter
Part 3. How to Convert and Connect Spotify to Foobar2000
Can't wait to link Spotify to Foobar2000? Please do what we show you as follows. Here's a detailed tutorial for you. You can follow them to convert and get Foobar2000 Spotify connect.
Step 1

Upload Spotify tracks to DRmare

Make the downloaded DRmare program installed on your computer. Both Win and Mac system are OK. Launch the DRmare Spotify Music Converter. You will find that the Spotify software would be opened simultaneously.

Here you need to log in to your Spotify account. Next, choose which songs you would like to import to Foobar2000. Then copy their URL. Next, paste to the search bar of the DRmare conversion window. Or you could just drag the songs to the DRmare interface. The Spotify tracks will thereby be showed in the window.
Step 2

Set Spotify output preferences for Foobar2000

To get Spotify playlists for Foobar2000, you can define the settings for output files. Find the 'Preferences' icon on the top right. Tap on it. Then you are able to set the output format as the one you want. To ensure the quality of Spotify files, you can customize the channel, bit rate, and sample rate.

Also, if you set the conversion speed as 1X faster speed, the conversion process would be more stable. The output tracks can be archived by Artist/Album or Artist. You can also personalize the output holder. Just hitting the search bar on the bottom of the interface.
Step 3

Convert Spotify for Foobar2000

Now you could start to convert Spotify tracks for Foobar2000. Just click the 'Convert' button. The Spotify files will then be converted in batch. You could get them in the history folder on your computer within a few minutes.
Tips: It is just the free version of the DRmare Spotify Song Converter. It only enables you to get a 1-minute file of each converted track. If you plan to gain the full converted songs, you are suggested to buy the DRmare software.
Step 4

Play Spotify in Foobar2000

With all the steps above finished, you will get Spotify songs for Foobar2000. Now it's time to see how to connect Spotify to Foobar2000.

Step 1. Open the Foobar2000 on your computer.

Step 2. Hit 'File' > 'Add Folder' option.

Step 3. Choose the file folder contains the converted Spotify music files.

Step 4. Touch 'Select Folder' to upload Spotify to Foobar2000.

At last, you can play Spotify through Foobar2000 freely.
Part 4. Conclusion
After reading this post, you had got how to play Spotify through Foobar2000. It's easy, right? Just using the DRmare Music Converter, then you can get Foobar2000 Spotify work with ease. Besides that, with this tool, you can easily use Spotify music anywhere and anytime as well.